Humans have demonstrated fascination with hard-boiled detective stories or have been following characters as they traverse the winding paths inside a mystery novel since the 1841 publication of Edgar Allan Poe's short story, The Murders in the Rue Morgue. The late 1800s saw detective novels skyrocketing in popularity with Sir Arthur Conan Doyle's famous Sherlock Holmes. Looking further back, the medieval Arabic tale of The Three Apples, found in the Middle Eastern folktale collection One Thousand and One Nights, serves as an early work in the crime fiction genre.
Since crime fiction essentially draws the reader into the story as an observer along with the characters' limited POVs, the genre provides endless entertainment. Crime stories found their way into comic books later in the year 1942. Published by Lev Gleason Publications, the Crime Does Not Pay comic book series represents the inception of the first crime comic book series. Anyone involved in the comics sphere will immediately think about writer Ed Brubaker's numerous works or the Judge Dredd comic saga. However, indie publishers and creator-owned comics offer riveting mysteries readers should be talking about.
Below are 15 of the best and most thrilling crime comics conceptualised by mind-blowing creative teams to intoxicate you.
The Best Crime Comics
1. Abbott – Saladin Ahmed, Sami Kivelä, & Jason Wordie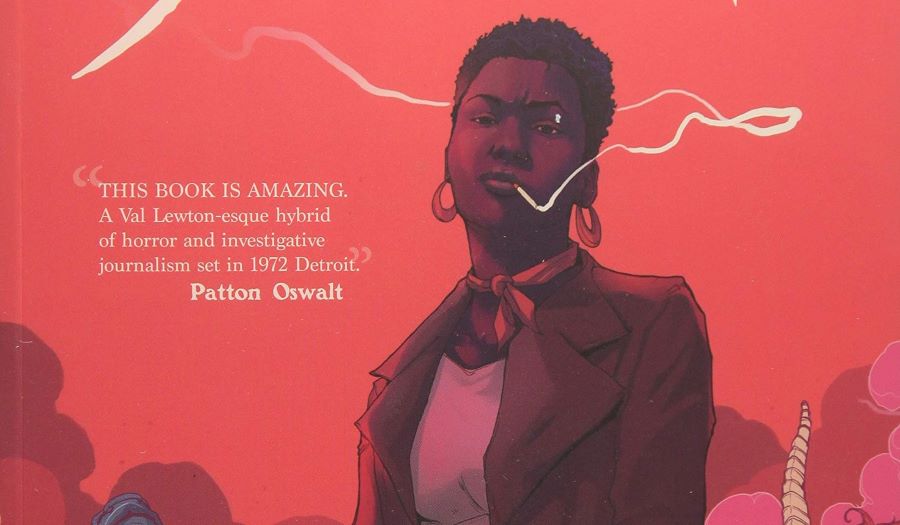 Abbott and its continuation series Abbott: 1973 from BOOM! Studios follows the story of a Black woman tabloid reporter in the 1970s as she connects gruesome crimes with a supernatural horror from her past.
In 1972 Detroit, hard-hitting journalist Elena Abbott fights to tell the unvarnished truth about race, police brutality, and injustice in a newspaper threatening to fire her after every article is released. Suddenly, a string of grisly crimes targeting Black men and leaving them with half a body forces Abbott to take the investigation into her own hands. These thrilling crime comics portray one Black woman's endeavour to overcome both intertwined racist and supernatural forces working to silence her voice.
Like a pulp crime story, Abbott's engrossing noir artistry and avant-garde compositions act as an integral vessel to heighten the narrative's social commentary. This propulsive comic series integrates occultist horror with historical relevance to help dissect the impact of the charged social and political climate during the 1970s on its characters.
2. Blacksad: The Collected Stories – Juan Diaz Canales & Juanjo Guarnido
Dark Horse Comics' Blacksad: The Collected Stories edition gathers essential comic tales about the eponymous anthropomorphic cat detective who can't keep his paws off crimes in need of solving.
Rooted in hardboiled noir sentimentality, Blacksad comics feature detective John Blacksad and his pursuit of achieving justice for crime victims. Whether he's driving an Amarillo-coloured car or discovering the dead body of a woman he had seduced only hours prior, Blacksad makes every decision with pointed intentions. The watercolour-reminiscent art style depicts a 1950s America with resplendent beauty. Though these characters retain their animal imagery, they also reflect a distinctly humanoid appearance, correlating with Blacksad's thematic real-world parallels.
Blacksad: The Collected Stories eclipses the idea of crime fiction as pure entertainment. By treating its characters with respect and acknowledging human flaws, the comic series adds intimacy to the dark nature of crime fiction storytelling.
3. Black's Myth – Eric Palicki, Wendell Cavalcanti, & Rob Steen
AHOY Comics, a comics publisher known for satire and superhero subversions, recently published their first foray into the detective genre with their crime-horror werewolf series, Black's Myth.
The Wolfman (1941) meets An American Werewolf in London (1981) when a werewolf private investigator must sniff out the assailant who tried to murder her with silver bullets. PI Strummer Jones solves crimes for a living in L.A., aided by her half-djinn and all-charm assistant, Ben Si'lat. Apparently, supernatural beings dip their fangs and claws into lives of crimes in L.A. as well. Strummer and Ben's search for her attempted murder suspect leads them into grave danger.
Illustrated in black-and-white with stippled gradients and blending noir sensibilities with supernatural horror, Black's Myth is one of the best ongoing thrilling crime comics currently on the stands.
4. Coffin Bound – Dan Watters, Dani, Brad Simpson, & Aditya Bidikar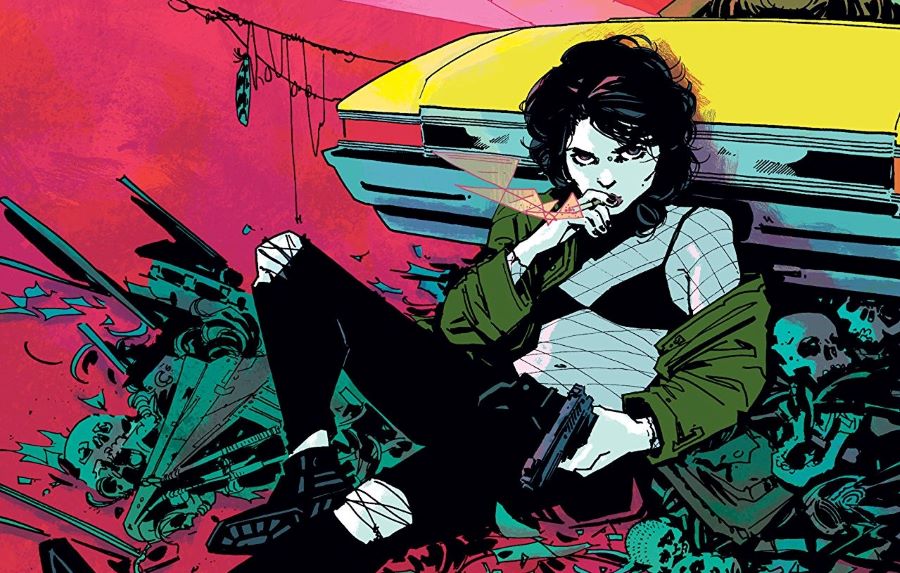 An immutable mystique found in Coffin Bound from Image Comics helps counterbalance the entropic horror on display as a young woman runs from an inexorable killer.
In a dystopian society, life has been desecrated by disasters. Protagonist Izzy Tyburn wants to shed herself of her past mistakes and face her coffin-bound fate on her own terms. On the run from a supernatural monster pursuing her, Izzy embarks on a road trip to discard the shattered remains of her life. A return to a past lover who she failed, and ensuring his sister's safety changes her roadmap's direction
Coffin Bound asks that if humans are engineered to die, then what facets of existence create a life worth living? Can we remove and replace pinpointed parts of ourselves to change into a notion of who we think we want to become? Readers find faces in the shadows and a stark world littered with detail in these abstractly intimate thrilling crime comics.
5. Dead Dog's Bite – Tyler Boss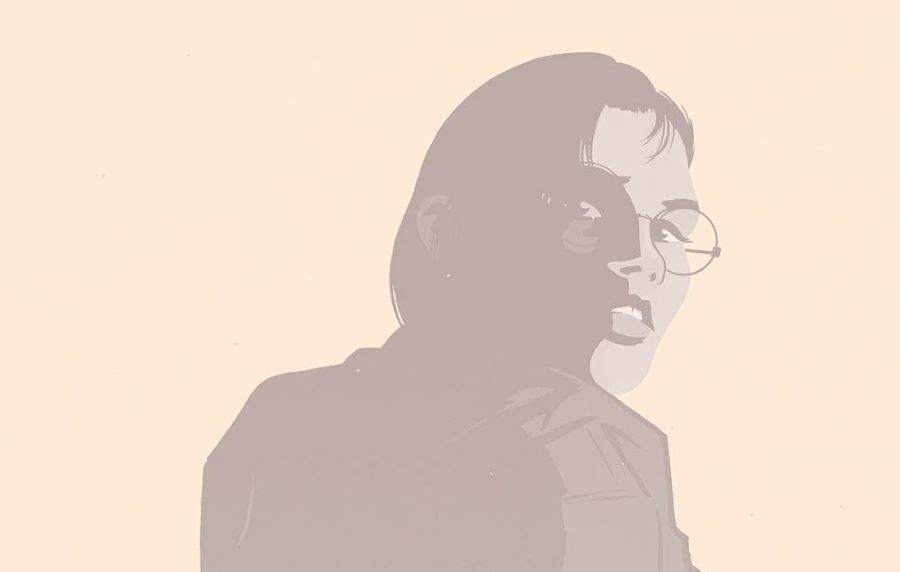 Written and illustrated by the artist of the 4 Kids Walk Into A Bank crime comic series, Tyler Boss' Dead Dog's Bite comic from Dark Horse Comics features a mystery involving a missing girl in town swirling with secrets.
The ambitious crime comic feels Twilight Zone-esque, where an on-page narrator akin to Rod Serling exists within scenes of the story. Said narrator speaks in riddles and seemingly drops foreshadowing hints. Although readers may wonder about the narrator's unreliability, he guarantees he is telling the truth. Yet, is anyone or anything in the ominous midwestern town of Pendermills trustworthy?
Through a moody, monochrome colour scheme, a flexible 9-panel grid panel structure, and reappearing peppermint candy imagery, Tyler Boss relates a slow-burn crime saga about a young woman's search for her missing friend.
6. The Department of Truth – James Tynion IV, Martin Simmonds, Dylan Todd, & Aditya Bidikar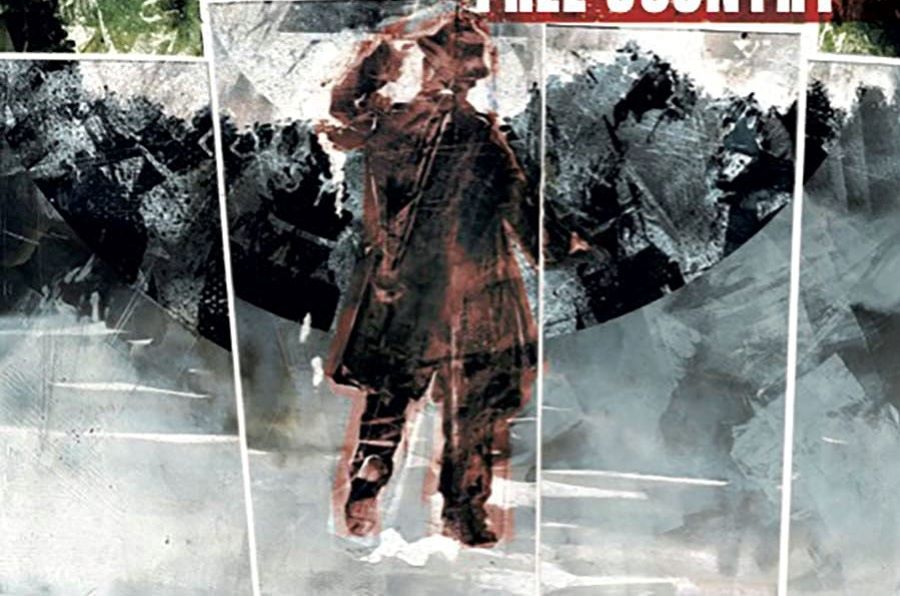 Gore-filled imagery and bleeding red colours imbue The Department of Truth, an ongoing series from Image Comics about conspiracies, with mystery and suspense.
What if every conspiracy theory put forth throughout history was true? Cole Turner's life flips upside down after an organization dedicated to managing the gulf between fact and fiction recruits him to their cause. Inside the Department of Truth, Cole learns how Stanley Kubrick did help fake the moon landing and Flat Earthers' entrenched beliefs reign true. After Cole's past connection to a specific conspiracy comes to light, he becomes the consummate focus of another group out to expose their own truths.
Thrilling crime comics such as The Department of Truth will shock readers into thoughtful ruminations about history and conspiracies. The comic exposes how individuals often warp ideas to match their preconceived convictions.
7. The Final Girls – Cara Ellison, Sally Cantirino, Gab Contreras, Chefel Peterson, Joamette Gil, & Katie West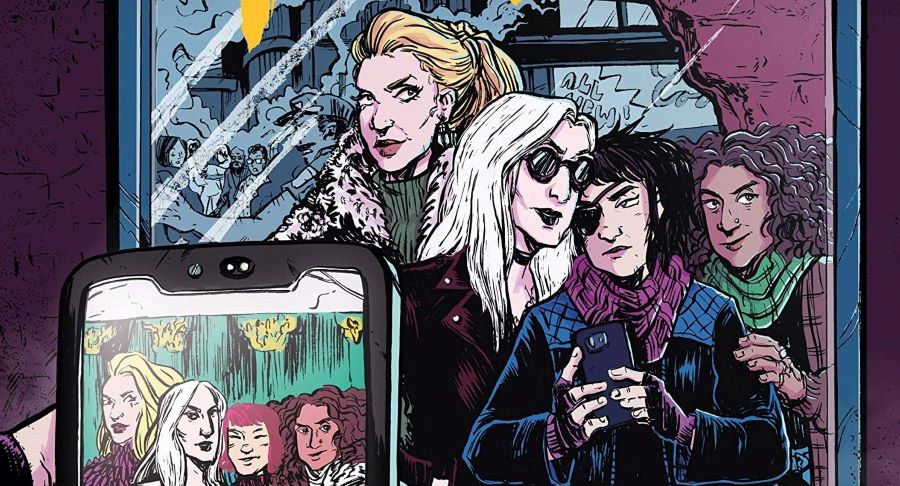 Published as a comiXology Originals, political crime drama comic series The Final Girls centres around the personal drama and media fallout when a group of former women superheroes reunites to serve justice to a famous male hero.
Retired or not, the famous Final Girls women face continual media scrutiny for their past and present actions as both heroes and women. When the women decide to take action against a male abuser, they think justice has been served. The Final Girls have no idea one of their own will have to deal with false accusations and consequences as a result of their actions.
The Final Girls comics use a neon-pink punk aesthetic and brash humour as relief while also exploring heavy topics like trauma, abuse, justice, and women's portrayal in the media.
8. Finger Guns – Justin Richards, Val Halvorson, & Rebecca Nalty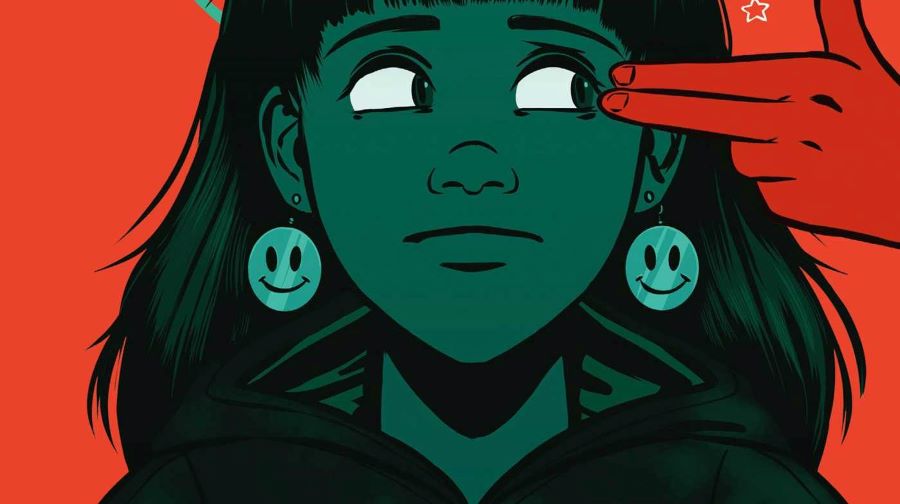 Teens with emotional-manipulation superpowers shooting out of their fingers make a plan to stop a potential murder in the touching sci-fi crime tale, Finger Guns, from Vault Comics.
A pair of troubled teens inexplicably possess powers to wield control over others' emotions by forming a gun shape with their fingers and "shooting" people. Testing out their abilities, Wes and Sadie learn how their finger guns can manipulate emotions like anger, calmness, or bravery. When the domestic violence situation inside Sadie's home escalates, she devises a scheme to use her powers against her father before his abuse leads to her mother's death.
Experimental panel layouts and splash pages infused with a muted 80s colour scheme evoke soothing imagery. These choices help placate readers amidst the tense, dramatic abuse shown in the comic.
9. The Good Asian – Pornsak Pichetshote, Lee Loughridge & Alexandre Tefenkgi
The Good Asian noir crime thriller series from Image Comics centres on a Chinese-American detective in 1936 Chinatown as he tracks down a missing woman and later, a murderer.
Back in the 1930s, Asian-Americans underwent perpetual racist scrutiny along with an evolving socio-political climate. As a detective, The Good Asian's protagonist Edison Hark finds himself at the epicentre of these heightened tensions in San Francisco. He tries to maintain a stalwart demeanour against prejudiced individuals while he searches for his surrogate father's secret mistress. Mounting adrenaline comes to a peak when unexpected circumstances put his life in jeopardy.
This is a gritty crime tale that also illuminates the harsh conditions Chinese-Americans and the Chinese working class faced under an immigration ban. Among all the thrilling crime comics listed, The Good Asian stands out in terms of topical material and sequential art structure. This series also arises as a tautly crafted example of how, disturbingly, anti-Asian sentiment is an ongoing issue.
10. Kaiju Score – James Patrick, Rem Broo, & Dave Sharpe
Japanese kaiju wreaking havoc provides the perfect distraction for a group of criminals attempting to pull off an art heist in Kaiju Score from AfterShock Comics.
A failed thief recruits a crew of shady, but like-minded criminals to steal art worth millions. Each crew member holds a personal stake in the gig. For some, death awaits. For all of them, their murder could happen not by human hands, but at the enormous hands of the kaiju storming their city while they try to complete their heist among the chaos.
Kaiju Score highlights the gruesome and perilous consequences involved for those who engage in selfish criminal activities. The series strips away the glamour to show a life of crime in all its harrowing veracity.
11. My Favorite Thing is Monsters – Emil Ferris
Reminiscent of classic horror pulp, the Fantagraphics graphic novel, My Favorite Thing is Monsters, employs a sumptuous cinematic style to tell the story of a fictional murder in 1960s Chicago.
A ten-year-old girl thinks her upstairs neighbour, a holocaust survivor, was murdered by an insidious villain. Karen Reyes envisions herself as a wolf-like monster and obsesses over pulp monster magazines. Through her diary and illustrations, Karen investigates the lives of the people – and potential suspects – around her as their loops of tragedy circumnavigate and bisect one another.
The colossal graphic novel discards gutters and conventional comic panel structure. Instead, Karen's story unfolds through elaborate pen art and annotations sometimes covering every square inch of space. My Favorite Thing is Monsters is a visionary work quite unlike nearly any other comic readers will ever have the pleasure to experience.
12. Osaka Mime – Andy Leavy, Hugo Araujo, & Rob Steen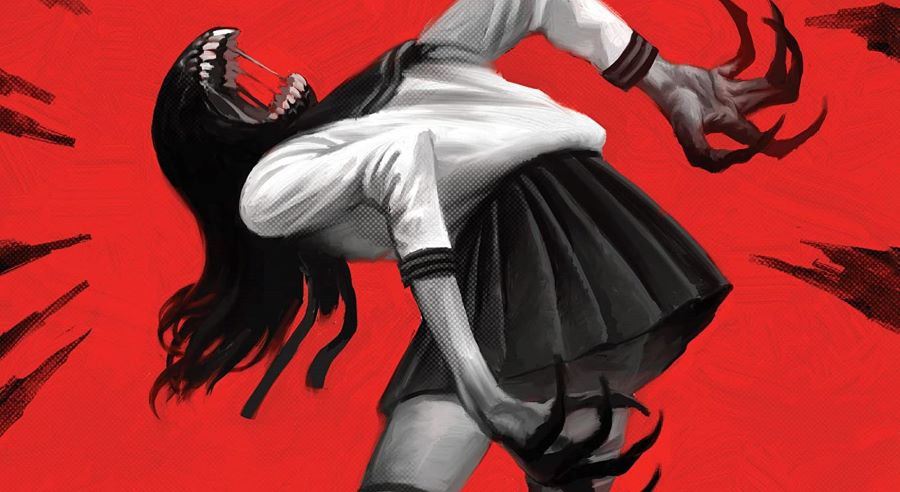 Osaka Mime from Behemoth Comics mirrors Japanese crime media with its fusion of noir detective tropes and supernatural forces afflicting a city.
Two detectives in Osaka, Japan learn about a shape-shifting creature who can take on the appearance of its murdered victim. As part of the Osaka Police Department's Supernatural Unit, the detectives have trained to deal with phenomenological influences. However, they have never encountered a Mime killing people back to back with little rest time in between. The rookie and veteran cops focus on trusting one another when they know the Mime could be masquerading as anyone around them.
Osaka Mime is a self-contained graphic novel; a love letter to Japanese horror. Along with great pacing and an expressive art style deserving of merit, pages swell with serious terror to leave you trembling with unease.
13. The Recount – Jonathan Hedrick, Joe Bocardo, Gabriel Ibarra, Sunil Ghagre, & Cristian Docolomansky
Scout Comics' political crime thriller series, The Recount, centres on a domestic terrorist group who take it upon themselves to eliminate anyone tied to the nations' corrupt president.
During the impeached U.S. President's resignation speech, a member of his own Secret Service shoots and kills him. Vice President Meredith McDearmon immediately accepts the open presidential role and is taken to a safe house as a necessary precaution. A conspiracy group self-dubbed 'The Masses' charges the assassinated president with war crimes and manipulation that has drastically infringed upon his citizens' lives. Though politically diametrically opposed, female Secret Service agent Bree Barto and President McDearmon fight for their lives as people's friends and family members violently turn against one another in the name of retribution.
The Recount graphically shows the consequences of spurned citizens seeking vengeance and sparks an introspection about power dynamics.
14. Shadow Doctor – Peter Calloway, Georges Jeanty, Juancho!, & Charles Pritchett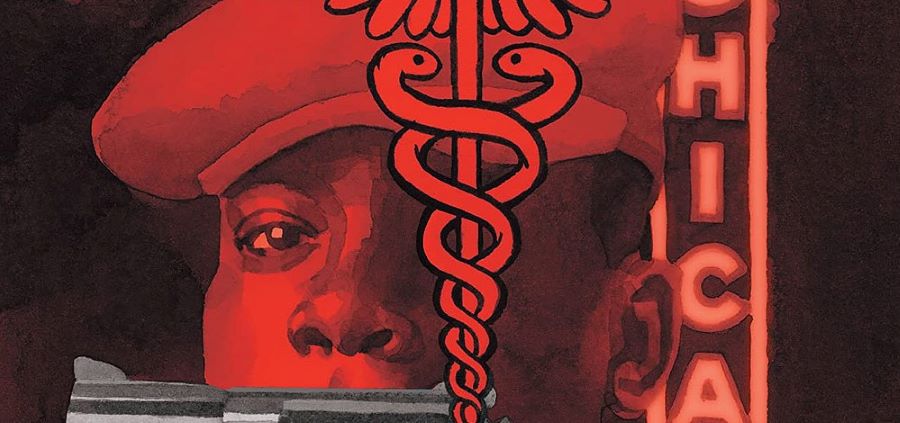 Writer Peter Calloway teams up with a fabulous creative team to tell the true story of his grandfather's involvement with mob boss Al Capone in the AfterShock Comics historical crime series, Shadow Doctor.
The historical thriller takes place in Prohibition-era Chicago in the early 1930s. Nathaniel Calloway, a Black doctor, finds himself turned away for unemployment throughout the city due to racism. Unfortunately, an offer from Mafia leader Al Capone entices the desperate doctor.
As Nathaniel receives financial security for stitching up the wounds of murderers under harsh lights in seedy basements, he wonders about his physical safety among Capone and his men.
15. Spencer & Locke – David Pepose, Jorge Santiago, Jr., & Jasen Smith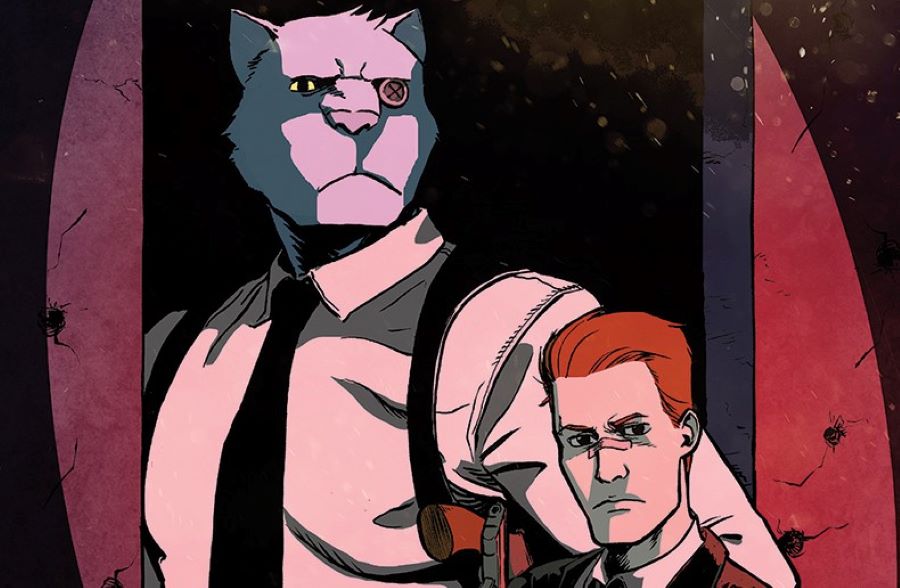 Action-adventure crime comic series Spencer & Locke follows the life of a traumatised detective who copes with his past — and present — through personifying his childhood toy as his partner.
Detective Locke quickly mobilises his crime-solving abilities to find out who murdered his childhood sweetheart. Haunted by PTSD, Locke finds solace in imagining Spencer, his favorite stuffed panther, as his anthropomorphic assistant on the case.
Comedic antics and noir-tinged art shine a light on the seismic emotional influence your past can inflict if the damage remains unresolved. Suspending disbelief may serve as a coping mechanism for Locke, but his survival against treacherous criminals will depend on his own mental fortitude in reality.
READ NEXT: 15 Best Horror Comics You Should Read
Some of the coverage you find on Cultured Vultures contains affiliate links, which provide us with small commissions based on purchases made from visiting our site. We cover gaming news, movie reviews, wrestling and much more.