Comics are having a renaissance. Amid worldwide shutdowns and a devastating pandemic, the comic industry had its most profitable year ever in 2020. Technological devices such as tablets and iPads provide a seamless, transportable reading experience, so it's no wonder that digital comic sales rose 33% from 2019 to 2020. Along with an increase in comic sales came an increase of two interesting factors: independent comic sale success and an uptick of horror comics publications.
Indie publishers like Vault Comics and AfterShock Comics are voraciously releasing horror comic series. Major publishers Image Comics and DC Comics continue to sell out and reprint issues of their popular horror titles. Archie Comics even created a best-selling horror imprint. The influx of hair-raising comic book options doesn't appear to be slowing down any time soon. All writers, artists, colourists, and letterers of the comics mentioned in this article work together to create frightening masterpieces. This list of a few of the best horror comics recommendations is guaranteed to convert apprehensive readers into people curious about supernatural literature.
The Best Horror Comics
1. Basketful of Heads – Joe Hill, Leomacs, & Dave Stewart
Basketful of Heads is one of the best horror comics in the dark comedy genre. DC Comics released their Black Label imprint in 2018, reprinting comics from the discontinued Vertigo line and introducing new mature comics in prestige format. Basketful of Heads is a seven-issue miniseries where a woman embarks on a mission to save herself from death and rescue her kidnapped boyfriend. When she slices off the head of her first attacker with an 8th-century Viking axe, the severed head of the criminal stays conscious and aware of his new fate.
Does collecting a basketful of heads on the hunt for her boyfriend make her a killer as well? Written by Stephen King's son and featuring a vintage art style brimming with expression, Basketful of Heads is a fun romp, mystery, and spin on slasher films.
2. Bitter Root – David F. Walker, Chuck Brown & Sanford Greene
Monsters are no match for magical root workers in the Bitter Root comic saga. Bitter Root examines themes about race, phenomenology, and the supernatural. This is a Black-centric horror comic centralized around real, horrific events in Black history.
A multi-generational family of monster hunters locates and cures the souls of individuals infected by hate. Racism transforms these people into formidable, monstrous versions of the evil inside their hearts. Suddenly, a tragedy befalls the family. Their legacy and morality are compromised when some members feel compelled to seek revenge for the tragedy, killing the monsters rather than curing them. Hellish beasts tear through the pages in Bitter Root. Meanwhile, new creatures rise, threatening all of humanity. Horror and history paint this immersive comic series red with blood.
3. Blue In Green — Ram V & Anand RK
Musicians are known for their dedication to their art. Sometimes, the intensity to perform – to reach an unattainable level of perfection – breeds a certain kind of unhinged psychosis. The psychological horror graphic novel Blue In Green from Image Comics explores the haunting relationship between musical pursuits and demons manifested from obsession.
A struggling Black jazz musician working as a music teacher returns home to attend his mother's funeral. Faced with death, feelings of failure about his own life overwhelm him. When a bewildering photograph turns up in his mother's home one night, he begins to question his connection to a former popular jazz musician. Jealousy, ambition, and an ethereal demon force the man to reconcile with his worst nightmares. Blue In Green is an artistic tour de force in the comics sphere. Dread spirals through the graphic novel with improvisational freedom found in jazz music. One of the best horror comics in history, Blue In Green will unnerve readers as they journey through a visible representation of music and madness.
4. Bunny Mask – Paul Tobin & Andrea Mutti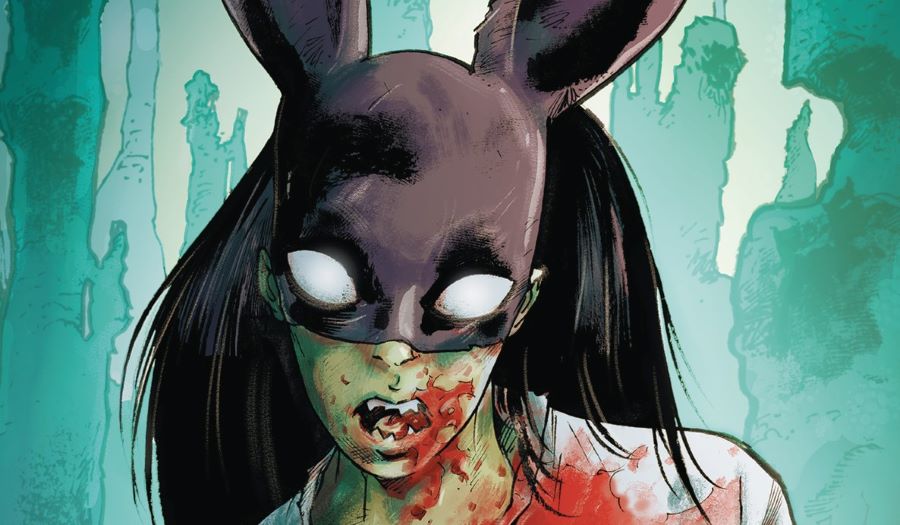 Bunny Mask effuses terror in a graphic display of horror. The series from AfterShock Comics casts its characters in a foggy world where fiction and fantasy blend together. Reading Bunny Mask is akin to walking through a cavern in the dark wilfully, despite knowing shock after shock waits around every corner.
Bunny Mask is an ancestral creature, locked away in a cave due to her unnatural existence. After a deranged madman releases Bunny Mask after centuries of captivity, only vengeance will satiate her anger. Bunny Mask posits questions about the metaphorical masks humans wear to maintain facades. The watercolour art style and leaking colours embolden the untethered reality in the comic. If you like messed-up comics, read this enticingly demented comic series.
5. Edgar Allan Poe's Snifter of Terror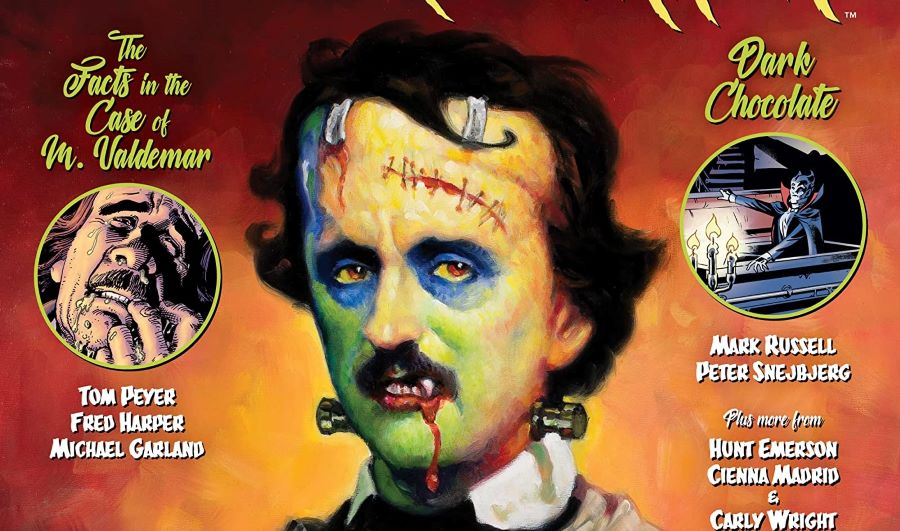 AHOY Comics is an independent publisher known for their sharp wit and satire. The comic anthology series, Edgar Allan Poe's Snifter of Terror, breaks down the barrier between horror and humour with a sledgehammer. The eponymous Edgar Allan Poe often breaks the fourth wall at the forefront of each issue, snifter in hand.
Classic Poe tales like "The Masque of the Red Death" and "Nevermore" are comically retold. Artists in this anthology series let their imaginations loose to capture the essence of the darkly comedic stories. Ranging from grotesque illustrations of 18th-century illnesses to a Quaker Oats-inspired Monster serial, the comic series doesn't fall flat like the house of Usher. The Snifter series continues the snarky terror in the sequel series Edgar Allan Poe's Snifter of Blood and Edgar Allan Poe's Snifter of Death.
6. Harrow County – Cullen Bunn & Tyler Crook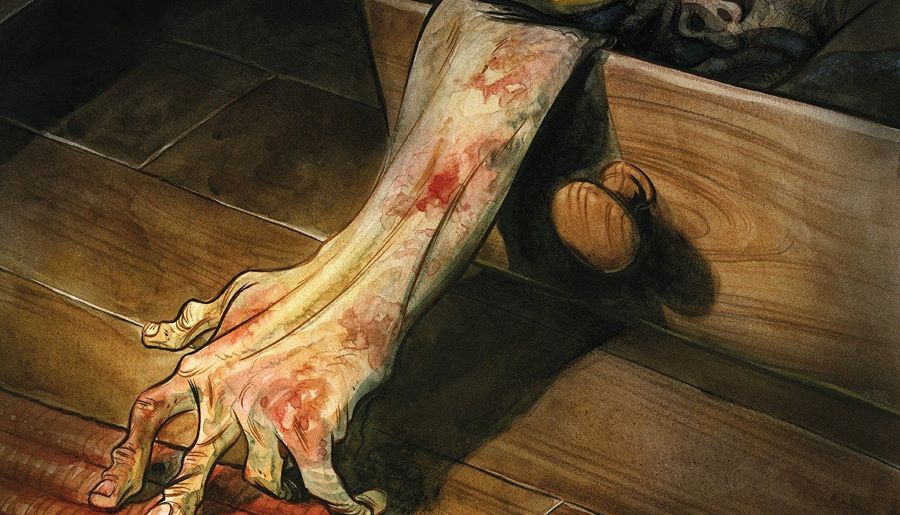 Titan of the horror comic industry Cullen Bunn combines his talents with artist Tyler Crook in the highly acclaimed horror comic, Harrow County. Creepy ghouls from your worst nightmares crawl out from the shadows in this 32-issue comic series published by Dark Horse Comics.
A young woman grows up familiar with the monsters shifting around in the woods around her home. However, the night before she turns eighteen years old, she unearths a truth about herself that irrevocably changes her future. Harrow County's art and renderings of ghouls amplify the fear factor ten-fold. The mass appeal of one of the best horror comics in the market stems from stellar storytelling, sympathetic characters, and images that will superimpose themselves on your brain for weeks.
7. Home Sick Pilots – Dan Watters & Caspar Wijingaard
Reminiscent of the films Monster House and The Shining, Home Sick Pilots from Image Comics takes place in the summer of 1994. The lead singer of a local high school punk band goes missing inside a haunted house. Ghosts are restless inside the house and the missing teen's bandmates discover her startling connection with the rickety residence.
Home Sick Pilots is a haunted house story with punk rock sensibilities, mixed with Japanese-mecha action. Doused in a stylized pink, purple, white, and blue colour palette, this comic erupts with every panel's kinetic visuals and electric energy. This is an essential horror book for anyone who appreciates aptitude for craft in the comics medium.
8. Jughead: The Hunger – Frank Tieri, Michael Walsh & Pat and Tim Kennedy
Even the sun-splashed Riverdale kids aren't safe from the horror treatment. Archie Comics created the horror imprint, Archie's Horror, to expand the Archie Universe and reach a broader audience. The Afterlife With Archie and Vampironica comic series created alternate universes where the famous Riverdale teens are turned into zombies and vampires. But everyone's favourite, food-loving kid Jughead gains an insatiable appetite for flesh in the Archie's Madhouse comic collection, Jughead: The Hunger.
The conceit of this comic series arises quickly: Jughead's never-ending hunger originates from his family's legacy as werewolves. Is there anything better than a gory story where Jughead turns into a werewolf and can't stop eating? Illustrations of Jughead ripping through flesh look cinematic. The narrative throws plot twists at readers with no warning, moving the pace along like a wolf on the prowl for his next victim. Jughead: The Hunger is gruesome and not for the faint-hearted. The Archies don't have time to sing in a comic where werewolves are involved.
9. Killadelphia – Rodney Barnes & Jason Shawn Alexander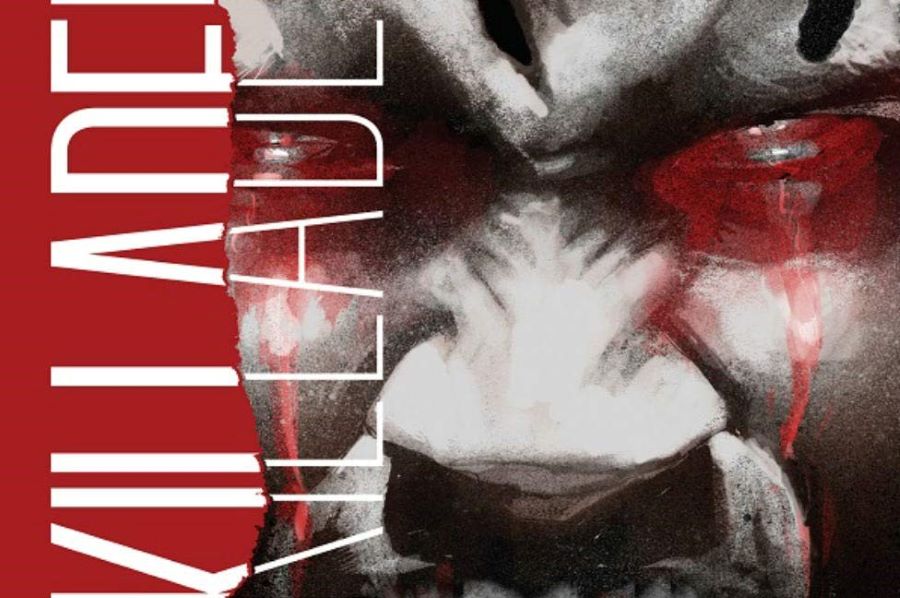 Any mention of vampires always elicits feelings of unease. Whether it's a sparkly supernatural man pursuing a teenage girl or a still of Bela Lugosi in the original Dracula (1931) film, audiences fear for the victims of a vampire's bloodlust. Killadelphia from Image Comics ranks at the top of the list of the best horror comics about vampires.
When his father is murdered, a beat cop returns to his former home in Philadelphia to bury the old-timer. Only after he finds letters whispering about the undead and creatures who feast on blood during the night does the cop realize his father was embroiled in more dangerous secrets than he ever imagined. Beyond the gruesome vampire depictions, Hamilton musical references, and themes smartly discussing race, the gravelly art style is a highlight of the series. Embroil yourself in a noir-crime/horror comic where vampires feast their fangs on the City of Brotherly Love.
10. The Nice House on the Lake – James Tynion IV & Álvaro Martínez Bueno
The most recent popular title released from Black Label is the currently running horror/sci-fi maxiseries, The Nice House on the Lake. Comics are a visual medium. The Nice House on the Lake illuminates how, when the visual and narrative elements of a comic work in tandem, the results can be jaw-dropping.
In The Nice House on the Lake, an eccentric millionaire quietly invites a group of selected friends and acquaintances to his opulent lake house in the woods. When you gather random people together with varying professions, circumstances, and outlooks on life, tensions are sure to arise. The real terror begins when they realize there's horror prowling both inside and outside the sequestered lake house far from civilization. There's nothing like a vacation-gone-wrong story with disturbing imagery to make you reconsider your next getaway retreat.
11. The Plot – Michael Moreci, Tim Daniel & Joshua Hixson
Vault Comics dominates the comic market with horror publications. The Plot is only one of the best horror comics Vault has to offer. Titles like The Autumnal, I Walk With Monsters, and Hollow Heart all should be recommended for horror comic buffs. Yet, The Plot makes this list because the comic series boasts powerful storytelling and illustrations so scary your heart will start pounding erratically.
Psychological horror and bog creatures twist a man into their branches of death in The Plot. Growing up in his ancestral home built on an ancient bog pushed one of the children far away from his family and hometown. Now an adult, he is horrified to find out that his brother and sister-in-law were murdered. Given the responsibility of caring for his brother's children, he moves them into the old home on the family plot. Demons of the past return in physical form, shadows lingering on the comics' pages. The Plot paints a portrait of mental health, familial ties, the monstrous vegetal as man grapples with mental trauma and ancestral secrets.
12. Proctor Valley Road – Grant Morrison, Alex Child & Naomi Franquiz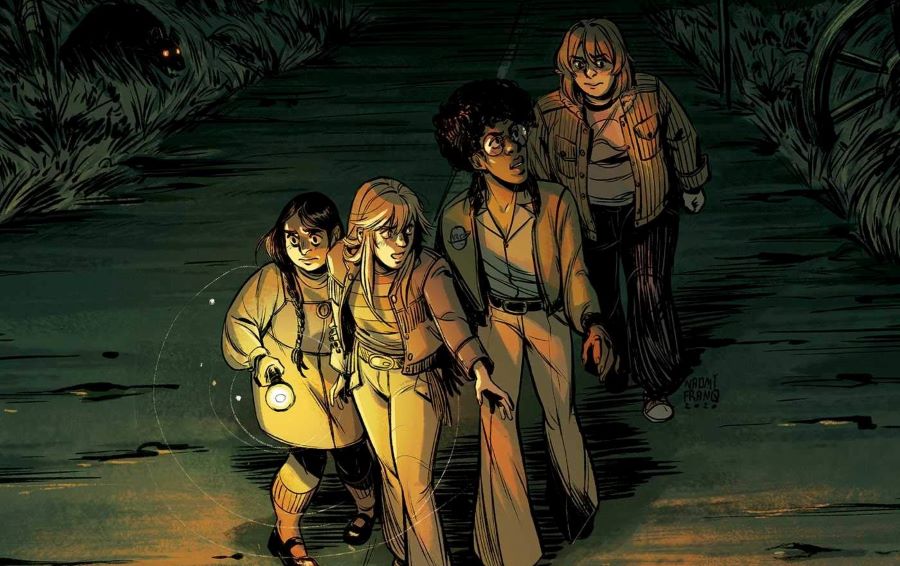 Proctor Valley Road critiques the 1970s while simultaneously presenting a spooky ghost story. The science-fiction/horror BOOM! Studios comic deconstructs the values America was trying to espouse as positive changes. Along Proctor Valley Road, a group of teens comes in contact with a supernatural horror rivalling the horrors burgeoning in the 1970s Americana landscape.
Four teen girls organize a creepy "Spook Tour" on Proctor Valley Road to scare their classmates. However, the teens never considered why Proctor Valley Road was rumoured to be infested with haunts and demons. When a group of boys who tease them disappears, the girls reluctantly search for them on the sinister road. Creatures of the night don't like to be disturbed. The girls must decimate the evil forces before they are destroyed themselves. Proctor Valley Road pulses with quiet foreboding until the green-tinged panels surrender to images that will lavish readers in a deluge of panic.
13. Scooby Apocalypse – Keith Giffen, J.M. DeMatteis, & Howard Porter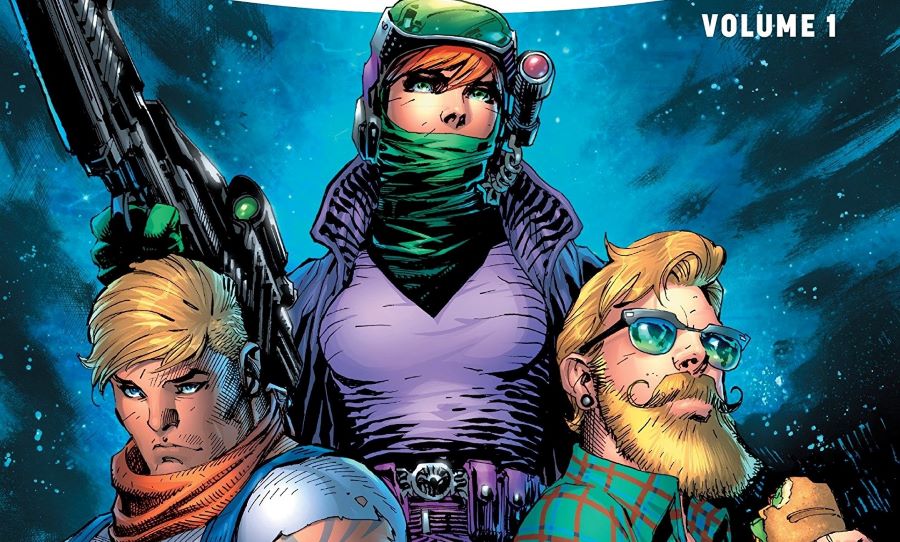 DC Comics reimagined Hanna-Barbera cartoon characters in the Hanna-Barbera Beyond comics. One of these mature, dramatized takes on a classic animated television show is Scooby Apocalypse. Prepare yourself to yell, "Zoinks!" and "Jinkies!" repeatedly when reading about those meddling kids and their dogs as they battle a frightening zombie horde in an apocalyptic world.
Ever the brainiac, Velma Dinkley and her brothers created technological advancements to better humanity. Scooby-Doo can talk, thanks to a Dinkley prototype device allowing genetic canine enhancement. But one of Velma's inventions mysteriously goes awry, inciting a zombie apocalypse. Velma was able to protect Shaggy, Scooby, and their new acquaintances Fred and Daphne inside her lab. Unfortunately, the gang is forced to both survive against the undead and solve the greatest mystery of their time; how to end the apocalypse. Scooby Apocalypse retains its heart while modernizing the look and traits held by the beloved Mystery Inc. characters.
14. The Silver Coin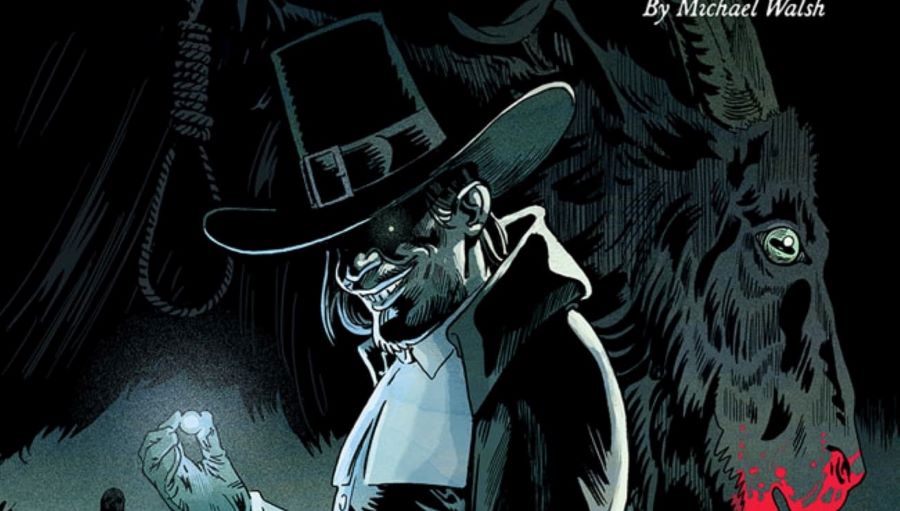 Anthology comics benefit readers who like reading single issues, avoiding the hassle of tracking down issue after issue. Each issue of Image Comics' The Silver Coin hosts a one-shot story with a threaded larger narrative if you do read each subsequent issue. Ultimately, you can read any single issue in this anthology series to satisfy your craving for a short horror tale.
The Silver Coin anthology tackles the rock-horror, slasher, apocalyptic sci-fi, and other horror genres. The eponymous silver coin appears in every issue, wreaking havoc and misfortune on its unsuspecting finders. Centuries of death follow the users of the cursed silver coin in various gory displays of its power. Panels drenched in shadows, blood, and hypnotic colour schemes evoke terror for only the most daring readers.
15. Something is Killing the Children – James Tynion IV, Werther Dell'Edera & Miquel Muerto
Watching monsters viciously devouring children will make readers' stomachs turn every time in Something is Killing the Children from BOOM! Studios. No other comic on this list will disturb you as much as this series. However, it is a poignant and incredibly crafted addition to the horror comics canon.
In the town of Archer's Peak, parents are petrified of the creatures stealing and killing their children. Their hope rests on a brutal, yet compassionate, monster-slaying woman on a quest to save the children. Unfortunately, rebelling against her organization and going solo in Archer's Peak means a group of killers is hunting her too. The kids are not all right in this beautifully illustrated tale of death.
READ NEXT: 12 Best Books About Serial Killers
Some of the coverage you find on Cultured Vultures contains affiliate links, which provide us with small commissions based on purchases made from visiting our site. We cover gaming news, movie reviews, wrestling and much more.