By 9 years of age, kids are really starting to know their own taste in books, seeking out genres and authors that they've loved before – and starting to look for new ones. The best books for 9-year-olds should reflect a true range of subjects and showcase diverse authorship, because these things matter more than ever for kids of this age.
The Best Books For 9-Year-Olds
1. The Beasts Of Clawstone Castle – Eva Ibbotson
Every child should be introduced to Eva Ibbotson and her magical, fantastical novels. The Beasts Of Clawstone Castle is one of her lesser known works, but it's a great read, especially for kids who might like their stories to be a little bit scary and definitely full of suspense.
In the summer holidays, Madlyn and Rollo are sent to stay with their aunt and uncle at Clawstone Castle on the Scottish border. The castle is falling apart, and they need money to go towards the upkeep, but it's an unpopular place. Madlyn and Rollo find out that there is a ghost in the castle and convince him to find some other ghosts to haunt the place for the tourists.
This is a sweet, slightly odd and definitely heart-warming novel that more confident readers of this age will love.
2. A Boy Called Christmas – Matt Haig
It's no secret that we are big fans of Matt Haig here on Cultured Vultures, but we haven't had much chance to rave about his books for younger readers yet. Happily, A Boy Called Christmas is here to grace this list with its wonderful presence.
A boy named Nikolas ventures into the freezing, formidable north to find his father, who went looking for the fabled elf village. Nikolas takes his reindeer buddy, Blitzen, and his pet mouse with him on the adventure that is going to change his destiny. Haig's style is perfectly suited to young readers. Make sure they check out the book before they see the Netflix movie.
3. The Boy Who Harnessed the Wind (Young Readers Edition) – William Kamkwamba and Bryan Mealer (and Anna Hymas)
Any self-respecting list of the best books for 9-year-olds will have some good non-fiction on it, and The Boy Who Harnessed The Wind is exactly such a book. It will probably be more confident 9-year-old readers who take this on alone, but the inspirational story is bound to impress anyone who comes across it.
When a drought struck William Kamkwamba's village in Malawi, his family lost all of their crops. William began reading science books in the village library and decided to build a windmill to pump the water needed for the farmland. He built the windmill from scraps and old bike parts, changing everything for his family.
4. Coming to England – Floella Benjamin (and Joelle Avelino)
Coming To England contains some more of that excellent non-fiction for 9-year-olds that we mentioned earlier. Baroness Floella Benjamin has been a massive entertainment personality in the UK since the 1970s, and now sits as a life peer in the House of Lords. Her story is one of deep historical interest, and an inspiring tale of how humble beginnings can mature into a rich and full life.
In 1960, Benjamin came to the UK with her siblings to join her parents who had moved there over a year before hand as part of the Windrush generation. Coming To England tells her story and explores the issues that she had growing up black in London. We still talk about the Windrush generation now, and it is so important that kids understand why it happened and why it is still important.
5. Danny The Champion Of The World – Roald Dahl
Roald Dahl has already come up on these lists, with good reason; he is just one of the authors who really understood what kids like to read, and the humour they enjoy. Danny The Champion Of The World is one of his longer books, and probably one of his best books for 9-year-olds. It has a more mature story, whilst still boasting those characters of his that kids love.
Danny lives with his dad in a caravan, and they enjoy a pretty wonderful life despite being poor. When Danny is nine, he finds out that his dad is a poacher taking peasants from the land of the deeply unpleasant Victor Hazell. The relationship between Danny and his dad is the real centrepiece of the book, and more discerning young readers will really appreciate it.
6. Five Children And It – E. Nesbit
There's always space for one more classic on a list of the best books for 9-year-olds, and Five Children And It is as classic as they come. Nesbit had a real knack for stories about families and the dynamics between siblings; her The Railway Children could easily be on this list too.
In Five Children And It, five siblings move to the countryside and discover a sand-fairy who is rather grumpy but does have the ability to grant wishes. The wishes that they make all go wrong, of course, as wishes are likely to do. In the end, they learn to value one another and also to not take the sand-fairy's magic for granted – good lessons all round.
7. Ghosts – Raina Telgemeier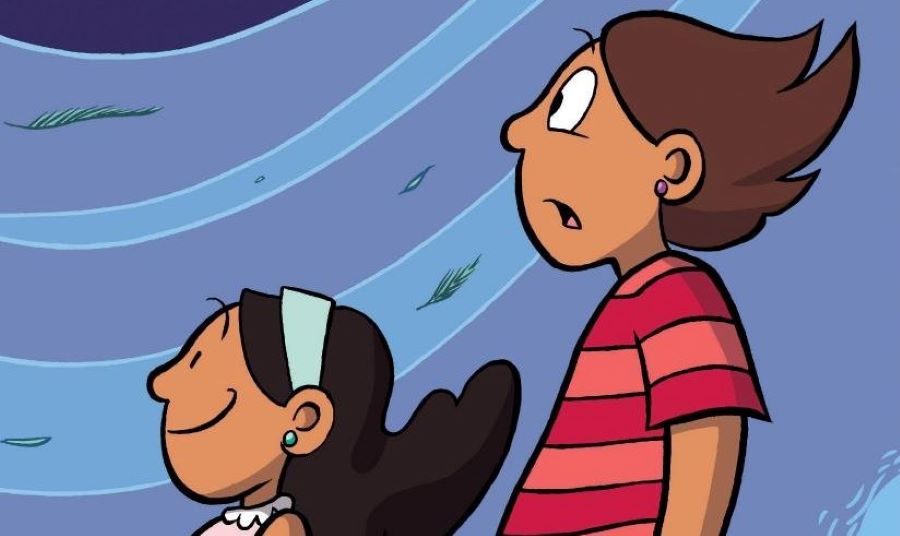 Ghosts is exactly the sort of graphic novel that will appeal to confident and reluctant readers alike. Telgemeier's illustrations are bold without being too in your face, and her character design is wonderful. Kids will love picking up this book and flicking through the pages.
Cat and her family have moved to Northern California because her little sister, Maya, has cystic fibrosis and the cool sea air will be good for her. Cat is unhappy leaving all her friends behind but is soon caught up in the local stories of ghosts in the new town. Cat wants nothing to do with it, but Maya wants to meet a ghost – and Cat is going to have to figure out what she really wants.
8. Happy Here: 10 Stories From Black British Authors And Illustrators
Happy Here is an anthology from a number of great Black, British writers and illustrators, such as Dean Atta, Joseph Coelho and Patrice Lawrence. It has, once again, been published by Knights Of, that children's publisher focused exclusively on diverse voices, and although it is the newest title on this list, it has earned a place here.
The stories and poems explore themes of family, joy and home, in all sorts of genres and styles, and is bound to start conversations between young readers.
9. Harriet Versus The Galaxy – Samantha Baines (and Jessica Flores)
Harriet Versus The Galaxy is one of the newer titles on this list, but it really packs a punch – it is guaranteed to tickle funny bones and also bring up some interesting subjects that kids are bound to want to explore further. It also acts as just the most excellent representation for the deaf community.
When Harriet finds an alien in her bedroom, she discovers that her hearing-aid can do more for her than it might appear. It turns out her family work for an intergalactic agency, and Harriet is the only one who can understand the aliens. Harriet Versus The Galaxy has been charming kids and adults alike, and Harriet is a big reason why; she's irreverent and irrepressible, and full of heart.
10. The Lion, The Witch And The Wardrobe – C. S. Lewis
The Lion, The Witch And The Wardrobe is the ultimate in children's books, and absolutely had to be included on a list of the best books for 9-year-olds. It isn't the first in the Chronicles of Narnia series – and most of those books could also be on this list. But The Lion, The Witch And The Wardrobe is of course the OG Narnia gateway for most kids – and with good reason. The magical, adventurous spirit of the book has rarely been matched.
Four children, evacuated from London, discover that there is a magical land of eternal winter through the wardrobe, ruled over by a cruel and unforgiving witch. The citizens and animals of Narnia have been waiting for the children to come, prophesised to be the ones to lead the land to a bright new future. But one of them is seriously tempted by what the witch has to offer.
11. Millions – Frank Cottrell Boyce
Millions made a bit of a splash when it was first published in 2004, and although it is actually a novelisation of the script for a film by the same name, it is fair to say that the novel is actually much better than the film. It's a funny romp, practically a heist story, and it will make kids think about the value of money and enjoying the things that they have.
Damian is a boy who has recently lost his mother, and become a little bit obsessed with saints as a way of coping. One day he is praying by the trainline and a bag of money is thrown at his feet, containing over £200,000. He shows it to his brother who reminds him that Euro Day (Britain's fictional move to the Euro) is fast approaching and they'd better spend the money. What follows is a fun but profound look at money and what possession of it can do a person and the people around them.
12. Once – Morris Gleitzman
Once is certainly a book that belongs on this list of the best books for 9-year-olds, but it is the only one that needs to come with a slight warning for content that could upset more sensitive kids. But in general, it is a key story for kids of this age, and one that the majority of them will be able to appreciate and take into their hearts.
Felix is on the run in Poland in 1942, and he is learning that his world is not safe for Jewish boys. But Felix is a born storyteller and keeps one step ahead of the people who would see him dead. Once is a heart-breaking story for any adult who reads it knowing the full connotations of the world Felix lives in. For kids, it is a story to introduce them to history through the eyes of a character who is, in many ways, just as naïve as they themselves could be.
READ NEXT: 12 Best Books For 8-Year-Olds
Some of the coverage you find on Cultured Vultures contains affiliate links, which provide us with small commissions based on purchases made from visiting our site. We cover gaming news, movie reviews, wrestling and much more.