In April 1999, WWF replaced their ongoing In Your House PPV with a new brand called Backlash that quickly became recognised as the post-WrestleMania special. Over the next 20+ years, Backlash's reputation grew substantially, featuring matches good enough to have featured on WrestleMania itself.
With the newly christened WrestleMania Backlash PPV this coming May, here is an opportunity to look back at the twelve best WWE Backlash matches of all time.
1. 'Stone Cold' Steve Austin (c) vs. The Rock – WWF Backlash 1999
No Holds Barred Match | WWF Championship
1999's instalment of WrestleMania was the first in the Rock vs.'Stone Cold' trilogy, the series of matches that defined both their careers. However, an often forgotten match between the two occurred at the inaugural Backlash, where the newly crowned champion defended the WWF Championship against The Rock in a continued war with The Corporation. During the build-up, 'Stone Cold' demanded his Smoking Skull belt and his feud with the 'Corporate Champion' involved The Rock throwing Austin into the Detroit river.
Austin faced tremendous odds in a No Holds Barred match where Shane McMahon, also of the Corporation, was the special guest referee. Despite suplexes on the concrete floor, being thrown into the entrance set, choked with cables and a Rock Bottom through the announce table, Austin survived with his never-say-die attitude. After a babyface Vince McMahon knocks a cheating Shane out, Austin's Stunner would prove enough to retain his title.
2. Dean Malenko (C) vs. Scotty Too Hotty – WWF Backlash 2000
WWF Light Heavyweight Title Match
Just a year later and the WWF roster was in the midst of a transition from colourful characters with average ability to legitimate workers. The influx of talent in debuting wrestlers such as Chris Jericho and Kurt Angle was elevated with the surprise defection of The Radicalz; a foursome of technically capable wrestlers with a vicious pack-like mentality, two of which would eventually go on to become main event champions in Chris Benoit and Eddie Guerrero. However, the first in their group to become a champion was 'The Man of 1000 Holds', Dean Malenko, who defeated Essa Rios for the WWF Light Heavyweight Title.
Challenging the champion was one half of the popular dancing duo Too Cool, Scotty 2 Hotty, who had briefly held the belt after defeating Malenko on an episode of Raw. The live crowd found themselves quickly drawn into this match as Malenko grounded the crowd favourite, damaging the knee only for Scotty to make a valiant comeback. Unfortunately, the injury eventually proved too much, and Scotty was felled by a Top Rope DDT, allowing Malenko to keep his championship. Undoubtedly one of the best Light Heavyweight Title matches of the WWF period, and likely Scotty's best singles match of all time.
3. Edge vs. Kurt Angle – WWE Backlash 2002
Ten months from his victory at the 2001 King of the Ring, and while Edge was popular with the fans, he was floundering slightly in his attempts to prove himself a capable talent. This match came about after Edge claimed a victory over Angle, infuriating his former friend to the point that they challenged one another to a rematch. On a night where Triple-H defended the Undisputed Title against Hulk Hogan and The Undertaker battled 'Stone Cold' Steve Austin, this match was the epitome of a sleeper hit.
The early exchange of Angle's suplexes were met equally from a determined Edge, who countered an Angle Slam with a vicious German Suplex of his own and gained a close nearfall from an Edge-O-Matic. In a coming-of-age match as a singles competitor, Edge matched Angle perfectly at a time when the 'Olympic Hero' was proving himself one of the best workers in the company. Just when it seemed Edge had the match won, a quick thinking Angle avoided a Spear and hit an emphatic Angle Slam for a hard-earned victory. A hidden gem that is a personal favourite of mine and vastly underappreciated.
4. Randy Orton (c) vs. Mick Foley – WWE Backlash 2004
Hardcore Match | Intercontinental Championship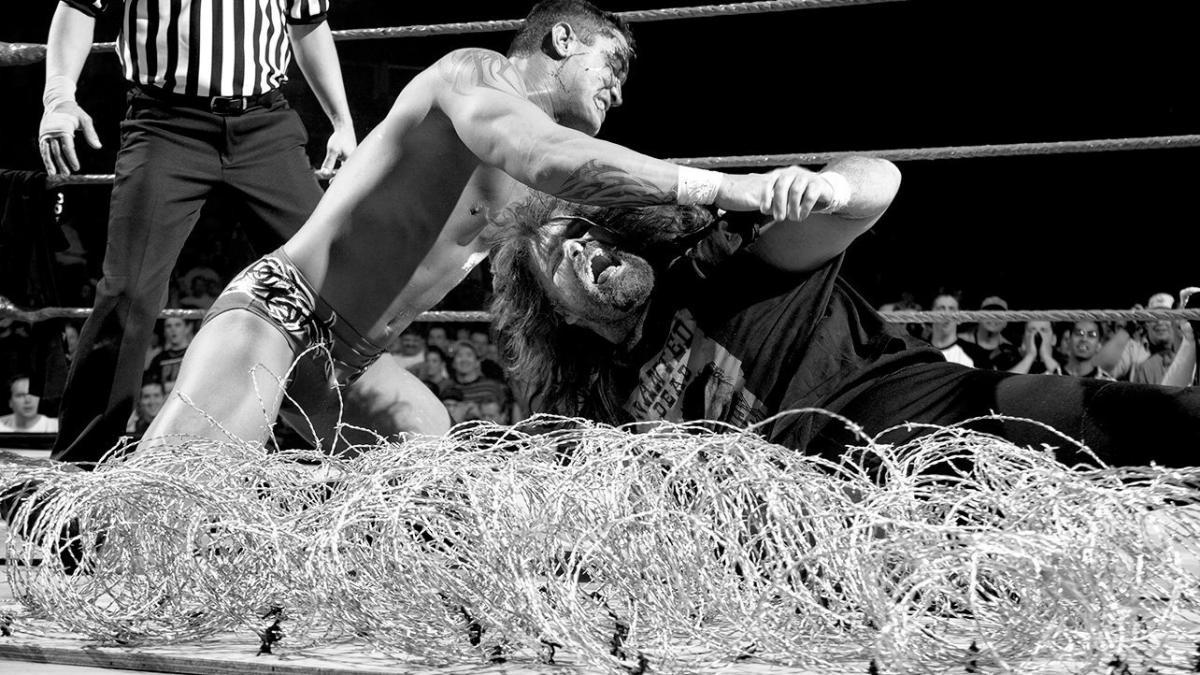 In the first month of 2003, the World Heavyweight Champion Triple-H brought together a stable to help him dominate the Raw brand. With living legend and mentor Ric Flair, powerhouse Batista, and third-generation Randy Orton at his side, Evolution ended the year having added the Raw Tag Team Titles and the Intercontinental title to Triple-H's World Heavyweight Championship. Orton's successful reign as Intercontinental Champion eventually turned him from the nefarious 'Legend Killer' to a crowd favourite, eventually gaining him the World Heavyweight Title. But before then, Orton faced his biggest challenge: surviving Mick Foley.
Having antagonised and disrespected the 'Hardcore Legend', Backlash is the repercussion of Orton's actions, Foley coming back several months earlier, determined to destroy the young, brash superstar. In a match that helped legitimize him in the eyes of the WWE Universe, Orton suffered a crimson mask, a painful drop onto thumbtacks, and being chucked off the stage through tables. The biggest surprise was Orton battling through Foley's attacks, including a Double Arm DDT, a barbed wire baseball bat and the Mandible Claw, before eventually hitting RKO onto the barbed wire bat to somehow get the three count for not only the biggest victory of his career so far, but one of the biggest victories of his career ever.
5. Chris Benoit (c) vs. Triple H vs. Shawn Michaels – WWE Backlash 2004
Triple Threat Match | World Heavyweight Championship
It has become a common trope for Backlash to feature rematches from WrestleMania. However, when it leads to absolute classic Triple Threat matches, it can only be viewed as a positive. The main event of WrestleMania XX was a perfect blend of Triple-H's storytelling, Michaels' showmanship and Benoit's technical brilliance to create a match full of tension and emotion, so it says something about the quality of all three men that they replicated their efforts so easily at Backlash.
The aim of this match was twofold, the first was for Benoit to retain the championship against the two biggest stars on Raw, to dispel any calls of him having fluked his initial title victory against Triple-H and Shawn Michaels. The second was for a subtle apology from WWE to the Calgary audience, having Shawn Michaels tap out to the Sharpshooter from Benoit in honour of their homegrown son, Bret Hart. While there may be questions over whether Benoit's title reign ever reached the same heights as this match, there can be no question in the conviction WWE displayed in having Benoit as a strong champion. This only adds to the senseless sorrow of Benoit's future actions.
6. Chris Benoit vs. Edge | WWE Backlash 2005
Last Man Standing Match
https://www.dailymotion.com/video/x7dvd40
One year later and we enter a new era of WWE wrestling, as WrestleMania 21 featured the crowning of both John Cena and Batista as the new champions of their respective brands, and the introduction of the Money In The Bank briefcase. Edge became the inaugural holder of the MITB briefcase when he attacked Benoit with a chair, preventing his victory. With a long history btween the two of them, beginning the previous year when Edge turned heel by betraying Benoit, this match was primed to be a gruelling battle. The recent revelations of Edge's affair with Matt Hardy's girlfriend Lita only added to the atmosphere.
Kicking off with a brawl fuelled by the intense hatred from both men, the crowd are firmly against Edge as chants of "We Want Matt" fill the stadium. Benoit twice earned a visual tap-out with both the Sharpshooter and the Crippler Crossface, and even German Suplexed Edge off a ladder. Despite this, Edge continued to survive, utilising weapons such as trash can lids and garbage cans to slow down the 'Rabid Wolverine'. The ending itself may be slightly uncomfortable to some, as Edge seemingly utilises a real life brick to Benoit's head to keep him down for the 10 count, but it helps continue Edge's development into the future 'Ultimate Opportunist'.
7. John Cena (c) vs. Triple-H vs. Edge – WWE Backlash 2006
Triple Threat Match | WWE Championship
Two years on from the first ever Triple Threat to main event a Backlash event, we feature our second, with the complexion of Raw having changed substantially. The World Heavyweight Championship had swapped over to SmackDown, and John Cena reigned supreme in the main event. Triple-H was growing into a crowd favourite and Edge was a nefarious heel with a former title reign as WWE Champion. After Cena's successful title defence at WrestleMania against Triple-H, he found himself facing both his WrestleMania opponent and the man who cashed his MITB title on Cena, 'The Ultimate Opportunist' Edge.
The physicality and dramatic elements of this main event is unquestionable, as Triple-H ends up with a crimson mask from a catapult into the outside post. Edge's underhanded tactics result in both men taking turns battering him, but Cena's determination and unparalleled strength helps him survive both men. In a surprising turn of events, Triple-H's victory seems imminent as he sends Edge out and has Cena in position for the Pedigree, only for the champion to reverse into a roll-up and get the three count. An underrated main event in Backlash's history and one that demonstrated Cena was growing into a competent main eventer in his own right.
8. The Undertaker (c) vs. Batista – WWE Backlash 2007
Last Man Standing Match | World Heavyweight Championship
The Undertaker and Batista shocked many at WrestleMania with a show stealing effort, a fast paced and physical battle that had the crowd enthralled. However, removed from Undertaker's then-undefeated streak at WrestleMania, and Batista having proven both a lack of fear and the strength advantage, retaining the title was far from guaranteed. This was emphasised early on by Batista hitting an emphatic Power Slam for a four count, and a hard slam into the barricade, only for Undertaker to retaliate with a Russian Legsweep into the barricade for a seven count.
With both men utilising the steel steps, with Undertaker's attacking resulting in Batista being busted open and a Legdrop through the announce table by Undertaker to get a nine count, the tension and physicality was high. Batista Spears, Triple Spinebusters and an Undertaker Chokeslam wasn't enough, as they battled up the ramp, and in the end, a Batista Spear off the ramp sets off an electrical explosion. With neither man able to make the count, the match ended in a draw, but as a standalone watch, the efforts of Undertaker and Batista are easy to appreciate.
9. John Cena (c) vs. Randy Orton vs. Shawn Michaels vs. Edge – WWE Backlash 2007
Fatal Four-Way Match | WWE Championship
What's bigger than a Triple-Threat the month after WrestleMania? A Fatal Four-Way between four of the biggest stars in wrestling history. John Cena and Shawn Michaels on the previous Raw had a non-title WrestleMania rematch that lasted 56 minutes and despite Cena's loss, he was still seven months into his title reign. Edge and Orton had previously worked together as Rated RKO, which made them a dangerous force in this tornado rules main event.
All four men had demonstrated some excellent chemistry over the previous few years, including Rated RKO's wars with D-X, so it surprises nobody at how excellent this battle is. The crowd is emphatically behind every superstar and the twenty minutes flow at a tremendous pace, with the finishing sequence near flawless. With Orton, Cena and Edge all attempting to hit their finishers, it ironically ends with Michaels' Sweet Chin Music dropping Cena on top of Orton to accidentally retain the championship. A slight hidden gem that definitely deserves more appreciation.
10. John Cena (c) vs. Edge – WWE Backlash 2009
Last Man Standing Match | World Heavyweight Championship
Ever since Edge cashed in his MITB briefcase to defeat John Cena for his first ever WWE Championship at New Year's Revolution 2006, their careers have been entwined, with a volatile hatred developing between them. Three years on, and John Cena continued to be a thorn in his side, ending Edge's fourth reign as World Champion at the previous month's WrestleMania. With that amount of history between them, it seemed only fitting for the two to face one another in a Last Man Standing match.
The chemistry is evident throughout as they push each other to the limit, whether an Attitude Adjustment into the crowd, an Edge Sharpshooter, a Spear to a jumping Cena off the top rope or a Conchairto to Cena, victory was a must for both men. But the champion refused to stay down, recovering from the Conchairto, and reversing an attempted Spear for a possible Attitude Adjustment. However, before Cena could hit the AA, a shocking appearance from the Big Show and a Chokeslam onto the stage ended Cena's fight, confirming Edge as the World Champion for the fifth time, equalling Triple-H's record at the time.
11. Dean Ambrose (c) vs. AJ Styles – WWE Backlash 2016
WWE Championship Match
Backlash 2009 was the last in its history until 2016, when the brand split returned with SmackDown being the first to have a brand-exclusive show with this event. The main event featured SmackDown's first and second choice in the draft with the WWE Champion Dean Ambrose defending against AJ Styles, who had only debuted eight months earlier at the Royal Rumble. Despite entering the WWE as the 'hottest free agent' and one of the unprecedented best in the world, nobody expected to see Styles entrusted in the main event.
The confident and cocky Styles controlled the early going on the mat, only for a fired-up Ambrose to fight back, hitting big suplexes and an Elbow Drop off the top to a standing Styles. In retaliation, Styles focused his attack on the champion's left leg, locking in the Calf Crusher, only for Ambrose to get to the ropes. With a Springboard 450 Splash also only gaining a nearfall, and Ambrose bouncing back with a vicious Lariat, a desperate Styles was looking defeat in the face. In desperation, Styles utilised a ref bump to hit a low blow and an emphatic Styles Clash, to win the WWE Championship. Fifteen years after appearing on WCW Nitro, through his years in TNA, Ring of Honor and New Japan, Styles finally achieved his destiny as the new WWE Champion.
12. Seth Rollins (c) vs. The Miz – WWE Backlash 2018
WWE Intercontinental Championship Match
This dual-branded event is very much derided among most, full of uninspired matches for the majority of the PPV and ending in a questionable main event between Roman Reigns and Samoa Joe. Even the normally reliable Daniel Bryan had a lacklustre match with Big Cass, while the WWE Championship bout between Styles and Shinsuke Nakamura disappointed expectations. Despite all that though, the opening contest is an unquestionable highlight, featuring the MVP of 2018 Seth Rollins and the possibly never better Miz.
With Rollins entering as champion and an unrepentant Miz desperate to regain his prized championship, both men put together a back-and-forth battle that had the crowd rocking throughout. An invested and loud crowd, a predatory heel in Miz, a white-hot Rollins and a series of nearfalls throughout, either man could have won without question. Despite two Skull-Crushing Finales both gaining close two counts, and Miz avoiding several attempts at the Curb Stomp, the champion finally retained after hitting his patented Curb Stomp. A match definitely good enough to main event most shows that year.
At this time of writing, only two matches are confirmed for the upcoming WrestleMania: Backlash, with Bianca Belair defending her SmackDown Women's Championship against Bayley, while both Drew McIntyre and Braun Strowman challenge Bobby Lashley for the WWE Title. More matches will be announced in the coming weeks, but my question to you is: what match do you think best has the possibility to steal the night?
READ NEXT: The Best WWE Fastlane Matches Of All Time
Some of the coverage you find on Cultured Vultures contains affiliate links, which provide us with small commissions based on purchases made from visiting our site. We cover gaming news, movie reviews, wrestling and much more.