The Mega Man Battle Network games have surprising depth and variety once you start digging into their systems. They have a lot to offer, each with their own unique quirks, but these Mega Man Battle Network Legacy Collection tips will help you no matter which game you decide to start with.
1. Don't Over-Trade At The Chip Trader
This is everyone's first mistake. It's fun to throw away battle chips you aren't using in the hopes of getting a really good one in return, but you'd be surprised how useful those low-damage chips are when they come in the right code — even in the late game.
Find out how many of the same battle chip you can have per folder (varies per game) and never trade past that number. For example, if you can have four of any given battle chip in a folder, keep at least four copies per code in your pack. That would mean four Ratton3 A, four Ratton3 C, etc. You don't want to have to return to an old area to grind if you don't have the right chip in a good code for a challenging boss.
Note: trading at the Chip Trader saves your game. Don't throw away anything you would miss.
2. Save, Save, Save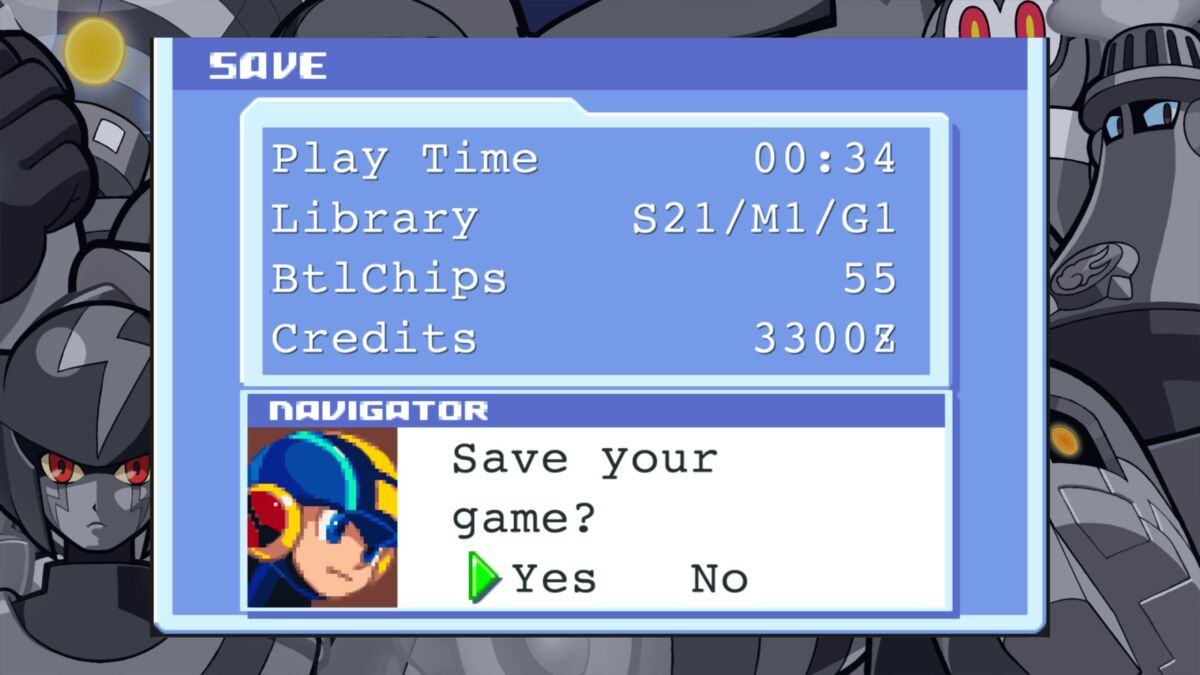 When you die in Battle Network, you start at your last save. You can save anywhere, any time, so save often. You never know when a boss will show up as a random encounter and wipe the floor with you. Manual control isn't all bad, either. We've been spoiled with auto saves, but it's nice to be able to save-scum a challenging boss to get the reps in for a better score and bigger payout. I save every time I get a new chip, beat a boss, make story progression, etc. If I'm in a late game area, I may even save after each battle.
3. Avoid Buster MAX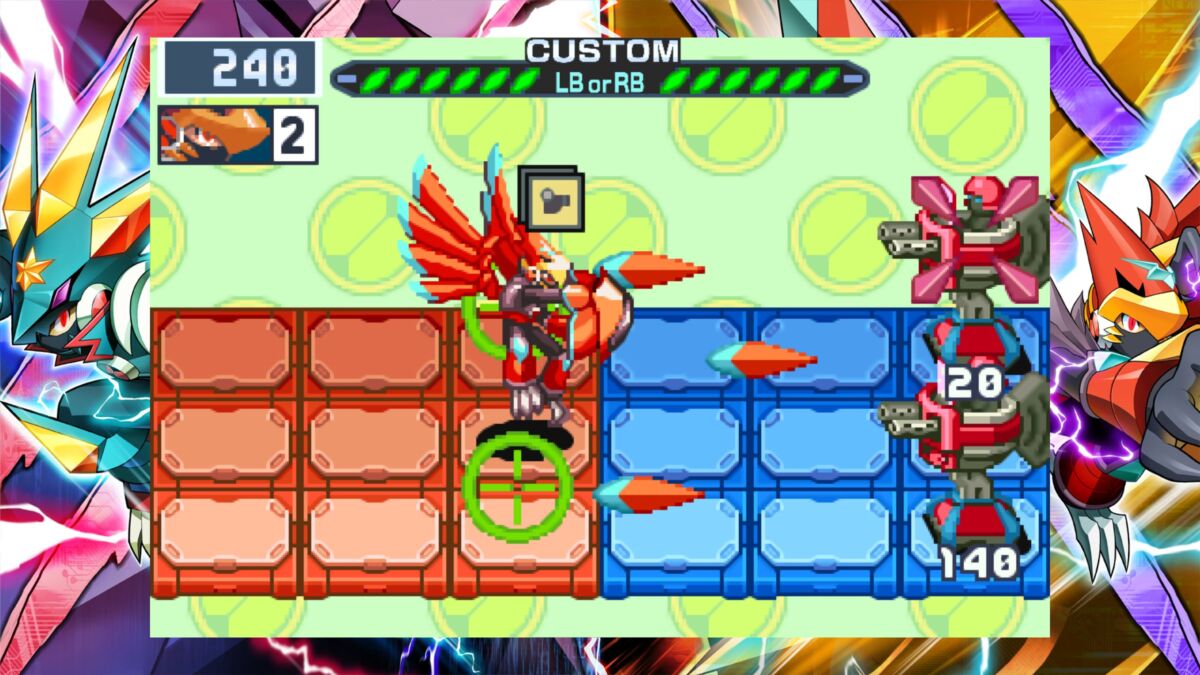 If it's your first time, don't turn on Buster MAX for any reason. The Battle Network titles are paced excellently with the intent of teaching you to master their systems. Blowing through a boss you're struggling with will result in missing out on that lesson. It's best used as a tool for returning players to speed through to the endgame for PvP. If you're struggling against a boss, change up your strategy. Equip battle chips that work well against their defenses, use chips that affect the stage, etc. Each boss has multiple strategies that respond well to their kit, so keep experimenting or look up a strategy guide.
4. Boosting Damage with Panels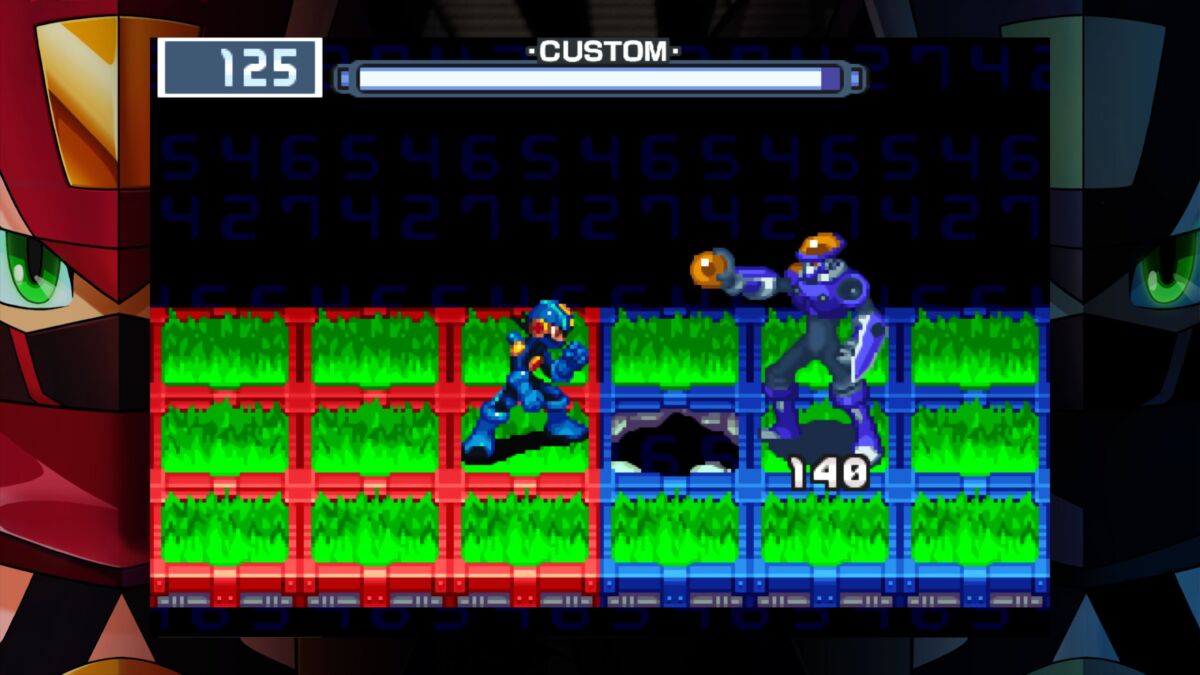 Battle Network's 3×6 arena is one of its greatest strengths. Learning to interact with the stage, transforming it to your advantage, is key to mastery. Some examples: if you land a fire attack on an enemy standing on a grass panel, it will do double damage, and if they are weak to fire, damage will quadruple. In some of the games, landing a water attack on an ice panel will freeze the enemy. Broken panels outright stop many attacks. Get out there and mess around! Some of the best strategies revolve around stage control.
5. Unify Chip Codes
Whenever possible, try to run folders that let you select the most cards at once. Battle chips in the * code are worth their weight in gold, often regardless of damage. Try to limit other codes in your folder to two — three max to allow for certain Program Advances or giga chips. It's the difference between one 210 damage move in a turn and three 60 damage moves along with a trap and some stage control.
6. Program Advances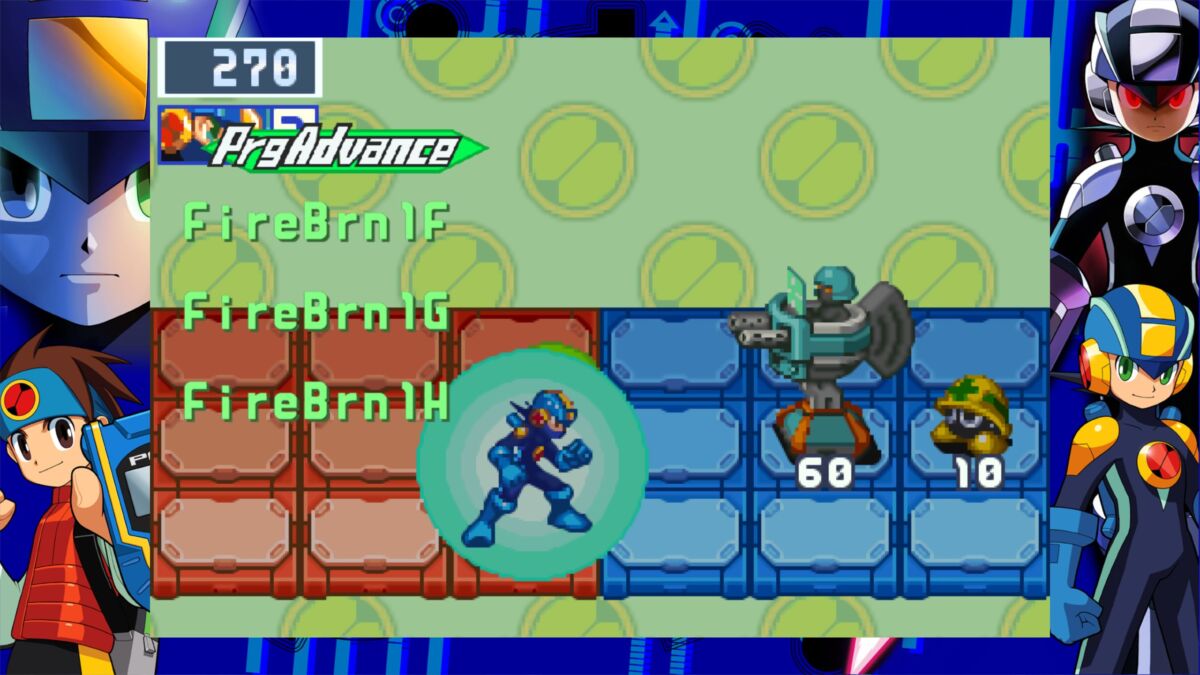 These things are devastating. If you aren't looking them up, most are fairly intuitive. If you have a unique battle chip that comes in sequential codes (e.g. A, B, C or S, T, U), you can combine them in that order to activate the Advance. If a battle chip has three tiers (e.g. Cannon 1, Cannon 2, Cannon 3) that share a code, you can combine them in order to activate the advance. If both the latter examples apply, the Advance can be activated either way but will still be the same Advance regardless of the method used. There will be some that you'll inevitably need to look up, of course, but this is a good starting place.
7. Boss Data
Once you beat a story boss, their data will hide somewhere on the Net. They won't appear as part of the overworld, but their locations are predetermined and static. They usually wait at the end of dead ends. You'll battle their Alpha version, rewarding you with their signature battle chip.
Once you defeat this version, be extra careful; now the Beta version will wander a predetermined network space, sometimes even in smaller terminals like TVs or doghouses. These guys are strong and appear as random encounters, so stay on your toes and save often. If you manage to beat them with higher ranks, you'll get stronger versions of their battle chips as reward.
8. S Ranking Virus Battles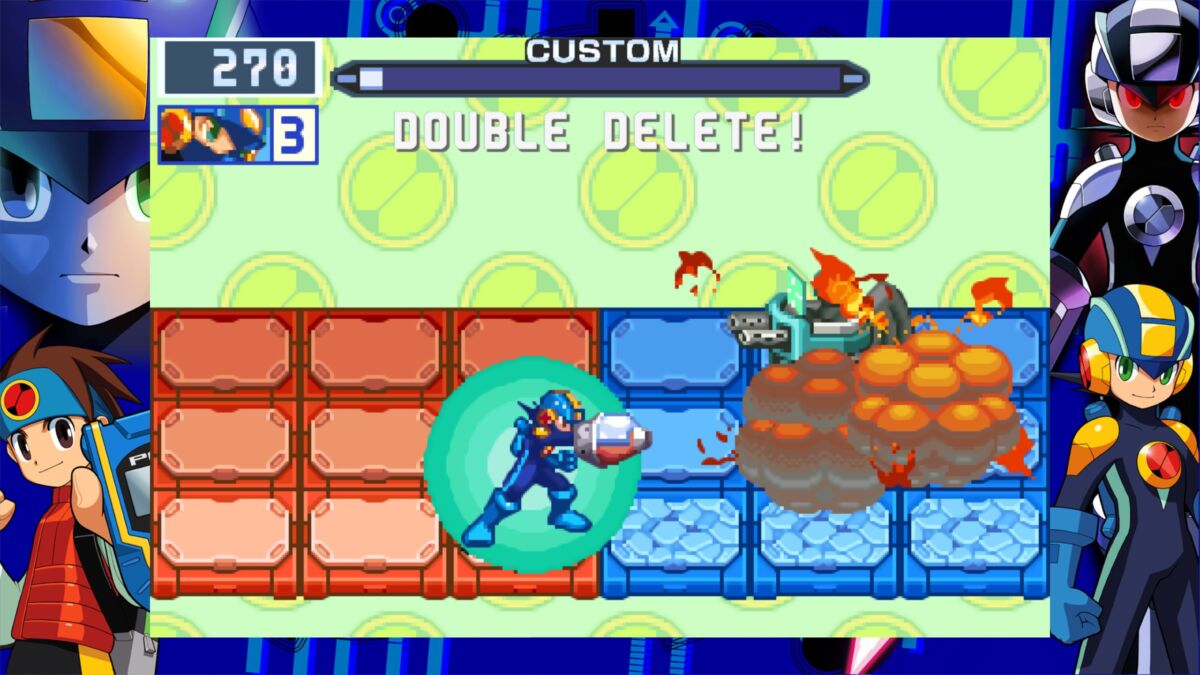 Even if you delete the viruses in subsecond time, your score will often be relegated to a 9. While speed is the primary factor for S-ranking bosses, double and triple deletes are weighted far more in standard virus battles. Use Copy Damage and battle chips that hit synchronously to start hitting those S ranks.
9. Interact with Everything
You'd be surprised where you can connect Megaman.EXE. Many of the best secrets are hidden in places you wouldn't expect. NPCs will be obscured behind buildings and network ports are sometimes in literal rock faces. Don't be afraid to run around interacting with everything that looks suspicious to determine if any goodies have been hidden there.
10. Save Your Bug Frags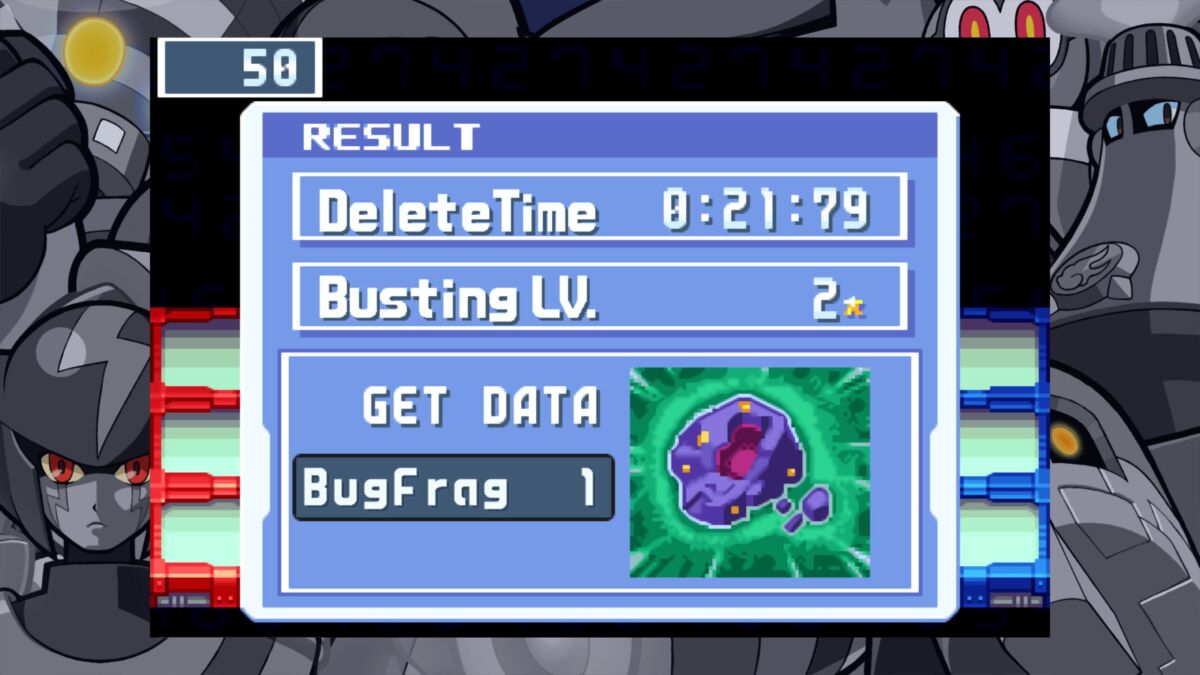 As you progress through the story, there will be opportunities to spend your bug frags on customizer parts and battle chips. Save them. They are always used to obtain one of the rare giga class battle chips in the postgame. Until you've received it, save them up to ensure you don't have to go grinding for them.
READ NEXT: Mega Man Battle Network Legacy Collection Vol. 2 (PC) REVIEW
Some of the coverage you find on Cultured Vultures contains affiliate links, which provide us with small commissions based on purchases made from visiting our site. We cover gaming news, movie reviews, wrestling and much more.