Around Valentine's Day every year, I get a bit itchy under the collar and I bet that a fair few of your local asexuals or aromantics do as well. It isn't that we all hate romance – I love a good Jane Austen or cute YA romance as much as anyone – but sometimes it would be nice to see a story or two that represents us recced on the day of love. Asexual and aromantic stories are still woefully lacking in comparison to their LGBT siblings, but they're slowly multiplying.
Some of these books are just great reads with ace and aro characters, for if you don't fancy the romance angle. The rest of them explore the notion of queer platonic relationships, just because it's Valentine's Day and, in fact, many asexual and aromantic people love the idea of love too. Just sayin'.
1. Summer Blue Bird – Akemi Dawn Bowman
Rumi Seto's best friend is her younger sister, Lea, and the thing they do together is write music. Rumi wants to spend her whole life doing just that, the only thing she is sure of. But then Lea dies in a car accident and Rumi's mother, in a whirlwind of grief, sends Rumi to go and stay with an aunt in Hawaii.
Rumi has to navigate her own grief as well as feeling abandoned by her mother, and deal with the loss of the music too. A powerful novel about grief and love, Summer Blue Bird makes this list because Rumi also happens to be dealing with her sexuality too, questioning if she is asexual. It isn't the focus of the novel, but the book does come highly recommended because of it.
2. The Trouble – Daria Defore
Danny Kim is a college student and the frontman of a Seattle based indie band. He also happens to be aromantic, and completely matter of fact about that aspect of his personality; The Trouble is not a coming out book, which is refreshing.
When he finds a friendship forming, and then deepening, with Jiyoon – the TA of his accountancy class – we are treated to a refreshing, open and honest look at exactly how to handle the negotiations between someone who will never feel romantic love and someone who does.
3. The Bone People – Keri Hulme
The Bone People, written in 1984, is a rare unicorn in asexual/aromantic literature, in that it can be firmly placed in the pantheon of adult literature rather than YA or new adult. It even won the Booker Prize.
Our main character Kerewin Holmes is a mixed race (Maori and White European), asexual and aromantic woman who lives in solitude in New Zealand. She meets Simon, a young boy recently rescued from a shipwreck by his Maori foster father, Joe, and the three quickly come to find comfort and support in one another. If you want a more grown-up book, this is definitely the one for you.
4. Perfect Rhythm – Jae
Perfect Rhythm is a love story, through and through, and perfect for Valentine's Day. Leo Blake is a world-famous popstar who is over the whole fame thing.
When her dad has a stroke, she goes home to her small town. There she meets Holly Drummond, a nurse who isn't interested in Leo's fame and fortune. Slowly they develop a friendship and then a relationship, but it isn't plain sailing as Holly is asexual and wary of the minefield that is love. Fans of the book praise Perfect Rhythm for the completely believable representation of Holly's asexual experience.
5. Little Black Bird – Anna Kirchner
Published just last year, Little Black Bird might be the queer YA fantasy of your dreams. Wiktoria is a seventeen year old with uncontrollable telekinetic powers, which really get in the way of the normal life she is desperate to have. Some local sorcerers hunt her down, having decided Wiktoria needs to die to save the world.
She teams up with Artur, a boy who can read her mind and makes her question her sexuality. There is a curse to break and they are the ones who will do it. The asexuality in this novel is not as straightforward as some of the others, but for anyone who has ever questioned their own queerness, this part of the story will be comfortingly relatable.
6. How To Be A Normal Person – T J Klune
If you're looking for a funny read, then you can stop off here with How To Be A Normal Person; Klune's quirky characters and style are bound to be the thing you are looking for. Gustavo Tiberius is a bit of a strange person, and he's cool with that. He mostly just wants people to leave him alone.
That is working out fine for him until asexual hipster Casey rocks up in town and decides that he really likes Gus. And Gus, unbelievably, sort of likes him too. Gus decides he's going to become the most normal person ever, which goes about as well as you'd expect in a humorous novel like this one. The book has been praised for the depiction of the understated, respectful and beautifully written burgeoning relationship between an asexual character and the guy who just wants to love him.
7. The Lady's Guide To Petticoats and Piracy – Mackenzi Lee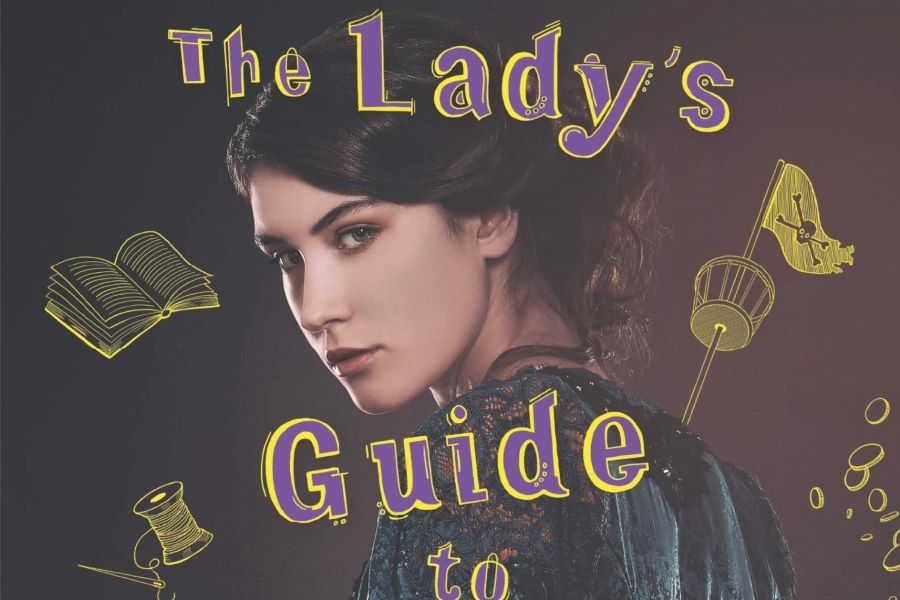 If you loved The Gentleman's Guide To Vice and Virtue, then you're bound to already know about The Lady's Guide To Petticoats and Piracy, the sequel which follows Felicity – Monty's younger sister, a character in the first book – on her own odyssey.
Felicity is determined to enroll in a medical school that doesn't want her, so when she is given the chance to travel to Germany to meet the man who she thinks might be able to change that, she's away. Felicity is asexual and aromantic, and as she falls in with a gang of friends, there's plenty of time to explore her sexuality alongside the pirate based, mysterious antics of her new friends.
8. Every Heart A Doorway – Seanan McGuire
If you'd like an asexual character in an urban fantasy world which focuses more on the fantasy than the asexuality, then Every Heart Is A Doorway is the novella for you. Nancy is our asexual protagonist, a girl who has just returned from the land of the dead and is having trouble adjusting to the real world again.
She is sent to a special school, Eleanor West's Home For Wayward Children, which is full of other kids who fell through the cracks into fantasy worlds and now have to cope with coming back to the real one again. Every Heart A Doorway also features a trans main character, and has been widely praised for the ace and trans rep it boasts.
9. Tash Hearts Tolstoy – Kathryn Ormsbee
If you're looking for a cute contemporary YA, then this is the book for you. Tash Zelenka finds herself suddenly internet famous when a big-name vlogger gives her web series, Unhappy Families (based on Tolstoy's Anna Karenina), a shout-out. When Unhappy Families is nominated for a reward, Tash finds herself flirting with Thom, another nominee. That's fine, and fun, but Tash doesn't exactly know how to tell him that she is asexual.
The focus of the novel isn't particularly on her sexuality, but it does play a big part, and it has been particularly singled out by many readers as doing good work in showing that asexuality is a spectrum, and the experience differs from person to person.
10. Tarnished Are the Stars – Rosiee Thor
Way in the future, after Earth has been destroyed by technology, humans have settled on Earth-Adjacent. Anna Thatcher, the Technician, has a clockwork heart and a mission – to supply medical technology on the black market for the ill and dying, despite the Commissioner's orders to the contrary.
Nathanial, the Commissioner's son, is out to capture the Technician, and Eliza – a spy – is out to find out all she can about the Commissioner's secrets. The three form an uneasy alliance to put the end to a deadly epidemic. Nathanial is our asexual, aromantic character here, but Anna and Eliza are also gay, which makes a very sweet three for three.
READ NEXT: 8 Gorgeous Books Set In Paris, City Of Love
Some of the coverage you find on Cultured Vultures contains affiliate links, which provide us with small commissions based on purchases made from visiting our site. We cover gaming news, movie reviews, wrestling and much more.