As the first new Legend to join the Apex Legends lineup post-launch, Octane came bouncing into the ring on March 19th, 2019, along with the kickoff of Apex Legends: Season 1. Since his arrival at the Apex Games, the Stimmed-up speedrunner has been an endless moving target, and he struggles to keep his feet on the ground for more than a second. But once you know his backstory, it's easy to see why Octane's always on the run. Keep reading to learn all the Octane facts there are to know about this metal-legged Legend – and try to keep up.
1. The Basics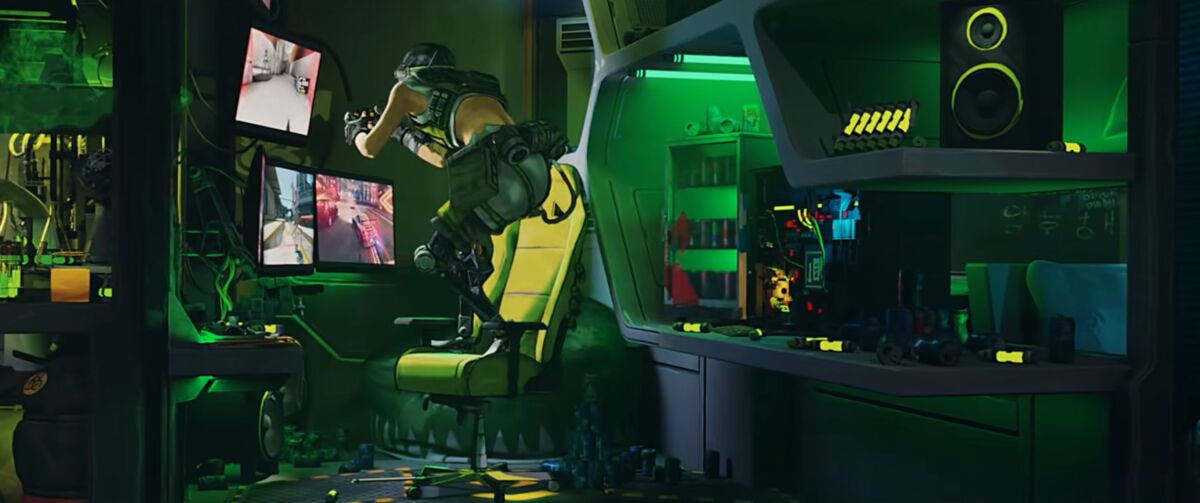 Name: Octavio 'Octane' Silva
Age: 24
Homeworld: Psamanthe
Season Debut: 1
Hailing from Psamanthe (the planet above which the Olympus map floats), Octavio Silva was born into luxury. As the sole heir of the Silva Pharmaceuticals empire, Octane wanted for nothing during his childhood. Nothing, that is, except for a good adrenaline rush.
After a series of increasingly-daring stunts left their son addicted to Stim, missing both legs, and participating in a televised bloodsport instead of taking over the family business, Octavio's family effectively disowned him – though he still appears to have access to the Silva fortune, based on the massive, graffiti-covered mansion he resides in when he's not on the drop ship or bouncing around inside the arena.
2. He Has Green Hair
This came as a shock to some fans, who assumed, based on his always-masked appearance, that the explosive accident that took his legs also injured his face, possibly even burning off all of his hair, but that's actually not the case. Both the Pathfinder's Quest lore book and several of the Apex Legends comics Respawn has posted on Twitter depict the Legend with shock-green hair.
While dying his hair green is far from the most outlandish thing Octane has ever done, it's quite possible his hair hasn't been dyed at all – with the amount of the Mountain Dew-hued Stim in his system at any given moment, it's certainly possible that his hair turned green all on its own.
3. Lifeline is a Long-Time Family Friend
Lifeline and Octane have been like two peas in a pod since long before the Apex Games existed. Born in the same year, on the same planet, to two wealthy, well-connected families, Octavio and Ajay spent their childhood years playing together while their parents were busy with professional pursuits.
While Octane's father is the CEO of Silva Pharmaceuticals, Lifeline's parents own Chevrex, a company known for producing security drones. But behind their squeaky-clean image lies a dark secret – Lifeline's family are war profiteers, and are very friendly with Octane's father Eduardo (commonly referred to as simply 'Duardo'), who is clearly up to no good.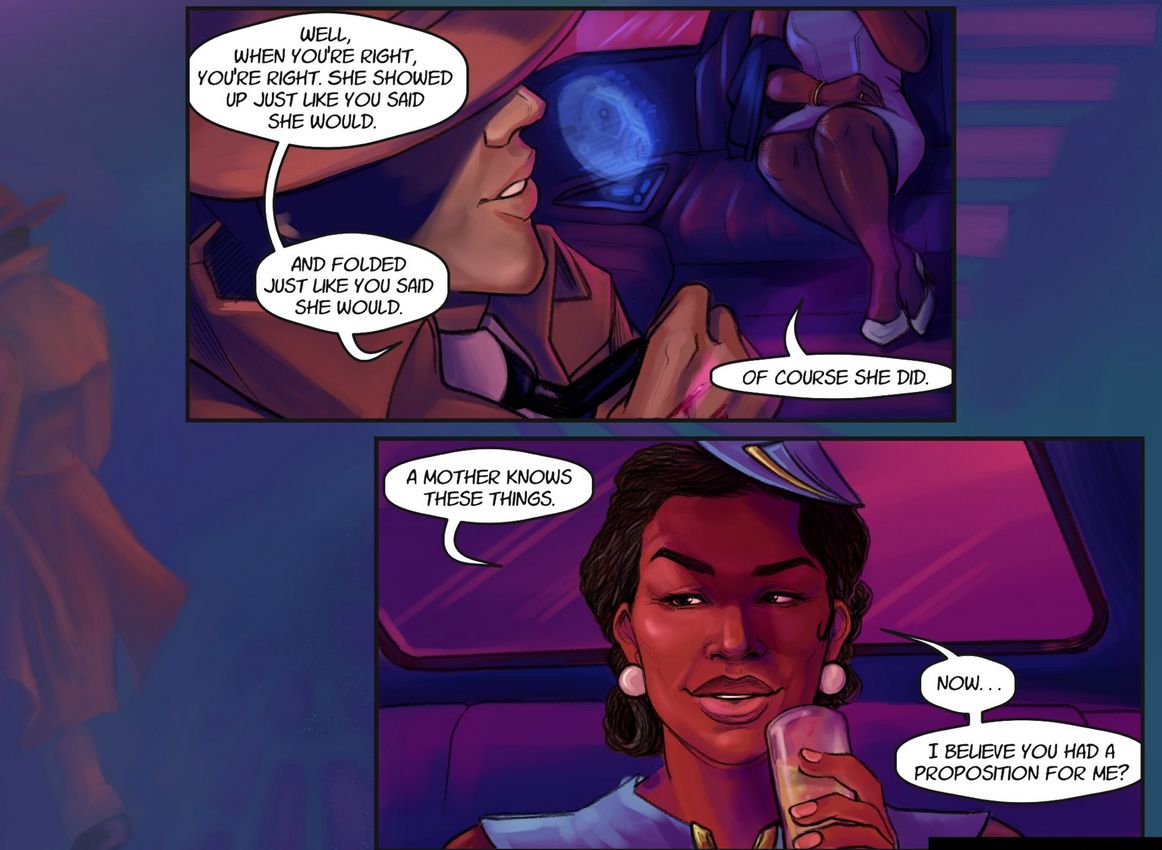 In the Pathfinder's Quest lore book, Loba reveals her suspicions that Silva Pharmaceuticals and Chevrex are closely involved with the Peck Foundation, providing further evidence that Lillian Peck – the creator of Olympus who hired Horizon & Ash to search for branthium – may not have been quite as angelic as Horizon remembers her, and likely had more than purely philanthropic aspirations when she sent Ash and Horizon after the rare fuel source.
Exactly what Octane's father, Chevrex, and the Peck Foundation are up to is anyone's guess, but it's possible that Octane and Lifeline's shared childhood memories could play a part in unraveling the mystery, as they often spent time there as children, running and playing together in the halls of their parents' respective business facilities.
4. He Had a Pet Bunny Named Navi
No, it wasn't named after the world's most task-oriented fairy. The rabbit in question was named Navi – short for 'Navidad' – and spent its days chilling out in Octane's jacket pocket while he pulled crazy stunts, never even flinching.
As the legend goes, Octane asked for a pet dog for Christmas when he was 11. His father's assistant instead sent over a pet rabbit (three days after Christmas, naturally). The assistant who gave Navi to Octane eventually became Eduardo Silva's third wife (Octane's mother was the second). One of the more famous stunts Octane pulled with Navi riding shotgun in his pocket involved a flaming hover-car, fireworks, and a crash-landing into a pool.
Octane pulled this stunt at his father's wedding to his fourth wife, possibly indicating that "Number Three" may have been Octane's favorite of his father's many wives. Or maybe Number hat theFour just didn't get him any cool pets.
Anyway, Navi died while in-transit on a rocket that crashed into a planet and exploded into bits.
Well, that's the story if you ask his owner, anyway. In reality, Navi died peacefully in his sleep, but that's boring, according to Octane, so he invented a wild story to make Navi's legacy a little more legendary.
After Navi died, Octane showed up at Lifeline's house at 4AM and asked her to give a eulogy while he buried his furry friend. While initially somewhat bewildered by the request, Lifeline ultimately complied.
Navi can be seen in Octane's "Hare Raiser" banner frame, and Apex community artist noxlotl also provided an adorable illustration of a young Octane and Navi planning their next stunt.
5. He Blew Off His Legs for Likes
Fuse isn't the only Legend to walk away from amputation-by-grenade – Octane lost his legs the same way. The only difference? Octane did it voluntarily. Being a privileged, emotionally neglected, chronically-bored young man, Octavio often pulled attention-seeking stunts for his steadily growing online fanbase, frequently injuring himself for the entertainment of his followers, like some sort of spacefaring Steve-O. But one stunt in particular trumped them all: the Gauntlet run.
The Pilot's Gauntlet is a timed run-and-gun obstacle course that serves as a quick tutorial in Titanfall 2's single-player campaign. Players can get achievements for beating certain NPC characters' scores, and there's still an active speedrunning community built around running the Pilot's Gauntlet to this day.
One of the best ways to get a serious speed boost is to "grenade jump", essentially using the kinetic force of a frag grenade's detonation to propel oneself across the course, spacing the grenade usage out to ensure you recover enough health to not take a fatal amount of damage before you near the finish line.
Octane beat the world record that day, but it also cost him his legs. Octane considers this day the "real" day he was born, as it changed his life forever.
As of December 7th, 2021, the current Pilot Gauntlet world record is 10.1 seconds. Given the fact that Apex is technically set over 700 years in the future, it's probably safe to say that Octavio's world record is in the single digits.
6. Procuring His Prosthetics Nearly Ended His Friendship with Lifeline
The ability to walk wasn't the only thing his Gauntlet stunt nearly cost him. While lying in a hospital bed, beef jerky from the knees down, Octane was told that his adrenaline junkie days were over, as both legs would need to be amputated from above the knee. Never one to give up easily, Octavio formulated a plan to avoid spending the foreseeable future limping between a hospital bed and physical therapy sessions.
Meanwhile, Lifeline (who had, by this time, broken away from her toxic family) was busy working for the Frontier Corps, the Outlands' equivalent of the Peace Corps, providing medical aid to victims of disasters and warfare – especially victims of the wars her parents profited from. When she learned what had happened to Octavio's legs, she was naturally horrified (and angry), but she's always had a soft spot for Octane, so after a little manipulation, Octavio managed to guilt trip Lifeline into forging an order that shot him to the top of the waiting list for a pair of state-of-the-art artificial legs.
When Lifeline found out the truth and realized that not only had she been manipulated into putting her career on the line for someone who planned to go right back to his daredevil ways, but that he'd also left the hospital against medical advice before doctors had even checked to make sure his new legs were working correctly, she almost broke off their relationship for good.
The incident nearly ended their friendship, but it seems they mended things, as they remain incredibly close to this day, and Lifeline went out of her way to force Bangalore to help rescue Octane after he was injured by Prowlers in Season 5's story quest, The Broken Ghost.
Interestingly, the legs Octane were given are quite similar to those of Titanfall 2's Stim Pilots – fully robotic speed-demon soldiers that share Octane's affinity for the velocity-boosting substance known as Stim – a drug invented by Octane's father's business, Silva Pharmaceuticals.
7. He's Abusing More Than Just Stim
While Octane's dependency on the drug his family produces is well-known, he's also got three other bad habits he just can't seem to outrun: adrenaline, attention, and somewhat surprisingly, alcohol.
It appears that Stim is no longer the only drug of choice for Octane. In a Twitter comic posted during Season 9's story, The Legacy Antigen, Eduardo Silva pays a visit to his son, who is living in a gorgeous, utterly trashed mansion. Octavio himself is also utterly trashed, slurring his words and mixing brown liquid in red solo cups, many of which litter the floor behind him. He has all the signs of a man who is trying to drink the pain away.
During the same season, Lifeline discovers him passed out on a park bench near one of his father's properties on Olympus, evidently the result of another night of hard partying. Upon waking, Octane seems to be scared Lifeline will discover something he's been hiding. But what kind of secret could have this fearless adrenaline junkie shaking in his artificial shins?
8. He's Been Lying to (Almost) Everyone
While Octane may not be privy to all of his father's evil plans, he's certainly aware of them to some extent, and has even directly participated in a few.
Octane may have saved the day during the seemingly-random terrorist attack on the museum gala during Season 6, but Octane knew his father was behind it. He also knew his father was who allowed the Icarus fleet – and its deadly, infectious cargo – to dock on Olympus in Season 9, nearly killing hundreds of Apex fans (and some of the Legends themselves). Octane's father also ordered Octane to file the ship's serial numbers off, so nothing could be traced back to the family business. Octane made none of the other Legends aware of this, even as they scrambled for a cure for the deadly virus brought in on the Icarus.
But the guilt eventually got to him, so Octane came partially clean in Season 9's Twitter comic arc, and began to share the full truth with her in Season 12. While she was furious, Ajay forgave him (a common pattern in their relationship, it seems).
The shared experience of grappling with the desire for familial approval and realizing that, sometimes, the approval of one's family isn't a goal worthy of pursuing seems to keep these Legends attached at the hip for life.
9. His Father is Trying to Take Over the Syndicate
To get back at Duardo, Lifeline helped Octane spray-paint an enormous Silva Pharmaceuticals logo on the side of the Icarus. But that doesn't seem to have hindered Duardo in his pursuit of power over the Syndicate.
He's been setting up little "accidents" – from Forge's murder, to the virus on the Icarus, to the framing of Mad Maggie for Olympus' near-destruction – in order to make the Syndicate's current leadership appear inept. Eduardo Silva seems to have no plans of stopping until he's in full control, and Even Octane seems surprised by his father's recent recklessness in Season 12's launch trailer.
We're talking about a guy who blew his own legs off for fun – if he's freaked out, the rest of the Legends ought to be, too.
10. He Owns a Titan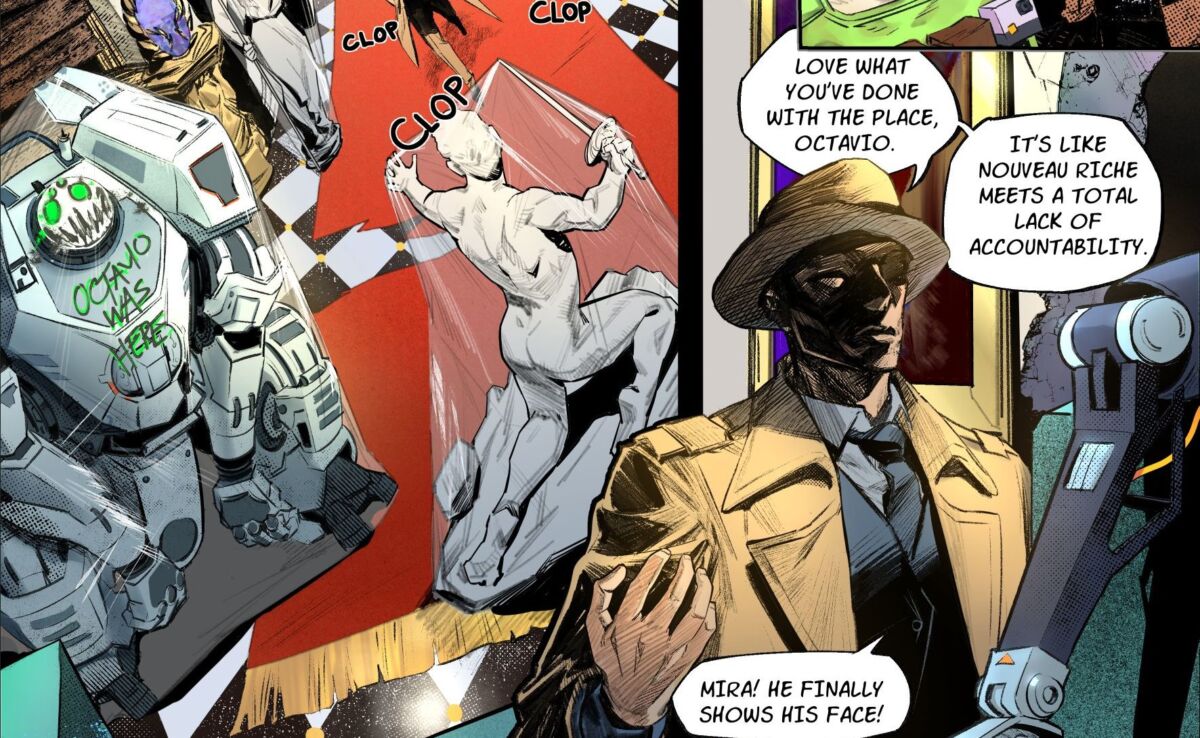 When Octane's father pays a visit to his son's home in one of the many comics posted to Apex's Twitter account, among the numerous defaced treasures kept in Octavio's personal abode is a Titan.
Covered in a plastic sheet, the enormous mecha sits in a crouched position, with its faceplate spray-painted in a pattern similar to that of Octane's favorite face mask, and "OCTAVIO WAS HERE" stylishly graffitied across its chassis. It isn't known whether Octane himself can operate the lovingly-decorated war machine, but two things are almost certain:
1. He has absolutely tried to take it for a spin on at least one occasion.
2. If he hasn't, he definitely would, given even the flimsiest of excuses to do so.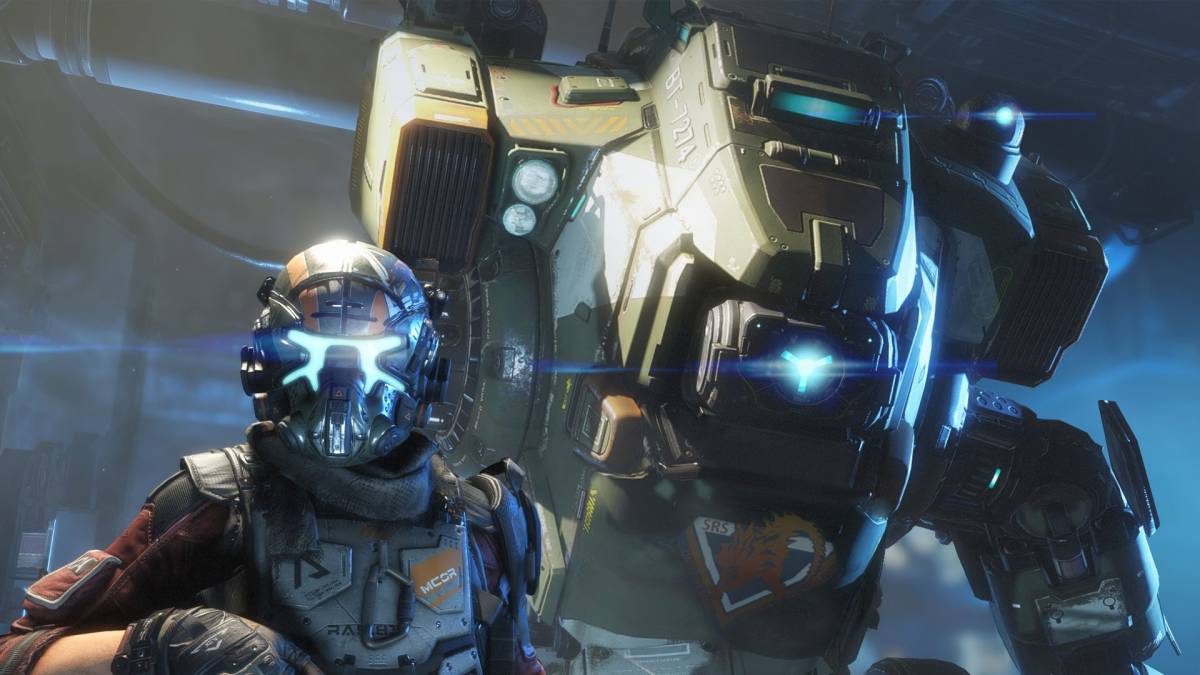 With his father's sights set on overtaking the Mercenary Syndicate (and gaining control of Syndicate Space itself), Octane may soon be faced with a very good excuse to get in the Pilot's seat and take that Titan out for a joyride (or seek the guidance of a Legend who's a bit more familiar with the metal behemoths, like Valkyrie or Ash). Eduardo Silva coming into power would be bad news for all involved, and the time may come when the Legends need that Titan – or simply need one of Octane's daring, last-minute jump pad rescues to clutch the win.
But even with a Titan at their disposal, Octavio and his friends have one little problem to contend with, should they wish to go up against Eduardo Silva: anyone who has played the Titanfall series will tell you there is never just one Titan.
If Octavio Silva has a Titan casually sitting around his home, god only knows how many are stored away in the basement of his father's pharmaceutical company, just waiting for the perfect opportunity to strike. Hopefully, if it comes to that, Octane and his fellow Legends must be prepared and poised to strike back, because ultimately, Eduardo Silva isn't interested in winning a game – he's interested in winning a war.
Apex Legends is free to play on PC, PlayStation 4, Switch, and Xbox One.
READ NEXT: Legends In Love: The Romances of Apex Legends
Some of the coverage you find on Cultured Vultures contains affiliate links, which provide us with small commissions based on purchases made from visiting our site. We cover gaming news, movie reviews, wrestling and much more.