Probably the biggest compliment I can give Amnesia: The Bunker is that I absolutely dreaded playing it. Not because it's a bad game, but because of just how scary it is. Trawling through dimly lit tunnels while a twisted beast scarpered through the walls as I tried desperately to get to safety before the generator's fuel ran out never stopped being absolutely terrifying across three different playthroughs, but those playthroughs also never stopped being over just a bit too soon. At least my heart will thank Frictional for that.
You play as Henri, a French soldier during WWI who is injured while saving his friend on the battlefield. After waking up (almost) alone in a desolate bunker, Henri meets a fellow soldier, who's quickly whisked away into the walls by a monstrous creature, but not before he passes you a revolver. Ammo is scarce and light is in short supply, but what's hardest to come by down in this tomb is hope. The exit is sealed off, so you're tasked with finding a way out and avoiding the fate that befell so many of your comrades which lurks in the shadows.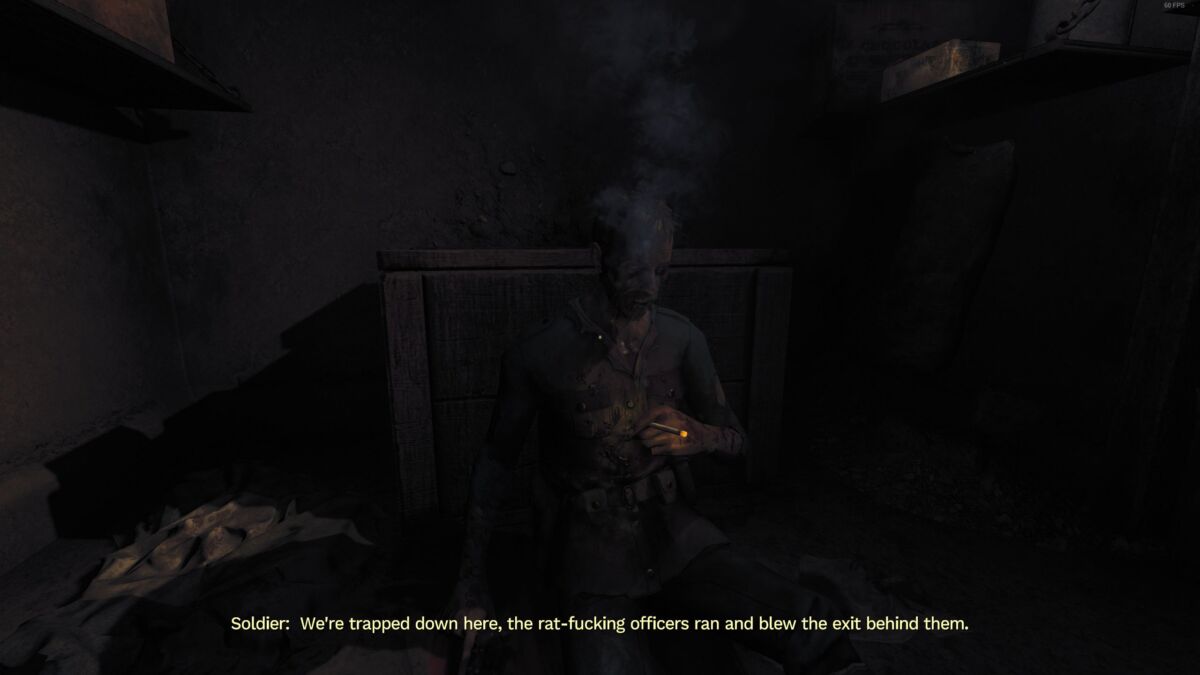 Amnesia: The Bunker feels closer to survival horror than the psychological horror of previous Amnesia games, as Henri has means to protect himself. That aforementioned revolver will come in handy to fend off the stalker, but with ammo thin on the ground and the fact that it has multiple uses beyond defense, every bullet feels like a big decision. Do you want to reserve ammo to keep yourself alive, or do you use it shoot off a padlock and get more precious resources? The brilliance of The Bunker is that you're constantly being posed dilemmas for everything you find, creating an intensely stressful, absorbing game of resource management for survival.
Billed as a semi-open world game, which does feel a bit of a stretch, Amnesia: The Bunker presents you with multiple ways to approach a situation. For instance, some doors are often locked, so you can either use a brick to bust it down, a shotgun to blow it apart, or chuck a grenade at it to basically tell the stalker exactly where you are. Every problem usually has at least a couple of solutions, which is a refreshing change from the obtuse puzzle solving seen so often in indie horror. It's a bit of a shame that, despite its billing, Amnesia: The Bunker really isn't even a semi-open world game, as there's definite linearity with how you have to get certain items and explore specific places, but finally venturing into an area that I'd been putting off always put a knot in my stomach. The fear of the unknown is very real here.
As an Amnesia game, you can rest assured that staying within the light is a major mechanic for The Bunker, but not in the same overt way as earlier entries. The beast tries to avoid the light where he can, evidenced by the lights flickering as he passes in a lovely bit of environmental design, but Henri doesn't seem to start losing his sanity like other Amnesia protagonists. This doesn't stop darkness from ratcheting up the tension, as I often found myself sprinting back to the generator to refuel, realising that my panic was probably acting like a dinner bell.
Amnesia: The Bunker's big bad works similarly to Alien: Isolation's relentless xenomorph, as he's reactive based on what you're doing around the bunker. Run around everywhere or use more destructive methods of reaching new areas and he will come slithering out of the dark, eager to kill you in a single hit. This means almost every single action is a stressful balancing act of risk and reward, with me often being stuck for minutes at a time in a kind of decision limbo, going over every worst case scenario from doing as something as basic as turning a wheel. Even the simple act of powering up your portable torch is a risk, as the noise attracts the beast. It doesn't help stress levels that The Bunker has one of the best new monsters seen in a horror game in quite some time in terms of design.
Make no mistake, every encounter with the beast in The Bunker is hell. The sheer panic as the screen blurs and the lights flicker while not having the ammo to deal with the danger consistently gave me what analysts call "the shits". The scuttling around in the walls always lets you know that he's near, but most chillingly so too does his cold breath seeping out of a chasm in the darkness as he studies you patiently. And while you do have access to firepower here that sends him back into whatever hole he crawled out of, he never truly stops coming — you're just pushing him back. The stalker here is as relentless as any tyrant.
Amnesia: The Bunker actually reminded me of a specific Resident Evil game, and not in a good way. For as terrifying as Amnesia: The Bunker is and for how absorbing it can be, it simply feels a bit too short. Much like Resident Evil 3, what's here is fantastic, but there's just not enough of it. My first playthrough took me just three and a half hours of fumbling around in the dark, and every subsequent one took even less, and that's despite searching every nook and cranny for secrets. If you know where you're going, you could probably speed through The Bunker in an hour, as the bunker itself is actually surprisingly small and contained. And while there's some replayability in terms of how you go about things, there's little incentive to do so.
What Amnesia: The Bunker represents, then, is a game that will likely please fans that were disappointed by the direction Rebirth went in, while also maybe not having the scope to match its ambition. It's hard to shake the feeling like there was meant to be more here overall. Mechanics and items are introduced way past the point of being most useful, such as the lighter, which would come in handy a lot sooner to help you deal with all of the rats constantly blocking your path. Players can craft a torch, but by the point you've found everything you need for it (including the lighter), the game is pretty much over.
Even as a short game, though, every relatively scant minute of Amnesia: The Bunker is an absolute terror and worth experiencing. Frictional is entering a bold new era, and I can't wait to see where they take the foundations laid in The Bunker next.
A Steam key was provided by PR for this review.
Some of the coverage you find on Cultured Vultures contains affiliate links, which provide us with small commissions based on purchases made from visiting our site. We cover gaming news, movie reviews, wrestling and much more.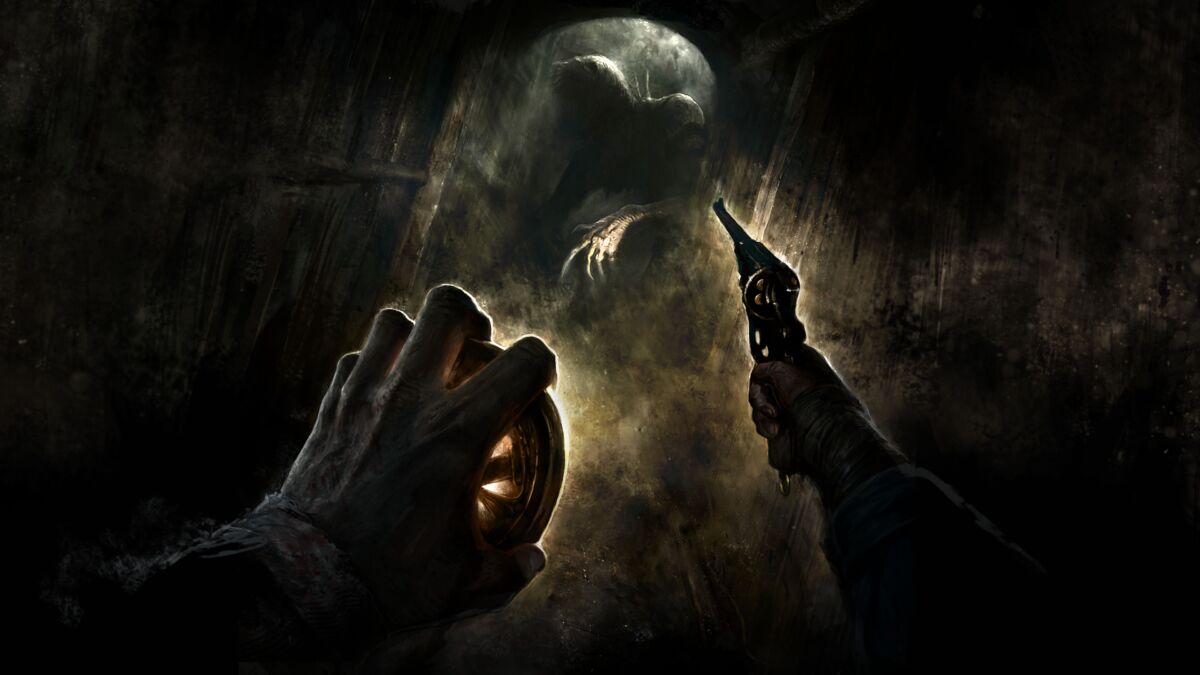 Verdict
Amnesia: The Bunker is one of the most terrifying horror games ever made, but those looking for Resident Evil 4 levels of length and replayability are going to be left seriously disappointed.