I love the 90s and for good reason: they were a ten-year pop culture renaissance as big, if not bigger than any decade that came before. From cartoons and comic books to TV, music, and especially cinema, there is so much groundbreaking content which millions came of age to witness and enjoy.
And we still do. A favorite album, a favorite song, TV show, comic, wrestler of the era, or in this case, a favorite movie – everybody has one. You want to relive the things that moved and shaped you. Better yet, think of the things that made you laugh back then, what you still remember and talk about. In some cases, people laughed and are still chatting about certain movies, because they were so bad (e.g., Batman & Robin). That captures a portion of the zeitgeist, for sure.
But I want to talk about what's good: flicks that are funny and either earned their following or worthy recommendations more people should see because they perfectly reflect the period and its slacker aesthetic. Hollywood doesn't make them like this anymore. Here are ten 90s comedies you should see presented in chronological order.
1. Wayne's World (1992)
Based on a Saturday Night Live skit, Wayne (Mike Myers) and Garth (Dana Carvey) host a cable access show from their basement and, in Wayne's words, wish they could do it "for a living." Before monkeys fly out their butts, sleazy producer Benjamin Kane (Rob Lowe) makes them an offer to fulfill their dream. The catch is they have to sell the show and conform to a new format. To boot, Benjamin makes a move on Wayne's new girlfriend, Cassandra (Tia Carrere).
Mike Myers created the character of Wayne and perfected it on SNL. Wayne's World was his feature film debut and became one of the biggest phenomenons of the decade and Myers' career. It grossed over $121 million domestically, making it the highest-grossing spinoff of an SNL sketch. Not bad for a first-time effort.
Full of colorful moments from start to finish, Wayne's World, endlessly quotable, had effects on pop culture still felt to this day. You probably still punctuate sentences with "…not!" and "Party on!" every so often. It also had some postmodern fun with storytelling that neither ruins the film nor talks down to the audience – making for an entertaining ride all around.
2. Clerks (1994)
Dante Hicks (Brian O'Halloran) is called into work at his convenience store on his day off and winds up staying from open until close. A bummer, but his workday turns out to be more eventful and heartbreaking than he anticipated, thanks to his ne'er-do-well buddy Randal (Jeff Anderson), who works at the adjacent video store, and his sideshow of customers.
Kevin Smith's first is still his best and it was a labor of love. Funded by an insurance settlement and over two dozen maxed-out credit cards, Smith poured heart and soul into Clerks. After a few screenings and some more hand wringing, he finally was noticed by Miramax and made cinema history. A sequel, spinoffs, merchandise, and a misunderstood animated series followed with more still to come. Smith soldiers on into the present. He may not have duplicated the success or mix of tone and storytelling Clerks had, but we can all revisit what made it so special.
3. The Mask (1994)
Lonely, cartoon-obsessed bank clerk Stanley Ipkiss (Jim Carrey) is walked on by everyone at every turn. That is until a magic green mask imbued with the power of Loki (as in Marvel's Norse trickster God) gives him superhuman abilities. He uses them to fight crime, eventually. First, he wants sweet revenge on his bullies and to indulge himself in a little clubbing, and grand larceny that gets the attention of a local crime boss.
I've mentioned The Mask before for its merits as a comic-book movie but it's more than another adaptation of a graphic novel no moviegoer read. The film is well-written and directed by Chuck Russell, and launched the career of Jim Carrey. Ace Ventura placed him on the radar, but The Mask proved his act had more range. Loaded with groundbreaking visual effects, it all really holds up as something to feast your eyes on if you haven't yet.
4. Mallrats (1995)
Brody (Jason Lee) and TS (Jeremy London) break up with their girlfriends and head to the local mall to blow off steam. Unfortunately, their exes are there. TS's ex takes part in a Dating-Game knockoff for her dad (Michael Rooker) and Brody's (Shannen Doherty) ex is out with her jerky new guy, Shannon Hamilton (Ben Affleck). In a bid to rekindle their respective romances, Brody and TS crash the game show with the help of Jay and Silent Bob (Jason Mewes and Kevin Smith).
Mallrats was Kevin Smith's follow-up to Clerks and his second installment in the View Askewniverse. Though not as well-received as his debut, it developed a following and has a lot to offer. You get to see Ben Affleck, Jason Lee, Michael Rooker, and Ethan Suplee in one movie before they were stars. Stan Lee also guest-stars as himself in one of his best movie appearances ever, which would set the tone for his future Marvel Cinematic Universe appearances.
It's a good place to start if you're looking for stuff to watch by Smith or featuring Stan Lee. Slacker culture and comic-book subculture, before that was much of a thing in cinema, are on full display through the Brody character, who's a collector, no less than Stan himself, and Jay and Silent Bob in one of their most defining movies.
What's more, they won't be hard to miss but be vigilant for the parody moments of Batman and Star Wars and the callbacks to other View Askew pictures.
5. Tommy Boy (1995)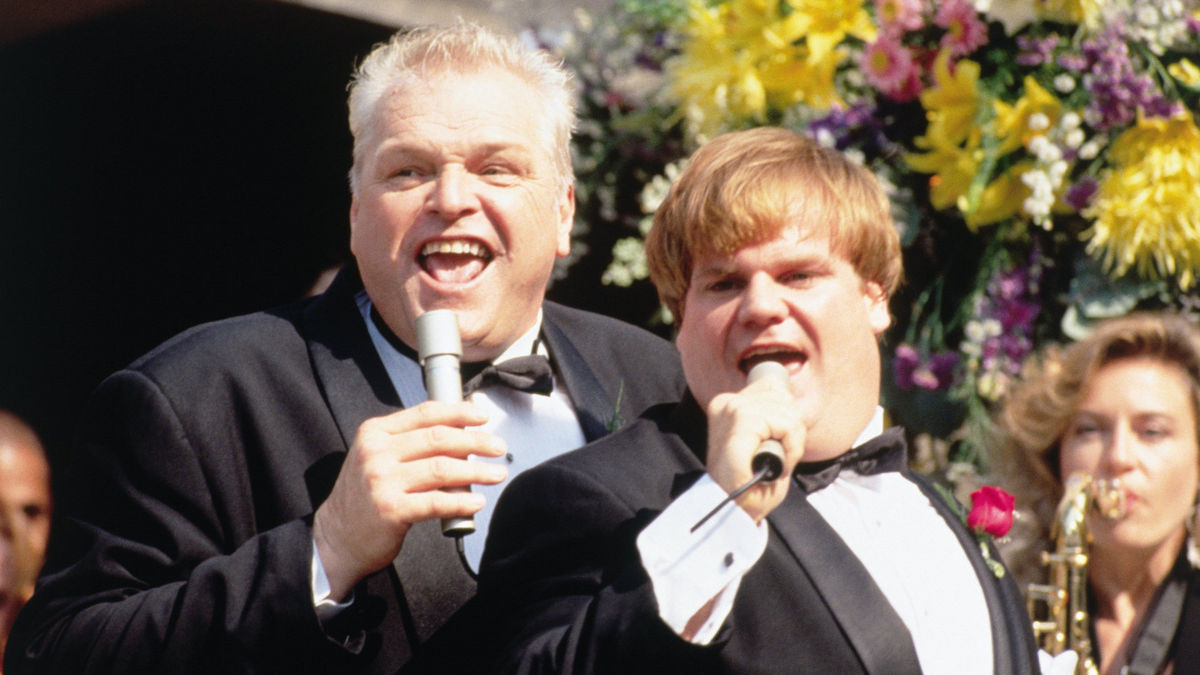 Tommy Callahan (Chris Farley), the nitwit son of a car parts factory owner (Brian Dennehy), inherits the family business after dad suffers a fatal heart attack. To save the shop from closure, he heads on the road with assistant and childhood buddy Richard (David Spade) for new clients and some hijinx.
Comedies with heart are a recurring theme of this list, but that theme in general sums up the 90s quite a bit. Starring vehicles for Robin Williams, Jim Carrey, and Chris Farley always gave us those poignant moments, usually dealing with regular people struggling to overcome change. You'll find quite a bit of that in the subplot about Tommy and his dad.
There's great chemistry between Farley and Brian Dennehy, but it's the chemistry between Farley and David Spade – which is near perfection – that makes the movie. They tried capturing it again in Black Sheep a year later and didn't quite measure up. In that respect, Tommy Boy is next to Wayne's World in a category of incomparable Saturday Night Live-inspired pairings.
6. Michael (1996)
John Travolta is the biblical Archangel Michael, living on Earth with an elderly woman in Iowa. His existence becomes tabloid fodder for a Chicago journalist (William Hurt) and a pseudo angel expert (Andie MacDowell) who take a road trip to meet him. Little do they know Michael is less angelic and more impulsive, slovenly drunkard.
Directed by Nora Ephron, Michael slips through the cracks these days which is unfortunate. This angel has real wings. Performances are solid and there are genuinely touching moments, such as when Michael uses his powers to raise the dead and later has to leave. Questions about life, love, how we relate to each other, and what really matters are raised, though never in a preachy way.
You'll enjoy Michael. It's a perfect date movie and Travolta provides a dance number – more subdued than Grease or Saturday Night Fever but decent.
7. Liar Liar (1997)
In my second entry starring Jim Carrey, he plays a philandering fast-talking lawyer cursed with the inability to lie by his son's birthday wish, which teaches him the value of honesty and family. Too bad he has to be on his game in the courtroom for a custody battle.
Liar Liar is one of Carrey's essentials. If a retrospective box set of his career is compiled, it would belong. The film is silly, zany, and also not afraid to get real. One of the most heart-wrenchingly vivid depictions of divorce court and how it tears families apart happens in the final act, pulling no punches, not even for its main character who is going through his own separation. You might cry but fortunately, there is enough of Carrey's usual antics to go around.
8. The Big Lebowski (1998)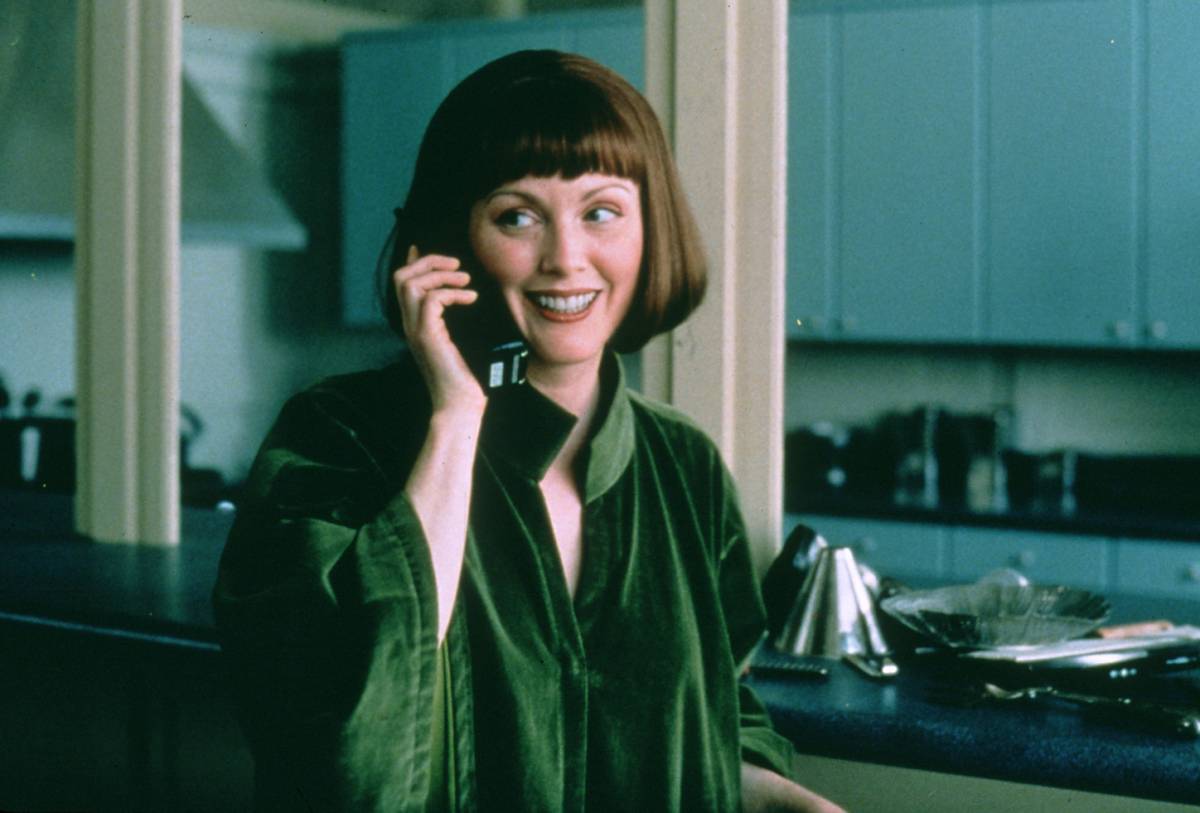 One incident can change your life and set off a whole chain of wacky events. What will the Dude (Jeff Bridges) do to get his rug back? Find himself in the middle of a missing-person caper and lots of other craziness.
Big Lebowski is peak Coen Brothers, sending up a literary and cinematic genre – pulp noir – by stringing together a mystery in a comedic fashion that is fun to watch unfold, though it doesn't make complete sense. It's also Jeff Bridges in his most defining role. The Dude is a classic character with memorable lines, moments, and nervous ticks adapted by some into a lifestyle. Bridges owned this movie and everyone should, literally.
9. Free Enterprise (1999)
Never meet your heroes. That's what budding filmmakers and Trekkers Mark (Eric McCormack) and Robert (Rafer Weigel) learn when they find William Shatner lingering around the adult section of a bookstore. He turns out to be quite flawed but yearning to be taken seriously as a performer. Nonetheless, they become friends with the legend and help him get his one-man musical based on Shakespeare's Julius Caesar off the ground. He, in turn, offers advice to the two young bucks as they cope with turning 30 – a dreaded age in Logan's Run years.
Based on the lives of director Robert Meyer Burnett and writer Mark Altman, two authentic Trek-obsessed fanboys (only classic) working in Hollywood, Free Enterprise centers around grown-up hipsters whose fandom is better than yours. You can tell because they really care about Star Trek ornaments and both unironically remember Logan's Run.
Here is a case of a gem ahead of its time getting lost without a trace. After some promotion, it came and went from theaters, building a small cult audience later on home video. But, it's still something few have heard of. Free Enterprise fits today's climate of nostalgic nerd rage so well, that should change.
10. Office Space (1999)
Peter Gibbons (Ron Livingston) and his two co-workers, Michael Bolton (David Herman) and Samir Nagheenanajar (Ajay Naidu), hate their jobs, so Peter rallies them after undergoing hypnosis and spending a period in a blissful stupor. They then hatch a scheme to get back at their firm, and their boss Lumbergh (Gary Cole), by ripping off the organization.
Based on his Milton series of cartoon shorts, another thing from the SNL vault, Mike Judge laid his prescient genius on us with Office Space and disappeared from filmmaking faster than a dot-com bubble can burst until Idiocracy a decade later. Like Michael three years prior, the movie raises pertinent questions relating to people's careers controlling their lives – only Judge is less merciful and scrupulous in his solution to the problem.
Office Space earned its status as a classic on the video market like so many on this list. It birthed a following that embraced it as a mirror of their own lives. Anyone who has ever worked in a corporate cubicle environment can relate to it, and they proceed to never shut up about it. They even invent their own lingo inspired by its characters. I still hear people use the term "Lumberghed" when they're stuck working overtime. See the film, you'll get why, and add bits of the movie to your own vernacular – "Win-win, mmm-kay!"
Some of the coverage you find on Cultured Vultures contains affiliate links, which provide us with small commissions based on purchases made from visiting our site. We cover gaming news, movie reviews, wrestling and much more.