I'm not the first one to take a closer look at the IMDb Bottom 100, but it's too fascinating and weird a list to ignore. The Internet Movie Database has been around for decades at this point. I've been using it for research or news for at least 25 years.
IMDb also has some sway with their rating system. High ratings have been touted for movies and TV in the past, and our culture as a whole generally forgets that these ratings are an aggregate, and not necessarily reflective of the experience you can expect to have. You should read different reviews, if you really want an idea of what people are saying, or you should just watch the movie and make up your own mind. It also helps to remember that IMDb ratings can be shaped by the whims of people with way too much time on their hands.
That's not the case with the 10 worst-rated movies on IMDb. Everything I'm covering this month has an infamous reputation among viewers and critics alike. Nothing here was review-bombed because people were mad at its politics. Well, probably not. We'll get to that when we hit Battlefield Earth I suppose.
Why are we suffering together? I'm hoping to answer the question of whether or not each of these films are really as bad as their ratings suggest. Some of these I've seen already, but I'm rewatching all 10 for the purposes of this column. Isn't that nice of me?
Sure is, so drink deep and descend.
10. Battlefield Earth (2000)
Director: Roger Christian
IMDb Rating: 2.6
The Plot: In the not-too-distant future, scraps of humanity try to survive under the rule of a, well, flamboyant species of cruel beings known as the Psychlos. One very special human in particular (Barry Pepper, whose career thankfully survived this) learns of humanity's origins, gaining knowledge that will give him the ability to lead his people to victory. That's not the worst plot you've ever heard, but the execution of the story is something else altogether.
Is It Really That Bad? Oh my goodness yes, indeed it is. One of the most unsuccessful films in the history of the medium, Battlefield Earth is the kind of bad that's really just bad. John Travolta trying harder than any human being I've ever witnessed at being a fun, scary bad guy is barely worth the price of admission. This is mostly bad in a not-very-fun way.
9. Epic Movie (2007)
Directors: Jason Friedberg and Aaron Seltzer
IMDb Rating: 2.5
The Plot: Epic Movie is less of a film with a plot, and more of a series of very, very desperate parodies that are crammed into a vague framework. Four orphans (including Kal Penn, who has certainly had quite a career at this point) go on a magical adventure that includes several parodies of movies like Pirates of the Caribbean, Borat, The Chronicles of Narnia, and Charlie and the Chocolate Factory. Other things happen, but none of it particularly matters.
Is It Really That Bad? Yes and no. Mostly yes. Our four orphans have pretty good chemistry together, the movie certainly doesn't take itself seriously, and there are a small handful of genuinely funny parody performances. Particularly Crispin Glover as the Willy Wonka we all deserve, and Jennifer Coolidge once again making a bad situation a little less horrific.
Still, as parody movies go, this can get into unwatchable territory more often than not. Especially when the movie decides to parody other comedies for some unfathomable reason.
8. Son of the Mask (2005)
Director: Lawrence Guterman
IMDb Rating: 2.5
The Plot: The mask that turned Jim Carrey into a green-faced living cartoon in 1994's hit film The Mask is back again for Son of the Mask over a decade later. A thoroughly unlikable father and cartoonist (Jamie Kennedy) finds himself at the mercy of his dog and infant son, who each wear the powerful mask at different points. There's also Alan Cumming as Loki, which is almost neat, and Bob Hoskins as Odin in a performance that really needs to be seen to be believed.
Is It Really That Bad? There's not a whole lot to like about Son of the Mask. Every character is annoying to the point of distraction, leaving you in a fugue state as the movie's alleged sense of humor smashes into your brain again and again.
The special effects are arguably fine, and Alan Cumming as Loki would be brilliant casting in a much better movie, but this remains a film that should be buried on the moon and nuked from orbit. It's the only way to be sure.
7. Saving Christmas (2014)
Director: Darren Doane
IMDb Rating: 2.5
The Plot: Kirk Cameron, everyone's favorite religious celebrity turd, saves Christmas. You may not have known it needed saving, but apparently it did. Or at least it needed a vessel of barely-there charisma to try in earnest to combine the notion of keeping Christ in Christmas with the myriad of commercial pleasures and traditions often associated with the holiday.
Is It Really That Bad? Yeah. Saving Christmas sucks on toast, manages to be spiritually bankrupt in every possible way, and reminds us in no uncertain terms why Kirk Cameron's acting career has been one impressive embarrassment after another post-Growing Pains.
There's a bit of so-bad-it's-entertaining charm to be found here, but ultimately, you'll be left hoping that eventually a real holiday miracle will occur in the form of writer/director/co-star Darren Doane never working again. I can almost guarantee you God hates this movie.
6. House of the Dead (2003)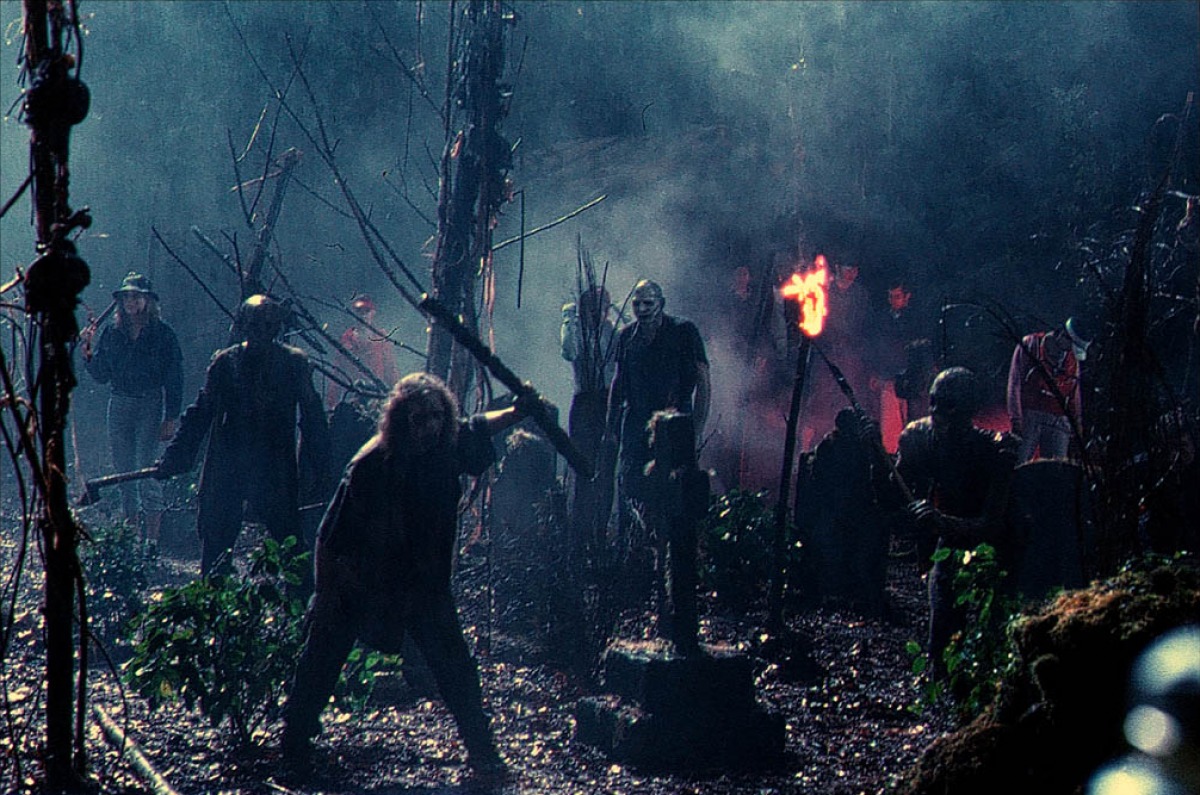 Director: Uwe Boll
IMDb Rating: 2.5
The Plot: Leaning heavily into the deep, rich lore of the House of the Dead video game series (I'm joking), the film concerns a group of witless imbeciles going to an island for a rave. Surprise though, because instead of fresh funky beats, vodka and flat Spite, and questionable drugs, our group gets a horde of flesh-eating zombies. Not much else happens. Clint Howard is around, as is one of the guys from Das Boot.
Is It Really That Bad? Of all the video game adaptations Uwe Boll decided to direct throughout primarily the 2000s, House of the Dead is regarded as one of the worst. That reputation is well-deserved, although you can't help but at least somewhat admire (well, I did anyway) the film's low budget ambition and crazed energy. The cast does their best, which keeps this movie from being forgettable.
House of the Dead is really, really bad, but it just might be your kind of fun.
5. The Hottie and the Nottie (2008)
Director: Tom Putnam
IMDb Rating: 2.4
The Plot: A creepy little dweeb named Nate (Joel David Moore) runs into his old high school crush Christabelle (Paris Hilton). Christabelle won't go out with someone unless that person also hooks up her "ugly" friend June (Christine Lakin) with a date. I don't want to ruin the movie for you, but June is actually beautiful, and that creates complications that remind us of the chaotic nature of life itself. Or something. I don't know. I wish I had done something else this month.
Is It Really That Bad? To be clear, The Hottie and the Nottie is not very good. The title is only the beginning of how deep this movie can grind on your nerves. A lot of that has to do with the performances, although Christine Lakin as June displays a measure of charisma that makes it surprising to me that her career hasn't had any significant breakthroughs.
As annoying as this movie can get, particularly in being one of those "Oh my god the ugly girl is hot" films that are thankfully not as prevalent as they once were, The Hottie and the Nottie is not, at least to me, as bad as its reputation suggests. My guess is that at least some of the rage directed towards this obnoxious effort comes from the mere presence of Paris Hilton. Fair enough, but some critics acted like this movie took a dump in their bowl of ice cream, and that's a bit much.
4. SuperBabies: Baby Geniuses 2 (2004)
Director: Bob Clark
IMDb Rating: 2.3
The Plot: A group of super-powered babies combine their strengths to take down a media mogul (Jon Voight, thousands of miles from Midnight Cowboy) and his plan to brainwash children. Every conceivable joke about babies can be found here. There might be some sort of social satire going on, but who actually cares.
Is It Really That Bad? What do you think gave me more brain damage? Decades of heavy drinking or watching Superbabies: Baby Geniuses 2 twice in nearly 20 years. We may never know.
Yes, this movie is as unforgivably bad as the IMDb rating might indicate. Should you watch it? Well, it's the last movie Bob Clark (A Christmas Story, Black Christmas, Porky's) directed in his lifetime, so that may be of interest to you. There's a certain sense of wonderment at watching losers like Scott Baio and Voight debase themselves for a kid's movie that aggressively hates the adults who are forced to watch it. That may just be enough for you.
3. Birdemic: Shock and Terror (2010)
Director: James Nguyen
IMDb Rating: 2.3
The Plot: Some clod obsessed with solar panels (Alan Bagh, truly a good sport about this movie) meets a charming supermodel named Nathalie (Whitney Moore, whose likability manages to shine through against all odds). Then all the birds in the world go insane and start destroying everything in sight. If it seems like something might be missing between those events, you would probably be right.
Is It Really That Bad? Even if you don't watch the deeply funny live RiffTrax show for this movie, Birdemic: Shock and Terror is the kind of bad that deserves to be seen at least once.
The movie is incompetent in every possible way, repeatedly transcending your expectations for such nonsense, and yet manages to be something that you can't help but like a little bit. There's the kind of bad that feels like a genuine bout of depression. Then there's Birdemic, which is bad but fun, and ultimately essential to a healthy, varied cinematic landscape.
2. Manos: The Hands of Fate (1966)
Director: Harold P. Warren
IMDb Rating: 2.2
The Plot: A vacationing family decides to stop off at a complete stranger's ranch in rural Texas and spend the night. They soon discover a deformed lunatic named Torgo, a group of maniacal brides, and some weirdo who calls himself The Master. The cult soon overtakes the family, and we end on a cheerful note that manages to include a (pretend) dead dog and a child bride. It's worth mentioning that this movie was made on a bet by its writer/director/producer/star/voice actor/fertilizer salesman Harold P. Warren.
Is It Really That Bad? There is nothing on this planet like Manos: The Hands of Fate. The film was saved from obscurity by Mystery Science Theater 3000 and has since developed a life well beyond the iconic television show. There are several follow-ups, a devoted fanbase, and you can always reach out to the film's young star Jackey Neyman Jones for some fascinating Manos-related artwork, or even an art class.
If you've never seen Manos, you should change that, because it's kind of amazing that something this inept can also be profoundly fascinating and unintentionally hilarious.
1. Disaster Movie (2008)
Directors: Jason Friedberg and Aaron Seltzer
IMDb Rating: 2.1
The Plot: We're back again with Jason and Aaron, who at least found a niche that worked for them for a little while. Disaster Movie is exactly what you're thinking. It's a parody film with a very loose plot that's designed to fill your soul beyond the bounds of sanity with as many disaster film parodies as possible. There's a plot, but I really don't think it matters. Guess the plot and main characters on the strength of the title alone. You'll probably be right.
Is It Really That Bad? One of the many, many, many, many unpleasant things about Disaster Movie is that the movie also parodies stuff that arguably doesn't qualify for the disaster genre. There's not much of a focus here, although it's hard to say if that would really matter. It's a big soggy stew of forced humor that proves to be more aggravating than astonishing-in-its-badness or even all that memorable.
There's worse stuff out there, but Disaster Movie occupying the literal bottom of what film has to offer is fair enough. The lack of tangible joy in this film is almost offensive, but believing this would mean having actual feelings about it. And I think we've all got better things to do.
READ NEXT: Make the Case: 7 Movies Where Love Gets Weird
Some of the coverage you find on Cultured Vultures contains affiliate links, which provide us with small commissions based on purchases made from visiting our site. We cover gaming news, movie reviews, wrestling and much more.