No new Bigby, no big deal? Not for a legion of fans who are absolutely baying for a return to the world of The Wolf Among Us.
Released in 2013, Telltale's adaptation of the Fables graphic novel series has become something of a cult classic in the three years that have followed. For good reason, too: it achieved the difficult task of putting modernised twists on well-known fairytales without once venturing into hammy territory (excluding Colin, of course). The Wolf Among Us was gritty and unforgiving, owing a lot to its lead, the gruff Bigby Wolf.
Set in Fabletown, your job as Bigby is to find a serial killer who is picking off the town's inhabitants one by one. From there, The Wolf Among us descends into a gripping noir that delivers as many shocks as anything in Telltale's library. Add the fact that Bigby was once the murderous and widely feared Big Bad Wolf and is now struggling to keep his past in check, you should already be on your way to Steam to pick it up if you haven't already.
As Telltale continue to widen their umbrella with more than their fair share (and arguably too many for them to handle) of acclaimed and beloved licenses, one question has been on the lips of fans and it's one that doesn't seem to be getting answered.
Where is The Wolf Among Us season 2?
The Wolf Among Us season 1, which is currently available on PC, Xbox One
, PS4
, and a whole bunch of other platforms, is hard to argue against being near the bottom of the ladder in terms of commercial success for Telltale, sat above the ropey Jurassic Park and possibly on-par with Back to the Future. As the developers continue to look towards the biggest and brightest licenses to adapt, there's little room for smaller fare, a category that The Wolf Among Us unfortunately falls into. The announcement of Telltale's Guardians of the Galaxy might have been met with plenty of excitement, but for anyone in dire need of a return to Fabletown, it's not a good sign.
Even without GOTG to consider, Telltale still have plenty of other series' that will probably take precedent over Bigby and friends. The second season of their patchy Game of Thrones adaptation is in the works, along with potential follow-ups to Batman, Minecraft: Story Mode, and even Tales From the Borderlands being even more likely. All four of those games are based on franchises worth millions and the expectations to deliver with those is even greater, which, when compared with the relative "indie" stature of TWAU, means that Telltale can hardly be blamed for playing favourites. As sad as it to say, TWAU seems to be way at the back of the line.
A new The Wolf Among Us would have to also make the transition to Telltale's new engine, which was showed off in the new season of The Walking Dead. While I can't even begin to guess how much work that entails, using assets from a game that came out in 2013 on a newer engine doesn't sound like it would be plain sailing, and that's without even mentioning how much extra work will be needed on top.
Any official info from Telltale on The Wolf Among Us' second season isn't forthcoming, but that doesn't mean it isn't in the works. Fans were given a lifeline when it was discovered that there was either some form of universe continuity, a teaser, or a simple easter egg hidden in Batman. Here's what forum user Poogers555 noticed: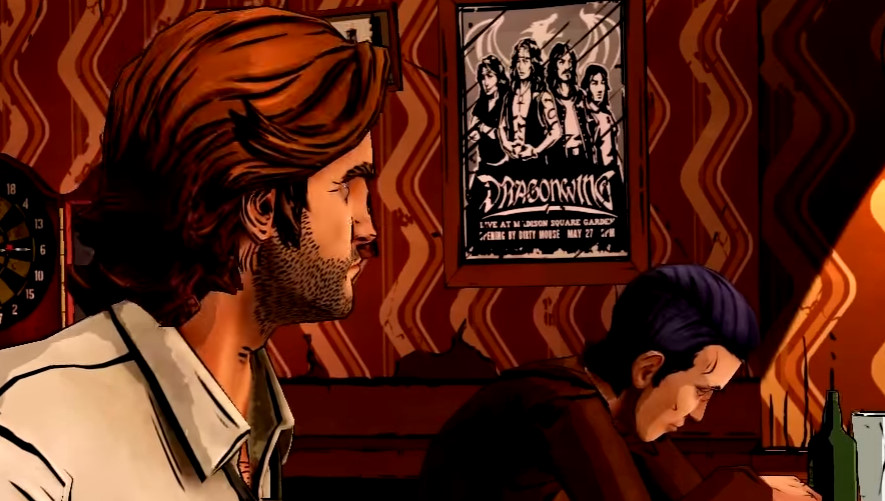 "Now you might be saying. That's just a reused asset, nothing great! But Telltale has updated their engine, and no other asset from Wolf Among Us has been in any other Telltale game except for animation. Now, some work had to be changed it in order for an asset to work in the new engine, which can only mean one thing. The Trip Trap Bar has been remade for Season 2 of Wolf Among Us!"
Wishful thinking? Definitely. Nothing but a bit of skirt-lifting from Telltale? Probably. But it's all that fans have to go on, and it's more than total radio silence.
There are other grapevines for fans to desperately latch onto, too. When the first season dropped on GWG on Xbox, a memorable line from it was posted to the official Telltale Twitter account. This galvanised people to suggest that releasing the first was a smart marketing ploy, an opportunity to put the feelers out to see if there was much interest in a second season.
— Telltale Games (@telltalegames) 4 February 2015
Here's the biggest hint about the series' status, though. Back in 2015, Telltale's Head of Communications talked about the company's slate and made more than just a passing remark about TWAU.
.@AustinBelzer A full 3rd Season of TWD won't debut until sometime after our TWD Michonne MiniSeries concludes. Wolf? These lips are sealed.

— Job J Stauffer (@jobjstauffer) 28 September 2015
While The Wolf Among Us season 2 might be on the backburner, it's likely still going to happen, but it has to be this year – 2018 might be leaving it too late. The thing working against it the most is Telltale's own success, making them more in-demand than ever and meaning their smaller properties may not even get a look-in. It's a 50/50 for TWAU.
Saying that, you might be pleasantly surprised when Telltale inevitably drop all five episodes at E3 2017 and win the whole damn show.
The Wolf Among Us season 1 is currently available on PC, Xbox One
, PS4
, and a whole bunch of other platforms. You have no reason not to play it.
Some of the coverage you find on Cultured Vultures contains affiliate links, which provide us with small commissions based on purchases made from visiting our site. We cover gaming news, movie reviews, wrestling and much more.