If you're familiar with Weird Al Yankovic, you'll know not to expect a typical biopic. After all, the man who became famous for parodying popular songs and having fake interviews with celebrities is not going to sell us something that's paint by numbers. So Weird: The Al Yankovic Story is absurd and completely bizarre, which is exactly what we expected. While entertaining, due in main part to a committed performance by Daniel Radcliffe, the movie fails to go to the level set by other parody biopics. I'm more likely to rewatch Popstar: Never Stop Never Stopping or even the recent meta-comedy The Unbearable Weight of Massive Talent.
The movie begins by establishing an antagonist relationship between Al and his father. His father works at some mysterious factory where people get maimed on the regular, and he wants Al to come work with him to learn how to make an honest living. But Al doesn't want that: he wants a career in the music business, in the niche field of creating made-up lyrics to existing songs. In conventional biopics of musical legends, there's usually some measure of conflict with their family, and this movie hyperbolizes it to the extreme. There's even a moment where his father beats up a travelling salesman for daring to even bring an accordion into their home.
But with the quiet support of his mother, Al masters the accordion, and later on is encouraged by his roommates to pursue this niche area of music. Unlike the arduous struggle we usually expect in biopics, Al gains success fairly quickly. He becomes the protege of Dr. Demento (Rainn Wilson) – a name that feels fairly ironic given Radcliffe's association to the Harry Potter universe – and everyone bows in the face of his supreme talent. Musicians even want him to parody their song, since his parodies encourage listeners to seek out the original.
However, Al begins to realise that if he continues down this route, he'll never be taken seriously in the music business. He attempts to change that by releasing an original song – a tongue in cheek joke when we actually hear the song and discover how unoriginal it is. With Al's mind set on leaving his days of parodying songs behind, Madonna enters the picture. She wants Al to parody her song Like A Virgin to help put her song on the map, which is of course absurd since she's Madonna. While Wood clearly had fun playing this gum-popping version of Madonna, her introduction into the film is when things start to fall apart.
Under Madonna's influence, Al heads down a dark path of alcohol addiction and breakdowns on stage, but she doesn't care because all she desires is fame. The movie isn't nuanced enough to properly develop this femme fatale aspect of her character, so it feels annoyingly one-note, as all of Al's friends scream that she's an evil succubus. Towards the movie's conclusion, it feels like Weird: The Al Yankovic Story ran out of ideas and we get set pieces that aren't really worth the investment.
Radcliffe is absolutely the sole reason to tune in. The movie demands quite a bit from him, and he delivers on all fronts. He's able to play the geeky, accordion-playing Al, as well as the brooding rock star. He's also insanely ripped, with the same leather pants wearing swagger we saw in Tom Cruise in Rock of Ages.
If you're seeking a fun movie for the weekend, and want to listen again to some of Weird Al's song parodies, then this movie should satisfy. It might feel like it goes on for too long, but it's still a nostalgic trip that entertains for the most part.
Review screener provided.
READ NEXT: Make the Case: 5 Best Comedy Movies About Brothers
Some of the coverage you find on Cultured Vultures contains affiliate links, which provide us with small commissions based on purchases made from visiting our site. We cover gaming news, movie reviews, wrestling and much more.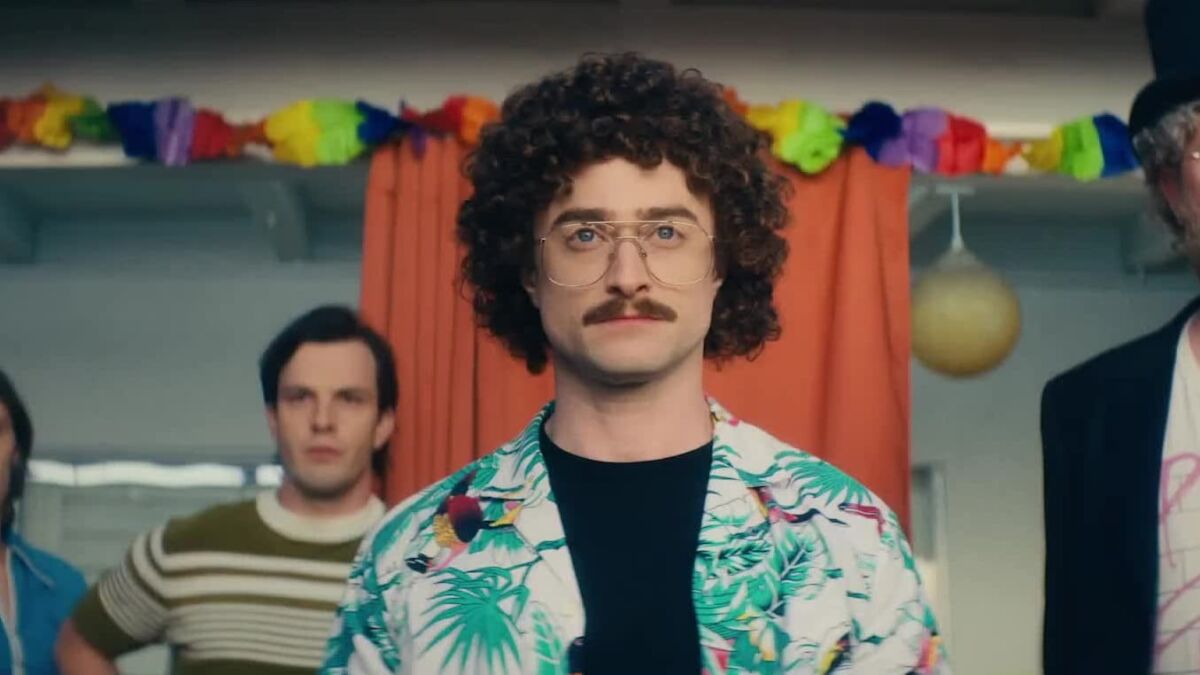 Verdict
Daniel Radcliffe is such a movie star. Even when the source material lets him down, his utter commitment to the bit never wavers.