There have been many studios over the years that have been shuttered or dissolved before their time. We're still sad over the closure of Project Gotham Racing/Blur/Geometry Wars/The Club developer Bizarre Creations, but as far as Japanese developers go, there's one studio that's sorely missed: Clover Studio. Though their time as an active studio was short, their impact is still felt to this day, with many clamouring for a return to God Hand, Okami and, the subject of today's article, Viewtiful Joe.
The first game that the Clover Studio team created, Viewtiful Joe served as a litmus test for what the studio would become known for: incredibly stylish yet challenging gameplay, unique art styles and games that were designed to be fun. Unfortunately, the Capcom subsidiary studio was shut down and reabsorbed into the company after just a couple of years, and most of its games were resigned to history. Today, we're asking a question we probably know the answer to: will we ever see Viewtiful Joe 3?
The History Of Viewtiful Joe
Clover Studio was actually formed out of the Team Viewtiful developers, themselves a section of Capcom Production Studio 4, an internal development house for the Japanese publishers. Viewtiful Joe was announced in late 2002 as part of the Capcom Five, a collection of five Capcom games that were scheduled to make their way to the Nintendo Gamecube over the coming months, including Viewtiful Joe, P.N.03, Killer7, Dead Phoenix and Resident Evil 4. While Dead Phoenix was cancelled before release and P.N.03 was a commercial flop, the others went on to do okay.
Yes, that was an intentional understatement. Of course RE 4 did better than okay.
Viewtiful Joe would launch in June 2003, directed by Hideki Kamiya and produced by Atsushi Inaba alongside the Team Viewtiful developers. Heavily inspired by "tokusatsu" films and TV shows such as Kamen Rider, which rely heavily on special effects, players took control of Joe, a man sucked into the world of movies to rescue his girlfriend, Silvia. In the movie world, Joe is given the power to transform into a superhero, which he uses to batter the crap out of the variety of enemies and bosses you encounter.
Far from just being inspiration for the story, films actually play a huge role in the powers Viewtiful Joe can use during gameplay. Players were able to slow down and fast-forward gameplay, altering the world, enemies and Joe himself in interesting ways, allowing you to solve puzzles or gain the upper hand in battle. Of course, using abilities required power, and running out meant you'd be stuck as regular Joe, susceptible to getting the snot beaten out of you.
Viewtiful Joe immediately drew interest and attention with its strong focus on the visual style and gameplay. The world and characters were 3D and cel-shaded, which was a graphical approach that was still being experimented with back in 2003. However, the gameplay moved along a 2D-plane, with the action offering a decent mixture of beat 'em up and platforming to keep the game fresh during its runtime. Viewtiful Joe was also quite hard, a trait that would come to define Clover and, to a much larger extent, PlatinumGames.
While sales for Viewtiful Joe weren't exactly stellar, the game was conceived on a relatively low budget and was even designed to be a project that would improve staff development skills, particularly Kamiya. Either way, it was enough of a win that Capcom saw fit to spin the Team Viewtiful developers from Capcom Studio 4 into their own fully fledged studio. Clover was then formed in 2004, during the middle of development on the Viewtiful Joe sequel and the original game's porting to the PS2. The studio was helmed by Inaba, Kamiya and Shinji Mikami, acclaimed director of the Resident Evil series.
Viewtiful Joe 2 began launching in November 2004, with a slow rollout over a couple of months across the world on both GameCube and PS2. The sequel followed the "yes, and?" approach to creating a follow-up, featuring all the core features and abilities of the original game, only with the action turned up a notch and a new playable character in the form of Joe's girlfriend, Sylvia. Players could switch between the two characters at any time, and both would even utilise their own abilities.
If sales on the first game weren't impressive, the second entry also left a lot to be desired. Viewtiful Joe 2 managed to sell 270,000 copies in North America and 80,000 copies in Japan during Capcom's 2004 fiscal year, while in the UK, the game failed to even breach the top 40 charts of games sold during its launch week. Despite both games reviewing incredibly well, Viewtiful Joe almost felt destined to be an obscure game that'd eventually accrue a die-hard cult following.
Where's Viewtiful Joe At Now?
Following the release of Viewtiful Joe 2, Clover would then go on to make two spin-off games, Red Hot Rumble and Double Trouble. As the name implies, Red Hot Rumble would follow the Super Smash Bros. model of 2D platform fighting, while Double Trouble was a DS spin-off that followed the same gameplay structure as the main games. Unfortunately, Double Trouble would be the last official Viewtiful Joe release, as the franchise became a casualty of Clover's ill-fate.
Clover was founded with a view to create brand new IPs, so in 2006, Clover brought out the fruits of their labour, releasing both Okami and God Hand in the same year, two games that could not be further opposed from each other. God Hand was a 3D brawler that allowed players to create custom movesets and batter hordes of demonic goons, while Okami is perhaps one of the best cel-shaded games ever made, seeing you playing as a wolf/god attempting to restore magic to the land.
Okami received pretty much perfect reviews across the board when it launched, cementing its place as one of the best PS2 games ever made, but God Hand's reviews were a lot more sporadic. Reviews ran the gamut from outstanding to awful, which makes sense given how bonkers, challenging and generally "out there" the game is. Despite the wide differences between the two games, something they both share is that they're regarded as commercial flops, God Hand naturally more so than Okami.
Multiple "failures" later, especially in comparison to other Capcom titles like Lost Planet and Dead Rising, meant that Capcom decided to try and dissolve Clover into their R&D department. Inaba, Kamiya and Mikami all left Clover around the same time, also citing the restrictive nature of Capcom top brass when it came to greenlighting new games, taking a lot of the key developers with them, to form what would eventually become PlatinumGames. Platinum retains pretty much the same DNA as Clover did, only their games actually seem to sell.
Will We Ever See Viewtiful Joe 3?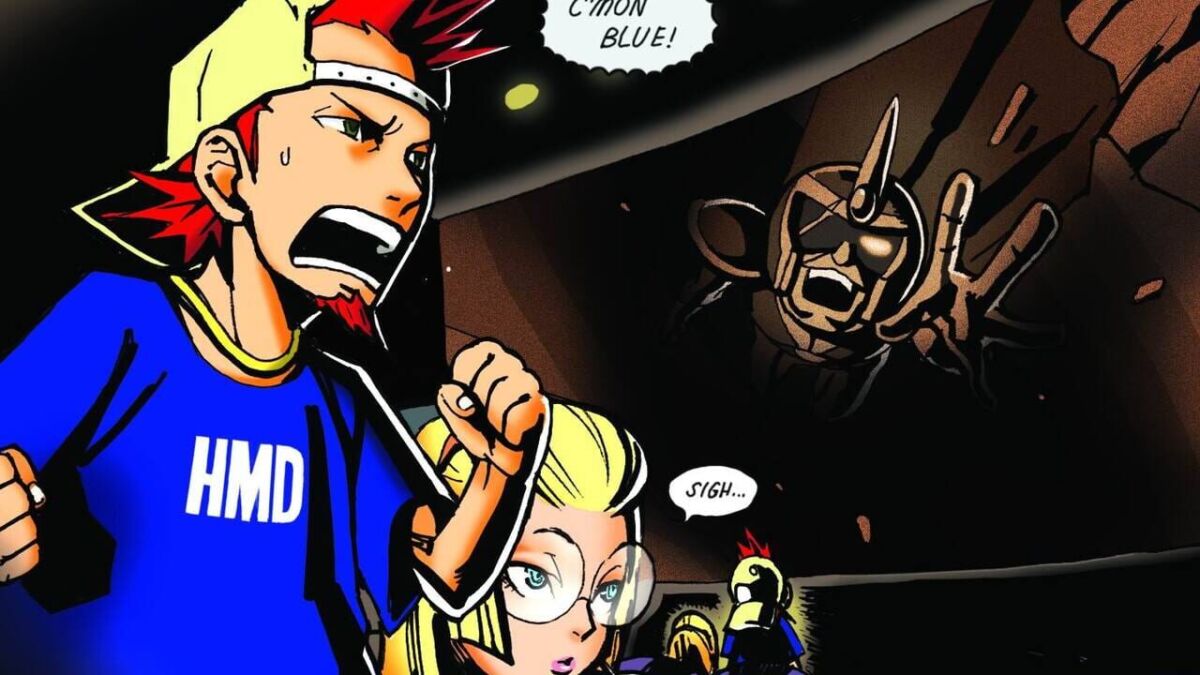 Never say never, right?
A bit closer to Clover's closure, the answer to seeing Viewtiful Joe 3 would have been a resounding no, as Capcom's Producer and Senior Corporate Officer of R&D, Keiji Inafune (Mega Man, Lost Planet and Dead Rising) said in an interview with 1up.com that the publisher had no plans to create sequels for Clover's back catalogue of titles:
"At this time, we have no plans of making sequels to any of those properties. I can't say we won't, for certain, but it's not very likely or appealing. If we had no other properties to depend on for making new games, we might be desperate enough to create sequels to those titles, but that's not the case. We have a lot of titles that we want to make and other sequels that are waiting to be made. So, there's no interest at the moment."
In a follow-up question regarding whether Capcom actually does own the rights to Clover's games, Keiji clarifies with the following: "Yes. But, we're just not interested in them." There could be an issue with the translation, but the interview as it's presented seems to suggest some kind of disrespect towards Clover's games, possibly due to the schism of Clover's lead developers forming PlatinumGames. That's just speculation from me, but it could go some way to explaining Capcom's initial hesitation to create Viewtiful Joe 3 immediately after Clover was put to bed.
A third mainline game in the series was teased within Viewtiful Joe 2, as the ending practically sets up for another adventure. A domain name was even registered for Viewtiful Joe 3, but as we all know, that game never materialised. Inaba even expressed his desire to release a new game in the series on the Wii, but Clover was ultimately put out to pasture before that could become a reality.
Clearly though, any potential ill-feelings haven't been enough to prevent Capcom from rolling out some of these characters for guest appearances here and there. Joe and Okami antagonist Yami were both featured in the crossover fighting game Tatsunoko vs Capcom: Ultimate All-Stars, which launched on the Wii back in 2008, while Joe and Amaterasu, Okami's lead character, both featured in Marvel vs Capcom 3 and re-release Ultimate Marvel vs Capcom 3. It's evident Capcom held the characters in some esteem, though notably they were absent from Marvel vs Capcom: Infinite.
Capcom are undoubtedly playing favourites when it comes to Clover's games though, as Okami has been re-released on practically every platform under the sun over the years. Okami is also the only game from Clover that received a sequel after the studio was shuttered, with Okamiden launching for the DS in 2010 and serving as a spiritual successor to the original game.
While the answer to whether we'll see Viewtiful Joe 3 might have been more unlikely 10 to 15 years ago, the answer these days is a bit more hopeful. Not a lot more hopeful, mind you, but a bit. In 2009, Jun Takeuchi of Capcom revealed at that year's SDCC that he'd love to work with Kamiya on a new game: "I'm a really big fan of that series. I think that series is a result of the work [Hideki] Kamiya did on it. If we get to work with him in the future, we would love to make another one. Nothing planned now."
Kamiya has also spent the better part of a decade telling the world he'd love to work on a new Viewtiful Joe. In a 2009 interview with Game Informer, he said: "Up until very recently I really felt someday I wanted to make a sequel to Okami, and there were others who wanted me to as well. But then the other day I heard the announcement that someone else would be making a sequel and now I'm just not interested in it anymore."
He added: "Once someone else touches a world that you yourself created it stops being yours. There is no point in making a sequel when the world doesn't belong to you. Viewtiful Joe is probably all I've got left. That story is incomplete so I'd like to finish it someday. But that would probably be the most difficult one to do [laughs]."
In 2017, Kamiya floated the idea out there again, with an interview with Dengeki PlayStation leading to Kamiya both walking back his thoughts on working on an Okami sequel, and offering Capcom some game ideas himself: "I want to work on a Devil May Cry and Viewtiful Joe remake, or a true sequel for Okami. A cooperation with Dante (from Devil May Cry) and Bayonetta might also be fun. Dear Capcom, if it's okay with someone like me, I will help anytime. Best regards. Everyone, bow down your heads together with me!"
Even in 2020, Kamiya is still shilling for a new Viewtiful Joe game, as he stated his desire to both see the original game brought to the Nintendo Switch, and to finish the trilogy as a whole in an interview with Nintendo Enthusiast at PAX East 2020: "Personally, I really hope that [Viewtiful Joe] comes back. I don't want it to be lost in the sands of time, so to speak. I'm requesting it! I would love it if that would happen. Also, there's been a Viewtiful Joe 1 and 2, but there has been no 3. So, for me personally, I would also love to finish that trilogy with a Viewtiful Joe 3."
That all being said, just because Kamiya is interested, it doesn't mean it'll come to pass. In a previous article, we mentioned how F-Zero GX developer Toshihiro Nagoshi would love to return to the series in some capacity, but the ball is in Nintendo's court for it to happen. Here, the ball is in Capcom's court, and it's unclear whether or not they'll run with it. Re-releases like Okami and Onimusha: Warlords, along with the Resident Evil remakes, prove they're happy to raid their own vaults for the next great hit, but it's a question of if Viewtiful Joe is worth that investment.
I really hope it is, honestly. Viewtiful Joe 3 feels like it'd be right at home on the Nintendo Switch, especially if Capcom were to go down the route of remastering the first two games in the series. Their recent successes with Resident Evil and Monster Hunter could surely afford them to take one more risk on the little movie-hopping superhero that could, right? Please? I promise I'll buy copies for me and my friends, honest.
READ MORE: Will Respawn Ever Make Titanfall 3 A Reality?
Some of the coverage you find on Cultured Vultures contains affiliate links, which provide us with small commissions based on purchases made from visiting our site. We cover gaming news, movie reviews, wrestling and much more.