When you think romance, what comes to mind are movies like When Harry Met Sally, My Best Friend's Wedding, or even Crazy, Stupid, Love. These are mainstream movies that most fans of the genre would know. This list isn't about those films. We're diving into lesser known films and underrated romance movies that haven't exactly popped up in conversation, but are most definitely worth the time and investment.
So, you're a fan of the genre, and looking to watch something that you haven't watched a thousand times before, then this list is for you. Here are 15 underrated romance movies to check out.
1. Love Jones (1997)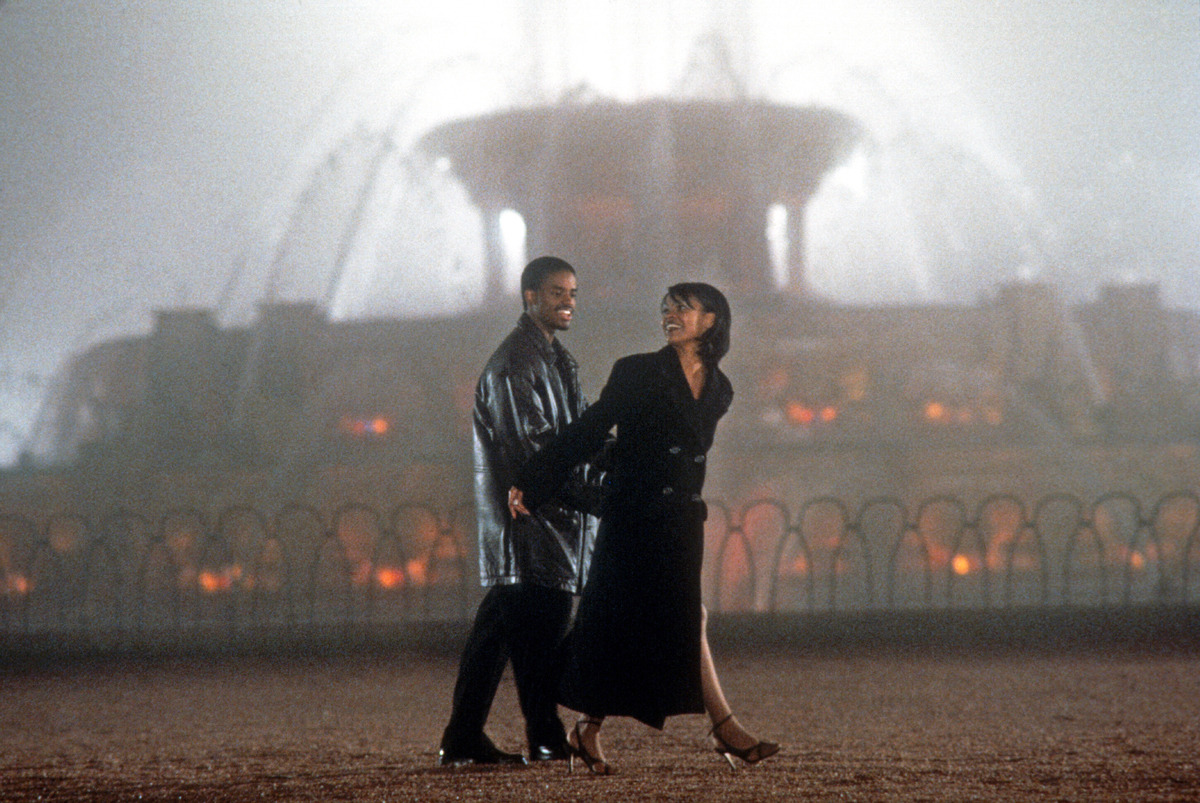 Director: Theodore Witcher
Nina (Nia Long) and Darius (Larenz Tate) meet at the Sanctuary, a club where you can enjoy some jazz and even poetry slams. He's smitten, and lets her know via a sultry poetry performance, but she's turned off by the poem's focus on sex. There are other things besides sex, she tells him. Then she takes a pen and writes the word "love" on his wrist. Despite her seeming disinterest, Darius is persistent in his desire and pursuit of her, and even though she tells him the timing isn't right, they fall into a relationship with each other anyway.
The pair have chemistry together, but what I love more is the whole atmosphere that surrounds them. We are in a world of black artists, and Love Jones plays out like a homage to the Harlem Renaissance, where young creative people would gather and share their insights on love and life. The conservations at the club, at the dinner parties – it's all so riveting and smart.
It's difficult to bring erotic elements into romance films because it can so easily move into sleazy, but Love Jones does a great job of making it sexy without being overtly pornographic. Witcher's film isn't formulaic or paint by numbers, so these characters don't have easily solvable conflicts, or things don't move to love immediately, which is something to appreciate. It's real, authentic, and you'll most certainly enjoy it.
2. Monsoon Wedding (2001)
Director: Mira Nair
Nair's Monsoon Wedding is similar in concept to My Big Fat Greek Wedding, which is interesting since both were released around the same time – maybe the early 2000s was about the big, rambunctious weddings. Monsoon Wedding takes place in New Delhi, and is centred around the approaching nuptials of Aditi (Vasundhara Das) and Hemant (Parvin Dabas). It's an examination of family, culture, and how that all co-exists with Western ideals and influence. Hemant may live and work in Houston, but he still agrees to an arranged marriage nonetheless.
Even though Aditi and Hemant's wedding is the central set piece of the film, we follow other love stories and characters as the guests flock in to attend the wedding. Nair juxtaposes love stories where social class is an obstacle to couplings between individuals of the same class, and how love progresses in different ways because of that. There's such rich texture and style to Nair's filmmaking, and it's no surprise that she was the first female filmmaker to win the Golden Lion award, an award she got for this film.
What this film fleshes out so well about love is that there is no perfect way to fall in love; it can be in a completely happenstance way, or love can blossom from a relationship determined by two families. There is a way for traditions and modernity to co-exist – it's about having the best of both worlds, and not the supplanting of one by the other.
3. Raising Victor Vargas (2002)
Director: Peter Sollett
Like most teenage boys, the titular Victor Vargas (Victor Rasuk) has sex on the mind. He acts like a player, when all he really wants is a sense of normalcy and someone to connect with. He meets Judy (Judy Marte) and begins to court her despite her initial objections, and slowly begins to win her over.
Unlike some coming of age movies, Raising Victor Vargas truly captures the spirit of adolescence, of trying to get things right but confused as to what exactly right means. There's a desire to be adults, to grow up, yet there aren't any around to emulate. Victor's parents aren't part of the picture, and the same goes for Judy's parents. The movie doesn't attempt to dive into any backstory of what exactly happened, keeping the viewers very much in the current state of things, which is to its credit.
With a loose script and mostly improvised dialogue, this allowed the characters to have much-needed authenticity, and gave us a film that is able to capture the thrill and headiness of first love.
4. Saving Face (2004)
Director: Alice Wu
The film community celebrated in 2020, when Alice Wu came back with her sophomore film The Half Of It, 16 years after Saving Face. From her first feature, her filmmaking prowess was apparent, with a movie that offers a more nuanced take on the Asian mother-daughter relationship.
In the film, both Wil (Michelle Krusiec) and her widowed mother Hwei Lan (Joan Chen) are conducting illicit romantic relationships of their own. Wil discovers her mother on the doorstep of her own home, having been kicked out by her father because she's pregnant and unmarried. She takes her mother in and becomes her caretaker, taking her for gynecology appointments and binge watching soap operas together. Wil begins dating Vivian (Lynn Chen), but her queer identity isn't acceptable to her mother, so she finds it difficult to properly be with Vivian.
As mother and daughter live together and get to know each other, they begin to look at each other beyond their roles. They start to see each other as women, each with their own hopes and desires. Wu manages to fuse a queer rom-com narrative with a family drama, and despite the formulaic contrast between the two, she manages to make it work.
5. Sideways (2004)
Director: Alexander Payne
Paul Giamatti isn't someone you would expect as a protagonist in a rom-com, but just like Billy Crystal in When Harry Met Sally, his performance in Sideways is one of the reasons why the movie works. The movie follows two middle-aged men, Miles (Giamatti) and Jack (Thomas Haden Church), who go on a tour of the Santa Barbara wine country, as one last hurrah before Jack gets married.
Miles is suffering from the aftermath of a bitter divorce, though this self-loathing disappears whenever he's discussing or drinking wine. He has a clear passion for it, and an extensive knowledge of what works and what doesn't. While he's excited about all the wine they'll get to drink, and the golf they'll get to play, Jack has other ideas. He wants to get laid, and is hoping the same for his friend.
Things get spicy when the pair meet Maya (Virginia Madsen) and Stephanie (Sandra Oh), as Maya and Miles share a similar passion for wine, while Stephanie and Jack get up to sexier deeds. One of the best things about the movie is the characterisation, where you can't help but root for them despite some of their unlikeable characteristics. While the friendship between the two men is the central focus of the film, the romantic spaces are also quite well done.
6. Like Crazy (2011)
Director: Drake Doremus
Felicity Jones plays Anna, a British college student in Los Angeles for school, who falls for an American, Jacob, played by Anton Yelchin. When the summer's over, Anna's student visa will end, and she'll have to return home. But they've found something so special with each other that they can't bear to say goodbye, so the pair decide to try a long distance relationship.
They yearn for the moments they get to meet, however, the separation and distance is also hard to bear. The two begin dating other people to ease their suffering in the time spent apart, and begin to wonder if what they have is just the naivety of young love. Both Jones and Yelchin anchor the film with their performances, and Doremus builds a romance that is equal doses bright and gloomy.
7. A Royal Affair (2012)
Director: Nikolaj Arcel
A Royal Affair involves a borderline insane Danish King Christian VII (Mikkel Boe Følsgaard), his queen Englishwoman Caroline Mathilda (Alicia Vikander) and their physician Dr. Struensee (Mads Mikkelsen). Dr. Struensee is a follower of the principles of Enlightenment which are sweeping across England, ideas that the King himself becomes interested in after the pair become close friends.
But there's a problem: Dr. Struensee and Caroline have fallen madly in love, and should the King find out, things would not end well for everyone involved. If you think the story sounds far-fetched and is probably a fictional romantic tale, you would be wrong. This is a story based on real events, and isn't really spoken about beyond Denmark.
Considering the rich potential of the story, it's amazing that it hasn't been adapted earlier, so we're thankful for director Nikolaj Arcel for bringing this riveting tale to the big screen.
8. The Lunchbox (2013)
Director: Ritesh Batra
There is a famous lunchbox system in India where the Dabbawallahs pick up the hot food packed in stainless steel containers from the worker's home, and deliver it to them at their office, still warm, and the containers are returned later. The system has been working for 125 years in Mumbai and is practically unsurpassed. The Lunchbox is a story of an error in the system, with a wife claiming that the lunch she arduously prepares for her husband doesn't go to him, but to another man instead.
Ila's (Nimrat Kaur) food ends up on the desk of widower Saajan Fernandes (Irrfan Khan). He pays a service to provide his lunch, and quickly realises he's eating another man's lunch by how good the food is. He slips a note into the tin when it goes back, complimenting the cook. While Ila's initially confused, she's also charmed by the note, and decides to continue sending her food to the wrong man, along with a new note each day. At least someone appreciates her food.
As they swap notes and secrets, a connection begins to grow between them. Ila finds herself appreciated for the first time, while Ila's homecooked food stirs something in the cynical Saajan. It's a touching love story, build with a certain sweetness and charm by director Ritesh Batra, who has gone on to direct other romance movies, like Our Souls at Night and Photograph.
9. The One I Love (2014)
Director: Charlie McDowell
Married couple Ethan (Mark Duplass) and Sophie (Elisabeth Moss) are sent for a couple's retreat by their therapist (Ted Danson), a reset button of sorts for the pair after Ethan's affair. When they get there, they realise that they're far from alone, and have to contend with each other as well as their own individual issues.
To say any more would spoil the story, as quite a bit of the enjoyment involves the viewer knowing as little as possible before diving in. All I can say is, even though the movie is primarily a kind of rom-com, it also delves into sci-fi territory.
The One I Love is a clever movie about love and marriage, with scene stealing performances from both Moss and Duplass.
10. Blue Jay (2016)
Director: Alexandre Lehmann
Sarah Paulson plays Amanda, a married mother of two, who bumps into her high school sweetheart Jim (Mark Duplass).
They spend the day talking, sharing memories about the good old days, their struggles and current lives. What makes Blue Jay such an engaging watch is the undeniable spark and chemistry between Paulson and Duplass. This is also the second movie starring Duplass on this list, which is purely coincidental, but also proof that Duplass is a leading rom-com man the world should know more about.
The movie is mainly just conversations between the pair, so if you enjoyed movies like the Before Sunrise trilogy, then you'll surely enjoy Blue Jay as well.
11. Loving (2016)
Director: Jeff Nichols
Richard and Mildred are like any other couple living in Virginia. Richard's (Joel Edgerton) a builder who spends his free time working on cars, and absolutely adores his girlfriend Mildred (Ruth Negga). They spend their time attending drag races and parties, and have dinner with their families. Things take a turn when Richard and Mildred get married, due to a miscegenation law that existed in Virginia at the time. They would spend the next 9 years of their life fighting for their love and their right to be married to each other.
Their civil rights case, Loving v. Virginia, went all the way to the Supreme Court. For the couple, it was never about making waves or history, they just wanted to love each other, but sometimes, that alone is powerful to change things we know it. Bolstered by powerful performances from Edgerton and Negga, it's an inspiring tale about love and the lengths we would go to for it.
12. God's Own Country (2017)
Director: Francis Lee
Set in the bleak, impassive landscape of Yorkshire, the movie follows Johnny (Josh O'Connor), who's resigned himself to a dreary existence on his family's farm. It's not a coming out narrative, or the doomed romance that Brokeback Mountain was. Johnny's not in denial about his sexuality, and his family also knows he's queer status. The struggle is mostly internal for Johnny, who finds it difficult to embrace who he is considering the brand of masculinity he was raised on.
This changes when he meets Gheorghe (Alec Secareanu), an immigrant who comes to work on the farm. O'Connor and Secareanu do such an incredible job with their characters, and together, they build a romance filled with a poignant yearning. The most beautiful moments in the film exist in the lingering stares and the touches of affection between the two.
What's even more impressive is that this is Lee's directorial debut.
13. Premature (2019)
Director: Rashaad Ernesto Green
Ayanna (Zora Howard) has just graduated from high school and is spending the summer in Harlem before heading for college. When she meets Isaiah (Joshua Boone), a slightly older musician, she initially thinks he's a player and has her guard up. But it appears they have more in common than she first thought, and the two embark on a summer romance.
It's a beautiful, sensual love story centred around two black individuals caught in the cusp of transition. After all, summer romances fade when the season changes, especially since Ayanna already has plans to leave. But can she bear to, when Isaiah's everything she's been looking for?
14. Language Lessons (2021)
Director: Natalie Morales
As I Love You, Man proves, a good rom-com doesn't always have to be about romantic love. A great recent example is Natalie Morales' Language Lessons, where a Spanish teacher Cariño (Morales) and her student Adam (Mark Duplass) develop a special connection after a tragic event. The interactions between the two are conducted entirely via Zoom, but Morales' assured direction prevents it from becoming boring or too monotonous.
It all begins when Adam's husband buys him a 100 hours worth of Spanish lessons, all because he said he wanted to learn Spanish. He isn't sure how these lessons would fit into his pretty much structured life, but decides to commit to it, and the two become close friends.
Given that most of us spent 2020 communicating via similar platforms – and probably still do to some extent – Language Lessons will feel a bit too real at times. There's often magic in simplicity, and Language Lessons weaves a compelling tale of long distance intimacy.
15. Love and Leashes (2022)
Director: Hyeon-jin Park
While Fifty Shades of Grey brought the world of BDSM into commercial, mainstream cinema, many have criticised its treatment of the topic, and the way one of the characters is coerced into the world without an understanding of it. Korea's Love and Leashes does a better job with its material, as well as a credible job with the aspects and the dynamics of BDSM.
It all begins when Jiwoo (Seohyun) finds a collar that her colleague Jihoo (Joon-Young Lee) purchased for himself. Even though he claims it's for a dog, it clearly isn't, and Jiwoo begins to suspect the truth as she conducts her own research. Humbled and gratified by the fact that she doesn't rat him out, Jihoo impulsively asks her to be his master, and they enter into a consensual play relationship from there.
The movie offers fascinating insight into the world of BDSM, and takes us through the ins and outs – like the preparation involved before a play, and the focus on safety and comfort.
The movie's a refreshing take on the topic, weaving a romance that's quite sweet, setting itself apart from the usual tawdry depictions. If you're looking for something that's romantic and a little sexy, this is the movie for you.
READ NEXT: 10 Underrated Horror Movies That Deserve Cult Classic Status
Some of the coverage you find on Cultured Vultures contains affiliate links, which provide us with small commissions based on purchases made from visiting our site. We cover gaming news, movie reviews, wrestling and much more.