Each week brings dozens upon dozens of new comic releases. Unfortunately, this means a lot of great comics go unnoticed. And while comic readers generally know what titles they will most likely purchase each month, some may not consider picking up comics outside the realm of their usual interests.
The April 2022 comic release schedule was packed with popular series issues. However, the lesser-read indie comics from the month certainly made an impact on those select few who deviate outside the Big Two series. Readership also often drops off month-to-month between issues after the initial first issue, softening the publicity for middle issues or series finales.
If your busy schedule or simple lack of awareness of comics outside of Marvel and DC made it difficult to track down new reading material, here is a handy list of the 15 most underrated April comic releases.
15. Vanity #1 — Jurii Kirnev, Natalia Tsarevnikova, Natalia Tsarevnikova, & Joel Rodriguez
Typically, historical fiction comics don't top the charts like superhero or horror stories. But Scout Comics published a historical fiction issue, Vanity #1, in April intriguingly deviating from most comic styles.
As part of the Black Caravan imprint from Scout Comics, Vanity #1 embraces horror in its fictional retelling of the legendary female serial killer Blood Countess Elizabeth Bathory. Beginning in 1600s Hungaria, Vanity pulls from an amalgam of tales and historical events to imagine Elizabeth's rise from a strict upbringing to a murderess. Even in childhood, we witness Elizabeth questioning the status quo and making blasphemous, eerie statements against religion and in favor of the macabre in this opening issue.
Readers only see the world from young Elizabeth's perspective until revealing her full face and body later on in the issue to make a stark statement about womanhood. One specific stylistic choice among many, the rough art style attributes a darkly vintage feel to the creepy story.
Vanity #1 may be a slow-burn opening issue, but it deserves a wider readership for taking chances in its subject matter, genre, and artistry.
14. Alice Ever After #1 – Dan Panosian, Giorgio Spalletta, Fabiano Mascolo, & Jeff Eckleberry
It's time to go down the rabbit hole for a mature and twisted Alice in Wonderland retelling from BOOM! Studios.
Alice Ever After #1 takes notes from Tim Burton's dark interpretation of the classic story. Part fantasy and part psychological horror, the comic is set in Victorian London and features a grown-up Alice. As an adult, Alice is tormented by societal constraints, familial resentment, and post-Wonderland childhood trauma. She responds through worsening drug addiction, much to her angry father's chagrin. Reality warps around Alice as she plunges further down the hole of her addiction and returns to Wonderland in her drug-addled state.
Retellings are all the rage right now and Alice Ever After #1 innovatively dips into the trend. Here, Alice's adorable cats narrate the issue from their cat-POV and function as her only loyal companions. The issue's main strengths lie in the adult story direction and the fabulous art transitions when Alice slips from Victorian London into her Wonderland drug trips.
Alice Ever After #1 explores trauma and addiction in a strong first issue bursting with potential for greatness.
13. Break Out #1 – Zack Kaplan, Wilton Santos, Jason Wordie, & Jim Campbell
Another massively underrated sci-fi Dark Horse Comics title, Break Out #1 feels like a movie in the making in its magnificent debut.
One day, imposing spaceships in the shape of a cube from another dimension appear in the sky. The cube spaceships seem harmless until they begin abducting only teenagers from Earth on a seemingly random cycle. When some of the kidnapped teens smuggle in phones, their short videos reveal they aren't dead but are trapped in the cubes as prisoners for reasons unknown. Reeling from the world's eventual disinterest in pausing life for an untenable situation and returning to "normal," high schooler Liam gathers an intelligent group to try and break out the prisoners – including his younger brother.
The comic hits home with allusions to how quickly society moved on from a still existing pandemic and left those without options behind without a second thought. The idea of a jailbreak heist against floating foreign structures promises an adventure I can't wait to see play out in future issues. Additionally, its engaging sci-fi premise dually uses the genre as a vehicle to scrutinize the present.
Break Out #1 shines as a first issue pulling out all the stops, complemented by lustrous illustrations capturing fear in both the enormity of foreign space invaders and the smaller scope of not knowing if you will be their next victim.
12. Cat Massage Therapy Vol. 2 – Haru Hisakawa
On the manga side of the sequential art industry, April saw a lot of popular manga releases like Chainsaw Man Vol. 10 and Kaiju No. 8, Vol. 2. Yet, my pick for best April manga is Haru Hisakawa's underrated but unbelievably adorable Cat Massage Therapy Vol. 2 from Seven Seas Entertainment.
A comedic drama, the second installment continues office worker Nekoyama's growing addiction to massages from cats at the local cat parlor. After introducing his co-workers to their therapeutic wonders, the whole office wants cat massages all the time. Work-life happiness increases exponentially because of the relaxing kneading of cat toe beans. But one day, there's a new cat working as a masseuse. Will he provide the same massage therapy Nekoyama has come to love?
There's not much else to say, but this is probably the cutest manga ever written (apart from A Man & His Cat) and I will yell about how utterly wonderful Cat Massage Therapy is for the rest of my life.
11. Human Remains #7 – Peter Milligan, Sally Cantirino, Dearbhla Kelly, & AndWorld Design
If you haven't been keeping up with Human Remains from Vault Comics, you've been missing out on an excellent horror sci-fi tale speaking to the human condition in a way transcending profundity. Human Remains #7 was released in April as the penultimate issue to the series' conclusion, and it's one of the best issues yet. Mild series spoilers lie ahead.
So far, the series focused on several main characters and their struggle to survive against alien invaders who decimate any humans expressing loud emotional displays. One of these protagonists is Jessica, a woman on the run from her brutally abusive husband. Jessica's story has remained one of the most heart-wrenching since she must flee from such a wretched abuser, while at the same time cannot release her pent-up emotion since imminent death from aliens awaits
In Human Remains #7, we see Jessica, along with other central leads Dr. Anjali, and the Reverend, face choices in their grim world that alter their fates irrevocably. This issue chilled me to the bone with a blindsiding turn of events.
Everyone should be talking about how well the series evaluates the choices and consequences that make us human after reading this underrated April comic release.
10. Tyranny of the Muse — Eddie Wright & Dave Chisholm
Formerly a webcomic, psychological dark comedy Tyranny of the Muse debuted as a physical graphic novel the last week of April.
Tyranny of the Muse, written by Eddie Wright and illustrated by the inimitable Dave Chisholm, centres on a bizarre relationship between an uninspired man and his muse. Bonnie inspires Frank through an abnormal source: She injects physical doses of inspiration into his brain through the center of his head. Both lost in a sea of rejection and low self-worth, Eddie and Bonnie traverse a bizarre landscape of creativity and meaning.
Tyranny of the Muse is an underrated April comic release packed with innovation in its alternative narrative and art direction. Dark comedy best describes the comic where humour displays itself as often as moments leaving readers deeply unsettled.
Support these independent creators by purchasing Tyranny of the Muse and it may just manifest as your new favourite comic gem.
9. Land of the Living Gods #3 – Isaac Mogajane, Santtos, & Dave Sharpe
A sci-fi story built on Afrofuturism and manga influences, Land of the Living Gods #3 is one of the most underrated April comic releases. Issue #3 continues its wondrous story embedded in the supernatural. Mild series spoilers lie ahead.
The AfterShock Comics supernatural sci-fi tale follows teenage albino girl Naledi as she travels from post-apocalyptic Johannesburg to search out the land of the Living Gods her mother claims she came from. A dying planet means resources are scarce and human life teeters on the precipice of demise. In the third issue, Naledi clings to whatever string of hope and magic may exist as a prisoner to be sacrificed to the city of Shandu's witch dictator.
Even though evidence of tangible magic exists in this series, you also wonder whether Naledi's optimistic hope about the legendary Living Gods holds shards of magic on its own. In Land of the Living Gods #3, Naledi's impossible situation never dampens her spirit. She is an outcast in every sense of the word, yet never loses sight of her goals.
Spirituality or faith in the unseen and the picturesque landscape scenes sustain this series with an unexpected elation in a comic about a world on the brink of extinction.
8. Nita Hawes' Nightmare Blog #6 — Rodney Barnes, Jason Shawn Alexander, Szymon Kudranski, Luis NCT, Mar Silvestre Galotto, & Marshall Dillon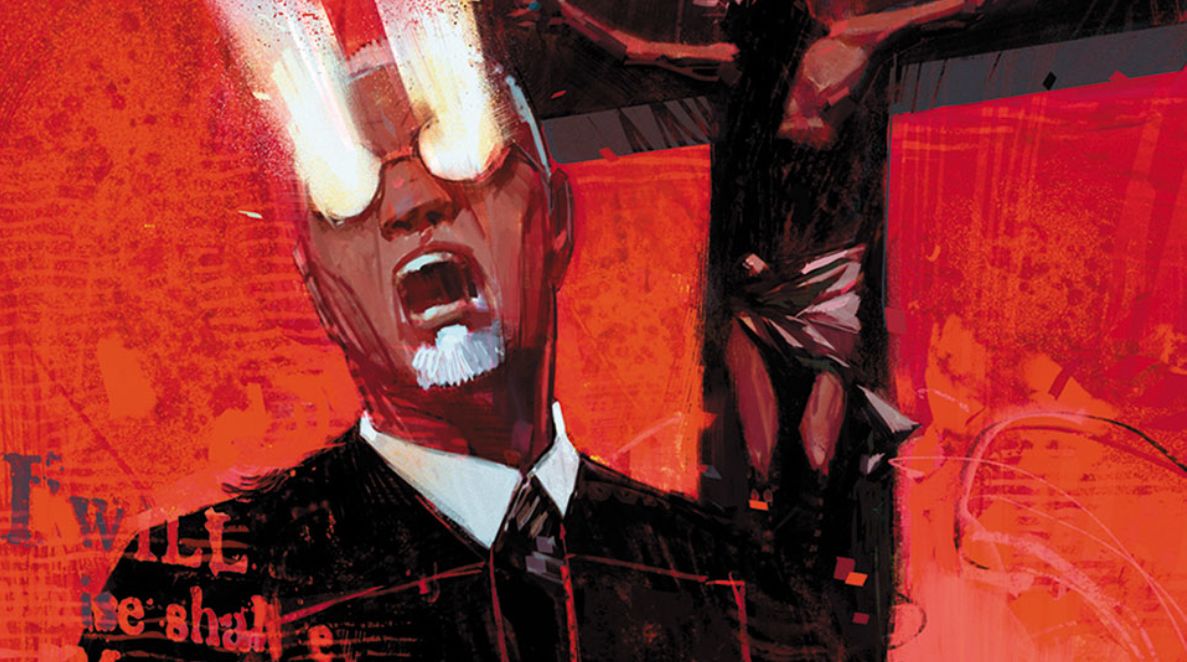 Killadelphia fans surely jumped on the spinoff series, Nita Hawes' Nightmare Blog, the moment Image Comics announced the supernatural horror title last year. Six issues later, the first arc in Nita Hawes' story concluded in April with its full-circle final issue. Mild series spoilers lie ahead.
Trapped in Hell by the demon Corson, Nita Hawes' only hope for rescue comes in the forms of Anansi the Spider-God and her ability to reconcile with the childhood loss of her brother Jason. The bridge between Hell and Earth has thinned to the point our world is in imminent danger of demons overrunning it and slaughtering all humans. Paranormal investigator Nita and her ghost brother must admonish their guilt over the past if they want to break free of their physical and spiritual shackles.
Nita Hawes' Nightmare Blog #6 concludes effortlessly. High stakes and a giant scope of a story meet in the middle with a turning point driven through personal character absolution. Like Killadelphia, Nita Hawes' Nightmare Blog is a horrific spectacle to behold. This issue makes potent statements about guilt and how the burdens we humans place upon ourselves pull us down into our own personal hell.
Nothing prepares you for the terror and bombshells Rodney Barnes and the artistic team drop in this epic conclusion.
7. Refrigerator Full of Heads #6 – Rio Youers, Tom Fowler, Bill Crabtree, & AndWorld Design
Does anyone remember Basketful of Heads, the wacky gore-fest series from a few years ago? Well, DC Black Label brought readers back to Brody Island with sequel series Refrigerator Full of Heads starting in 2021 and it's been just as much of a joy to read as its predecessor. Mild series spoilers lie ahead.
Refrigerator Full of Heads #6 wrapped up this series arc in April by placing Erika and her biker gang-head posse in their final confrontation. The Axe of Yggdrasil wielder wants to end the conflict with a bang. And it wouldn't be called Brody Island if there wasn't a shark with massive Jaws involved.
If you had no idea this follow-up series existed, this is a great time to collect the back issues and read the complete comic series. Refrigerator Full of Heads #6 flaunts its old-school tinted art style along with its trademark grindhouse horror and humour.
6. Newburn #6 — Chip Zdarsky & Jacob Phillips
Crime thriller comic series Newburn from Image Comics consistently spins several tropes and makes them feel fresh. The blood-spattered noir detective story about private investigator Easton Newburn, an ex-cop hired by mafia crime families, has been brilliant in its execution of said premise.
Newburn #6 changes pace from the previous issues though in a character-focused episode about Newburn's hired assistant, Emily. Throughout the series, Emily's journal entries have offered insight into both her character as well as pivotal facts regarding Newburn and their case information. In issue #6, the comic jumps through different periods in Emily's life, from childhood to her past consequences leading up to her present working for Newburn.
This is an extraordinary issue giving snapshots of Emily's life and corroborating her long history of journaling to keep track of her thoughts. Previously, Newburn #5 centred solely on Newburn's character. Transitioning from a story concentrated on Newburn into a subsequent story concentrated on Emily allows for their characters to hold an equal amount of importance.
A bombshell flashback issue, Newburn #6 will change how fans of this underrated series view Emily.
5. G.I.L.T. #1 — Alisa Kwitney, Mauricet, & Rob Steen
Revisit the supposed halcyon days of the 1970s in the first issue of the newest series from those hilarious folks at AHOY Comics entitled G.I.L.T.
An acronym for the Guild of Independent Lady Temporalists, G.I.L.T. follows two older women whose lives have been intertwined since the fateful day they crossed paths in 1973. Hildy was supposed to be married that day, but a little girl and taxi wheels dousing her in water altered her plans. 40 years later, the resolute Trista enters Hildy's life again as Hildy's new home health care aide in her Upper West Side New York apartment. But everything is not what it seems in the old woman's decorated residence, and the two women may just find themselves taking a literal journey down memory lane.
AHOY Comics is undoubtedly my favorite publisher in the comic industry. Stylish, innovative, and satirical, G.I.L.T. #1 proves itself as another excellent title from AHOY. Readers should go track down this issue and buy it before it becomes a bestseller in the future.
G.I.L.T. #1 is Golden Girls meets Back to the Future with a comedic critique on problematic issues in history and gorgeous art. What could be a more entertaining story premise?
4. The Good Asian #10 — Pornsak Pichetshote, Alexandre Tefenkgi & Lee Loughridge
The Good Asian ended in April – except it didn't exactly end. Fans of the underrated comic series from Image Comics were met with a surprising gift when issue #10 promised, "Edison Hark will return" on the final page. Mild series spoilers lie ahead.
In noir crime thriller series The Good Asian, the Chinese private detective Edison Hark investigates the disappearance of missing young woman Ivy Chen. Throughout the series, threads of connection between Ivy and Edison's surrogate family have created strife and interest for Edison. The series concludes by tying up these loose ends in a suspenseful and emotionally gripping finale.
A masterclass of storytelling, social commentary, and artistically utilizing the comics medium, The Good Asian carves out a place among the rankings of best all-time comic series.
3. Blood-Stained Teeth #1 – Christian Ward, Patric Reynolds, Heather Moore, & Hassan Otsmane-Elhaou
Vampire stories may have felt overplayed in the 2010s, but their resurgence over the past few years has exceeded expectations. The vampire crime saga thriller premiere issue, Blood-Stained Teeth #1, was released at the tail end of April. After reading the first issue, I'm astonished this series doesn't have more buzz yet.
From Image Comics, the neo-noir vampiric tale flips everything you think you know about vampires on its head. Atticus Sloane, a young vampire bastard, takes advantage of society's obsession with image and turns humans into immoral vampire Sips for money. The First Born vampires detest Atticus' reckless behavior. Atticus' amount of turned, vicious, forbidden Sips starts to slip into an uncontrollable territory, and the elitist First Born leaders command conformity from Atticus.
Vampire rebellion against their own kind is a thrilling concept for a comic series that works. Atticus is atypical for a vampire but relatable on a young adult level in his revolt against the antiquated thinking his elders possess. Further procuring innovation in the first issue, Blood-Stain Teeth #1 enchants with electrifying illustrations. Splash pages and panels vibrate with energy and a vivid neon color palette like none other.
Sink your fangs into the blood and neon-soaked world of vampires in Blood-Stained Teeth #1.
2. RetroActive — Ibrahim Moustafa, Brad Simpson, & Hassan Otsmane-Elhaou
Last year, Ibrahim Moustafa penned and illustrated the sci-fi Count of Monte Cristo retelling graphic novel Count along with creative team members Brad Simpson and Hassan Otsmane-Elhaou. The team reunited for Ibrahim's second graphic novel release from Humanoids, the time-traveling sci-fi epic entitled RetroActive.
The graphic novel follows time-traveling field agents who jump back to the past to beneficially alter historical events. When veteran agent Tarik Abdelnassar investigates and uncovers a life-changing conspiracy, he becomes trapped in a time loop. The U.S. Bureau of Temporal Affairs is under attack, and Tarik must find a way to escape the time loop and stop a radical attack threatening to undo their efforts.
RetroActive slips through time periods, twisting plot lines, and personal conflict like a smooth plane ride. As a self-contained graphic novel, the story hits the story beats immaculately before gliding into a satisfying and stunning conclusion. The whole creative team brings their A-game here, with the illustrations, designs, panel layouts, and lettering coalescing into polished perfection.
Check out RetroActive, one of the underrated Apri 2022 comic releases, as soon as you can travel to the store.
1. WindMaker Volume 1 – Roye Okupe, Sunkanmi Akinboye, Toyin Ajetunmobi, & Spoof Animation
African diaspora-inspired, Afrofuturism, and Black speculative fiction comics have been cropping up frequently in the indie comic market with titles such as New Masters and After the Rain. Despite joining this growing genre, WindMaker Volume 1 from Dark Horse Comics ranks as my top pick for the best underrated April Comic releases.
Melding sci-fi and fantasy, WindMaker begins in the year 2025 when a technologically advanced nation finds itself on the cusp of a civil war. West African nation Atala lived for centuries in harmony and devoid of any personal or political discord. Now, the winds have changed and the Atalians are facing an era of dysfunction heralded by a power-hungry president overstaying his term. The nation's ancient hero, the WindMaker, returns to restore peace. However, his spirit is reincarnated in the president's main head of security; Bo, a sweet but disillusioned man who must shoulder more responsibility than he ever dreamed possible.
Dialogue-heavy and sleekly illustrated, WindMaker Volume 1 molds the elements of Afrofuturism into a sharp commentary on power and political division. This powerhouse book flew under the radar last month. Sadly, a lot of Dark Horse Comics releases seem to follow this trend, despite offering titles that should top the charts.
Readers will devour this lush sci-fi epic in one sitting and be hungry for the next installment.
READ NEXT: 15 New Comics of May 2022 You Should Check Out
Some of the coverage you find on Cultured Vultures contains affiliate links, which provide us with small commissions based on purchases made from visiting our site. We cover gaming news, movie reviews, wrestling and much more.