Spoilers for Once Upon A Time In Hollywood follow.
Pioneers are a wondrous thing. In true virtuoso style, they come once every so often and in their wake we marvel at their seemingly natural and effortless ability to consistently produce brilliance in their craft. For myself, and for many others, Tarantino holds a lifelong membership to this very exclusive club.
Despite this, it would be remiss not to acknowledge that the man can divide opinion. His hyperbolic use of violence is certainly not for the faint of heart, while those who harbour a distaste for feet might find themselves periodically heaving throughout the course of his movies. But for those who are prepared to view these more as fundamentals of a man who owes a large part of his influence to that of grindhouse cinema and, whether unsavoury or not, may just have a certain fondness for women's tootsies, the cinematic genius is plain to see.
This is a man who lives and breathes cinema. His attention to detail is scrupulous, while his grasp on what makes scintillating dialogue is rivalled only by a very choice few in the profession. He is an auteur in every sense of the word, and his films are littered with distinction.
His ninth film, Once Upon a Time in Hollywood, stands as a testament that, despite his apparently looming retirement from filmmaking, he still holds the ability to shock and delight us at will. The film plays as an homage to the G A of Hollywood, an era that our esteemed director clearly holds in high regard, for it's the intricacy in which this time period is portrayed that stands out most clearly. It's deeply personal and ornate down to the last detail, a true testament to the film's talented production team. Together with his long time collaborator, cinematographer Robert Richardson (his sixth film), Tarantino creates a vibrant and effervescent world that speaks to the spirit of Hollywood at that time.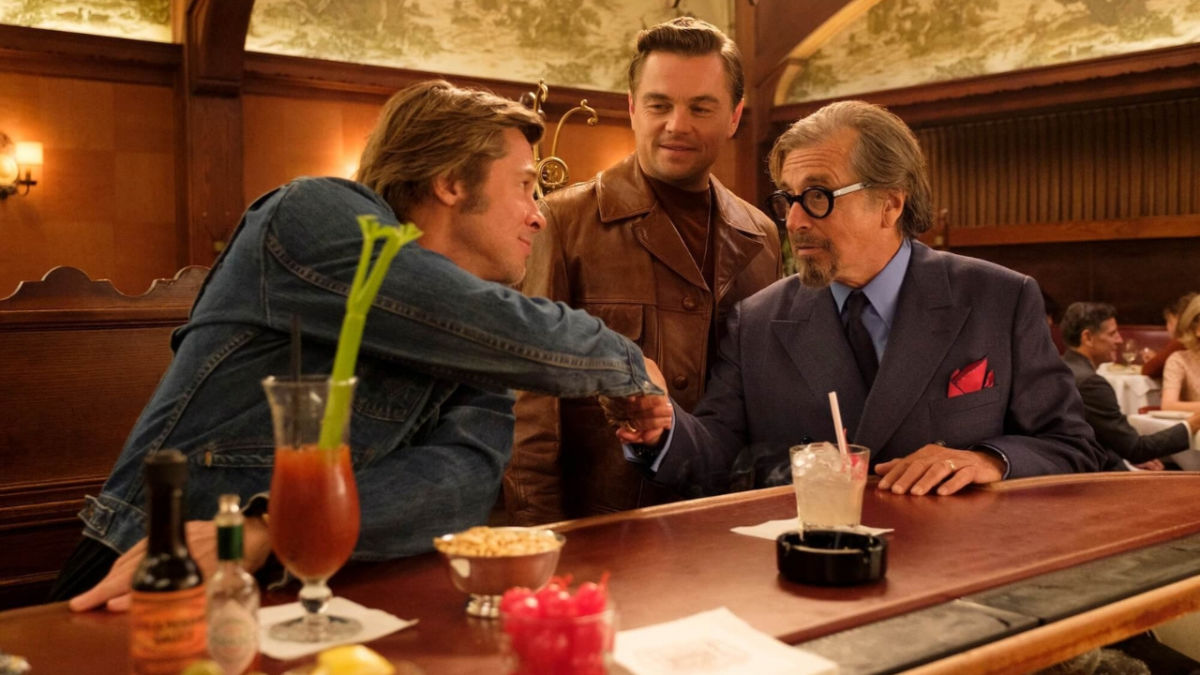 As the era enters its final years, we watch Rick Dalton (Leonardo Dicaprio) struggle to transition into cinema following the conclusion of the cowboy television show in which he made his name. Supporting him is his stunt double, Cliff Boothe (Brad Pitt). Perhaps surprisingly, it's the first time that these two great actors have starred in the same film together. Standing aside from these two fictional characters is the late Sharon Tate (Margot Robbie). Living in her house above the aforementioned Rick Dalton, her presence in the film provides a contrast between a fading star and a rising one.
Of course, Tate personified the free spirited nature of Hollywood at that time, but there's a lack of necessity to her scenes, and they achieve little besides portraying her sweet and gentle nature. In a broader context, Tate's involvement in the plot allows for an exploration of the Manson family and their involvement in her murder, an act which effectively signified the end of the golden age of innocence, as anyone familiar with the time period will attest to.
Despite its prominence as a historical cultural event, there's an uneasiness to the scenes depicting the family, and while this is a testament to Tarantino's ability to capture a mood that feels genuine and appropriate, it's an aura that transcends the movie, and affects the viewer in a manner that feels a little awkward. One cannot escape the feeling that setting the plot against the backdrop of these murders just feels a little contrived. For the vast majority of the movie, their presence brings with it a sense of impending doom, and it seems inevitable that the film will eventually culminate on that fateful night on August 9th, 1969 — at least that's the logical conclusion that we're led to believe. Indeed, it isn't until the film's climax that we realise history will take a very different turn of events.
It's the almost arrogant confidence of a director who knows he has free rein to more or less take a story in whichever direction he pleases, such is his stature in the industry. It was in 2009's Inglourious Basterds that he first dared to change history, as we see World War Two come to a thrilling culmination with the brutal death of Hitler and many of his Nazi cohorts. It's a twist that's shocking, eccentric, and even a little comical. Even the most pedantic of wartime historians issued a stifled giggle when Hitler's face is blasted into a red, gooey mess that resembled what meat would look like if you shoved it into a blender. It couldn't have happened to a nicer guy, right?
We feel little to no sympathy for the Nazis because of the horrors that they were responsible for. Right from the film's apprehensive but undeniably riveting opening scene (surely Tarantino's greatest), the movie is rife with moments of nail biting tension that are indicative of the feelings of dread that the Nazis surely would have installed in humanity. When they eventually meet their justifiably grisly end, we feel an almost cathartic release. Finally, we can relax. Each scene feels meticulous and necessary (certainly those featuring the brilliant Christoph Waltz), leading us to a climax that is richly rewarding for the viewer.
It's a sentiment that, unfortunately, doesn't fully extend to Once Upon a Time in Hollywood. The movie is very much a slow burner, and the plot, at times, meanders. With a runtime of 161 minutes, the payoff of a comparatively very short climax simply isn't enough. Despite the undeniable humour we feel at the sheer absurdity of the scene, and the childish glee when Rick brings out the flamethrower he procured from one of his movies, there isn't that same sense of elation that we felt with Inglourious Basterds.
The family doesn't receive that same level of character development, those long scenes of riveting and escalating dialogue that Tarantino has become so synonymous with. Manson himself only appears in the film for a few very brief moments. Indeed, the only real character exploration we receive is when Cliff Boothe drives a fictional member of the Manson Family back to Spahn Ranch in order to check up on his old work colleague, George Spahn (Bruce Dern). In the scene that follows, we learn very little about the family besides what we are subjected to at face value, which is to say they are mostly lost and misguided kids, under the leadership of a manipulative sociopath. Cliff appears to be walking into a lion's den, but at no point do we feel that he is in any real danger. In spite of what we know about the Manson family, they don't quite hold that same mantle of terror that the Nazis do and, to be fair, very little does.
What holds the movie together is Tarantino's usual flashes of brilliance, his stylistic traits that define him as a true auteur. While there isn't the same level of intensity and emotional reward that Inglourious Basterds offered us, there is enough of the master at play that we can ultimately look past these shortcomings. Were it at somebody else at the helm, though, history may have again taken a different course.
Some of the coverage you find on Cultured Vultures contains affiliate links, which provide us with small commissions based on purchases made from visiting our site. We cover gaming news, movie reviews, wrestling and much more.