Just a couple of hours before preorders for the recently announced Nintendo Switch OLED model went live, Valve surprised us and announced a handheld console of their own: the Steam Deck.
As you might have already guessed from the name, the Steam Deck is designed to be used alongside the popular digital gaming platform, Steam. You'll be able to access your entire Steam library anytime, anywhere.
Being able to play PC games on the go is a pretty big deal, so there's a lot to be excited for if the Steam Deck is truly as good as it sounds.
If you're still having flashbacks to Google Stadia's massive flop and dubious about another new hardware entry to the gaming world, we've compiled a list of  things you should know about the upcoming Steam Deck.
Let's see if Steam Deck really is something to look forward to.
1. Specs and All That Technical Stuff
Despite being a completely mobile device, the Steam Deck has an impressive amount of power, using a custom AMD APU just like the PlayStation 5 and Xbox Series X | S. This essentially merges the CPU and GPU together, which means they both share memory.
It's a combination of the Zen 2 and RNDA 2 platforms, which Valve suggests is sufficient enough to run the latest AAA titles.
PCs designed for gaming have dedicated graphics cards that separate system memory (RAM) and graphics memory (VRAM), whereas the Steam Deck uses 16GB of LPDDR5 RAM at 5,500 MT/s.
This is pretty fast and puts it on the same level as modern gaming PCs that use DDR4 memory. However, it's also going to be split between CPU and GPU. As a result, it won't provide the amount of bandwidth that graphics-specific GDDR5 memory can.
On the outside, the Steam Deck has a 7-inch screen with a 1200-by-800 pixel display (16:10 aspect ratio). Valve states the battery life will last around 7 to 8 hours when fully charged, which is quite a hefty amount of time compared to most other portable gaming devices.
For example, the 2017 model of the Nintendo Switch had a meagre 2.5 to 6.5 hours of battery life, depending on the games you were playing. It was usually on the lower end of that scale if you were doing anything other than looking at the Home Screen, though.
Additionally, the original PS Vita's battery only lasted around 3 to 5 hours when playing games. As these devices are designed to use on the go, it can be pretty frustrating being hit with an unrelenting low-battery symbol. It defeats the whole purpose of them being portable.
If the Steam Deck's 7 to 8-hour battery life turns out to be true, it could be a real game changer.
Here are the Steam Deck specs in detail:
CPU: AMD Zen 2
Core Count: 4-core/8-thread
CPU Clock Speed: 2.4-3.5GHz
GPU: AMD RDNA 2
GPU Compute Units: 8
GPU Clock Speed: 1-1.6GHz
RAM: 16GB LPDDR5 at 5,500MT/s 32-bit quad channel
Storage: 64 GB eMMC / 256 GB NVMe SSD / 512 GB NVMe SSD
Display: 7-inch LCD touchscreen
Resolution: 1280 x 800
Refresh Rate: 60Hz
Audio: Stereo speakers, 3.5mm jack, dual mics, USB Type-C/Bluetooth
Connectivity: Wifi, Bluetooth, USB Type-C with DisplayPort 1.4 support
Battery: 40 WHr
Size: 11.7 x 4.6 x 1.8-inch (298 x 117 x 49mm)
Weight: Approx 1.47 lbs (669 grams)
There's more information on the Steam Deck's technical specifications here if you're interested.
2. Three Different Models (and Three Different Prices)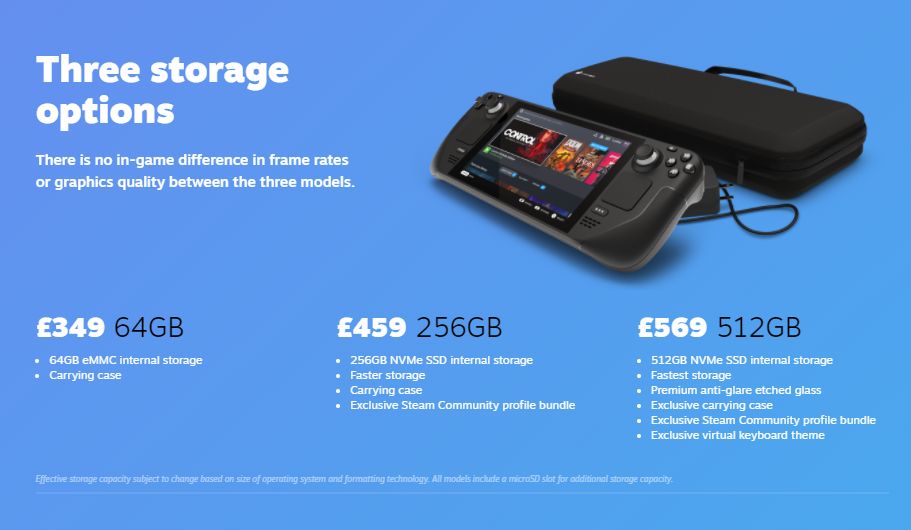 The Steam Deck will have three models, all with different amounts of storage and different price points as a result.
The 64GB of EMMC storage model will cost $399/£349, the one with a 256GB NVMe SSD will cost $529/£459, and the 512GB of high-speed NvMe SSD storage will cost $649/£569.
Each version will come with some accessories, though the upgraded 256GB and top-tier 512GB will have the most. The base model only includes a storage case, whereas the upgraded model includes a carrying case and an exclusive Steam profile bundle.
The 512GB version comes with anti-glare glass, an exclusive virtual keyboard theme, a custom carrying case, and a Steam profile bundle.
Although there are concerns that the base eMMC storage configuration could indicate slower load times and game installs, Valve has confirmed that "there is no in-game difference in frame rates or graphic quality between the three models".
So, other than additional space to store games and a few extras, all three models of the Steam Deck will run identically.
3. Release Date and Preorders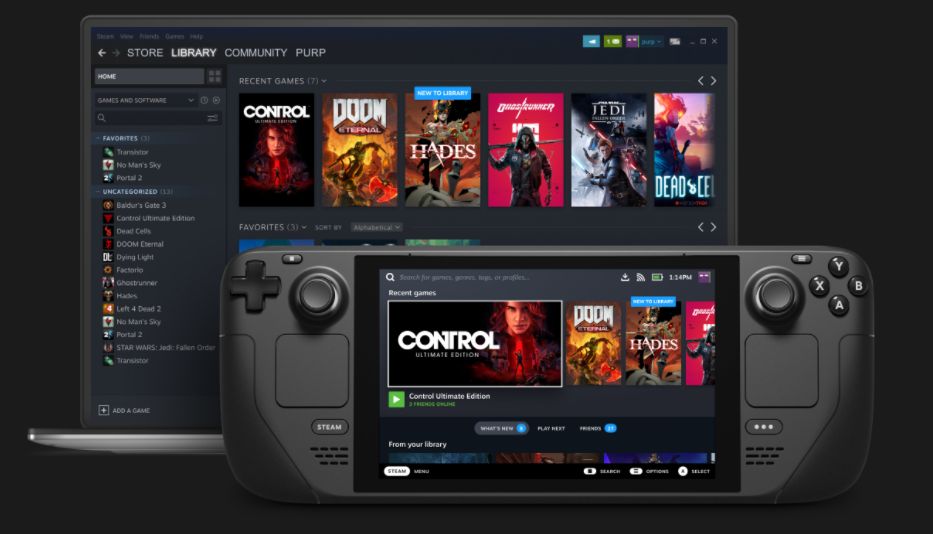 The Steam Deck is set to release in December 2021, but this is subject to availability. Unfortunately, this means that even if you reserve one, there's no guarantee that you'll get it this year.
Currently, the Steam Deck site shows "expected order availability" in Q1 of 2022 for the 64GB model, Q2 2022 for the 256GB model, and Q3 2022 for the 512 GB.
At the moment, the Steam Deck is only available to reserve in the US, UK, Canada, and European Union.
Pre-orders for the device first went live on July 16 and involved a $5/£4 upfront fee, as well as some drastic measures to deter scalpers.
Only one Steam Deck can be ordered per Steam account, which isn't that surprising, but the second step made the reservation system a little more challenging for some people.
For the initial 48 hours the pre-orders were open, you were required to have made a purchase on Steam before June 2021.
Despite Valve's best efforts, scalpers have still managed to flood sites such as eBay with Steam Decks at ridiculously inflated prices. It's not clear when another batch of pre-orders will go live, but hopefully, it won't be too far off.
4. It Can Play in Handheld and Dock Like a Switch
A dock for the Steam Deck will be available to purchase separately, allowing you to connect the device up to a TV or monitor just like a Nintendo Switch.
Although the price or release date of the dock hasn't been revealed yet, the Steam Deck supports DisplayPort and HDMI output, so you can hook it up to any screen if you don't fancy playing in handheld mode.
5. Steam Deck Can Be Used for Other Platforms and Software
The Steam Deck will ship with SteamOS, a custom Linux operating system, but Valve has confirmed it can be used with other operating systems and third-party software.
"Steam Deck is a PC so you can install third-party software and operating systems," meaning you'll be able to install Windows and other storefronts like the Epic Games Store, as well as use Xbox Game Pass.
Valve designer Lawrence Yang says "we don't think people should be locked into a certain direction or a certain set of software that they can install. If you buy a Steam Deck, it's a PC. You can install whatever you want on it, you can attach any peripherals you want to it."
It's even possible that the Steam Deck could be used for VR, but it's not strictly designed or optimized for it. Even so, it's still impressive how much is packed into a compact portable device.
6. Potentially No Stick Drift
Controller stick drift is a common complaint no matter the platform, but the Nintendo Switch's Joy-Con are probably the worst offender. Nintendo is even facing multiple lawsuits over it.
As the Steam Deck is looking to be a close rival of the Switch, Valve has been quick to put people's minds at rest over concerns of unresponsive controllers.
When speaking to IGN about the device's design process and stick drift, Valve hardware engineer Yazan Aldehayyat and designer John Ikeda said:
"We've done a ton of testing on reliability, on all fronts really – and all inputs and different environmental factors and all that kind of stuff. I think we feel that this will perform really well. And I think people will be super happy with it."
Ikeda then goes on to state that: "We purposely picked something that we know the performance of, right? We didn't want to take a risk on that, right? As I'm sure our customers don't want us to take a risk on that either."
While it's impossible to completely prevent stick drift, Valve has recognized it as a huge issue for many players and seemingly put in measures to limit the possibility of it occurring in the Steam Deck. However, time will show for sure.
7. It Might Be Unable to Play Some Popular Online Games
Although Valve claims the Steam Deck can run the latest AAA games, an issue with its operating system could prevent some of the most popular online games on Steam from launching.
These include Destiny 2, Apex Legends, Rainbow Six Siege, and PlayerUnknown's Battlegrounds. Due to the device using the Linux-based SteamOS which has a built-in feature called Proton, some online games will fail to start properly.
If you attempt to play these games, they'll launch but either crash or close shortly after. This is apparently due to the games' anti-cheat systems that don't get on well with Proton, causing players to be kicked from multiplayer servers.
On the plus side, Valve is aware of the issue and looking to improve Proton's game compatibility and support for anti-cheat solutions. By the time the Steam Deck ships in December 2021, this problem should hopefully be rectified.
Alternatively, you can get around this problem completely by just installing Windows instead. It's an open platform device after all.
The Steam Deck launches in December 2021 in the United States, United Kingdom, European Union, and Canada.
READ NEXT: The Best Free PC Games You Should Play
Some of the coverage you find on Cultured Vultures contains affiliate links, which provide us with small commissions based on purchases made from visiting our site. We cover gaming news, movie reviews, wrestling and much more.