After Peter Parker's untimely death during the "The Death of Spider-Man" storyline, Marvel had to find a way to keep the Spidey legacy going without cheapening Parker's sacrifice. Enter Miles Morales, a young African-American/Latino teenager, and the first black Spider-Man. While Miles' creation and Parker's death divided audiences, Marvel refused to give up on the character so easily.
It's a good thing, too. Miles became a fan favorite that spawned an Academy Award-winning computer-animated film, appeared on multiple animated Spider-Man shows, and even added a unique element to Insomniac Games' Marvel's Spider-Man.
In fact, when Sony's PS5 releases, players will be able to once again play as Miles Morales. This time, though, it's not just through a series of stealth missions. Miles has come into his own in the Spider-Man: Miles Morales spin-off for the PS5. Are you feeling excited about your time as Miles? Then you'll want to take a look at the details below and feel the anticipation grow tenfold.
What is Spider-Man: Miles Morales' release date?
When Spider-Man: Miles Morales was revealed during the Sony event, it did not have a date attached to it. However, it has been confirmed that the game will release in late 2020 as a launch title for the PS5. The console may not have a release date either, but since the PS3, Sony has been releasing its consoles (including the Vita) in November.
Miles Morales (and the PS5) will undoubtedly be a holiday release, likely during the middle of November, before Black Friday.
Where can I play Spider-Man: Miles Morales?
The spin-off to Marvel's Spider-Man is going to be a PS5 exclusive. Insomniac Games opted not to develop Miles' adventure on the PS4. That may alienate some players at first, but it can be seen as a move to hype the full sequel that hasn't officially been announced and showcasing the power of the new console.
Since Marvel's Spider-Man released in 2018, two years before the launch of the PS5, it only made sense for the series to continue on Sony's more advanced software. Insomniac's award-winning adventure was a technological achievement on the PS4, and the development team would want to continue to push boundaries on newer hardware.
By developing on the PS5, Insomniac is able to take advantage of ray-tracing, improved 3D audio, and, of course, the sleek DualSense controller. Many of the city's assets have also been updated to benefit from the PS5's specs.
What genre does Spider-Man: Miles Morales belong to?
Like its predecessor, Miles Morales is going to be an open world action-adventure. Players will have full access to New York City and will be able to traverse the snow-covered metropolis using Miles' web-shooters. Exploration was a big part of Marvel's Spider-Man, and it can be expected to return in the form of side quests and collectibles.
Though the combat system hasn't been revealed, it's unlikely that Insomniac will stray far from Peter Parker's exploits. Miles may have a few new tricks up his sleeve and some unique Spidey tech, but the melee combat is sure to have a very similar look and feel.
While not technically an RPG, Spider-Man did have elements of the genre. Players could change the wall-crawler's costume, level up, and unlock skills. Since Miles Morales is a spin-off, players should expect many of these elements to return and look very similar.
Spider-Man: Miles Morales synopsis
Insomniac Games hasn't revealed any story details about Spider-Man: Miles Morales. What we do know is that the titular character was bitten by a genetically altered spider in Marvel's Spider-Man and, in the game's post-credits scene, showed off his new powers to Parker. There was no sign of Peter Parker in the reveal trailer, so it can be assumed he is either out of town or has been incapacitated. Insomniac's creative director on Miles Morales, Brian Horton, does confirm that Parker is still an important part of the series and hasn't been written out. These events may even tie into the sequel to the 2018 adventure.
After the trailer was revealed, Horton also revealed that the game takes place about a year after the events of Marvel's Spider-Man, right before Christmas break. Miles will still be coming into his own and will have much to learn as he faces the dangers that lie ahead. He is very much so still green and has plenty of room to come into his own Spidey persona.
Of course, his growth will come at the hands of whatever big baddies stand in his way. Horton alluded to Miles' enemies, stating that a war between a "high-tech criminal army" and "an energy corporation" breaks out near Miles' home in Harlem. There still is no confirmation on who will be leading these two sides, but knowing Miles' staple comic book villains, his uncle, Aaron Davis, may show up as the Prowler. The trailer shows a rapid flash of something with glowing purple eyes, matching Prowler's color scheme from the Ultimate Comics: Spider-Man series.
Miles may also face off against an old friend of Spider-Man's, Yuri Watanabe. The former NYPD captain went rogue in The City That Never Sleeps DLC and vanished without a trace. In Amazing Spider-Man #600, Yuri took the mantle of the vigilante Wraith. The high-tech enemies could also indicate the Tinkerer, a master of building devastating weaponry.
The game will need to address Miles' progression into Spider-Man and how he obtained some of the nifty tricks seen in the trailer. At one point, he appears to have a cloaking device, which may indicate a more significant emphasis on stealth gameplay.
Spider-Man: Miles Morales quick facts
We may be in the dark when it comes to information about Spider-Man: Miles Morales, but Insomniac has provided a few details.
– The PS5's SSD will allow for "near-instantaneously fast-travel" across the map
– DualSense's haptic feedback will immerse players into Miles' actions
– According to the PlayStation Blog, Miles will have a "venom blast" attack
– Miles Morales takes place during a snowy New York winter
– New York was designed with all new assets
Spider-Man: Miles Morales screenshots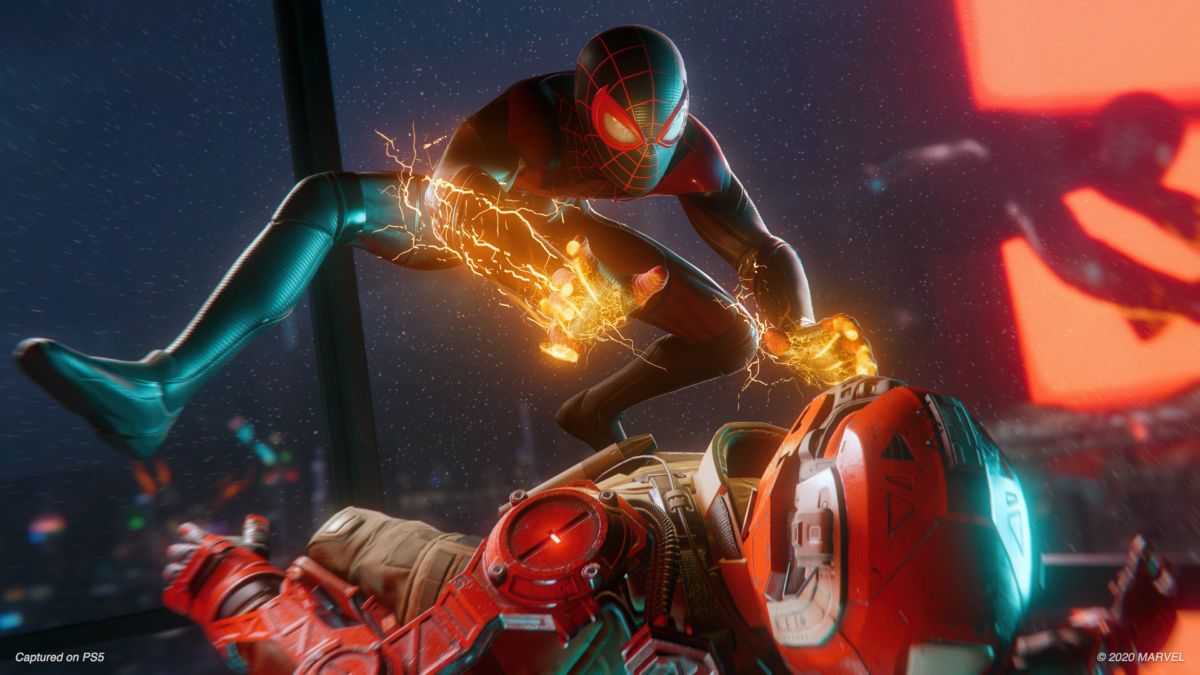 Plenty of times, screenshots in an announcement trailer give us some hints as to the plot or which villain will fill in the role as the primary antagonist. The reveal of Spider-Man: Miles Morales doesn't really follow this trend, however. Instead, it's a visual treat that showcases a snowy New York City, Morale's signature suit, some funky energy weapons, and all-new thugs to slap around.
Spider-Man: Miles Morales teaser and trailers
https://youtu.be/gHzuHo80U2M
Some of the coverage you find on Cultured Vultures contains affiliate links, which provide us with small commissions based on purchases made from visiting our site. We cover gaming news, movie reviews, wrestling and much more.