One of the best modern inventions in gaming has been the photo mode. While initially introduced as a neat little addition that would allow players to experience an in-game world at their own pace, photo mode has now become a bullet point on the back of the box level feature. It's become a core part of most new game releases, and few are as beautiful to behold as Sifu's.
Accessing the photo mode is incredibly easy, as the player just needs to press down on the d-pad to start taking digital photos of kung fu men slapping meat. Having the mode be accessible from gameplay, instead of having to jump into the pause menu every time, means it's so much easier to capture candid gameplay moments of you smashing a bozo's head into a railing or kneeing someone in the face.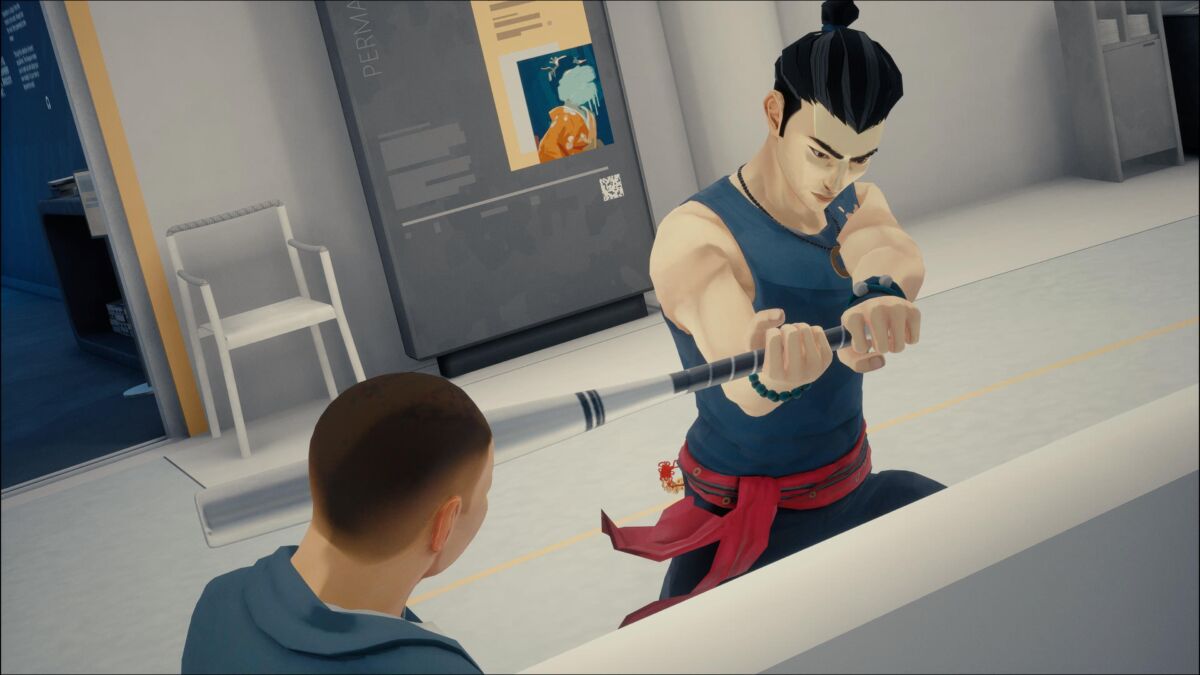 Admittedly, the photo mode on offer in Sifu isn't exactly the most feature complete mode ever seen. Photo modes that have been used in fellow PlayStation games like Spider-Man and Ghost of Tsushima offer a wider range of options to play with, while Sifu is content with just filters, focus and poses, but there's a certain charm to the minimalism on offer. Shoving spotlights and stickers all over the photo would distract from the beauty the game showcases, that beauty just happening to be a one person rampage through hordes of goons.
Whether it's due to the game's gorgeous art style, or the mesmerising fluidity of the Pak Mei martial arts that the game's protagonist wields with such a terrifying ferocity, Sifu is a lovely game to behold. Every frame feels like something lifted straight out of a movie still or painting, but it can be difficult to appreciate the nuances of the game's levels and animation when you're experiencing 60 frames every second.
Photo mode in Sifu lets you slow down and appreciate these moments, though there wouldn't be as many moments to capture if the game's art direction wasn't as brilliant as it is. Most of the levels feel like they're lifted or inspired by some of the greatest moments in martial arts cinema. The first level looks like a mix between Oldboy and The Raid, but other levels take their cues from John Wick, Bruce Lee films, The Protector and others. How could you resist taking plenty of photos when these are the toys Sifu lets you play with?
That minimalist aesthetic is amplified the most in Sifu's training area. Accessed from the player's home/dojo by interacting with the wooden dummy, the area lets you practice your moves on AI to your heart's content, but the whole area is bathed in this lovely shade of red. Every moment you capture here looks like cover art made real, and will often leave your jaw agape at how stunning Sifu is.
This is to take nothing away from Sifu's incredible gameplay, which is obviously the main attraction, but there's an allure here that comes with attempting to capture the beauty amidst the chaos. Sifu's photo mode accomplishes this, making it another excellent arrow in the quiver of Sloclap's martial arts epic.
READ MORE: Sifu (PS5) REVIEW – Zen And The Art Of Kicking Ass
Some of the coverage you find on Cultured Vultures contains affiliate links, which provide us with small commissions based on purchases made from visiting our site. We cover gaming news, movie reviews, wrestling and much more.