Over the past twenty years, Lesnar has become synonymous with WrestleMania, featuring in more matches than legends such as 'Stone Cold' Steve Austin, CM Punk, Ric Flair, Mick Foley, and Kurt Angle. During that time, Lesnar has also presented himself as one of the few box office draws for such a monumental event, but does the calibre of matches he's featured in support that?
He's been part of one of the worst matches in WrestleMania history, but he's also appeared in multiple main events, including one of the most underrated in history. With his recent match at WrestleMania 38 against Roman Reigns confirming his eleventh appearance at the 'Showcase of the Immortals', let's rank Brock Lesnar's WrestleMania matches and find out what's made him such an integral part of WrestleMania.
11. WrestleMania XX – Bill Goldberg vs. Brock Lesnar
It's almost mind boggling to consider that a month prior to this match, Lesnar had one of his best matches ever when he put over Eddie Guerrero at No Way Out 2004 for the WWE Championship. This match is infamous for the Madison Square Garden audience knowing that Goldberg had declined re-signing a new contract to stay with WWE after WrestleMania, and that Lesnar had recently put in his notice. Because of that, both men got booed to hell and Steve Austin as special guest referee got cheered.
There have been bad matches, there have been boring matches, but this is that rarity of being a boring, bad match. Boring because too much time was dedicated to standing around staring at one another and endless lock-ups, and bad because both men looked like they couldn't be bothered. It's fourteen minutes that feels like seventy-two, and the end result is a crowd hating the match, Lesnar flipping off the audience and Austin, then Austin being cheered for Stunning both men. Just an absolute mess.
10. WrestleMania 34 – Brock Lesnar (c) vs. Roman Reigns | WWE Universal Championship Match
Three years on from their first attempt, Roman Reigns faced Brock Lesnar in the main event of WrestleMania for the second time, in a match that seemed to be an attempt to finally crown Reigns over Lesnar. With the ending seemingly a foregone conclusion, the fans were completely uninterested at the end of a seven hour show and ended up completely turning on the match, reminiscent of WrestleMania XX.
The story itself seemed to build up to a Reigns victory, with him kicking out of five F5 attempts, getting busted open by several Lesnar elbows, and yet still battling back. And yet, as Reigns bounced off the ropes to hit the final Spear, Brock F5'ed him for the sixth time and got the victory. The result may have been a surprise, but it left the whole match feeling like nothing was achieved, worsened by a disappointingly generic battle. In essence, this is a match that just exists, having achieved nothing in the process apart from frustrating fans and setting Reigns back.
9. WrestleMania 32 – Brock Lesnar vs. Dean Ambrose | No Holds Barred Street Fight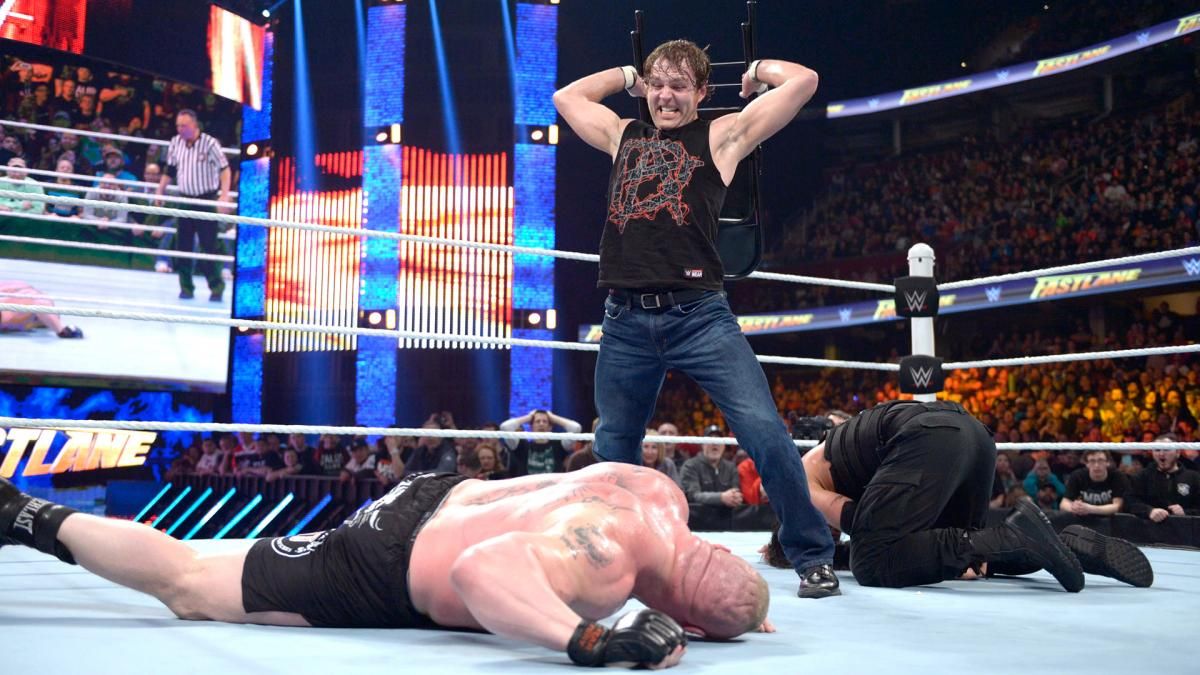 At the time, this had elements of a possible dream match, the vicious physicality of Lesnar against the hardcore lunacy of Ambrose. The build-up alone had cameos from hardcore legends like Terry Funk and Mick Foley, symbolically handing over famous weapons such as a chainsaw and a barbed wire 2×4. The expectations for this match grew exponentially, and the possibilities seemed endless.
Unfortunately, the match itself was an underwhelming whimper. Lesnar barely strayed beyond his patented suplexes and a singular F5, while Ambrose struggled to muster much of a performance beyond hitting Lesnar with a kendo stick and some chair shots. Just as it seemed to be getting better, with Ambrose revealing a barbed wire 2×4, Lesnar seemingly decided he'd had enough and just hit a German Suplex and F5 onto some chairs for the victory. With a lack of a compelling story and minimal effort from Lesnar, this feels like a missed opportunity.
8. WrestleMania XXX – The Undertaker vs. Brock Lesnar
Jimmy Snuka, Jake Roberts, Giant Gonzalez, King Kong Bundy, Diesel, Sycho Sid, Kane, The Big Bossman, Triple-H, Ric Flair, A-Train, The Big Show, Randy Orton, Mark Henry, Batista, Edge, Shawn Michaels, CM Punk. Eighteen men, a streak of 21 victories without defeat at WrestleMania. However, none of those men had the legitimacy of his latest challenger, Brock Lesnar. This may be Lesnar's most infamous WrestleMania match, but unfortunately, far from his best.
Very early on, Undertaker suffered a concussion and then struggled through another twenty minutes of the match. Whether just because of the concussion, or for other reasons, the match itself was sluggish and belaboured, Undertaker struggling to hit a Last Ride and Lesnar pulling his Suplexes to protect Undertaker. What was really a forgettable and disappointing match only becoming memorable due to a shocking ending where Lesnar hit his third F5 to break the Streak.
7. WrestleMania 38 – Roman Reigns (c) vs. Brock Lesnar (c) | Winner Takes All Match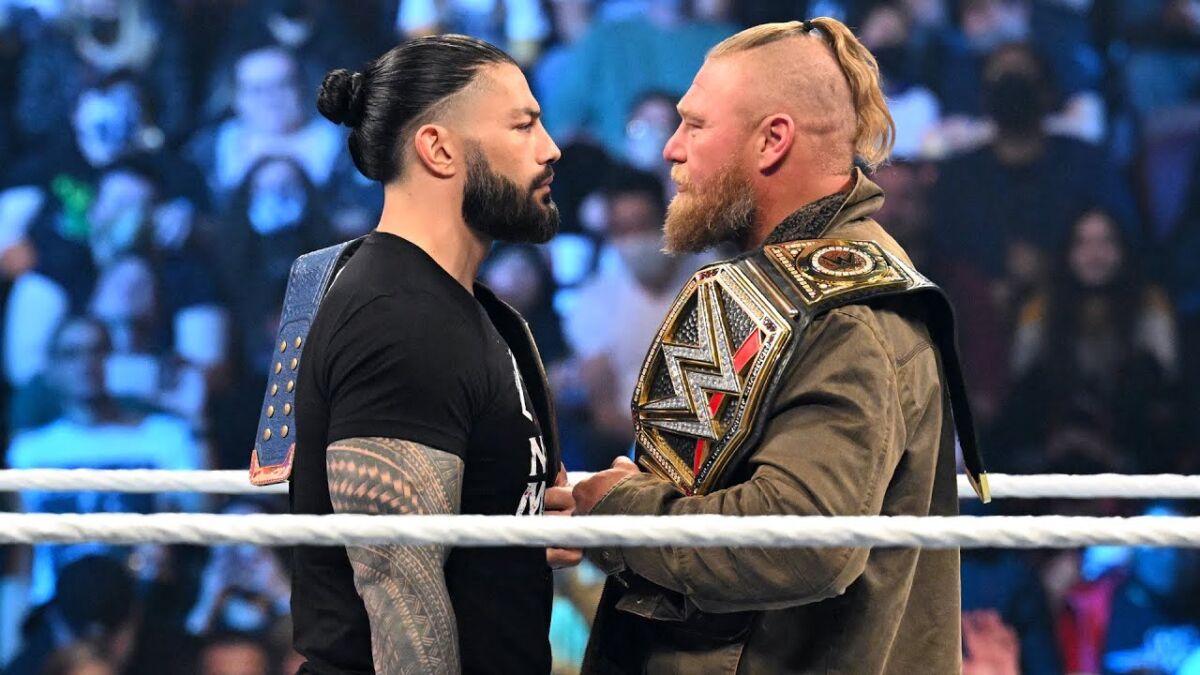 Their first WrestleMania match featured Lesnar as the heel champion, Reigns as the unwanted hero, and was saved by the interference of Seth Rollins. Their second WrestleMania was the exact same match but without Seth Rollins to save it and a surprising victory for Lesnar. This third match had a cowboy Lesnar as the hero, the best Roman ever in the midst of a 581-day reign, and a 'Winner Take All' with both titles on the line to make it feel new.
Unfortunately, the match was a repeat of all their other matches, with a spamming of suplexes, Spears, Superman Punches, and F5s. There was a brief moment where it seemed Roman had injured his shoulder, which may have been the reason behind the slightly rushed ending (by a Spear — shocking, I know), but the main objective of the match was achieved. Roman ended a WrestleMania having defeated Lesnar to become WWE Champion.
However, that won't save this match from how bland and uninspired it felt, especially when considering its billing as "the biggest WrestleMania match of all time".
6. WrestleMania 33 – Brock Lesnar vs. Goldberg (c) | WWE Universal Championship Match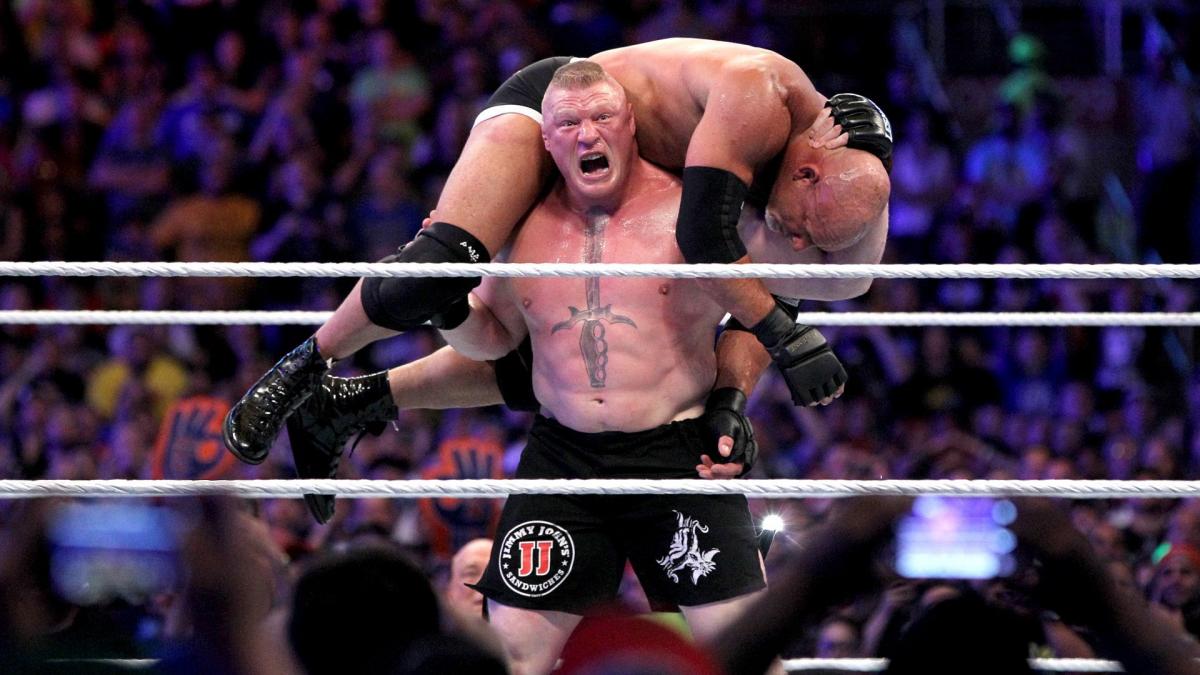 The first of three matches in a row that are less than five minutes long each, the reason for the relatively high ratings of all three matches is that they accomplish what they meant to. They don't overstay their welcome, creating explosive, fast-paced matches, and put over the new champion. This match especially seems like a response to the 2004 debacle, Lesnar and Goldberg cutting out all the flab and endless stalling that caused such issues with the WrestleMania XX dud.
Three Spears, including one through a barricade, one Jackhammer, one F5, and what can only be described as a shedload of suplexes. As many moves as Great Khali, but the smashmouth style that had both men determined to break each other in half gives it a unique flavour unlike anything else on the card. If anything, it didn't even need the title involved, but that's a different story.
5. WrestleMania 35 – Brock Lesnar (c) vs. Seth Rollins | WWE Universal Championship Match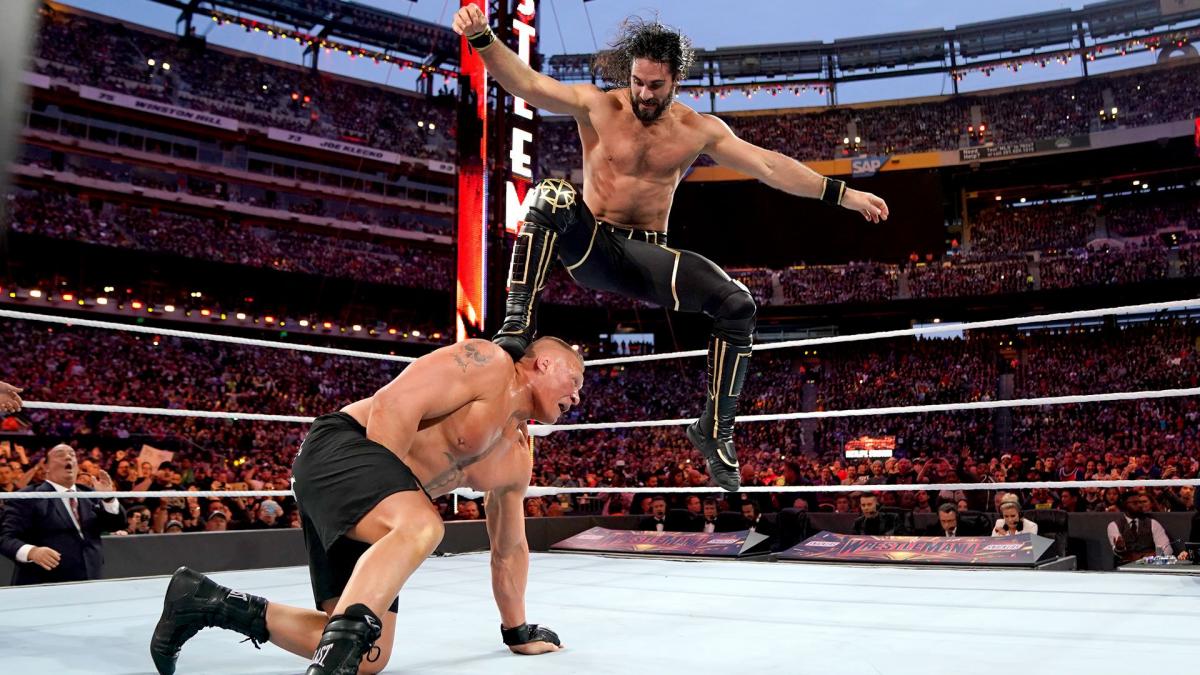 Officially, this match lasted only two and a half minutes, but that hides the real story of the match. Seth Rollins was the winner of that year's Royal Rumble and entered the opening match coining himself "The Beast Slayer", with a hot crowd behind him. Lesnar surprised many by attacking Rollins before the match, hitting him with an F5 on the floor, throwing him onto the announce tables and battering the challenger for about five minutes before the bell even rang.
When the bell did finally ring, Lesnar seemingly delayed the inevitable by suplexing Rollins, gloating about "Suplex City, Bitch". Just when the end seemed certain, Rollins slipped out of an F5 and utilised a ref bump to his advantage to hit a low blow, Superkick and three Curb Stomps for a shocking but popular victory.
Despite the shortness of the match, the story works very well, and it's a great win for Rollins.
4. WrestleMania 36 – Brock Lesnar (c) vs. Drew McIntyre | WWE Championship Match
For the second year in a row, Lesnar defended a title against the winner of the Royal Rumble. The difference here was that it was in the main event of the first ever two night WrestleMania, and McIntyre had eliminated Lesnar himself from the Rumble to win this opportunity. McIntyre was in the midst of his biggest push ever and seemed like a true physical powerhouse able to challenge and possibly defeat Lesnar, laying him out with Claymores in the build-up.
Lesnar hit his first F5 very early on, only for Drew to impressively kick out at one. The second and third F5 both only earned Lesnar two counts, getting more frustrated in the process. McIntyre not only bounced back from three F5s but would hit a total of four Claymores before going for the pin, winning the match and his first ever WWE Title in the process. If there was any doubt of whether McIntyre was a star beforehand, this match pushed him to the moon, and Lesnar's selling of the effects of the Claymore made the finish feel even more legitimate.
3. WrestleMania 31 – Brock Lesnar (c) vs. Roman Reigns | WWE World Heavyweight Championship Match
One year on from breaking the Streak, Lesnar was the reigning and dominant champion, having destroyed John Cena at SummerSlam for the title. In comparison, Roman had won the Royal Rumble to widespread derision, his role as Vince McMahon's 'chosen one' alienating many fans. The early stages of the match had Lesnar repeating his methods from SummerSlam, suplexing Reigns around with reckless abandonment, the declaration of "Suplex City, Bitch" as proof.
However, despite three F5s and all those suplexes, Reigns continued to kick out, hitting three Superman Punches and three Spears to take Lesnar down. As both men struggled to survive, Lesnar countering a Spear into another F5, Seth Rollins shocked audiences by running down and cashing in his Money In The Bank briefcase. A Curb Stomp to Lesnar, followed by a Spear to Lesnar, Curb Stomp on Roman and suddenly, Rollins was the champion.
This is possibly one of Lesnar and Roman's better efforts, but the story itself was best as it protected Lesnar and Reigns while pushing Rollins to a strong position. Underrated in retrospect.
2. WrestleMania XXIX – Triple-H vs. Brock Lesnar | No Holds Barred Match
The previous year had seen Lesnar and Triple-H battle, including a match at SummerSlam where Lesnar won and Triple-H hinted it was time for him to retire, only to return months later and challenge Lesnar to a match at WrestleMania. Heyman accepted on Lesnar's behalf, but with the proviso that it be a No Holds Barred match with Triple-H's career on the line.
The two men had the unfortunate task of following the epic Undertaker-CM Punk match, which left the crowd exhausted in the first half of the match, but a tremendous effort from Lesnar and HHH brought the crowd back. Despite the use of steel chairs, steel steps and the announce table, the main weapon became the Kimura Lock, tying back into their history.
With both wrestlers locking it in three times each, it eventually weakened Lesnar enough for Triple-H to hit a DDT and a Pedigree onto the steel steps to save his career.
1. WrestleMania XIX – Kurt Angle (c) vs. Brock Lesnar | WWE Championship Match
Brock Lesnar debuted on the March 18th 2002 episode of Raw, and 377 days later, was main eventing one of the best WrestleManias ever, challenging his rival Kurt Angle for the WWE Title. This feud began in December of the previous year, after Lesnar's manager had betrayed Lesnar for The Big Show, and then Angle to make him champion. Lesnar's journey to this match had included him defeating Big Show for a spot in the Royal Rumble, and then eliminating The Undertaker last to win.
This match has unfortunately been mostly remembered for Lesnar's botched Shooting Star Press, but this match is actually an excellent technical battle that mixed mat wrestling with hard hitting suplexes and great psychology. Angle focused the majority of his attack on Lesnar, hoping to eliminate the F5, and even called back to his Rumble match with Benoit by utilising the heel hook. In the end, Lesnar regained his championship by toughening out both Angle's attacks and a legitimate concussion-causing Shooting Star Press, to cement one of the best rookie years in history.
READ NEXT: 5 AEW Opponents For Samoa Joe
Some of the coverage you find on Cultured Vultures contains affiliate links, which provide us with small commissions based on purchases made from visiting our site. We cover gaming news, movie reviews, wrestling and much more.