Sajan Rai is a London-based artist, illustrator, writer and comics creator who creates weird and wonderful things for weird and wonderful people. We asked him a few questions about his comics work, as well as his Fantasy haikus that tell parts of a larger, sprawling narrative, one Instagram post at a time:
Could you tell us a little about yourself? What first gave you an interest in art/comics/illustration?
I'm self-employed as an illustrator. My parents are arty and always had arty books around–they encouraged me to look at all sorts, including abstract, impressions, comics. But I've always really enjoyed the act of drawing. My Dad would bring back scrap paper from work that I'd just fill up.
How did your haiku project begin? What's the process like? Do you write first, or come up with the art first?
I got a normie job (I lasted a month)…I'd come up with haikus on my lunch break, to keep myself sane, and draw them up at home in the evening. Often I thumbnail little ideas, some more coherent than others. Sometimes i'd start with just the words, or vice versa. I have a bunch written with no drawings and a bunch drawn with no writing – so there's actually no real set method. It started as an exercise in drawing digitally, and that's still part of what it is for me, a testing ground to try new things.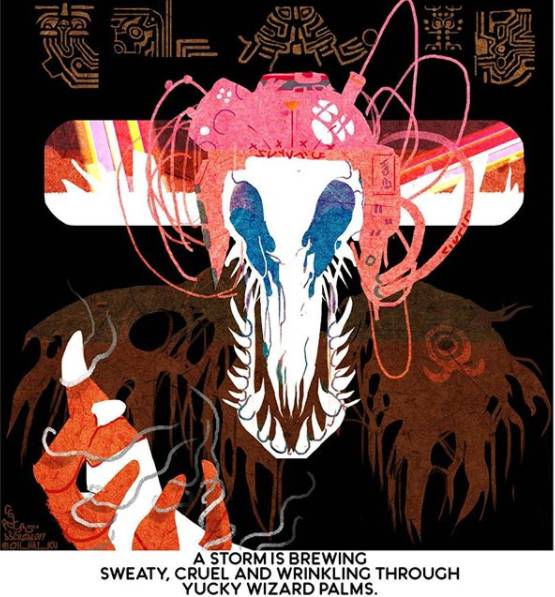 Could you tell us a little more about the connected world of your haikus? Why did you decide to reveal the narrative in small, single parts? 
It's set in a pretty vast fantasy world. As much as I like fantasy it can be a pretty homogenous genre, so it's pretty fun subverting a bunch of concepts/creatures/myths as well as diverging from the very euro-centric aesthetics. So instead of vampires being these sexy threatening creatures, I made them these completely grotesque-looking tax collectors that don't really bother anybody so long as they annually pay their blood into a river.
As a narrative, I quite like the idea that it's the equivalent of somebody going about keeping a diary or taking polaroids of their world. I think having it non-linear makes it a very stress-free project, and also makes it non-committal to read – so they can all work as standalone images, but if somebody were to read through them they might notice recurring characters, little story arcs, possibly even weird symbols. I haven't revealed much about the narrator–but they've definitely got a criminal streak.

What's your dream project? Is there an IP you'd love to work on, or just some crazy thing brewing in your head that you really want to get onto paper one day?
Unfortunately, I have way too many bazonkers things brewing in my head, which makes it pretty hard to pick one and stick to it! I'm currently juggling scripts for a comic, short film and animation that I'd all love to make. In terms of IP's – it'd be amazing to work on Star Trek or Steven Universe or something. Or Pokémon. I'd love to be allowed to just do a mad Pokémon spin off, but I think considering how The Mario and Luigi film went in the 90's, Nintendo won't be rushing to hire me.
Could you tell us a bit about some of your other comics/projects? 
I've got a book out called Brocko N' Frens (you can read the first chapter here) – which is about these high school misfits (an attention deficit dolphin, a depressed bear and an autistic baby seal) that are complete troublemakers. Its split up into chapters, and each chapter follows a different scheme or prank they're pulling. The adversary teacher character (who is basically Edvard Munch's 'The Scream") ended up becoming one of my favourite characters whilst writing it  – so I made a shorter prequel comic to it about him which plays out like some kind of self-inflicted farce. I also have a comic called Kickypoo, about a bird with really long legs that goes around kicking people.
Is there anything else you'd like to add/say? 
I've recently launched a Patreon for my haikus as I'm putting them out pretty regularly! I've also started taking on digital commissions in that style, which is pretty fun. I also fixed up my website recently, and you can read a bunch of my comics on there!
Thanks to Sajan Rai for taking the time to chat with us about his work! 
Some of the coverage you find on Cultured Vultures contains affiliate links, which provide us with small commissions based on purchases made from visiting our site. We cover gaming news, movie reviews, wrestling and much more.