Antigravity racers have been a staple of the gaming industry for around three decades at this point, pioneered by the likes of Wipeout and F-Zero. Unfortunately, it's looking highly unlikely we'll see new games in either series any time soon, especially with F-Zero. Pacer, from R8 Games Limited, aims to emulate those classic titles, and while it might never reach the heady heights of F-Zero GX, it does a good job of recreating those same arcadey thrills.
Pacer sees players picking from one of five different craft types, each with their own stats, and racing across 14 different tracks from each corner of the world. Wisely, each track has day/night, reverse and mirror variants, all of which can be toggled, meaning there's 8 possible permutations of every race track. I don't know about you, but 112 tracks feels like a healthy selection to me.
As you'd expect from an antigrav racer, Pacer is pretty blooming quick. Players go through four different speed classes, from F3000 being the slowest, F2000 and F1000 being quite fast and the Elite class being nigh-on uncontrollable. Considering the speed classes are named after the Formula 1 series, it would make sense that an F1000 race is orders of magnitude faster than a mere F1 race.
The game plays out similarly to Wipeout, with 10 racers on one track vying for supremacy, flinging weapons at each other any chance they get. Pacer also utilises air brakes for speed control and turning, similar to pretty much any anti gravity racer out there. Pressing the triggers will slow down and drift your ship into the corresponding direction. In order to navigate sharper turns without losing too much speed, you'll need to master steering and air braking together, which can be tricky in the early stages of a track. Players might need a few laps per track before it starts to sink in.
Pacer does try to distinguish itself from the competition in two key ways. Firstly, during the course of a race, you'll slowly accumulate KERS boost, which you can use by holding down the X button. There's still boost pads across the track, but being able to have your own boost power can give you the edge, especially when you're trying to play catch-up or if you want to extend your lead.
The other big change is that Pacer will allow you to create your loadouts before each race, with players customising their visual cosmetics, engine performance and equipped weapons. Performance and weapons can go a long way towards determining your success depending on the event type and course layout, so it pays to tinker with your loadouts, find one that suits you and refine it as you play.
Along with just your standard race types, Pacer comes with a few other event modes that change the formula in big ways. Elimination events see the last racer eliminated every thirty seconds until one is left standing, while Destruction events are exactly what they sound like: wreck as many rival racers as you can until time runs out. There's also Endurance events, where your health depletes after the first lap and the only way to survive is by claiming shield pick-ups scattered across the track.
There's also some modes in Pacer which are a bit more novel. Flowmentum is sort of similar to Wipeout's Zone mode, in which your ship slowly increases in speed as you pass through various gates. Meanwhile, Storm is similar to a battle royale, in the sense that you have to stay inside a slowly constricting ring, fighting off other racers as you do so. While they're pretty unique and fun for something a bit different, the Storm mode can feel like quite the visual mess. Trying to race at speeds approaching 1000km/h and having the track obscured by a massive energy field is a bit annoying.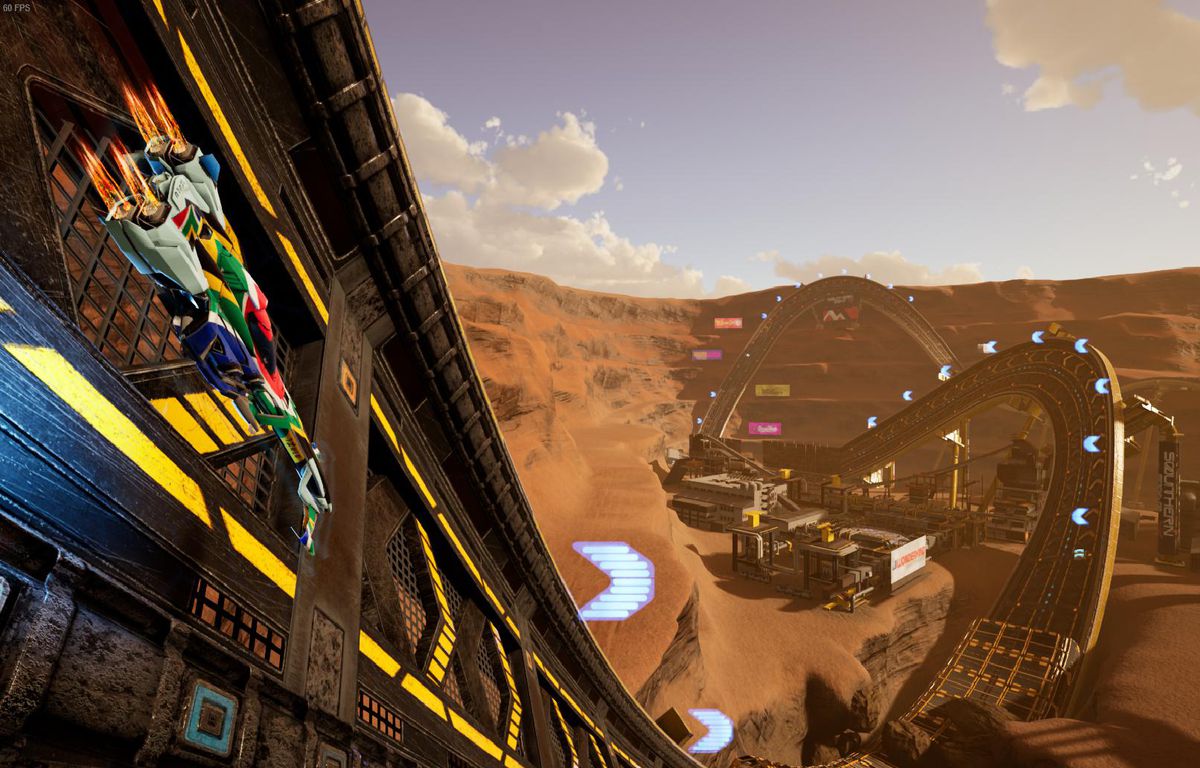 While there's an online multiplayer mode, players will likely spend the majority of their time in the Career mode, going through the different in-game teams and completing events. Even though the core racing is enjoyable, there's a few events that feel a bit more trying than others. For instance, Pacer's insistence on Destruction events with targets that feel unobtainable wears thin before long. There's also some scripted events where you must complete a lap while dodging loads of mines, or using a cloak to evade turrets, and while they're distractions from the main events, they lack a certain substance.
Perhaps the biggest flaw for the Career mode is the lack of choice on offer. Players will be able to pick different teams at certain points, but in order to progress further, you need to complete each team's set of events, making the choice redundant. If you had to pick a team, then unlocked the next class, making completing the other two teams an optional choice, the Career mode would feel much better, but as it stands now, it feels like way more of a grind.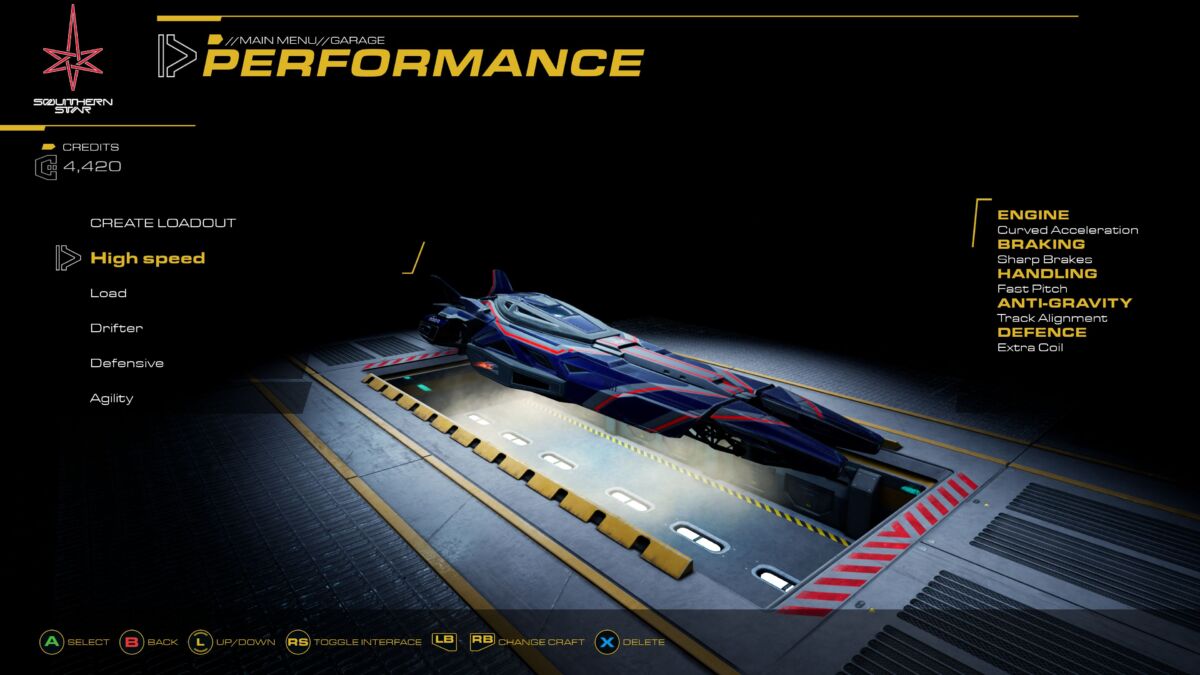 On top of that, picking a certain team robs you of the choice to customise your ship, locked in to the craft type and paint jobs. With each craft having its own stats, using your own custom loadouts feels like more trial and error, as what works on one craft might not work elsewhere. You might find that a loadout built for one craft suddenly has some glaring weaknesses when applied elsewhere. To fix it, either the craft shouldn't have their own stats, or players are free to pick their crafts. Locking the cosmetics makes sense to sell that "team" aesthetic, but other than that, the career mode falls flat.
Again, we're probably not going to see the likes of Wipeout and F-Zero making a triumphant comeback and showing everyone how anti gravity racing should be done, and Pacer definitely does a decent job at recreating the same formula. Once the racing gets going, Pacer offers a great deal of fun, but there's a couple of issues that dampen the whole experience.
A code for Pacer was provided by PR for the purposes of this review. 
Some of the coverage you find on Cultured Vultures contains affiliate links, which provide us with small commissions based on purchases made from visiting our site. We cover gaming news, movie reviews, wrestling and much more.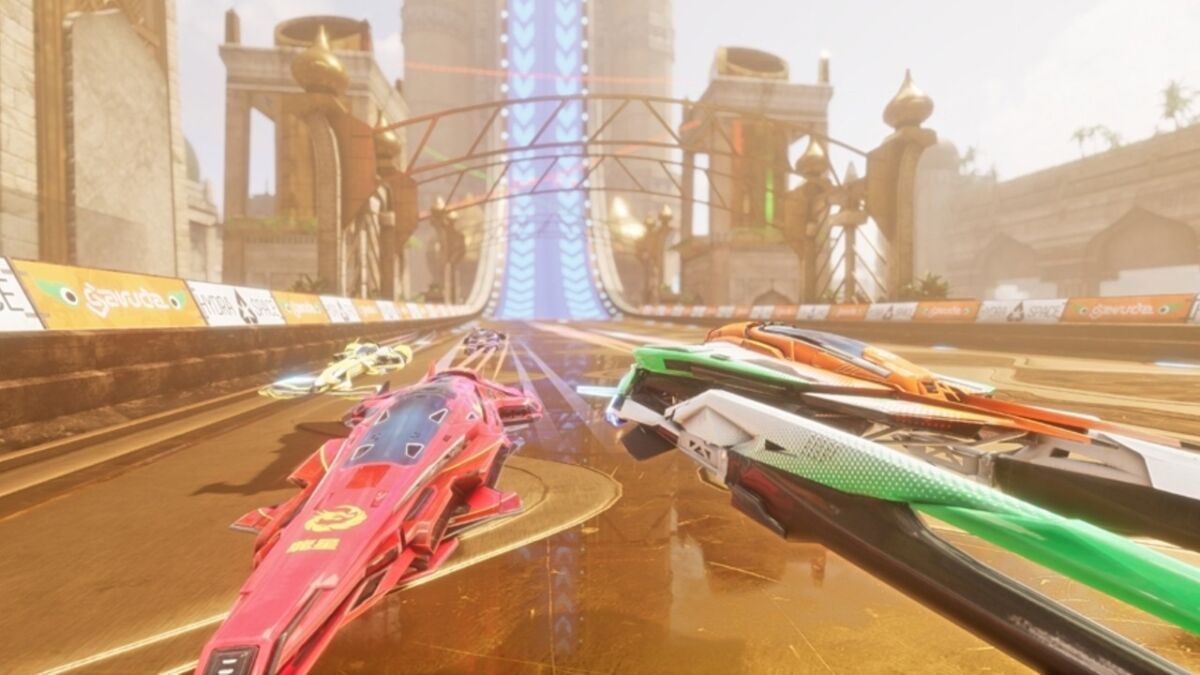 Verdict
Pacer's lacklustre career mode and some dodgy event types might be turn-offs, but the core racing gameplay makes up for it.