Overwatch's cross-play update is out now, allowing players from across the various platforms to enjoy the game with each other regardless of where they play, so long as they have a BattleNet account anyway. The update has already done wonders for queue times, as more players means more potential games and less time spent waiting around, but my god I wish I could turn off the bloody text chat.
As PC players are now being matched with console players, pretty much all of the differences between the two have been removed. Symmetra, Ashe and Torbjorn have been given buffs on console as their turrets/Bob now do more damage, while Ana's projectile size has been nerfed. That parity also extends to text chat, which allows players to communicate without using their voice. In theory, it's a useful feature, but in my brief exposure to it as a console player, I'm not exactly filled with confidence.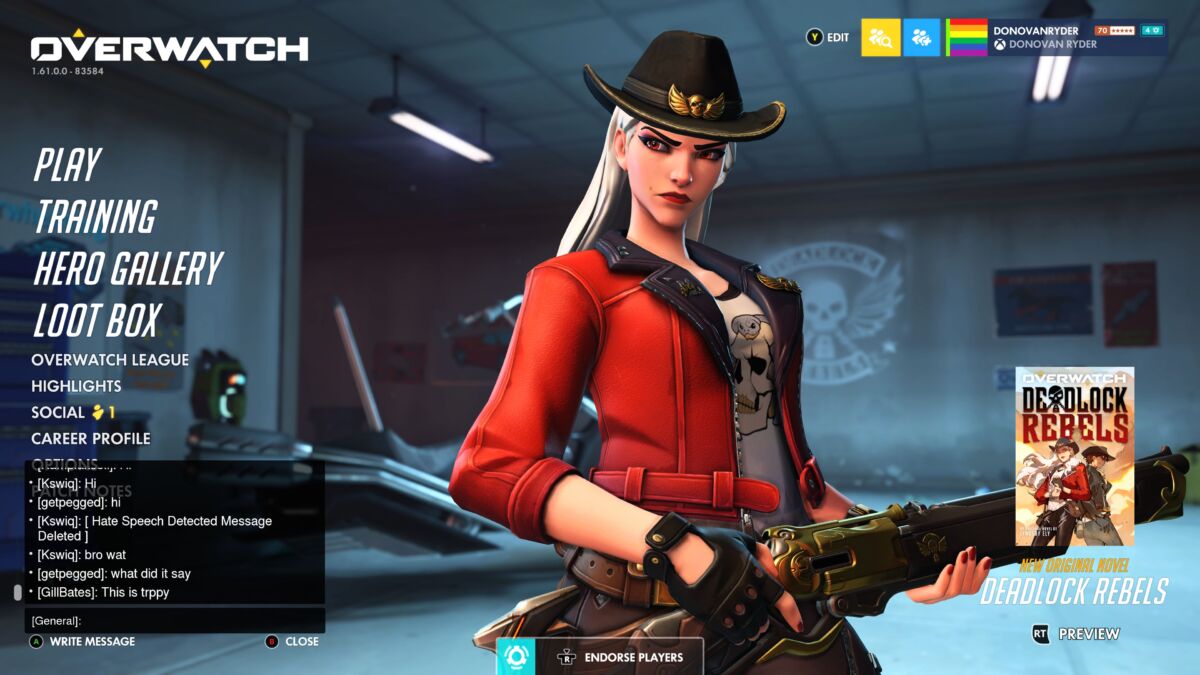 For starters, when you boot the game up, you're automatically entered into a general chat with random players like you're logging on to an early 2000s internet chat room. Just like those old chat rooms as well, it isn't long before you're running into people being toxic. Within a few minutes of logging on, there were already messages that specifically called me a loser, someone threatening to "rip and tear them ass cheeks" of console players, and a message was deleted because Overwatch itself detected hate speech. Basically, they're just a lovely bunch of players that a whole new wave of people have no choice but to be exposed to.
As for in-game chat, it's a little better. Sure, there's still the chance of encountering toxic players, but I can understand that text chat is an important part of the communication process, particularly for shy PC players or those who can't afford to buy a new headset or microphone. However, text chat is only really a solution for PC players who can easily type out messages using their keyboard. For console players, it requires pausing, opening the chat window, then opening the console's virtual keyboard to laboriously type out a message. By that time, you're either dead, or the other team has captured the objective. If you've got a keyboard add-on for your controller, you might be okay-ish, but who wants to spend money on that?
There is an option to turn it off on consoles, which is by typing in "/hidechat", and that then removes the entire text chat portion for the remainder of your play session. That seems like a fair and equitable solution, but the issue there is that the voice line/emote system is also tied to the text chat, meaning that you can't see system messages, call outs like "group up" or "I need healing" and other important messages. It's an all or nothing system, and having to deal with more avenues for potential toxicity when playing the game just doesn't seem appealing to me. However, playing without a log of important game call outs isn't preferable either.
There is also the option to specifically mute the team and match chats, which will mute them for the entire play session while preserving in-game communication, but these options are buried within the in-game pause menu specifically, meaning you can't access them in the main menu. It also doesn't solve the issue of the general chat. Someone being toxic in a match is fine, as you can just report their account and move on with your life, but the main menu general chat feels like a consequence-free place to be a piece of shit.
Ideally, I'd love it if Overwatch could introduce some kind of measure to either mute general or team chats, especially when playing in a group, while keeping the voice lines and other aspects of the in-game communication system. I only play Overwatch with friends because I don't want to communicate with random players beyond "group up" and the occasional "thanks" when being healed. Having this almost forced on the player base is disheartening.
Sure, this is somewhat of an "have your cake and eat it moment", but right now, the current system is putting me off the game, and I hate that. I hate that a small issue like this dulls the appreciation I have for a game I love. It's not so much that there's toxicity, because complaining about people being awful online is just a losing battle. I just don't like how there's little in the way of options to remove or distance yourself from it, particularly with regards to the main menu general chat. If there was a chance to opt out of that aspect of text chat alone, I'd be happy.
Granted, the feature is still in beta and has recently been introduced, so it's possible that the feature is being used more just because it's new. It also seems to be more active at peak times. Opening the game up at midday on a Wednesday led to a dead general chat. However, player feedback is important in improving the overall user experience, and after a short time with Overwatch and cross-play, I just want to turn the text chat off. Mainly the general chat. Please, just let me nuke the damn general chat.
READ MORE: Overwatch 2's Jump To 5v5 Terrifies And Excites Me
Some of the coverage you find on Cultured Vultures contains affiliate links, which provide us with small commissions based on purchases made from visiting our site. We cover gaming news, movie reviews, wrestling and much more.