2023 brings with it a bright new slate of new video game releases. We have 365 days of bright shiny new games to put on our wishlists. From retro-throwbacks to bold new visions, 2023's indie release schedule is looking to be chock-full of future cult hits.
Of particular interest to us are the upcoming independent games that are just waiting to become cult hits in the hearts and minds of fans. While we still don't know whether or not Hollow Knight Silksong will finally descend from the gaming heavens, there's still plenty of stuff to look forward to. Here are our most anticipated new indie games of 2023.
New Indie Games 2023
Flintlock: The Siege of Dawn | Early 2023
Developer: A44 Games
Publisher: Kepler Interactive
Platforms: PC, PS4, PS5, Xbox One, Xbox Series X & S
The second title from A44 Games, developers of 2018's stellar Soulslike game Ashen, Flintlock puts players in a fantasy world where the Gods have turned on humanity. It's up to you, with your enchanted weapons, magical fox sidekick, and titular flintlock pistol, to win this war for the mortals. Its fast-paced combat and unique spin on the typical massive open-world setting give Flintlock a real sense of character and style.
Flintlock's trailers give off a mix of high fantasy and steampunk aesthetics, with some truly impressive monster design that will surely make for memorable encounters. A44 Games has clearly set their ambitions higher on their sophomore release, creating a wholly new fantasy world that looks like it will be unlike anything that's come before.
Nine Sols | June 2023
Developer: Red Candle Games
Publisher: Red Candle Games
Platforms: PC
Red Candle Games, the Taiwanese game developers behind recent horror classics Detention and Devotion, are branching out into new territory for the studio with their upcoming Nine Sols.
Described on their own site as a "hand-drawn 2D action platformer featuring intense deflection-focused combat," Nine Sols follows a lone warrior striving to battle the 9 titular Sols, powerful warlords controlling the game's taopunk world.
The unique hybrid cyberpunk/Taoist aesthetic, along with the "deflection-focused" combat that draws inspiration from titles like Sekiro: Shadows Die Twice and Hollow Knight, make Nine Sols a sure bet for an indie gem, and easily one of 2023's potentially most surprising titles.
Red Candle Games has never disappointed before, and while they might be leaving the horror genre, Nine Sols appears to continue their focus on mechanically excellent, unforgettable games.
Bomb Rush Cyberfunk | Summer 2023
Developer: Team Reptile
Publisher: Team Reptile
Platforms: PC, Nintendo Switch
For too long, the people have cried out to the gaming gods for another Jet Set Radio. Sega's cel-shaded skate-and-graffiti series may have only produced two entries, but it has stuck in fans' hearts for years. The developers at Team Reptile have decided that the people have waited long enough, and are making their own spiritual successor, Bomb Rush Cyberfunk, which will now release in 2023 after being delayed late this year.
Everything fans of Jet Set Radio are looking for is still on display: The exaggerated, kinetic comic art style, the fantastic and fluid sense of motion (including skateboards and bikes along with Jet Set Radio's ubiquitous roller skates), and the same bass-bumping hip hop jams (even bringing JSR composer Hideki Naganuma).
Whether you're a devout follower of the funk, or a new discoverer, Bomb Rush Cyberfunk's incredible panache and fluid looking gameplay are going to bring funk back to indie games in a big way in 2023.
Mina The Hollower | December 2023
Developer: Yacht Club Games
Publisher: Yacht Club Games
Platforms: PC
Yacht Club Games, the celebrated developers behind Shovel Knight, are finally bringing us their second new IP, following years of expansions and reimaginings of their smash-hit debut title. Where Shovel Knight was a throwback to NES-era platformers, Mina the Hollower aims to recapture the imagination of the Game Boy Color era. Mina, a burrowing mouse with a whip, must battle through a gothic landscape, with obvious influence coming from the Castlevania and Legend of Zelda series.
Yacht Club Games has proven time and time again that they can spin gaming gold out any premise, and as much fun as the Shovel Knight suite of games have been, it's thrilling to see that their sophomore concept will continue their ambition and love for the games of yesteryear, while still feeling completely original.
Shovel Knight was a frequent GOTY pick when it was released in 2014, so Mina the Hollower is a shoo-in for the most anticipated indie game of 2023.
Another Crab's Treasure | TBC 2023
Developer: Aggro Crab
Publisher: Aggro Crab
Platforms: PC, Nintendo Switch
Aggro Crab, the designers behind the candy-colored roguelike dungeon crawler Going Under, have another bright and vibrant title on the way, and are finally making good on having an aggressive crustacean as their company name. Another Crab's Treasure puts you in the shoes (or rather, shell) of a noble hermit crab on a grand quest.
Another Crab's Treasure is also a Soulslike, meaning your little crab hero will be crossing claws with all manner of massive, imposing undersea enemies. As a hermit crab, you'll be able to swap out different shells for protection, and wield detritus like plastic forks as your weapons.
The visuals are still as sugary-sweet and vivid as in Aggro Crab's previous games, and each environment we've seen in trailers looks like it's dripping (no pun intended) with details and energy. We'll be looking forward to taking the plunge with Another Crab's Treasure next year.
Dredge | TBC 2023
Developer: Black Salt Games
Publisher: Team17
Platforms: PC, PlayStation 4, PlayStation 5, Xbox One, Xbox Series X & S, Nintendo Switch
Dredge, the haunted fishing sim from Black Salt Games, first caught our eye with a demo during Steam's Next Fest in October.
You play a shipwrecked fisherman who washes up on a mysterious set of islands and gets put to work fishing their strange waters. The locals loan you a boat (that you'll have to pay off, of course), and warn you not to stay out on the water after dark if you know what's good for you.
Dredge clearly has some horror elements lurking at its periphery and threatening to rush in with big scary tentacles at any moment. It has a masterful balance between dread and enticing gameplay, with very engrossing fishing, boat customization, and social mechanics that will develop as you better get to know the cursed denizens of these strange waters. Plenty of games have fishing minigames, but Dredge excels at using fishing to craft a fascinating, eerie world where we can't wait to get dragged down into the depths.
Eco Breaker | TBC 2023
Developer: Giannis Milonogiannis
Publisher: Giannis Milonogiannis
Platforms: PC
Some classics never go out of style. Eco Breaker, an upcoming turn-based JRPG with a gorgeously crisp 90s anime aesthetic, is mixing a lot of proven crowd-pleasing elements, with obvious touchstones being Chrono Trigger, Final Fantasy VII, and Gundam.
As a freedom fighter battling an evil empire, you'll jump into the cockpit of your Mobile Frame and do battle with other machines, as well as hopping out to fight enemies on your own. The combat looks fast-paced and frenetic, with plenty of customization options for your mech to make battles even more rich and engrossing, for retro fans and the modern gamer alike.
Inkulinati | TBC 2023
Developer: Yaza Games
Publisher: Daedalic Entertainment
Platforms: PC, Nintendo Switch, Xbox One, Xbox Series X & S
Inkulinati brings tight, strategically complex turn-based combat into the genre it was destined for: medieval manuscripts, of course. By commanding teams of marginalia (the drawings monks would do in the margins of their manuscript work while bored), you'll battle the scribbled minions of your fellow monks and compete for victory. It may seem like an odd premise, but Inkulinati has the complexity to back up its absurd pitch.
Each type of unit has special abilities and strengths, and you can summon additional units by saving up ink to draw them on the 2D battlefield. Each turn, your monk can also directly influence the battle, by pushing enemies to the side or outright smudging enemies out with aMonty Python-esque giant hand.
Inkulinati's goofball visuals bely a rewarding-looking tactical heart, which we'll be looking forward to in 2023.
The Last Worker | TBC 2023
Developer: Oiffy, Wolf & Wood Interactive, Ltd
Publisher: Wired Productions
Platforms: PC, Nintendo Switch, PS5, Xbox Series X & S, Oculus Quest
In a probably-not-that-distant future, automation has dehumanized and disenfranchised most humans, and the global shipping company Jüngle has automated their entire system, save for a single worker, who lives in the warehouse where he works. When a rebel group infiltrates the city-sized warehouse, Kurt, the final employee, has to navigate corporate espionage and figure out how to break free of the corrupt system that surrounds him.
Mixing industrial stealth of Metal Gear Solid with the insightful politics of Papers Please and Neo Cab, players will skulk through the labyrinthine insides of the shipping fulfillment center where Kurt works and lives, giving a new meaning to working from home.
Boasting a hollywood-quality voice cast including Jason Isaacs and Olafur Darri Olafsson, with character designs by Sonic the Hedgehog and Judge Dredd artist Mike McMahon, The Last Worker is sure to be a fascinating, timely look at life inside the massive, corrupt machine we call modern society, only exaggerated a little.
Lies of P | TBC 2023
Developer: Neowiz
Publisher: Neowiz
Platforms: PC, PlayStation 5, PlayStation 4, Xbox One, Xbox Series X & S
Have you ever been playing Dark Souls or Bloodborne and thought, "this would be so much better if it were about Pinocchio?" If so, then, at least one other person has had the same thought as you.
In a nightmarish steampunk version of Western Europe, you play as a combat-ready (and very handsome) version of Pinocchio, carving through swaths of evil automatons. Further, as this is an adaptation of Pinoccio, lying to NPCs is a core mechanic. According to the Steam page, players will "Experience interconnected procedural quests that play out depending on how you lie."
Lies of P looks like it might be a quintessential chocolate-and-peanut-butter situation, as the twisted fairy tale aesthetic just might find a perfect match in a Soulslike game's hyperviolence. Lush visuals and a keen sense of place in Lies of P's unique setting might be just what the starving Bloodborne fan is looking for.
Palworld | TBC 2023
Developer: Pocketpair
Publisher: Pocketpair
Platforms: PC
"Pokémon with guns" is a heck of a pitch, and credit to developers Pocketpair for taking what could easily feel like a lazy Newgrounds game, courting controversy for controversy's sake, and actually making what looks like it might be a complex, strategically-rich monster battling game. The creatures are memorable and cool, from grass-covered elephants to massive dragons to Pharoah-like cat people who'll just punch you in the face, if PalWorld's trailers are anything to go on.
In addition to catching and battling Pals, PalWorld will feature farming, crafting, and other life sim features – though unlike your Stardew Valleys, construction in PalWorld involves using your captured critters as labor that you can work into the ground.
How all of these edgy elements coalesce into a game is sure to be one of 2023's biggest headline grabbers in indie gaming.
Paralives | TBC 2023
Developer: Alex Massé
Publisher: Alex Massé
Platforms: PC
Plenty of people love The Sims, as it's hard to undersell the appeal of recreating yourself and your loved ones in a virtual dream house. But as much fun as The Sims is, it's held a monopoly on the life sim formula for too long. Paralives, due out sometime in 2023, looks to be the greatest potential competitor to The Sims' throne.
Boasting incredibly detailed furniture and building customization options, Paralives looks like it will put a greater emphasis on interior design, allowing players to make homes that truly reflect their aesthetic desires. Add in systems for pet care, careers, and other such life-simulation elements, and Paralives is shaping up to be an ideal time-absorbing obsession when it's finally released.
Romancelvania | TBC 2023
Developer: The Deep End Games
Publisher: 2124 Publishing
Platforms: PC, Nintendo Switch, PlayStation 5, PlayStation 4, Xbox One, Xbox Series X & S
Metroidvanias and dating sims may not seem like two great tastes that taste great together, but Romancelvania seeks to prove that they're meant to be together. You play as an unlucky-in-love (and perennially shirtless) version of Dracula who, upon being sucked into a monster-centric dating show, loses his unholy powers and must traverse all manners of challenges for a shot at monster-seeking-monster love.
Romancelvania offers twelve potential romantic partners scoured from classic horror stories, from werewolves to gorgons to shapely pumpkin people. You can choose to have either a male- or female-presenting Dracula, and sharp platforming mixes with sharp writing in the game's sophisticated dialogue trees.
We're hoping that Romancelvania will be love at first bite for gamers when it releases in 2023.
Sea of Stars | TBC 2023
Developer: Sabotage Studio
Publisher: Sabotage Studio
Platforms: PC, Nintendo Switch, PS5, PS4
Pixel-art turn-based RPGs are as evergreen as games can get. Sea of Stars aims to recapture the glory of all those yesteryear JRPG hits, and its beautiful art style does an excellent job of conjuring up classics like Chrono Trigger and the early Final Fantasys. Sabotage Studio proved their retro-modern skills with their prior release, the ninja-action metroidvania hit The Messenger, and Sea of Stars looks to be a continuation of their good fortune.
Sea of Stars isn't just content to play covers of the old classics, though. Its combat system will feature deeper systems, with timing, magic types, and other key elements to juggle. You also won't be hindered by endless random battles, which is always good news.
Players will be able to freely explore this vivid magical world sometime during 2023.
Witchfire | TBC 2023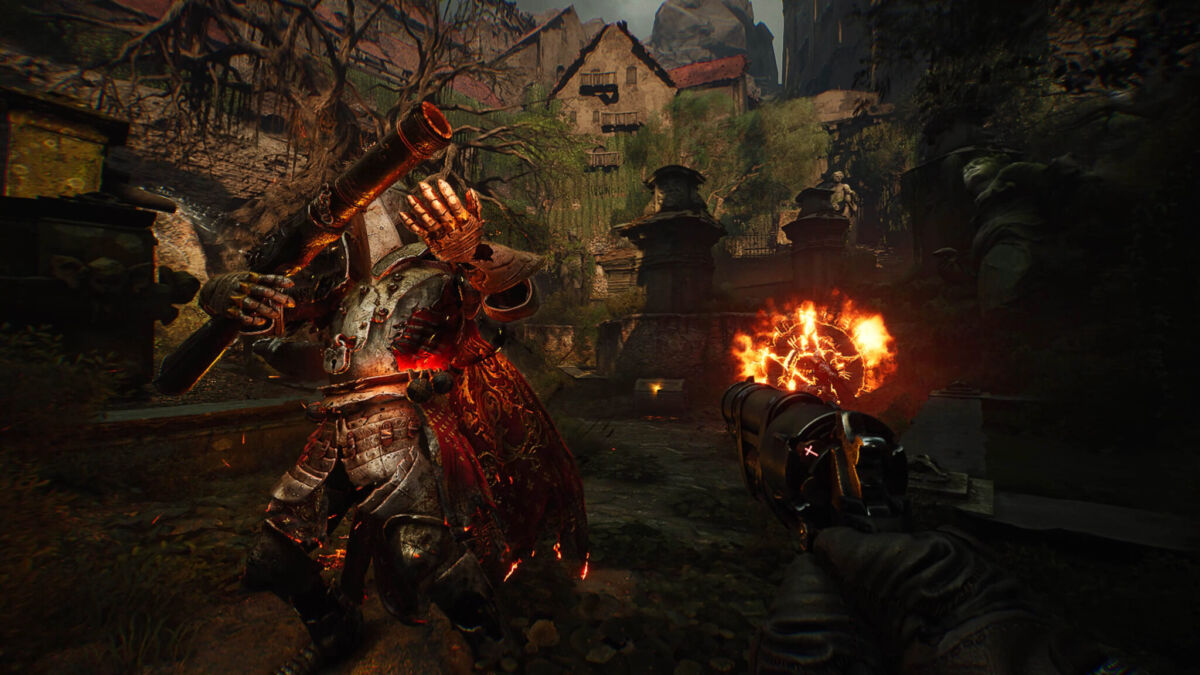 Developer: The Astronauts
Publisher: The Astronauts
Platforms: PC
For fans of the recent Doom games and similar twitch-fast first person shooters, the Polish developers The Astronauts are cooking up what just might be your next favorite game. Witchfire looks to be a tense, vicious, first-person roguelike, set in a world of demonic forces and bewitched firearms. In a crumbling fantasy world, you'll have to use both magic and your ol' six-shooter to blast through hordes of enemies.
Even in the brief clips and demos that we've seen so far, Witchfire's sense of speed and danger leaps through the screen. The medieval setting split open by the anachronistic thunder of your guns looks like it will be an absolute blast whenever Witchfire sparks up in 2023.
READ MORE: 10 Best Indie Games Of 2022
Some of the coverage you find on Cultured Vultures contains affiliate links, which provide us with small commissions based on purchases made from visiting our site. We cover gaming news, movie reviews, wrestling and much more.