There is an awful lot to look forwards to in the world of graphic novels and graphic non-fiction this year. From already beloved tales finally being translated into English to fresh takes on little explored mythology, via some seriously sweet looking YA stories, there really is something for everyone this year. Here are all the new graphic novels of 2021 you should be keeping an eye out for.
1. Remina – Junji Ito | January 7th, 2021
Junji Ito is one of the undisputed greats of contemporary graphic novels. Remina was originally published back in 2005, but this year is the first time it has been translated into English.
A universe wide horror story, a mysterious planet which appears from a wormhole is christened Remina after the daughter of the man who discovered it. But Remina the planet is on a path of destruction and headed for the Earth. Does it have anything to do with Remina the girl?
2. Girl Haven – Lilah Sturges and Meaghan Carter | February 9th, 2021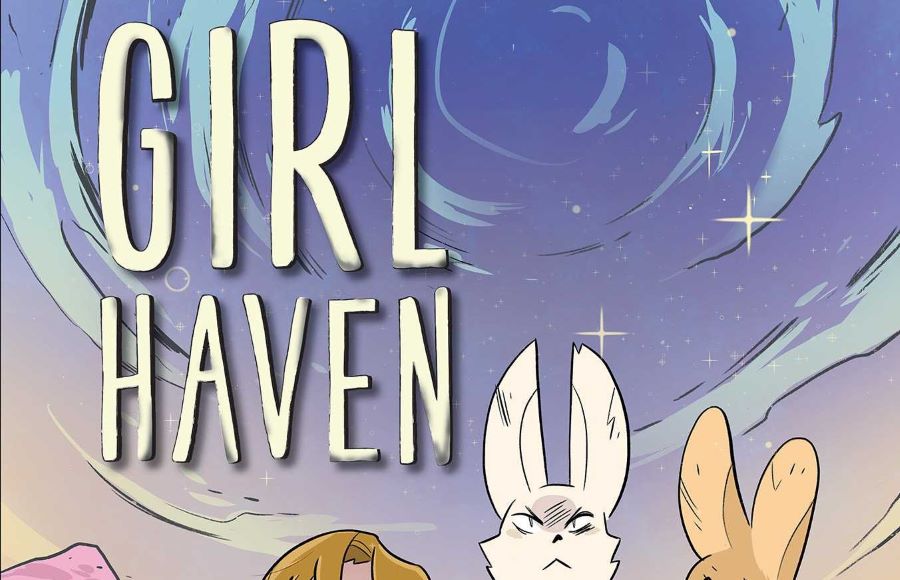 Lilah Sturges is the writer of the brilliant Lumberjanes series, so I am seriously looking forwards to checking out her new original story.
Girl Haven sounds as though it will have everything you'd expect from the author of Lumberjanes; magic, mysteries, a group of adventurous girls and queer themes to explore too. Carter's artwork is bright and colourful as well, which is never a bad thing.
3. Rogue Planet – Cullen Bunn, Andy MacDonald and Nick Filardi | March 2nd, 2021
Cullen Bunn is the prolific comics and graphic novel writer known for his work on Marvel comics and his own series, The Sixth Gun. Andy MacDonald has worked on comics for basically every major comic publisher.
Rogue Planet is a very stylish looking cosmic horror following the crew of the Cortes as they explore a hostile and lonely planet full of terrors – some of which even come directly from their own nightmares.
4. Post York – James Romberger | March 9th, 2021
Romberger was nominated for an Eisner for the one-shot original short of Post York, and now he's back having expanded the tale into a whole graphic novel.
A tale for our times, Post York is set in New York after the melting of the polar ice caps, following a loner and his cat as they negotiate the city and try to survive day to day. Such eco-fables are always a bit of a terrifying read, but they are so very necessary. Romberger's black and white illustrations only add to the starkness of the frightening situation.
5. Djeliya – Juni Ba | March 30th, 2021
Using West African folklore as the starting point, Djeliya is a tale about Mansou, the last prince of a dying kingdom.
Mansou journeys to meet the wizard who destroyed his world and hasn't been seen since. To accompany him on his trip is Awa, his storyteller (or djeliya). On the way, they meet plenty of figures from that folklore and mythology, revisiting traditional tales. Djeliya is definitely one of the most interesting books on this list.
6. Hardears – Matthew Clarke and Nigel Lynch | April 6th, 2021
If you're looking for some superheroes in your graphic novels, then Hardears is the book for you this year. There's also a good dose of fantasy mixed in too; the fictional island setting of Jouvert is a magical alternate universe version of Barbados.
Jouvert has been recently destroyed by a superstorm, and head of the Merchant Guild Mr Harding is promising to rebuild and create jobs. Hardears mixes Barbadian folkore into your classic superhero tale, as local hero Bolo does battle against the villainous Mr Harding.
7. Across The Tracks – Alverne Ball and Stacey Robinson | May 4th, 2021
The Tulsa Race Massacre of 1921 is a historical event I've only heard about in passing, so the promise of this graphic non-fiction being released to coincide with the 100th anniversary is an interesting one for sure.
Ball and Robinson will explore Greenwood, then known as the 'Black Wall Street', and examine the events that led up to the tragic riot which saw many people killed and injured, and even more left homeless. It will be a hard read, but a very necessary one.
8. The Secret To Superhuman Strength – Alison Bechdel | May 4th, 2021
You're absolutely guaranteed that anything by Alison Bechdel will be worth your time. It will be funny, thought-provoking and will probably move you in ways that you aren't expecting.
In this memoir, Bechdel explores her fascination with exercise, fitness fads and self-improvement. As is to be expected though, the story won't really be about those things at all; there will be layers of story and thought leading up to a conclusion that makes you really think about yourself.
9. The Girl From The Sea – Molly Knox Ostertag | June 1st, 2021
Ostertag is the author of the critically acclaimed The Witch Boy trilogy, and you can be sure that The Girl From The Sea will be another hit. Morgan lives on a small island and longs to escape school, her mum, her brother and her friends.
One night, she is saved from drowning by a girl named Keltie, who definitely has some secrets of her own. The artwork for The Girl From The Sea looks adorable, with the pastel colours and the bold cartoony style you'd expect from Ostertag.
10. Bubble – Jordan Morris, Sarah Morgan, Tony Cliff and Natalie Riess | July 13th, 2021
Bubble is based on the hit podcast of the same name, and the novel sounds like a total hoot. Morgan lives in the city of Fairhaven, a bubble of safety in the middle of an alien wilderness roamed by Imps and rogue humans.
A satirical take on hipster culture and the gig economy life of millennials, Bubble the podcast has been massively popular for a reason, so you can guarantee that whatever makes it tick will be here in this riotous graphic novel.
READ NEXT: 10 LGBTQIA Books To Look Forwards To In 2021
Some of the coverage you find on Cultured Vultures contains affiliate links, which provide us with small commissions based on purchases made from visiting our site. We cover gaming news, movie reviews, wrestling and much more.