Is it just me, or has February felt particularly taxing this year? Just wondering. Either way, at least it's going to be over soon, with some great games on the way to send this month off the right way. If you're a big fan of JRPGS, or revivals of classic games (both officially and in spirit), then this week is the week for you. Here's the biggest games that are launching over the coming week for PC, PS4, PS5, Xbox One, Xbox Series X | S, and Switch.
Taxi Chaos | February 23rd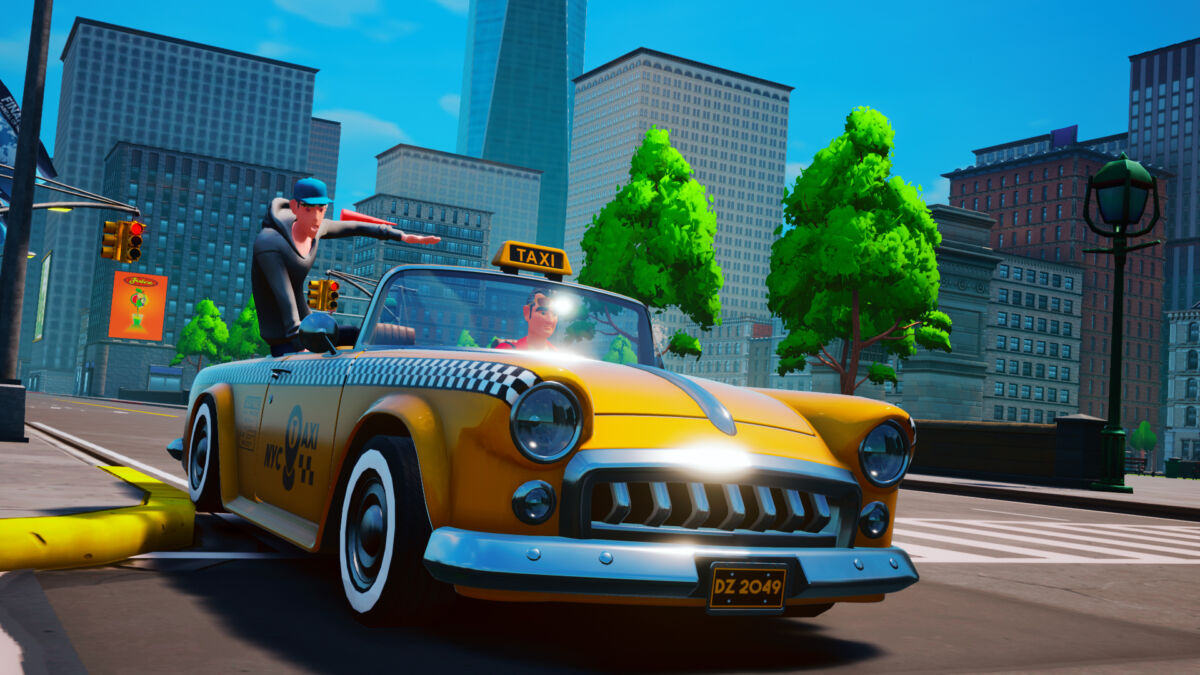 Developer: Team6 Game Studios
Publisher: Mindscape / GS2 Games
Platform(s): PS4, Xbox One, Switch
SEGA aren't doing anything with the Crazy Taxi property or formula, so it falls to other developers to keep the spirit alive. Heck, even when the spirit was alive, other developers recognised a winning formula when they saw it — The Simpsons: Road Rage was about as flagrant a rip-off as they get. However, Lion Castle sought out SEGA's blessing to develop Taxi Chaos.
Like Crazy Taxi, your job is to pick up fares from citizens around the city and take them to the destination as quickly as possible. While you'll be able to drift around corners similar to how Crazy Taxi operated, Taxi Chaos will allow you to literally jump over the traffic to reach your goal. While it likely won't win game of the year, it should make for some nostalgic fun.
Persona 5 Strikers | February 23rd, 2021
Developer: P-Studio, Omega Force
Publisher: Atlus / Sega
Platform(s): PC, PS4, Switch
Fans of both Persona 5 and the Musou style of games should get a massive kick out of Persona 5 Strikers, which offers the 1 vs thousands combat that the Warriors games are known for along with the excellent characters, story-telling and worldbuilding that Atlus have showcased with the Persona series.
A continuation of the smash hit JRPG, Persona 5 Strikers sees the Phantom Thieves taking a road trip across Japan to save everyone from a new inter-dimensional threat. It's an awful lot of pressure for a group of high school kids, but if anyone can live up to the challenge, it's the Phantom Thieves.
Ghosts 'n Goblins: Resurrection | February 25th, 2021
Developer: Capcom
Publisher: Capcom
Platform(s): Switch
If you love your old school platformers when they're ludicrously hard, you've probably played a lot of Ghosts 'n Goblins in your time. The series has been off the grid for the better part of over a decade, but Capcom are bringing it back with Ghosts 'n Goblins: Resurrection, a brand new adventure for Arthur to die repeatedly during.
Like other games in the series, Resurrection will see Arthur battling hordes of demons, but this is perhaps the most accessible version of the game to date thanks to the four difficult levels. Still, if you're looking for a challenge, the three hardest difficulty levels will offer the game's infamous second loop, with shadow versions of each stage which are even harder.
Bravely Default 2 | February 26th, 2021
Developer: Claytechworks
Publisher: Nintendo
Platform(s): Switch
Ah, yes, the two greatest words in the English language: De-fault! De-fault! De-fault! Square Enix are perhaps the most reliable hand when it comes to JRPGs, so it's no surprise that fan expectation for Bravely Default 2 is through the roof. It also helps that people loved the first Bravely Default as well, but still.
Bravely Default 2 follows a brand new cast of four characters, who explore a continent that's been split into five separate kingdoms. BD 2 will appeal to fans of classic RPGs, with its turn-based battle system and a job-based class system. If you've got 50-100 hours spare to unload on a new RPG, you probably won't go wrong with this one.
READ NEXT: New Switch Games of 2021: All The Release Dates
Some of the coverage you find on Cultured Vultures contains affiliate links, which provide us with small commissions based on purchases made from visiting our site. We cover gaming news, movie reviews, wrestling and much more.