July's arrival means summer is in full swing in the Northern Hemisphere. We're nearly a third of the way through the seasons and half the year has passed by already. Fortunately, just because only six months remain in 2022, it doesn't mean the comics industry is slowing down its release schedule any time soon.
Some of the year's most anticipated new comics release this July. And it happens to be a perfect time to pick up some reading material to bring along for a summer vacation beach read. For a mere glimpse of what the month has in store, here are ten new comics of July 2022 you should check out.
New Comics July 2022
10. The Wrong Earth: Meat #1 — Tom Peyer & Greg Scott
AHOY Comics sadly concludes their one-shot event series this July with the publication of The Wrong Earth: Meat. Yet, The Wrong Earth series has spanned multiple iterations of comics beyond its flagship title, so perhaps this isn't the end for further expansion into the rife Wrong Earth multiverse?
The Wrong Earth: Meat #1 follows the original Earth-Alpha and Earth-Omega superheroes Dragonflyman and his sidekick Stinger. Strong supervillain Dr. Meat threatens the sunny world of Earth-Alpha with his nefarious antics. Meanwhile, Dragonfly on Earth-Omega encounters a surprising person to spend time with and help out.
Written by the OG Wrong Earth author himself, Tom Peyer, and illustrated by the wonderful Greg Scott, this final one-shot shines the spotlight on the heroes we know best in these para-dimensional versions of Earth. Fans can complete their anthology collection by grabbing this final issue.
9. Stray Dogs: Dog Days TP – Tony Fleecs, Trish Forstner, Brad Simpson & Tone Rodriguez
Cartoon-horror comic series Stray Dogs broke hearts around the world last year during its short run. Nothing could have prepared readers for the shock inside its illustrative veneer of cuteness. In July, the dogs return in the Image Comics anthology edition about each of the strays from the original series.
Stray Dogs: Dog Days features short stories about each of the stray dogs. Readers go back in time to unearth the origins of the murderous Master when he took his first stray dog. After a gut-wrenching journey through their stories, the trade ends during the dogs' final moments trapped inside the Master's house.
The trade paperback collected Stray Dogs: Dog Days #1 and #2, as well as the Stray Dogs FCBD Prologue story. Grab a box of tissues and be warned of the potential graphic violence and animal abuse inside this grim but thrilling comic.
8. The Tiger's Tongue #1 – Olivia Stephens, Diansakhu Banton-Perry, Bex Glendining, & Joamette Gil
Mad Cave Studios presents a fantasy comic steeped in folklore, magic, and majestic visuals this July with The Tiger's Tongue #1.
The night before reaching adulthood, twin princesses Aridani and Kelindi are tasked with securing the future of the Claw. The militant Tiger's People, furnished with powers by their animal familiars, hold an authoritarian grip on the Claw. Adidani and Kelindi both hold separate values when it comes to avoiding war with the Tiger's People, but an ancient prophecy forces the sister's fate in an unprecedented direction.
The Tiger's Tongue celebrates culture, African diaspora, and ancient folklore in a dazzling display of artistic merit. This beautiful story imbued with diverse characters and magic deserves attention beyond the indie comic sphere.
7. Flavor Girls #1 — Loïc Locatelli-Kournwsky & Eros de Santiago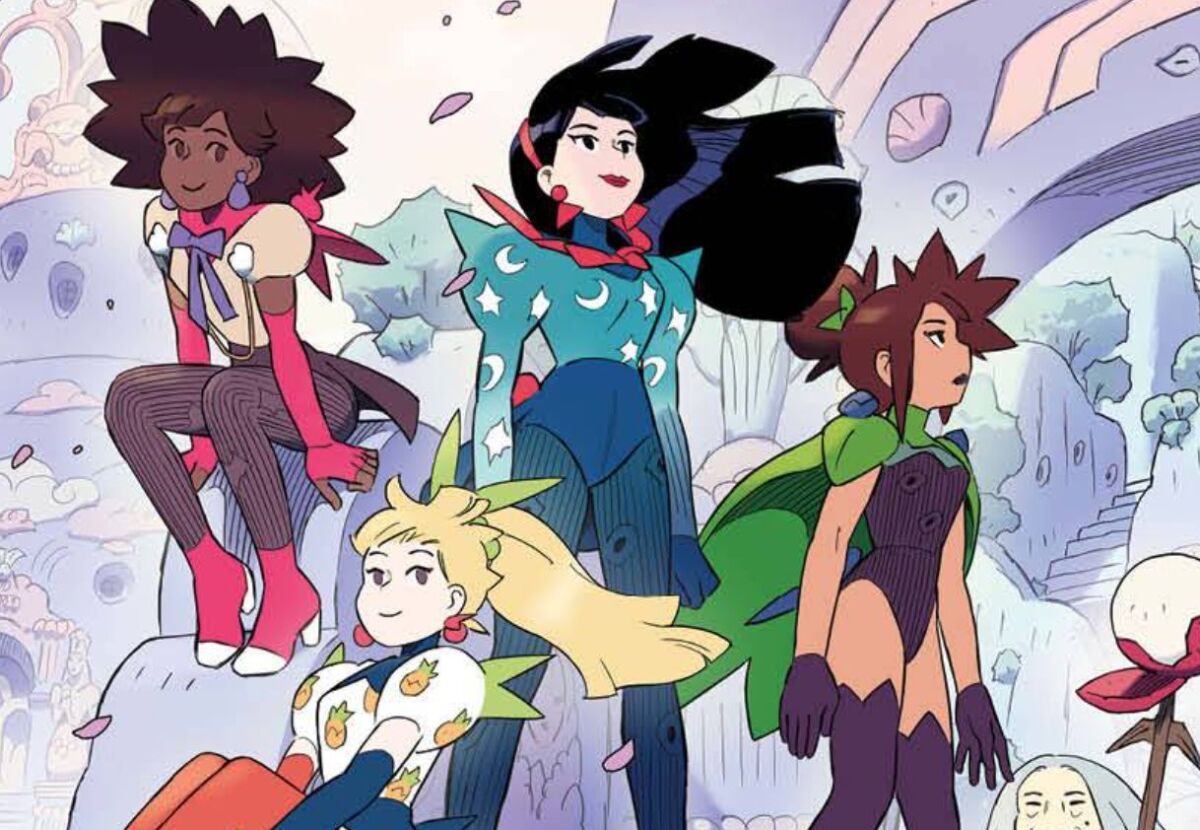 Flavor Girls, a bold new trilogy redefining the parameters of the superhero genre and targeted at audiences of all ages, arrives in July under BOOM! Studios' Archaia imprint.
This Magical Girls adventure series centers on the Sacred Fruit Guardians of Earth defending the environment from aliens. The Flavor Girls obtain their powers from the sacred Mother Tree, working to keep the tree safe from harm. When a young woman with dreams of becoming an international peacekeeper is chosen to take up the newest Flavor Girl mantle, she must quickly become acclimated to her powers so she can help combat the aliens posing a global threat.
BOOM! Studios always publish a myriad of genres where creatives unleash true passion projects. The preview pages should pique your interest, where the colors shine vibrantly and the character designs call to mind a Sailor Moon manga-esque style. I'm looking forward to reading this topical book about protecting our planet.
6. Superman: Space Age #1 — Mark Russell, Mike Allred, & Laura Allred
Primarily satire and historical comic writer Mark Russell teams up with wonderful illustrative duo Mike and Laura Allred for a philosophical new Superman series at DC Comics this July.
The giant-sized 80-page first issue of Superman: Space Age will explore Superman's superhero journey as he continually braces for the world's destruction. The Krypton hero became the first superhero of the Space Age, but he can't help wondering whether each passing decade will bring about his demise. Superman will have to come to terms with the consequences of his actions because even good intentions are met with retaliation in a world bent on self-destruction.
It's no secret I'm a Mark Russell fan, even if I'm not the biggest superhero comics reader, so I'm thrilled about this project. Superman: Space Age looks phenomenally illustrated and especially prescient in its storytelling. Significantly, the comic focuses on how our actions as individuals reverberate across time, history, and culture.
5. The Brother of All Men #1 — Zac Thompson, Eoin Marron, Mark Englert & Hassan Otsmane-Elhaou
A slow-burn noir mystery about cults wrapped in traditional folk-horror elements, The Brother of All Men miniseries from AfterShock Comics begins in June.
This rural neo-noir horror story taking place in the late 1920s details true historical events. An injured World War One veteran working as a part-time private eye, Guy Horn, travels to Western Canada. Traumatized from war and on a mission to rescue his estranged brother from the real-life cult, The Aquarian Foundation, Horn becomes enamored with the cult's enigmatic, charismatic leader, Brother XII.
The Brother of All Men #1 promises 1970s horror aesthetics and hard-boiled detective sensibilities in both its eerie narrative and interiors. Featuring a noteworthy creative team and a disorienting premise, this first issue should be high on the list of comics to read during July.
4. Blacksad: They All Fall Down – Part One – Juan Díaz Canales, Juanjo Guarnido, Diana Schutz, & Brandon Kander
Blacksad, the bestselling noir detective epic about a private eye anthropomorphic cat reaches American shores following a seven-year hiatus this July.
The new two-part storyline translated into English features our favorite feline P.I. John Blacksad in new entanglements with the mob, unions, and greedy magnates. Blacksad utilizes his investigative talents to keep citizens safe from harm and deter construction tycoon Lewis Solomon from achieving dangerous power in New York City.
The award-winning Blacksad comics have been hailed as a triumph and a masterclass of the genre. Published through Dark Horse Comics, I can't wait to return to this harrowing crime saga with the substantive new hardcover, Blacksad: They All Fall Down – Part One.
3. Above Snakes #1 — Sean Lewis, Hayden Sherman, Hassan Otsmane-Elhaou
Image Comics publishes Above Snakes #1 in July, a western tale asking what places our rage can take us far rage in the pursuit of vengeance.
The press release tells prospective readers the comic centres on Dirt, a spurned man looking to avenge his murdered wife. A talking vulture enables him on his quest for vengeance across the American West.
The third recent work between Sean Lewis and Hayden Sherman, the two are well-versed in the interplay of successful collaborative efforts. Joined by superstar letterer Hassan Otsmane-Elhaou, readers can expect an extraordinary level of detail in design and visual layouts. And based on advanced reviews, we can feel secure knowing Above Snakes will veer away from tired American Western vengeance tropes. Don't hesitate to add this fast and furious comic to your pull list as soon as possible.
2. Detective Comics: Gotham Nocturne — Ram V, Rafael Albuquerque, Dave Stewart, Simon Spurrier, & Dani
Ram V continues to release comics with stupendous creative teams that elevate and transcend the comic medium. When it comes to "Big Two" superhero titles, I usually read DC Comics over Marvel Comics, largely due to the recent output of DC Comics where I see V's name attached to a series with striking art.
V's Catwoman run, ongoing The Swamp Thing, and recent Aquaman: Andromeda Black Label run comprise a few of the best current comics DC has to offer. In addition, his prose writing and fresh spins on these characters provide readers jumping on point to the pantheon of superhero stories. In July, V adds Batman to the list of iconic DC heroes under his writing belt with Detective Comics: Gotham Nocturne.
With V at the helm of Detective Comics and immaculate artists Rafael Albuquerque and Dave Stewart taking on illustrative duties, this operatic, visually aesthetic take on Gotham's greatest detective will no doubt attract a wide audience.
1. Starhenge Book One: The Dragon & The Boar — Liam Sharp
Esteemed creator Liam Sharp's upcoming comic just edges out other titles for the top spot on this list because of the unbridled hype surrounding this book for months. Sharp's enthusiasm for the personal project only heightens excitement.
Starhenge Book One: The Dragon & The Boar from Image Comics begins an ambitious six-issue epic about a time-traveling Merlin. In the fictional Starhenge, Merlin must travel back in time to 5th-century Britain and stop murderous time-traveling robots from stealing all the universe's magic. A present-day narrative features a character named Amber Weaver, who also gets sucked into the time war.
Will the book marketed as "The Terminator meets The Green Knight" be worth the wait? Luckily, you won't have to travel in time to find out since one of the most highly anticipated comics of the year finally releases on July 6th.
READ NEXT: 5 Best Marvel MAX Comics of All Time
Some of the coverage you find on Cultured Vultures contains affiliate links, which provide us with small commissions based on purchases made from visiting our site. We cover gaming news, movie reviews, wrestling and much more.