Even as someone who's loved baseball since I got out of diapers, I'd be the first one to tell you the single most exciting thing about baseball this year has nothing to do with what's on the field. Major League Baseball is for sure happening this year, but they're barely a month or so removed from an owner-induced lockout that gave us all premium theater seats for just how petty billionaires making record profits can be.
This is an important backdrop coming into this year's edition of MLB The Show, the yearly baseball game of the critically acclaimed San Diego Studio. Once previously a PlayStation exclusive franchise, last year's edition saw the game branch out to the Xbox family and this year's major selling point is that now, it's on all major consoles – PS5, PS4, Xbox Series X & S, Xbox One, and somehow even the Nintendo Switch. To add more spice to that lineup, the game also introduces cross-play and cross-platform progression, giving you the ability to play from the same save data across platforms as well as playing online with anyone from any console.
Perhaps the best new feature of the game is incredibly subtle to the point that a player might miss it. The PCI for the hitting interface has been improved, allowing the game to better catch up to you in terms of how well you hit. In real baseball and its video games, timing is everything, and the PCI helps the game itself figure out your timing so you're not swinging and missing at everything.
I've played three of the last four titles in the series and all of them have slightly different measures of timing when it comes to their hitting mechanics, causing me to sort of flail around for the first couple hours after downloading them. The Show 22, however, could be adjusted to my timing at an alarming rate — I was not expecting to be smashing 430-foot dingers with ease within an hour of playing.
As with most sports titles, the cover athlete is an enormous selling point. This year is no different, with 2021 American League MVP and two-way phenom Shohei Ohtani gracing the cover, and in the special edition cases, doing so with some anime flair. Because of Ohtani's absurd 2021 season in which he destroyed the MLB record for home runs by a Japanese born player and regularly threw pitches around 100 MPH, The Show 22 gives a big improvement on their two-way player mechanic – that being a player who can both hit and pitch at the Major League level.
This is most prominent in the series' equivalent of a story or campaign mode, Road to the Show, where you get to make your own player and guide them all the way through getting drafted, dwelling in the minors, and breaking into (and hopefully staying) in the big leagues. While cool in concept, it sort of ruins some of the "get in, get out" pace of Road to the Show, which allows you to fast forward between your character's playing days and at-bats and such. If you're playing on both sides of the ball, the entire mode, and thus career, eat up more of your time and makes the game drag considerably.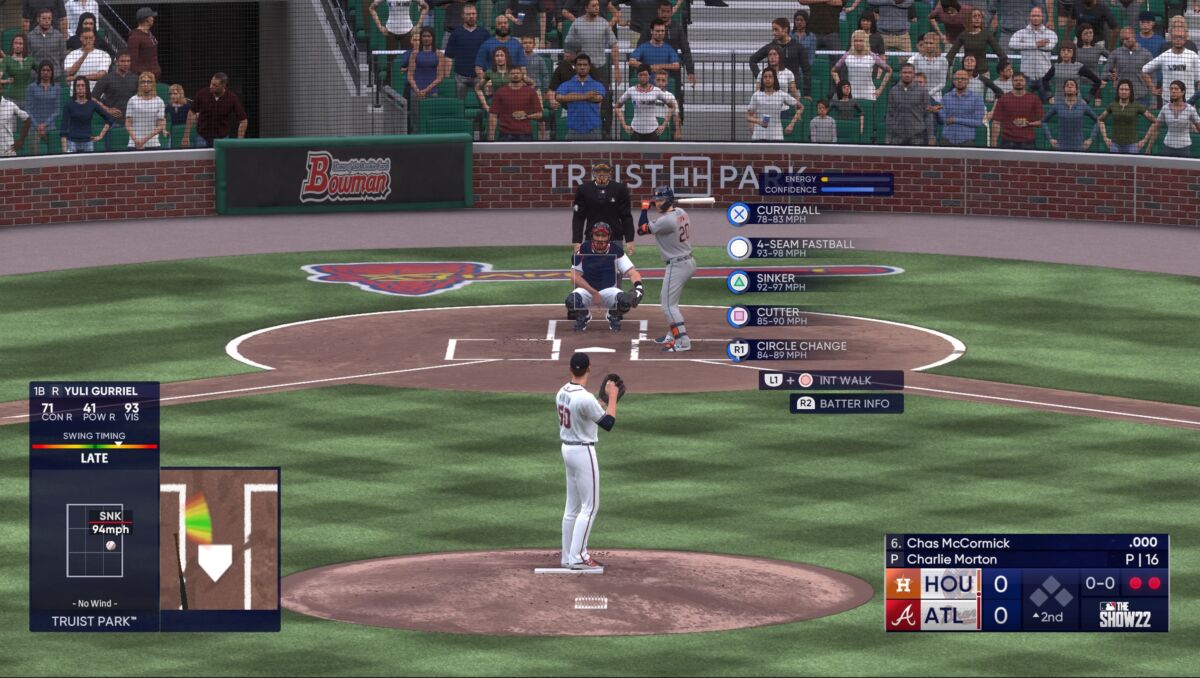 In terms of the other main areas of single-player modes, the Moments mode makes a return and is just as fun as it has been the past few years, Franchise got more tweaks around the two-way player status in adherence to the actual rules passed on that as well as some better transaction AI (that is still horribly easy to outwit), and March to October is back again with its stupid fun and addictive season mode at breakneck speed. That's all good and well, but these are things that seem to be barely touched at all since last year, or really, from the year before that, although March to October does have the new perk of possibly covering more than one season, which seems minor but is really essentially doubles the depth of an entire mode.
Of course, the biggest mode of these sorts of games is the online mode. While Diamond Dynasty doesn't have anywhere near the recognition or shine as FIFA's Ultimate Team or NBA 2K's MyTeam, it can still be fun in places. Though, if you're like me, I don't play other people online and just focus on single-player stuff, of which there is a dearth of, especially considering one of the biggest selling selling points this year is the new online co-op, where you can now play alongside your buddies and not just have to play against them.
For those of us who prefer to stick to the single-player side of online, there is the return of Conquest mode, which is the closest thing to marrying a baseball game with a tactical RPG. There's also the return and streamlining of Mini-Seasons, which instead of lasting full 9-inning contests now only last 3-innings per game, making it even truer to the mode name and creating lots of fun possibilities. The trouble, though, is that the rosters of the opposing CPU controlled teams are constructed based on other online players' lineups, which can create enormous discrepancies between your team and any opponent that you have no way to control.
Of course, Diamond Dynasty is all done via loot boxes, booster packs, and spending lots of real world money to get anywhere, so no matter how much fun it may be at times, this was never going to get positive looks from most players.
About Those Microtransactions
Players can purchase Stubs, MLB The Show's sole version of in-game currency. Stubs can be earned for doing absolutely anything in any mode as long as you're connected to online when it happens. They can be purchased in even larger quantities as follows:
– 1,000 Stubs – $0.99/99p
– 5,000 Stubs – $4.99/£3.99
– 11,000 Stubs – $9.99/£7.99
– 24,000 Stubs – $19.99/£15.99
– 67,000 Stubs – $49.99/£39.99
– 150,000 Stubs – $99.99/£79.99
Of course, they can be earned in greater amounts accomplishing goals throughout the various modes. Stubs can be used to purchase more packs for more cards or straight-up diving into the stock market-esque Collection market, where you can buy and sell individual cards for massive amounts.
Considering that fielding a competitive team in Diamond Dynasty costs you an average of 25,000-40,000 Stubs per player (and that's not taking into account any of the elite level players), you can see just how quickly the real world money and/or time investment can reach fairly obscene levels.
Most, if not everything else, is consistent with The Show's standard of graphics and gameplay it's held since the mid-2000s. I don't mean to brush off how great the game looks and feels, but because it's done that for years, it can be easy to overlook. All the mechanics and graphics at the bedrock of the franchise are relatively unchanged, and are the parts of the games that don't ever really need to be changed. It's easy to get into sports games for not changing enough, but when something is good, keep it that way. The problem comes from there not being enough new modes or features to do something new with what's been established. They've had the right toys perfected for so long, yet they always hold back on how much of the toybox we can play in.
Hitting is super satisfying and easier because of the aforementioned PCI adjustments, pitching is as good as it's ever been, and fielding has been made much less frustrating, especially if you're locked-on to a player for a mission or in Road to the Show. This also establishes that even though these are things the franchise has been praised for for years, they'll still find small ways to try to make it better. The player models look dead-behind-the-eyes as they always have, but frankly, it's hard to knock them for that considering it might be too much to ask any developer to make hundreds if not thousands of responsive and emotional models when that's not the point of the game.
The in-game commentary team, which is composed of real people and can provide any emotional shortcoming for moments the player models can't keep up with, is a slight step-up from last year, though that isn't saying a whole lot. The presentation of it all is a weird sort of step down than previous years, with an almost cartoonishly intense blue hue drowning every menu and screen that somehow makes me bored when looking at it.
For good or ill, there's a reason San Diego Studio has stood unmatched in their baseball simulators for going on a decade now. Though I will say with how much The Show 22 pushes my PS4 Pro sometimes, I can't begin to imagine the unholy sounds it might push a Switch to make.
The lockout had so much vitriol tossed between owners and players that, somewhat similar to 2020, it seemed like virtual baseball might be the only baseball we would get this year. With that in mind (and also maybe my Atlanta Braves coming into this season as defending champions), this game's release actually piqued my interest as a way to substitute the hole in my life a complete absence of baseball would leave. Unfortunately, this year's edition of The Show feels a bit like the conclusion of those owner and player labor talks – uninspired and just a means to make some business.
While fun and a great option to play while something else is playing in the background, The Show 22 still feels like a missed opportunity. Maybe it's because they made more sweeping changes last year and didn't feel the need to this time or perhaps it's because going multi-platform and multi-generation would guarantee better sales no matter what, but whatever the reason, The Show 22 feels like it doesn't do enough in the right areas without feeling like it could've been an update for The Show 21. There's a lack of heart in this iteration. For a game that showcases perhaps the most dynamic and wholesome athlete in generations, MLB The Show 22 ironically feels like the flattest and safest version of itself.
A PS4 key was provided by PR for the purposes of this review.
Some of the coverage you find on Cultured Vultures contains affiliate links, which provide us with small commissions based on purchases made from visiting our site. We cover gaming news, movie reviews, wrestling and much more.

Verdict
The lockout may be over, but MLB The Show 22 might need to ride the bench this year in comparison to the efforts of the past. Still fun to be had, though.