My Dinner with Andre meets late-era Leo Tolstoy in Cristi Puiu's gargantuan Malmkrog, a 200-minute long debate that both stimulates and beguiles. Filmed in the castle of the Hungarian Apalfi family in Malmkrog, Transylvania, it is a singularly strange vision of the Russian aristocracy at the turn of the 20th century that is sure to be one of the breakout films of the Berlin Film Festival.
The film is based on Vladimir Solovyov's Three Conversations, which was published in 1915, but written before his death in 1900. As a result, the mansion has an end-of-the-era air. Nikolai (Frédéric Schulz-Richard) is a land-owner, who invites a group of friends over for parlour games, meals and long conversations. Very, very long conversations.
The film is broken into six parts, each named after a different character. Each gets their own chance to espouse their view of the world: Ingrida (Diana Sakalauskaité) worries what will become of the Russian army now that religion is slowly losing its grip over the people; Olga (Marina Palii) is what you might call a religious absolutist; Edouard (Ugo Broussot) believes that the world must become European, and the combative Madeleine (Agathe Bosch) likes to contradict everyone else. Captured in gorgeous long takes, they are all given a chance to lay out their case. Nikolai comes last, giving a whole new meaning to the word "mansplain".
They speak in French, as was the custom of the Russian aristocracy of the time. The staff are Hungarian, but they are spoken to in German. In private, the women speak in Russian. These are worldly people who have never seen an honest day's work in their lives. But they are also entertaining people, moving on to ideals of white supremacy (although they wouldn't call it that), God, death, good vs evil, and the antichrist with remarkable fluidity, captured with brilliant precision by Cristi Puiu. This is both an acting masterclass and a hefty introduction to late 19th century Russian philosophy.
Non-Russian audiences probably won't be aware of Vladimir Solovyov's beliefs, but he was an intellectual in touch with both Leo Tolstoy and Fyodor Dostoyevsky. Conversations in Malmkrog echo both Dostoyevsky's pessimistic criticisms of God and humanity as well as Tolstoy's attempts to establish a Kingdom of Heaven upon Earth.
Attempting to further research this review, I have been plunged into the world of pre-revolutionary Russian philosophy, mysticism and ethics. I stopped to preserve my own sanity (and word count), as this is a rabbit hole of esoteric thought that stretches on without end. This is much like the film, which throws a variety of different arguments at you while giving no easy answers. It shows that Western society is based on a series of knotty contradictions; doubly true for the Russian man, straddled between both European and Asiatic customs.
Considering Malmkrog's length and the intellectual heft of the conversations, not to mention their circumlocutory constructions, it is easy to lose their thread. (Unless, of course, you are well-versed in Russian continental theology and philosophy, then Malmkrog is all of your dreams come true.) More than once I found myself adrift, only to be pulled back again by another persuasive assertion, counter-assertion or anecdote. The best thing you can really do is go along with the flow and enjoy the art of conversation for its own sake.
What's fascinating is the lack of class analysis. Considering what awaits Russia — and by extension these privileged people — around the corner, this omission lends their conversations a highly ironic touch. One sequence in particular, featuring servant István (István Téglás) reprimanding another colleague for screwing up the tea, reminds us of the terrible cost of such privilege.
Puiu, who kickstarted the Romanian New Wave with the very different The Death of Mr Lazarescu, is famed for his steadfast commitment to aesthetics, traditional audience expectations be damned. Malmkrog simply doesn't let up: the audience is forced to either commit to its entrancing rhythms or be completely turned off. I was totally entranced by this towering masterpiece.
Read the rest of our Berlinale reviews here.
Some of the coverage you find on Cultured Vultures contains affiliate links, which provide us with small commissions based on purchases made from visiting our site. We cover gaming news, movie reviews, wrestling and much more.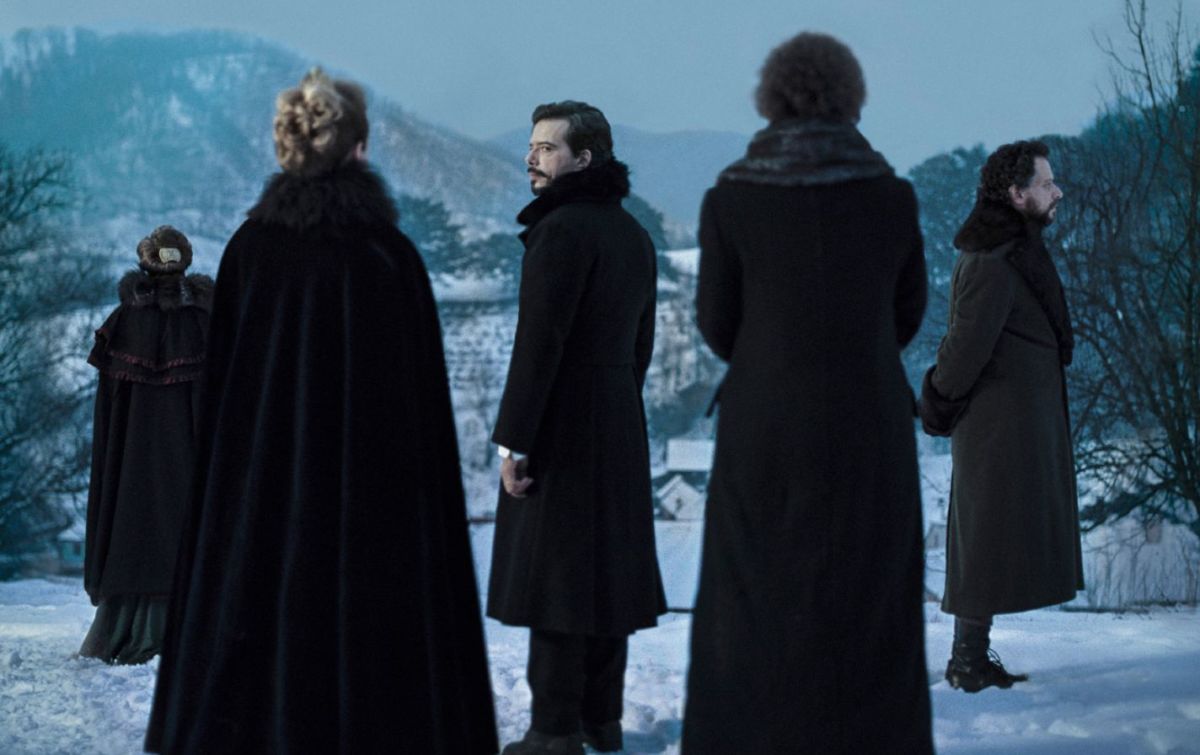 Verdict
Not for the faint of heart (or bladder), Cristi Puiu's gargantuan Malmkrog is an engrossing depiction of the fading Russian aristocracy.