If you know a devoted Legend of Zelda fan and you're struggling to think what to get them as a gift this holiday season, we've got a few suggestions for you, all inspired by Nintendo's Legend of Zelda game series.
IT'S NOT CHRISTMAS WITHOUT SOCKS
Keep your friends and family's tootsies warm this holiday season with these Legend of Zelda inspired socks. Featuring ribbon detailing and a triforce logo, these boot-like socks means that every Legend of Zelda fan can cosplay in secret this winter.
A MESSENGER BAG TO HOLD ALL YOUR HYlIAN LOOT
This black messenger bag features a Triforce logo so that everyone knows how much of a Legend of Zelda fan you really are! It's 50 x 39 x 3 cm in diameter and also features an adjustable strap, as well as an back zip-up storage compartment to hide all your Rupees.
YES, AMIIBOS ARE STILL A THING
Amiibos–if you've been living under a rock–are stylised figures that feature Nintendo characters. They can be used on modern Nintendo consoles to interact with some of Nintendo's most well-known games, and The Legend of Zelda hasn't escaped the Amiibo Revolution. A new wave of The Legend of Zelda: Breath of the Wild Amiibos came out this year, too, so you have plenty to choose from!
3DS STICKERS FOR YOUR HANDHELD BABY
3DS consoles are beautiful little handheld things, but sometimes you just wish you could make them look more Zelda-y. Well now you can, with these Triforce styled 3DS stickers! They're easy to apply and don't leave any marks in case you ever–gasp–want to swap them for something new.
START YOUR DAY RIGHT WITH THis heat changing COFFEE MUG
Coffee by itself is already pretty great–but it can be improved when you pour it into a fancy heat-changing mug that also reminds you of one of your favourite video game series! It'll hold 300ml of liquid, including tea, coffee and/or gamer tears.
A JOURNAL TO SCRIBBLE DOWN YOUR BEST STRATEGIES IN
This fancy Zelda inspired journal features 80 sheets of cream coloured paper for you to plot out maps, game strategies and more! It also contains some card holders for you to place all the business cards of merchants and horses that you meet during your travels. It's also refillable so you can replace and add pages whenever you like!
AND A PEN TO GO WITH YOUR JOURNAL!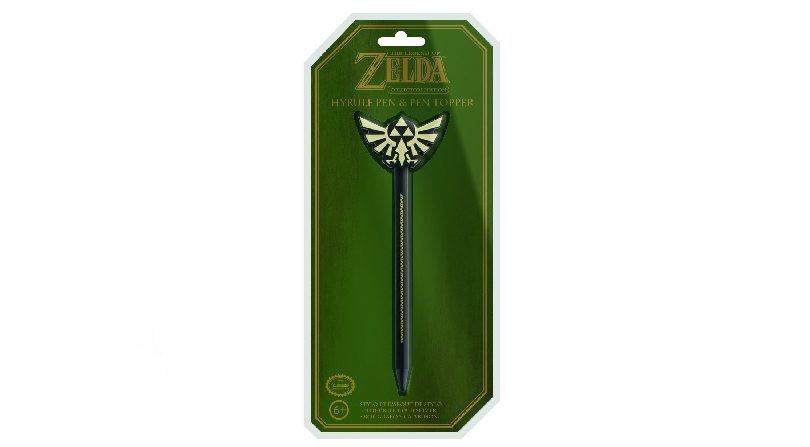 This Triforce-styled pen and pen topper is a perfect add-on gift for any Legend of Zelda fans you know! Officially licensed by Nintendo, it makes a perfect holiday gift for anyone looking to write their own version of the Legend.
THIS TRI-FORCE LIGHT WILL BANISH ALL DARKNESS
Perfect for any Zelda fan, this fun light is also currently on sale at the time of writing! When in use, the light projects the Hyrule logo onto nearby surfaces from its side panels. The light is dual powered, by either battery or USB, and comes with full instructions and a micro USB cable included in its Zelda themed packaging.
a link shirt to go with…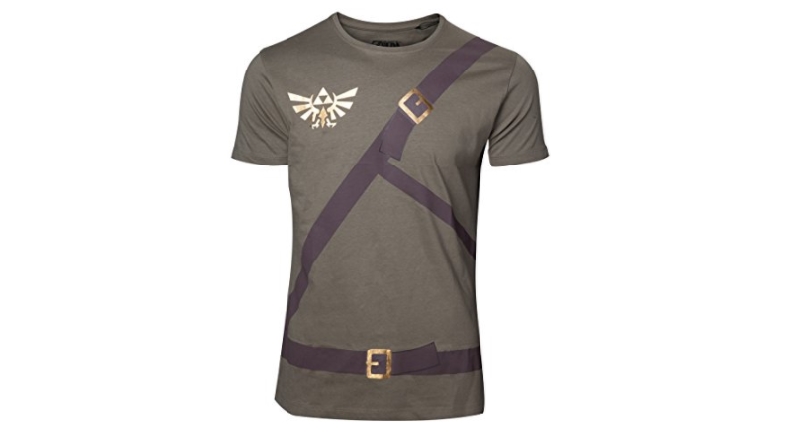 Made from 100% cotton, this Link shirt is perfect for Zelda fans, or someone who wants to do some low-key casual Link cosplay. It features Link's signature belted look, as well as a golden Tri-Force logo.
…A LINK hat!
Made from 100% acrylic, this cute Link beanie hat features Link's signature ears, to help warm your dull human-sized ears. Perfect to pair with the Link shirt for some casual cosplay, or just to show off your love of Hyrule!
PIN BADGES TO ACCESSORISE YOURSELF AND YOUR LOVED ONES
These six pin badges feature classic Zelda icons such as the Tri-Force logo, Link and Epona and other logos from timeless Zelda games like Ocarina of Time, Wind Waker and Majora's Mask. They have pin-style backs which mean you can attach them to bags, hats, shirts, banners or anything else your heart desires!
A SHIELD MUG TO DEFEND YOU FROM CAFFEINE LOWS
Styled after Link's Ocarina of Time shield, this ceramic mug stands at 11.4cm (approx. 4.5in) tall, and can be used to hold a range of hot and cold drinks that will have you and your friends/family starting your morning like a true hero.
HAVE LENGTHY, RULES-BASED ARGUMENTS WITH THIS ZELDA MONOPOLY SET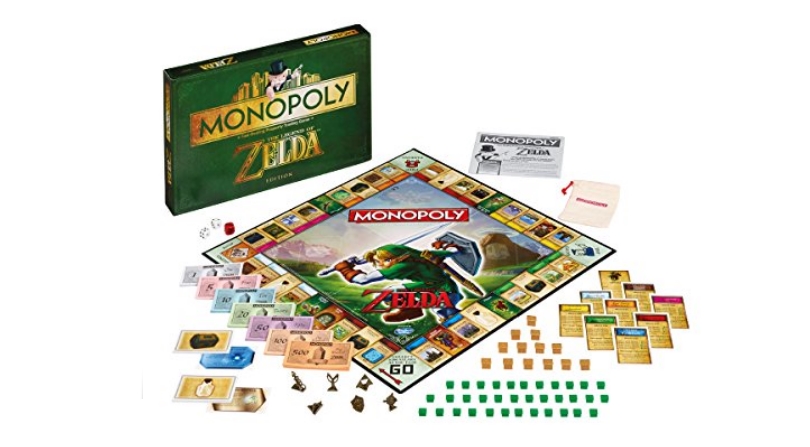 Have you ever been halfway through flipping a table towards your Grandma after she argued against you, the banker, and thought: "Gee whiz, I wish this whole experience was just more themed around video games?" Well, now you can live out your murderous rampages in the style of Legend of Zelda, with this Legend of Zelda inspired Monopoly set, which features characters and locations from the iconic game series.
FANCY EARRINGS TO MAKE ALL OF HYRULE JEALOUS
This three pack of Legend of Zelda inspired stud earrings are made of mixed metals, and measure approximately 2cm (W) x 1.5cm (H) each. They're a great, subtle way for any Zelda fan to show off their love of all things Hyrule, whilst looking fancy at the same time!
SLICE YOUR LETTERS TO TATTERS WITH THESE SWORD LETTER OPENERS
This Zelda themed letter opener features the Hylian Master Sword set in a stone stand. Perfect for keeping on desks or tables, ready to slice open important correspondence whenever your heroes are called to adventure.
SNUGGLE UP WITH A CUDDLY ZELDA PLUSH
This snuggly Zelda makes a great gift for anyone who loves princesses and plushies! Standing at approximately 16cm high, she's the perfect size for cuddling up with this winter.
…AND DON'T FORGET TO PAIR HER WITH A LINK PLUSH!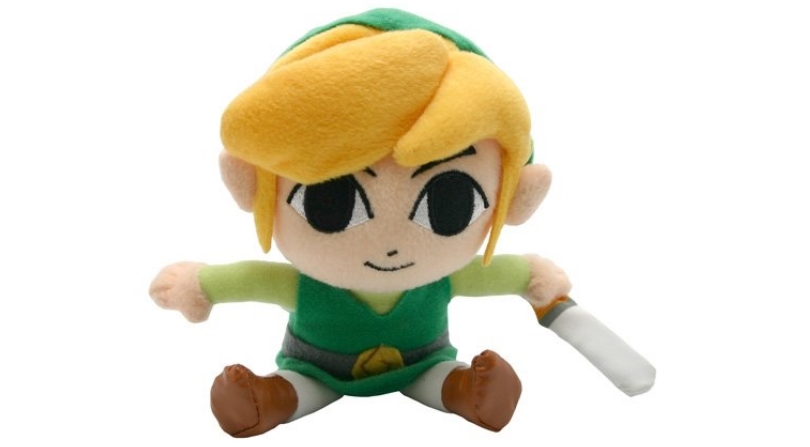 A cuddly Zelda wouldn't be complete without a cuddly Link, and twice the plushie means twice the snuggling!
BANISH THE COLD FOREVER WITH THIS DRESSING GOWN
This dressing gown (or robe, if you're an American sort) is made from 100% polyester to keep you toasty this holiday season. Sized from Extra Small to Medium, it's machine washable and features a gold Zelda design on black polyester.
KEEP THIS WATER BOTTLE HANDY FOR LONG, ADVENTUROUS JOURNEYS
When the bravest heroes you know are out exploring the lands and fighting off foes, make sure they keep hydrated with this Legend of Zelda themed water bottle! The bottle holds 18.5 ounces of fluid and is also 100% BPA free.
AND SHAKE THE DAY AWAY WITH SOME LEGEND OF ZELDA YAHTZEE
If Monopoly alone hasn't quenched your thirst for Zelda games, you can now spend the holiday season shaking Zelda-themed diced with your friends and family, suitable for ages 8 and up. It also features an exclusive treasure chest themed dice cup and a set of translucent, colourful dice.
Will you be purchasing any of these gifts? What's the best video game themed gift you've ever received? Let us know in the comments below!
Some of the coverage you find on Cultured Vultures contains affiliate links, which provide us with small commissions based on purchases made from visiting our site. We cover gaming news, movie reviews, wrestling and much more.