Developer: Wish Studios
Publisher: SIE
Platform(s): PS4
Review code supplied by publisher
There aren't many things in life that can destroy friendships and tear apart families quite like quiz games. Wish Studios' Knowledge Is Power revels in that, turning what could have been a very straightforward affair into evidence for an inevitable court battle – it certainly knows how to press the buttons.
As another PlayLink title, Knowledge Is Power's modus operandi will be familiar to anyone who's played the likes of That's You! or Hidden Agenda before. Instead of needing several controllers for multiple participants, all players can control the action through their smartphones. It's a neat idea that's supposed to be inclusive of non-gamers, but technically speaking, it's a little patchy. The same connection issues I've had with every other PlayLink game were here, making me use the PS4 as a Wi-Fi hotspot as only one of us seemed to be able to connect to our house's Wi-Fi. Annoying, but not at all a dealbreaker.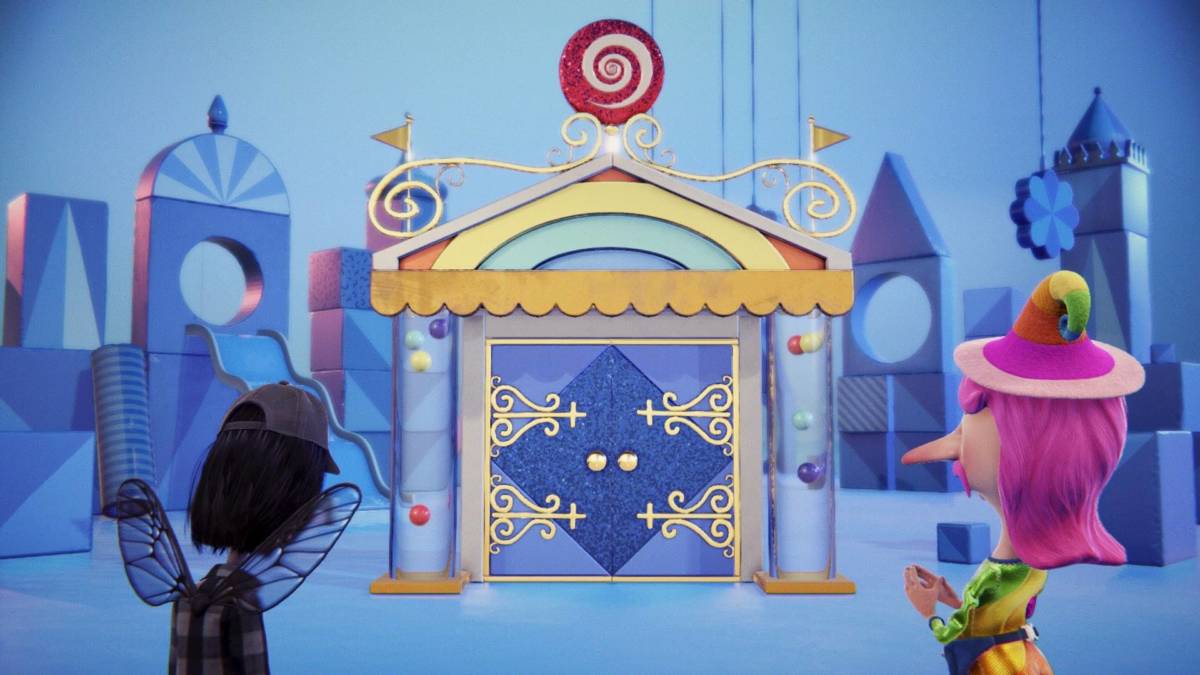 Just like Hidden Agenda, I struggled to get another five people around to play Knowledge Is Power to the fullest because, well, I don't have a lot of friends, or even nearby family to alienate with my dirty tactics. I played with my partner instead and a rivalry borne from Eastenders trivia soon followed.
If you've played Buzz! before, you know what to expect from Knowledge Is Power; they both have an eminently hateable host and plenty of quirkiness. Knowledge Is Power doesn't exactly revolutionise the quiz game genre, but it does enough to keep the experience gripping (or at least interesting) for a handful of matches.
Similarly to Wish's other PlayLink title, That's You!, Knowledge Is Power uses your phone camera to bring you into the game by applying your filtered face as a sort of portrait. The avatars available range from your standard man with a beard to a gothic fairy, so all members of the family will likely be catered for, even if it's a shame that your face couldn't be directly applied to your avatar. It's a shame, because constantly seeing this face would have made the game a 10/10.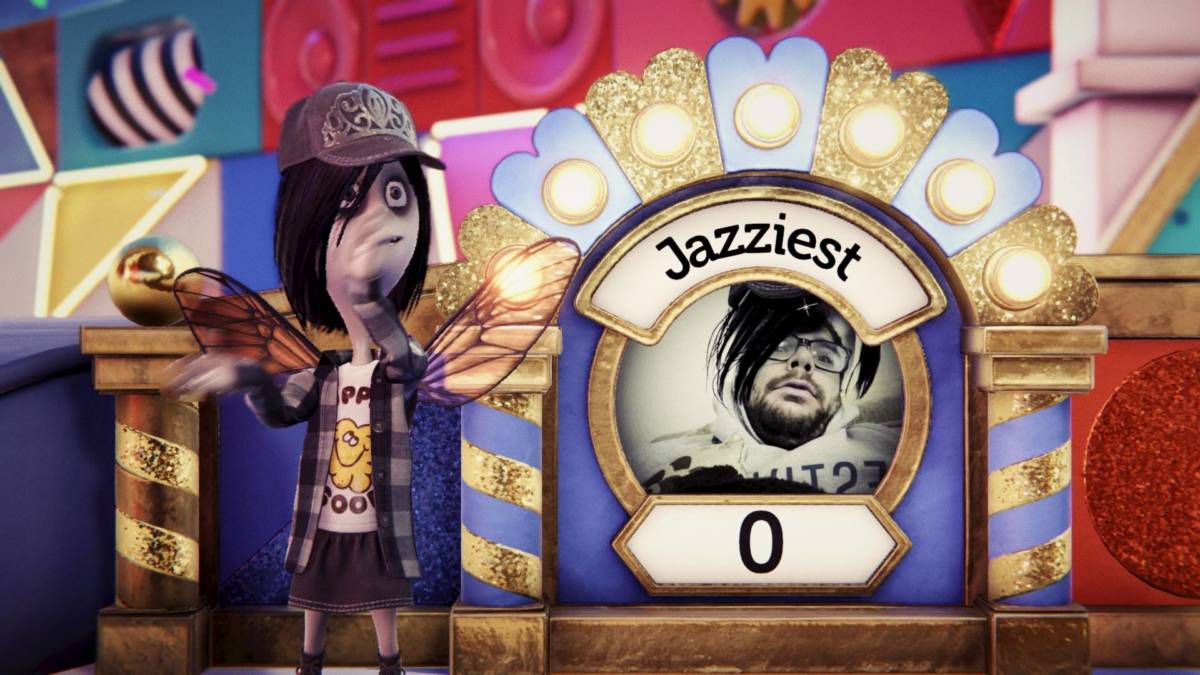 All matches play out more or less the same: answer a few questions, play a minigame, answer some more questions, play a minigame, answer some more questions, and then answer some more questions while climbing up a pyramid. Multiple-choice questions are answered through smartphones and can be as varied as who won an Oscar one minute to religion the next. There's a broad selection of trivia in Knowledge Is Power, but we mainly gravitated towards anything based on film and music.
Rather than just being a case of quickest on the "buzzer", the game throws a few handicaps at players to make things more frenzied. Before answering questions, players can choose distractions and hindrances for others to deal with, such as answers being frozen under ice, letters going missing, and a thick slime obscuring answers. Some of them are more dastardly than others –the slime is the ploy of the ungodly– but they all work well to balance matches to be less one-sided if it comes to it. If a player is losing, they can then combine two handicaps in one, though after initially winning and then falling back into second place, it was rather irritating for me to still be getting two handicaps at one point.
In-between all the multiple-choice questions, Knowledge Is Power introduces a couple of straightforward minigames. One of them asks you to sort the subject to the answer; for instance, is this a Keira Knightley or Natalie Portman movie? The other minigame is more of the same, but asks you to link two pieces of trivia instead, such as marrying the song name to its artist. I was in my element in these rounds, being the useless knowledge monster that I am, though with more than a couple of people involved, it's easy to see how frenetic these rounds could be.
Everything builds up to the final round, which sees you fighting to climb to the top of a pyramid by answering questions the quickest. Prior performances in the other rounds play a part here, giving a big advantage to whoever was in the lead by automatically placing them higher on the pyramid, but that doesn't stop it from always being intense. In our last game, it came down to the final question as we were both on an even level on the pyramid – a lot of swearing was heard soon after.
However, it was roughly during our third match when we realised that something wasn't quite right with the synchronisation between the PS4 and our phones. One of us would always be able to see the question first, sometimes even by a couple of seconds. Knowledge Is Power is supposed to be taken as a bit of competitive fun, but it can all turn very bitter if one person has a definite advantage because of technical issues. PlayLink is certainly a fun concept, but the teething problems are always so apparent that you have to question its longevity.
Ultimately, Knowledge Is Power is a fun distraction for its first few matches and will doubtless entertain plenty of families over the Christmas period, but beyond that, it's difficult to see it lasting the distance.
Some of the coverage you find on Cultured Vultures contains affiliate links, which provide us with small commissions based on purchases made from visiting our site. We cover gaming news, movie reviews, wrestling and much more.

Verdict
Offering plenty of intense moments and opportunities to stab your loved ones in the back, Knowledge Is Power's potential to become the next big party game is offset by technical difficulties and the routine nature of every game after the first few.