While at MCM London Comic Con 2018, we took the opportunity to chat with artist and comics creator Sajan Rai, whose vibrant comic and haiku work we've featured on Cultured Vultures before.
How is MCM London 2018 going for you?
Pretty good!
This isn't your first year at MCM, is it?
No, it's like, my…hundredth. (laughs) I've done it since, I think, 2013? Quite a while now.
Would you recommend MCM as a good convention for independent artists? 
I think it's a good con for independent creators, definitely. You maybe wouldn't think so because it's quite a mainstream place–there's lots of different stuff going on, lots of anime and Marvel–but there's actually a lot of independent creators here, all making awesome things. Everyone tends to sell a lot, so that's always good!
How have your haiku project been going since we last talked? 
Yeah, pretty good! I mean it all started off with just a sketch for a project, just a personal thing, but people seemed to like it, and I just kept making more! I guess it's also nice to do something that shows off more "art", whereas most of my other stuff is humour based, and that doesn't necessarily warrant "good" art. It's often better to have simpler and sillier drawings to fit with the humourous projects, which is kind of a shame because I feel like I'm at least kinda good at drawing…(laughs)
Do you have a plan for the future of your haikus and the Fantasy worldbuilding that you're doing with them? Will this eventually become a huge Tolkien-esque universe? 
I've been thinking I'd love to do a big book of them–two hundred or so. From there, I'm not sure, I'm probably going to keep doing them, but I haven't really thought about what to do with them other than present them as they are. I kind of like that it's a non-linear setting…though I have also toyed with the idea of doing animation.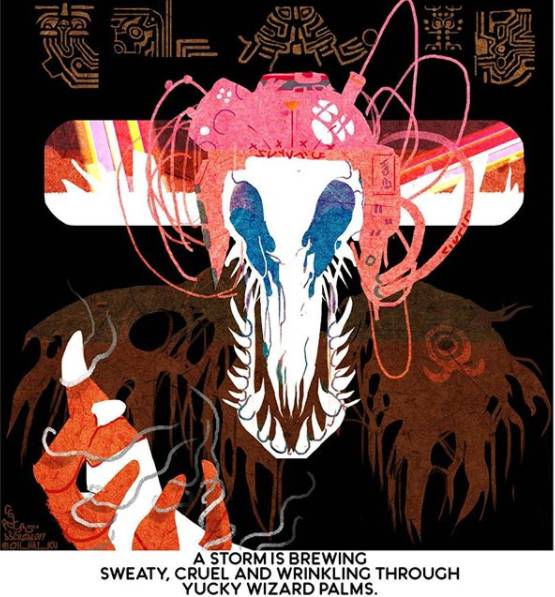 I like that they're little snippets of a bigger world, where you get an idea and an image as opposed to a huge chunk of text.
Yeah, they're fun in that sense because they don't stress me out. Having a comic, where it's one linear page after another, I have to carry on from where I left off, but with the haikus I can just draw a character and think "Oh, I like drawing this character. Maybe I can do this again in a few months!"
Do you think you'll ever go back and arrange it all chronologically? 
It's all quite loose so I might not necessarily arrange it all together, but I might tie a few of them together and perhaps even run that into other media, like what I said about potentially doing some animation…but I am also really keen on doing a big book, full of maps.
Oh I love a map! I would so buy a big haiku map!
Yes! Maps are great! Only fake Fantasy maps though, real maps can fuck off.
So, going back to animation, is it something you've had experience with, or just something you're keen to try out?
I actually studied animation, but I found it pretty stressful, so I haven't really done it since graduating. (laughs) I mean, I've done a few GIFs and stuff, but every year I think "Oh, I should do some animating", but it's a little daunting. I definitely want to get back into it at some point soon though, and tying it into the haiku project would be fun.
Do you have quite an overlap in audiences, where people like your humorous work and your more serious pieces, or is there quite a separation there? 
I think it's generally very separated, but there are people who like everything, which is really nice. Everyone has different tastes and I just like to have fun drawing different things!
Do you have any last thoughts, or anything to add?
…no. I am very tired. (laughs)
I'll put something that makes you seem intelligent.
Thank you.
"It does not matter how slowly you go as long as you do not stop" — Confucius
To find out more about Sajan's work, you can visit his website. He also has a Patreon page where you can find out more about his current projects.
Some of the coverage you find on Cultured Vultures contains affiliate links, which provide us with small commissions based on purchases made from visiting our site. We cover gaming news, movie reviews, wrestling and much more.