Hollow Knight: Silksong is one of 2023's most anticipated arrivals, following years of speculation about its creation. The insectoid-based metroidvania game has finally been given a confirmed release window by developer Team Cherry.
The full gameplay reveal of the sequel to 2017's Hollow Knight was shown at the Xbox and Bethesda Showcase in 2022 following its original announcement in 2019. Hollow Knight: Silksong began its journey as a DLC to Hollow Knight, but Team Cherry soon realised that the scope and potential of the DLC was much bigger than they'd originally believed. With over 150 new enemies and bosses, and the ability to craft weapons, tools and traps, it's easy to see why Silksong deserves to be a standalone game. For fans of the original soundtrack, Christopher Larkin will also return to collaborate with Team Cherry for the game's score, too.
Here's everything you need to know about Hollow Knight: Silksong, including what its release window is, what it's about, and where you will be able to play it.
When is Silksong Coming Out?
Xbox has narrowed the release window for Hollow Knight: Silksong. During the Xbox and Bethesda Showcase in June 2022, it was confirmed that all games shown would be released "in the next 12 months" meaning we can expect Silksong to be available before June 2023. Just this week (January 7 2023), Xbox Korea tweeted to remind fans of the game that Silksong would be "Coming Day One" to Game Pass, too.
What is Silksong About?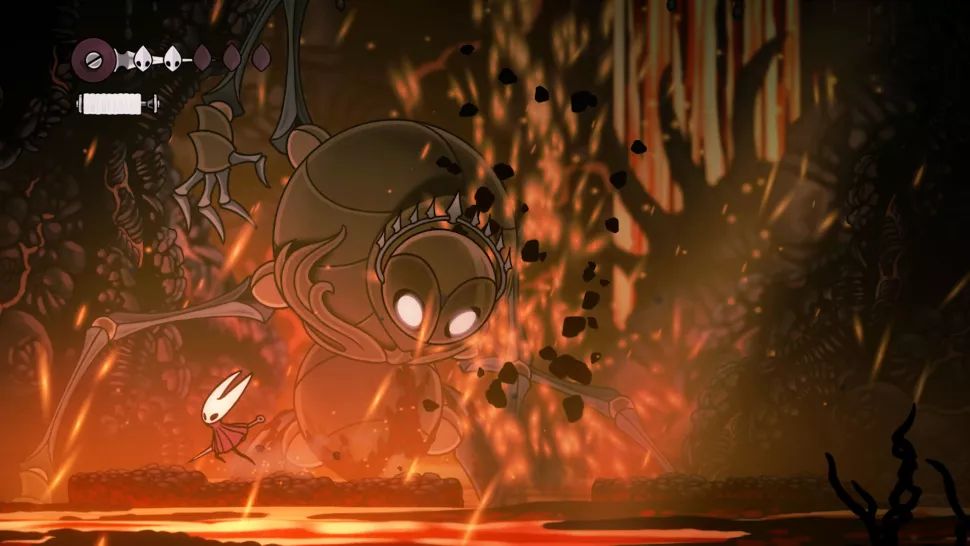 So far, a small amount is known about the plot of Hollow Knight: Silksong.
During the two-minute reveal trailer shown for the first time in February 2019, Hornet is shown being kidnapped and then breaking free to traverse lush, green fields and dark, underground passageways. Fans were given a glimpse of new enemies and bosses, as well as new allies and environments to explore. The second Hollow Knight: Silksong trailer from 2022 gave more sneak peeks at gameplay, bosses and Hornet herself, who previously had been both friend and foe in the original game, and is now promoted to main protagonist.
What is clear is Team Cherry's blend of platforming and 2D combat will be returning. We can also learn from the trailers that Hornet's healing mechanic is slightly different to that of The Knight from the original game. Whilst The Knight could gradually heal, Hornet can instantly heal up to three health bars whilst on the move, but this will empty her Silk reserves.
If you've played the original Hollow Knight, you'll know that Hornet began the story as a foe who attempted to stop The Knight's travels, but soon became an ally around halfway through the game. The very same Hornet is our protagonist for Silksong, and finds herself kidnapped and taken away to a place called Pharloom where she is "haunted by Silk and Song" according to Team Cherry. Hornet begins at the very depths of this new kingdom and must find her way to the surface, seeking out a citadel that holds the secrets behind her kidnapping.
Which Platforms Will Silksong Be On?
Despite being a day one release for Xbox Game Pass, Hollow Knight: Silksong is not an Xbox exclusive. The confirmed platforms are PC, PS4, PS5, Xbox One, Xbox Series X & S, and Switch
For a while, Silksong's availability on Sony consoles was in doubt especially as the Game Pass release had been announced, yet no confirmed PS4 or PS5 versions had been confirmed. Eventually, Team Cherry and PlayStation cleared up the confusion, taking to Twitter in September 2022 to confirm that the game would be available on both consoles.
READ NEXT: Hellblade 2: Story, Platforms & What You Need to Know
Some of the coverage you find on Cultured Vultures contains affiliate links, which provide us with small commissions based on purchases made from visiting our site. We cover gaming news, movie reviews, wrestling and much more.