Winter has come to Game of Thrones, and so too has the end for at least a handful of our heroes for episode 3 of its final season. They didn't spend a whole episode sitting around and catching up while tying up arcs for no reason at all, you know.
The Battle of Winterfell promises to be grander than the Battle of Blackwater and even grittier and uglier than the Battle of the Bastards. The Night King's rabble are currently staring down Winterfell, supposedly eager to ruin some happy endings and add some more wights to their cause. With three long episodes left to go after this one, it may not be the end of the Night King just yet, either — he wasn't seen at the end of episode 2, and we need to know more about who he actually is before he croaks.
But who will it be the end of in Game of Thrones? Who has sexed their final sex? Who's said their last C word? I have some predictions for who's kicking the bucket based on whether or not they safe, endangered, or certainly doomed.
Jon Snow
He didn't serve in the Night's Watch, become Lord Commander, make mates with the Free Folk, die, come back to life, leave the Night's Watch, liberate Winterfell, become King in the North, bend the knee, fall in love with his aunt, and then discover he is the rightful heir to the throne of Westeros to die not even halfway through Season 8.
SAFE
Daenerys Targaryen
She didn't marry a khal, happily watch her brother die, sadly watch her husband die, lose her baby, become infertile, become the Mother of Dragons, liberate regions all across Essos, gather the largest army the world has ever seen, friendzone Jorah, fall in love with her nephew, and then discover a threat to her claim to the throne to die not even halfway through Season 8.
SAFE
Arya Stark
Arya still has too many names to tick off her list to call it a day because of some spooky lads. Plus, it would be far too obvious to kill her off after showing her panicking while running away from something in the season 8 trailer, and she also has that spear for something.
SAFE
Sansa Stark
Sansa's avoided death and sticky spots many-a-time, but something about the upcoming battle tells me she may not get lucky for much longer. She is also very annoying.
ENDANGERED
Bran Stark
Look, all I am saying is that the Night King needs Bran to complete his plan and there are three episodes left after this one, each almost as long. I don't think Jon and Daenerys slapping down Cersei is going to take three whole episodes.
DOOMED
Tyrion Lannister
While Tyrion's luck on the battlefield must be about to run out, he is owed one final confrontation with his sister — the woman who has tried to kill him on more occasions than a calculator can compute — so his time is not up just yet.
SAFE
Jaime Lannister
Jaime is in a similar boat to Tyrion in that he must meet Cersei at least one more time (I have a theory he will repeat his Kingslayer duties again as she becomes crazier and crazier, though that's for another time), but his travelling to Winterfell to make amends is worryingly redemptive. Still, I think he will pull through, even if he is on the frontlines.
SAFE
Ser Brienne of Tarth
You know that beautiful scene in episode 2 where her entire life's strife is legitimised during a heartwarming moment in which she is honoured as a knight by Jaime, who she loves, while surrounded by those she's met and earned the respect of along the way? Yeah, bye Brienne.
DOOMED
Gendry
Gendry has been floating around in the background forever as has no real claim to the throne. Remember when he rowed away on that boat and didn't appear for a long while? I believe he only came off that boat to have sex with Arya and then die, giving her another reason to become an even darker character. The bastard is going to get bastarded by some undead bastards.
DOOMED
Podrick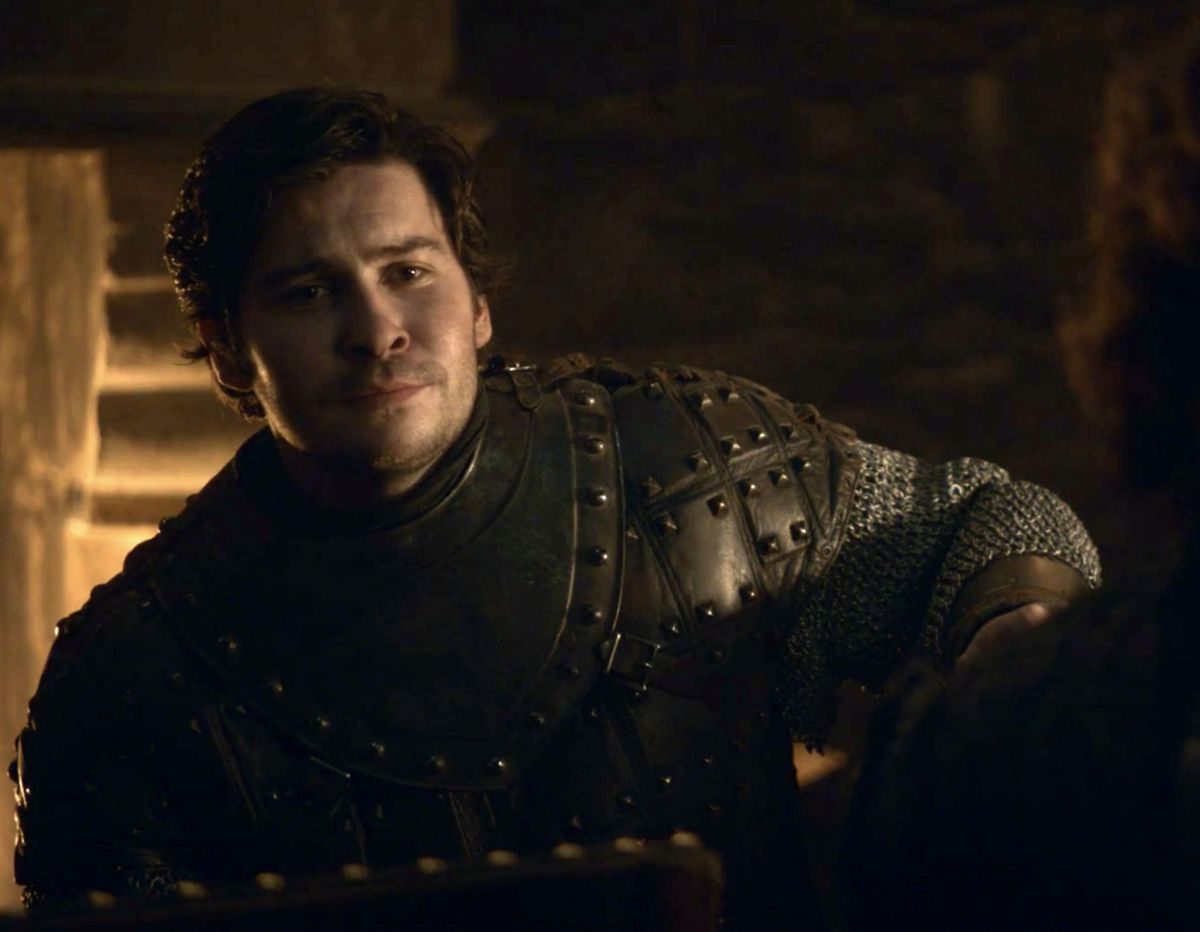 No amount of lovely songs will stop him from dying alongside Brienne in what is going to be an utterly heartbreaking moment.
DOOMED
Theon Greyjoy
Theon has now fully redeemed himself and had a good old hug with Sansa, so he's definitely dying in one last heroic act. In fact, if he doesn't die in episode 3, I will raise my own iron fleet and kill him myself, just because that's how his arc needs to end.
DOOMED
Ser Davos
By his own admission (multiple times, in fact), Davos is not the best fighter. The unofficial right hand man to Jon Snow will, therefore, not be best placed to repel thousands upon thousands of dead people. The Onion Knight can only wing it so many times.
ENDANGERED
Tormund
Brienne will never love him, and the show is getting too serious now to have any kind of comic relief. Inject the glum depression directly into my veins, Benioff and Weiss. That said, I can see him taking a serious amount of names in the battle, so I wouldn't be surprised to see him pull through.
ENDANGERED
Grey Worm
As soon as he mentioned escaping to somewhere with Missandei after the war was over, he had signed his death warrant.
DOOMED
The Hound
I'm sorry, but I refuse to accept that The Hound won't take on The Mountain as part of the final battle against Cersei.
SAFE
Ser Jorah Mormont
It's been a little while since Daenerys has had something tragic happen to her. She's due. Also, let's not forget how protective he was of his cousin in episode 2, which may be his undoing, as well as the fact that he now has a prestigious sword that his "disgrace" would never allow him to have. His arc is pretty much done.
DOOMED
Varys, Sam, Gilly & The Rest
Look, something bad is going to happen down in the crypts. I can feel it.
ENDANGERED
Think I am at all close in my death predictions for episode 3, or am I being too cutthroat? Will everyone in fact die, or just Theon (he's not getting out of Winterfell alive, okay)? We'll find out this Sunday when it airs.
MORE THRONES:
– Game of Thrones & What Makes A Great TV Show Finale
– Game Of Thrones: Which Is The Safest Castle In Westeros?
– Everything You Missed In Game Of Thrones: Season 8 – Episode 2
Some of the coverage you find on Cultured Vultures contains affiliate links, which provide us with small commissions based on purchases made from visiting our site. We cover gaming news, movie reviews, wrestling and much more.