Another week of relatively uninvolved challenges for Fortnite Season 6. This week sees the return of Season 5's timed trials. This challenge functions identically the previous iteration with two changes. The amount of trials needed to complete the challenge reduced to three and their starting locations have been altered. The starting locations aren't particularly well hidden, but they do look like Rifts from a distance which can confuse things.
When you interact with one them, a bunch of stopwatches will spawn (usually in the air). The idea is to run through every single stopwatch before the time runs out to complete the challenge. If you're a real building pro, you can probably do it in one go, building the route as you head to each stopwatch. For the less incredible among us, it's generally easier to do a 'dry run' where you take it slowly and build the route over a couple of tries before running the entire gamut in a single shot. Just beware: building large notable structures and loitering in a single location for a long time might end in an untimely death.
We only found five of the timed trials start locations so far, but there is a high likelihood others exist. However, you only need three and a large portion of them are relatively close to each other. Without further ado, here is a map of their locations and a screenshot of each.
Fortnite Timed Trial Locations
Dusty Divot Timed Trial
This timed trial is located just west of Dusty Divot on the enormous hill that overlooks it. F5 on the main map's grid.
Shifty Shafts Timed Trial
Just south of Shifty Shafts is a large suspension bridge, on the west exit of this bridge lies a timed trial. Resting on the intersection of D7, E7, D8 and E8.
Snobby Shores Timed Trial
Northeast of Snobby Shores is the – now dilapidated – 'supervillian' base from Season 4. The timed trial is located at the very top of this hill, located at the intersection of B4 and B5 on the main map's grid.
Tilted Towers Timed Trial
The large hill to the south of Tilted Towers with the small hut perched upon it contains a timed trial. D6 on the main map's grid.
Tomato Temple Timed Trial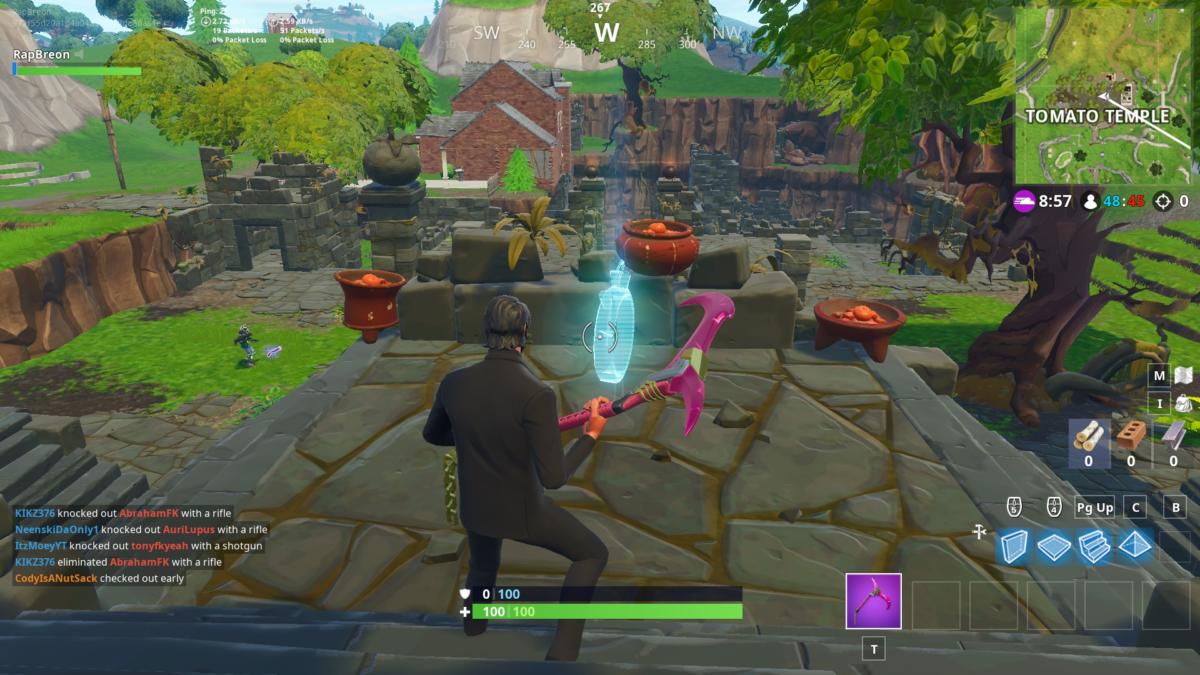 The final timed trial is right at the western steps of the Tomato Temple ziggurat. This appears as G4 on the main map's grid.
The trick to these challenges isn't so much finding them, but completing the time trial in time. This really just comes down to your proficiency with building. You can make it a bit easier by choosing time trials to complete that are quite far away from the Battle Bus route. This will help to reduce the amount of hostiles lurking around. This should give less proficient builders time to build the correct course and complete it without suffering a frustrating death.
That's about all there is to it for this week, there isn't much requiring a dedicated guide or locations list. As usual, however, we've still published our weekly guide overview that you can check out here. Happy hunting.
READ NEXT:
– Fortnite Season 6: Week 2 Map Changes – Floating Island, Loot Lake & More
– Fortnite Season 6 Guide: Visit All of the Corrupted Areas – Week 2 Locations
– Fortnite Season 6 Guide: Visit All of the Corrupted Areas – Week 2 Locations
Some of the coverage you find on Cultured Vultures contains affiliate links, which provide us with small commissions based on purchases made from visiting our site. We cover gaming news, movie reviews, wrestling and much more.