Competitive Fortnite players are finally getting their wish with the arrival of a proper ranked mode for the massive multiplayer hit. While Arena was a good alternative, it just didn't feel like a true ranked mode for the game, but that's now what we're getting. From v24.40, Fortnite will be getting a Ranked mode for both Battle Royale and Zero Build that is replacing Arena, one that is very imaginatively called Fortnite Ranked.
From the different ranks you can strive towards to how exactly you can rank up, here's everything you need to know about Ranked mode in Fortnite.
Fortnite Ranked Explained
When Does Fortnite Ranked Launch?
Fortnite Ranked will be added to the game with the v24.40 patch for Fortnite, which will release on Wednesday, May 17th, 2023.
The first season of Fortnite Ranked will be called Season Zero and will last until the launch of the next season, Chapter 4 – Season 3.
How To Play Fortnite Ranked
Fortnite Ranked will simply be a toggle selection for everyone when it comes to selecting what mode they want to play in Fortnite.
Everyone is eligible to play Fortnite Ranked, but new players will first have to complete a quest to Outlast 500 Opponents (at least five matches of regular Fortnite) before they are able to play. This is probably to limit the amount of smurfs (a higher skilled player playing on lower level accounts for an easier time) that will play the mode, as well as to give genuinely new players a better understanding of how the game works.
Fortnite Ranked Ranks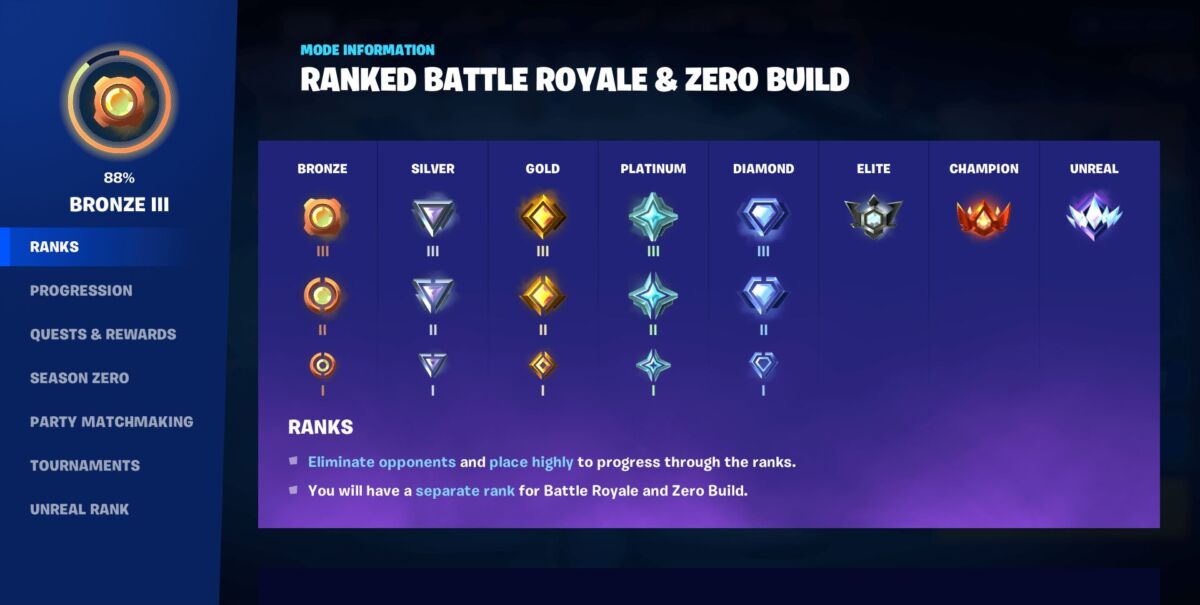 Here is each rank of Fortnite Ranked:
– Bronze I
– Bronze II
– Bronze III
– Silver I
– Silver II
– Silver III
– Gold I
– Gold II
– Gold III
– Platinum I
– Platinum II
– Platinum III
– Diamond I
– Diamond II
– Diamond II
– Elite
– Champion
– Unreal
Once you make your way through all three stages of a specific rank, your next rank up will then be for the next higher rank. So, if you're Silver III, you then want to try and become a Gold I. Once you get to Elite, you will then only have one tier to rank up from, but bear in mind that from this rank upwards it's for the cream of the crop in Fortnite.
Unreal is the highest rank, and once players reach it during a Ranked Season, they won't be able to rank down. Unreal players will also become part of their own special Unreal ranking system on an Unreal leaderboard.
How To Rank Up in Fortnite Ranked
Players will be able to make progress with their Fortnite Ranked rank by essentially doing well in their matches.
Here are the two obvious things that factor into ranking progression:
– Match placement
– Elimination
If you eliminate a higher rank player, it will help you progress more than eliminating a lower level player. Similarly, eliminating players later in the match will also help you improve your rank more than eliminating players early.
If you're playing as a team, everyone will be rated the same, even if one player performs better than the other.
How Does Fortnite Ranked Matchmaking Work?
Fortnite Ranked matchmaking depends on how you're playing and who you're playing with.
If you're playing the game in Solo modes, you will simply play against players of a similar rank.
However, if you're playing with others, matchmaking will be determined by the highest ranked member of your team. For instance, if you're playing with a Diamond player, the game will try and match you with other Diamond players, even if you are Bronze ranked.
Fortnite Ranked Supported Modes
Here's where you can play Ranked for the start of this new mode:
Battle Royale
– Solo
– Duos
– Squads
Zero Build
– Duos
You'll have separate ranks for both Battle Royale and Zero Build. Interestingly, only Duos is available to start off with in Zero Build.
Fortnite Ranked Gameplay Differences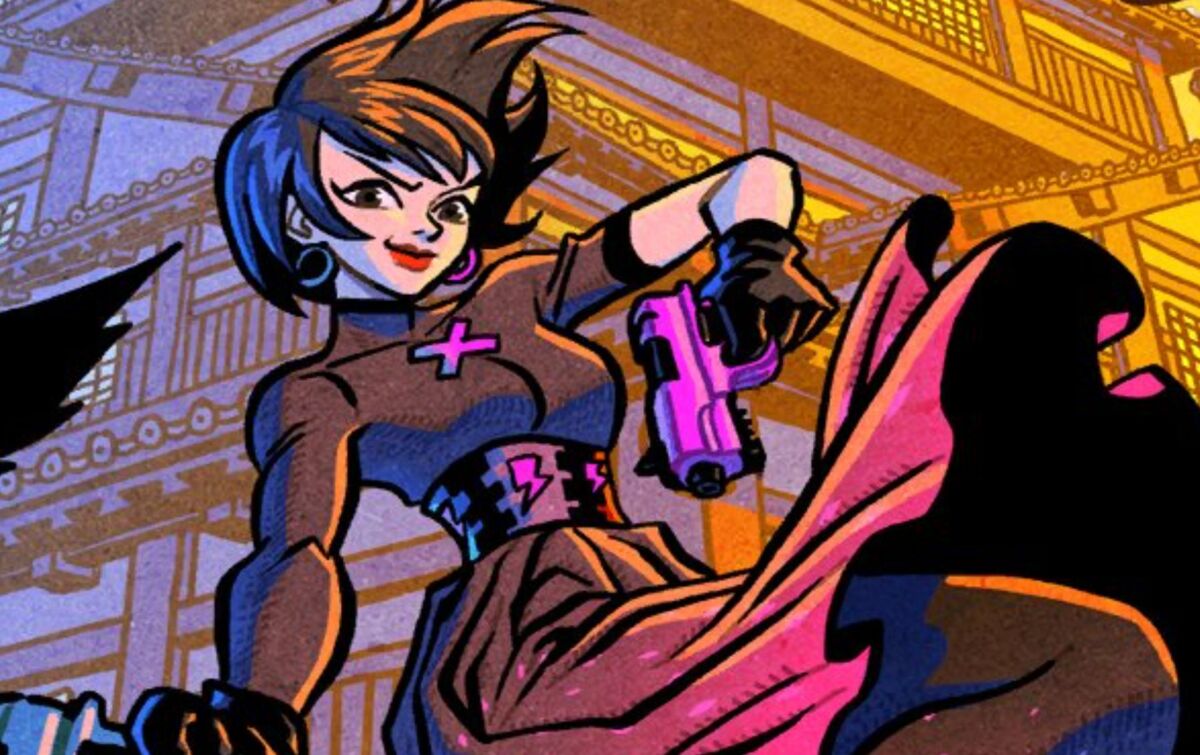 Fortnite Ranked will initially resemble a normal game of Fortnite when it launches, with no major differences. The loot pool and mechanics will be exactly the same. However, the following changes will be made to the overall gameplay experience when v24.40 launches:
Material caps will be decreased from 999 to 500.
Harvesting rates will be slightly increased.
Players will drop 50 of each material when they are eliminated.
Otherwise, as of the first launch of the mode, it will be exactly the same game.
Is Fortnite Ranked Available On All Platforms?
Every platform that Fortnite is currently playable on will be supported with Fortnite Ranked.
This means PC, PlayStation 5, PlayStation 4, Xbox Series X & S, Xbox One, Nintendo Switch, and mobile will all be able to play Fortnite Ranked.
Fortnite Ranked Rewards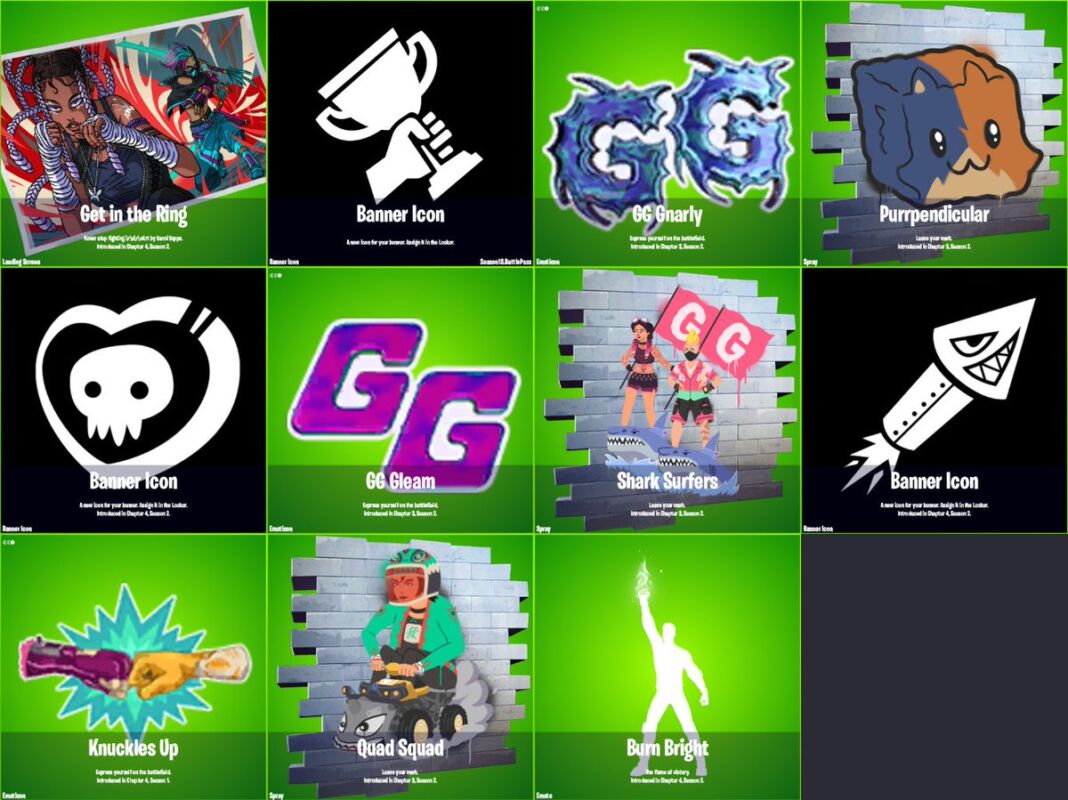 Ranked players will get access to Ranked Urgent Quests each match. Complete these within the same match (progress doesn't carry over between matches) and you will unlock free Seasonal cosmetic rewards.
Here's every Ranked reward for Season Zero of Fortnite Ranked:
Burn Bright emote
Unlock all Ranked Rewards
Banner Icons
Complete 10, 25, and 40 Ranked Urgent Quests
Quad Squad Spray
Complete 50 Ranked Urgent Quests
Shark Surfers Spray
Complete 35 Ranked Urgent Quests
Purpendicular Spray
Complete 20 Ranked Urgent Quests
Get in the Ring Loading Screen
Complete 5 Ranked Urgent Quests
Knuckles Up Emote
Complete 45 Ranked Urgent Quests
GG Gleam Emote
Complete 30 Ranked Urgent Quests
GG Gnarly Emote
Complete 15 Ranked Urgent Quests
These rewards are all subject to change; it's likely that they will be entirely exclusive to Season Zero and cannot be earned once Chapter 4 – Season 2 ends.
For Season Zero, the final reward is the Burn Bright Emote. We currently don't know what this looks like but we'll update this guide once we do, but we do know that it'll be free.
Fortnite is free-to-play on PC via the Epic Games Store, PlayStation 5, PlayStation 4, Xbox Series X | S, Xbox One, Nintendo Switch, and Android.
MORE FORTNITE: Fortnite Goku Black Skin: Price, Release Date & What You Should Know (UPDATED)
Some of the coverage you find on Cultured Vultures contains affiliate links, which provide us with small commissions based on purchases made from visiting our site. We cover gaming news, movie reviews, wrestling and much more.