While everyone obsesses over player ratings of the likes of Cristiano Ronaldo and Leo Messi every year, it's always the young players who are the most fascinating ratings overall. FIFA 22's wonderkids point towards the future of the sport itself, with many breakout stars from FIFA 21 now being household names having made big moves in real life. Before that happens, though, you can buy some cheap young players in FIFA 22.
Players who want to naturally grow and cultivate their players in Career Mode will find a lot to like in these high potential FIFA 22 wonderkids, though none of them are bad options for FUT either. However, if you're looking to create a dynasty over many years in FIFA 22's Career Mode, this is the list you will need.
Our FIFA 22 wonderkids guide ranges from the youngsters who are seemingly on the verge of breaking out in a big way to the somewhat obscure that only EA's scouts are aware of. Ranging from wingers with fast pace to dependable hands at the back all the way to potential megastars, here are the FIFA 22 young players you should be looking to sign on the cheap for under €5,000,000 and make use of their dynamic potential.
FIFA 22 Wonderkids: Goalkeepers | Defenders | Midfielders | Wingers | Strikers
FIFA 22's Best and Cheapest Wonderkids
Maarten Vandevoordt (GK)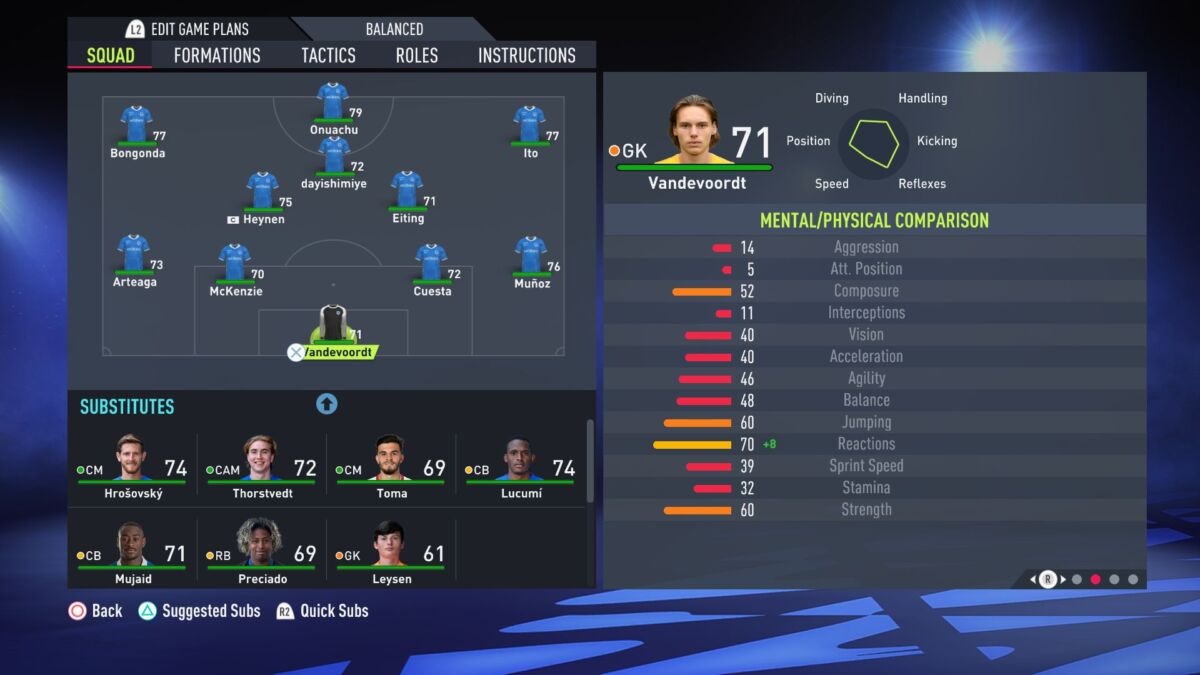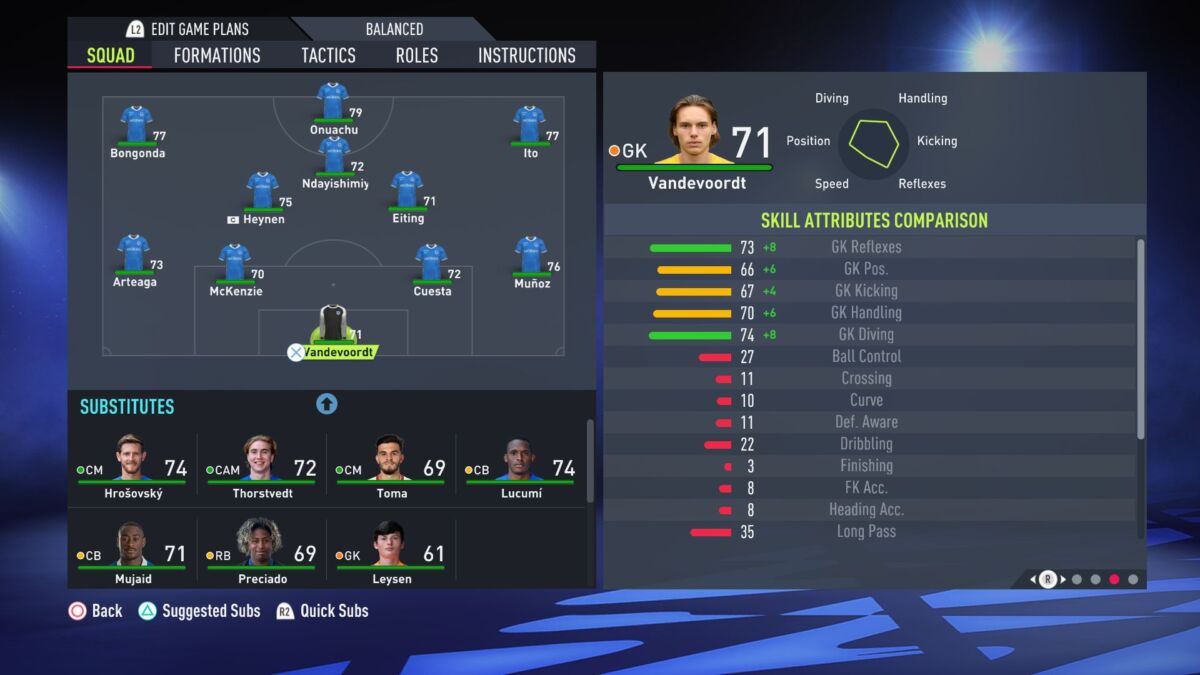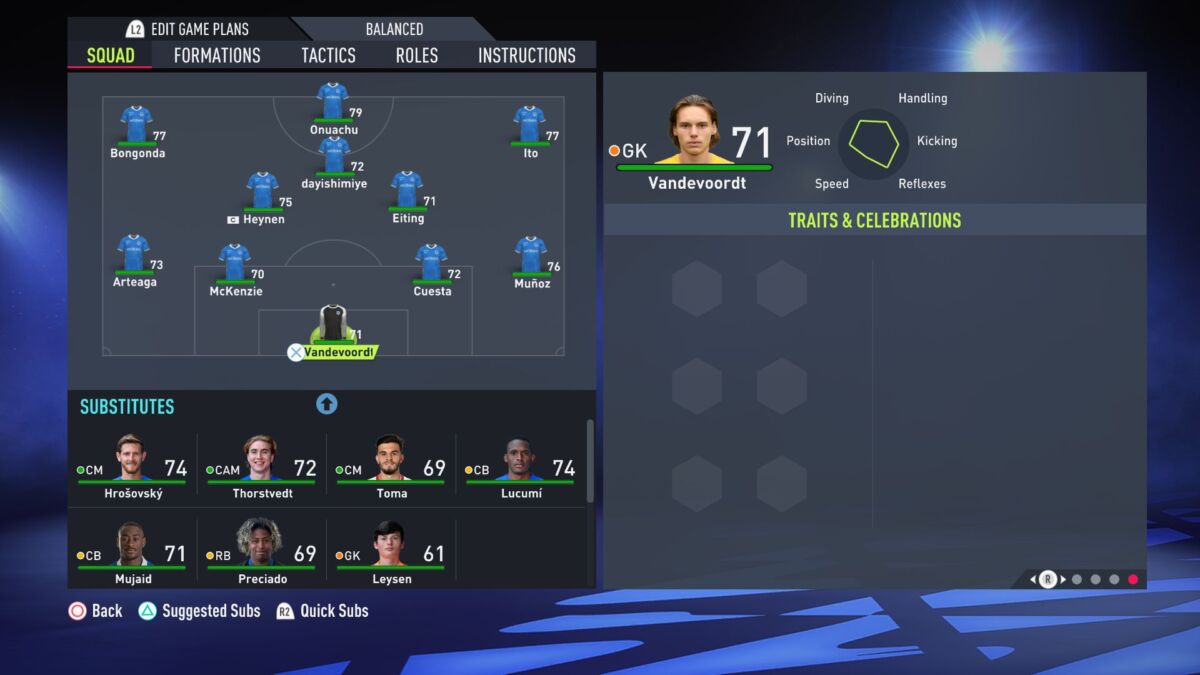 Age: 19
Rating: 71
Potential: 87
Nationality: Belgian
Current Club: KRC Genk
Value: €4,300,000
A true FIFA stalwart, Maarten Vandevoordt surely isn't far away from being snapped up by a big European club by now. Even at 19, he's better than most backup options across Europe and has very high potential to get even better over time.
With high reflexes and diving, Vandevoordt could do with some work on his distribution, but otherwise he is a tall wonderkid goalkeeper who will probably save you a tonne of money in your Career save in the long run.
Charis Chatzigavriel (GK)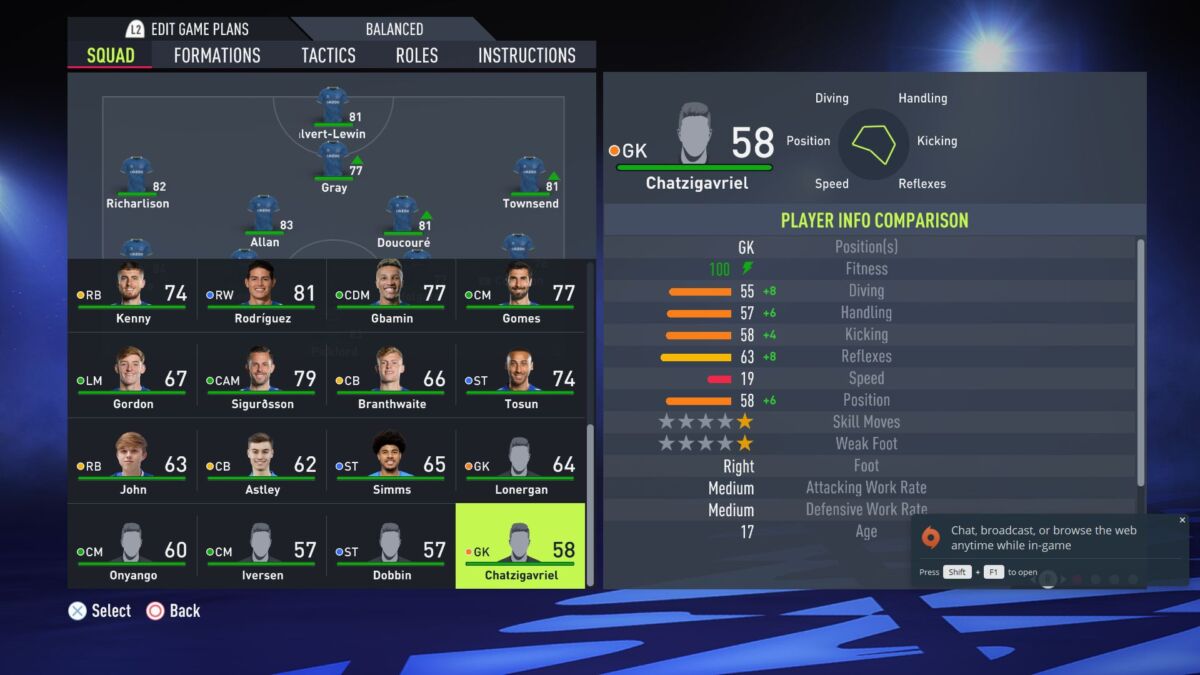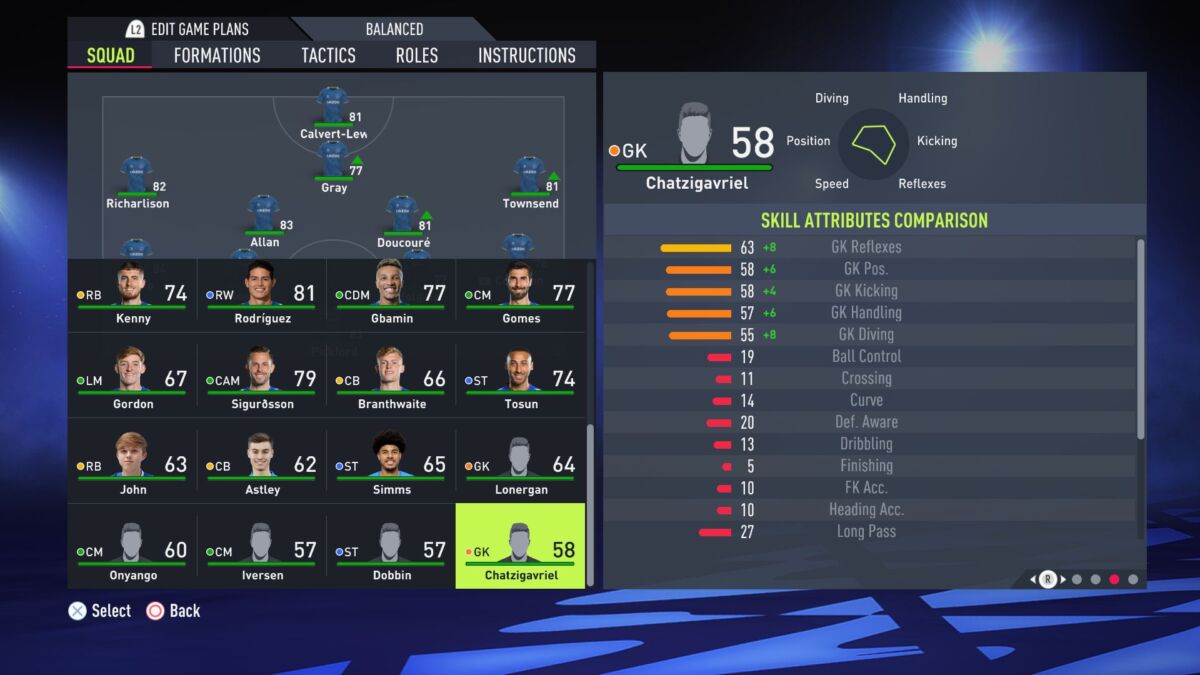 Age: 17
Rating: 58
Potential: 84
Nationality: Cypriot
Current Club: Free Agent
Value: N/A
The best growth player in the game, meaning that he has the biggest difference between starting rating and potential rating, Charis Chatzigavriel feels like a very random inclusion from EA. Very little info on the actual, real life player is available online and he actually starts off as a free agent in the game. Sort of.
In FIFA 22, Charis Chatzigavriel will randomly sign for another club before you start, meaning that you cannot actually sign him for free. However, his contract at these clubs is only 12 months long, meaning that you can easily negotiate for him on a cut price deal. Even if you do end up having to spend money, this goalkeeper's potential is worth it.
Armel Bella Kotchap (CB)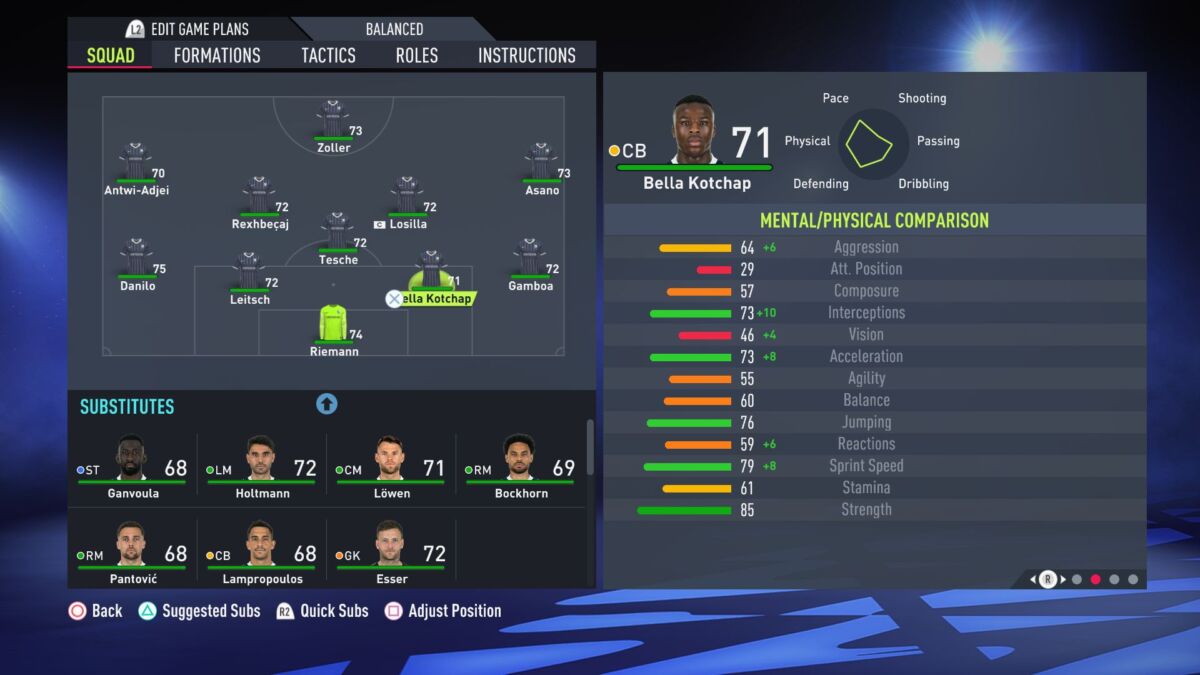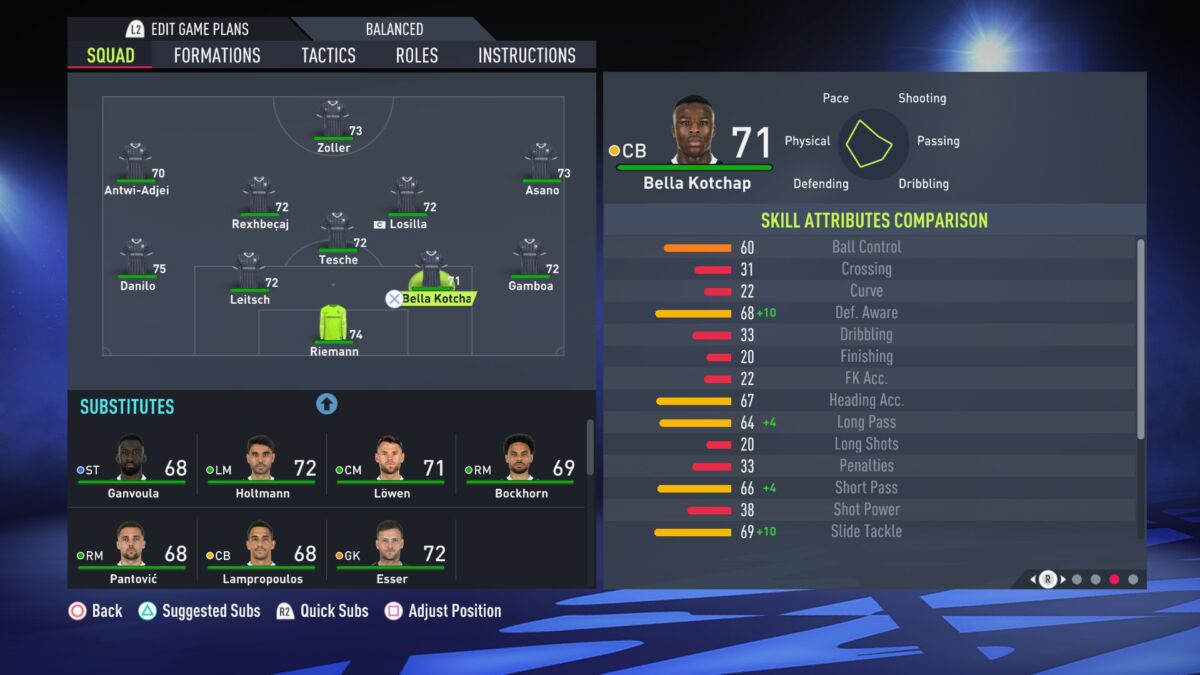 Age: 19
Rating: 71
Potential: 85
Nationality: German
Current Club: VfL Bochum
Value: €4,200,000
Another wonderkid who is due a big break, Armel Bella Kotchap is a defensive unit who was heavily linked with a move to the Premier League in the 2021 summer transfer window. While it might not have worked out for him, it works out great for you in FIFA 22.
A super strong defender, even at just 19, Bella Kotchap has a suprising amount of pace for someone his size, both in terms of height and weight. If you're looking for the potential Kurt Zouma and are at a European club trying to force their way upwards, he should really be your guy.
Jarrad Branthwaite (CB)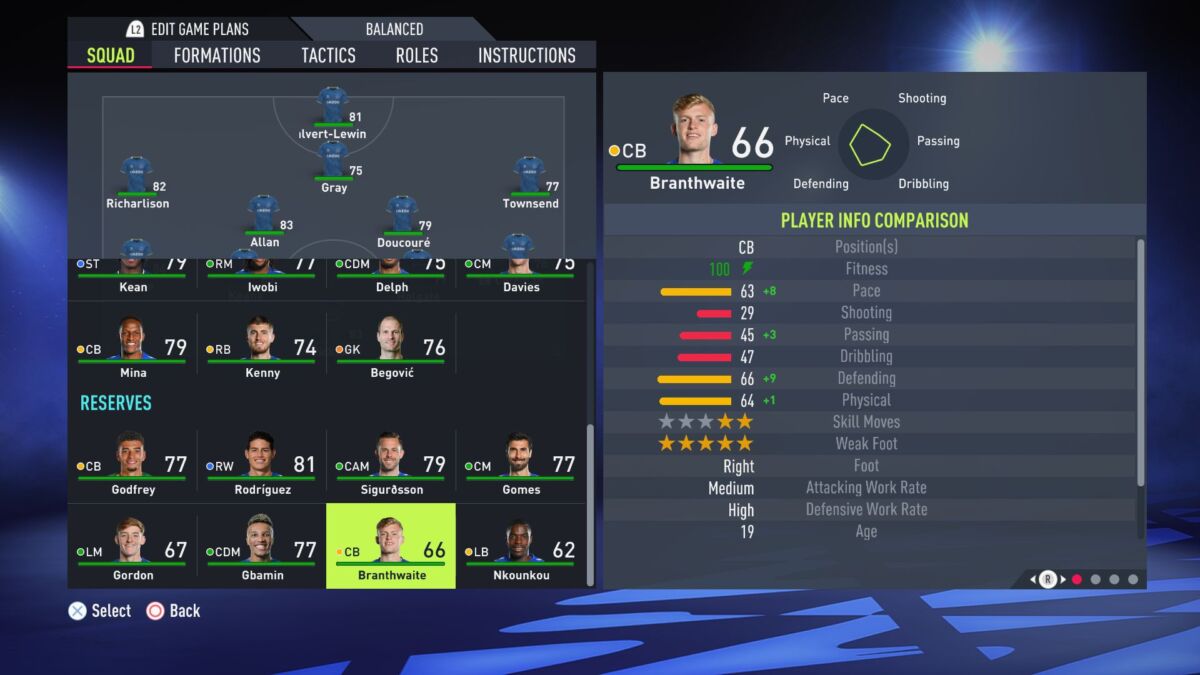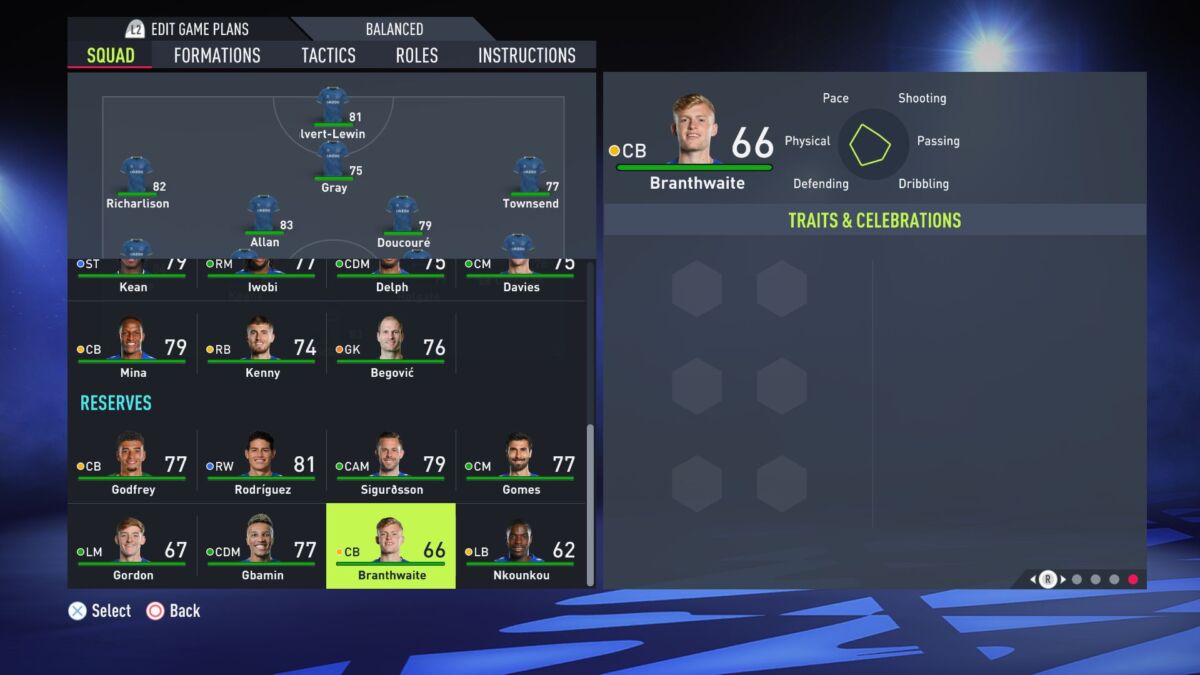 Age: 19
Rating: 66
Potential: 84
Nationality: English
Current Club: Everton
Value: €2,100,000
Pair Bella Kotchap with Everton's Jarrad Branthwaite and you may have a defensive partnership that will see you through your entire save. While he's not yet broken through Everton's system in the first-team, it feels inevitable that he will.
Branthwaite is a great, classic center-back in FIFA 22 in the same that any long ball that comes near him will be batted away with a header. He's not flashy at all, but if you want a powerful defender who can do the most important parts of the job, Jarrad Branthwaite is absolutely worth buying on the cheap.
Timothée Pembélé (RB)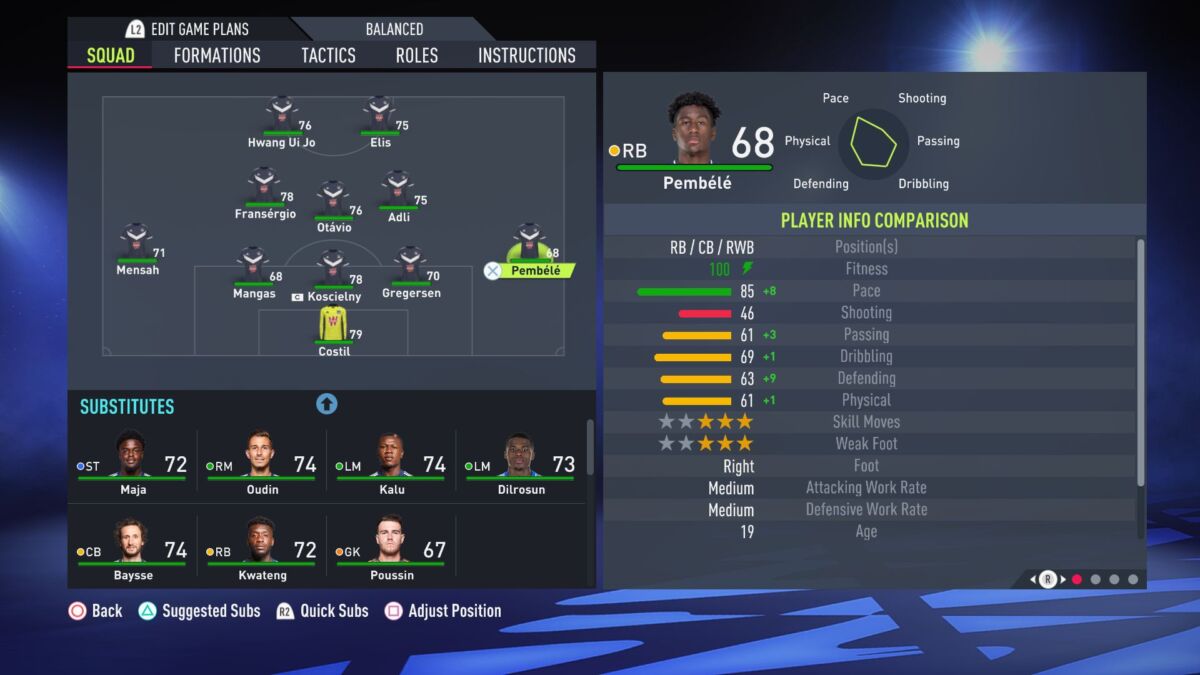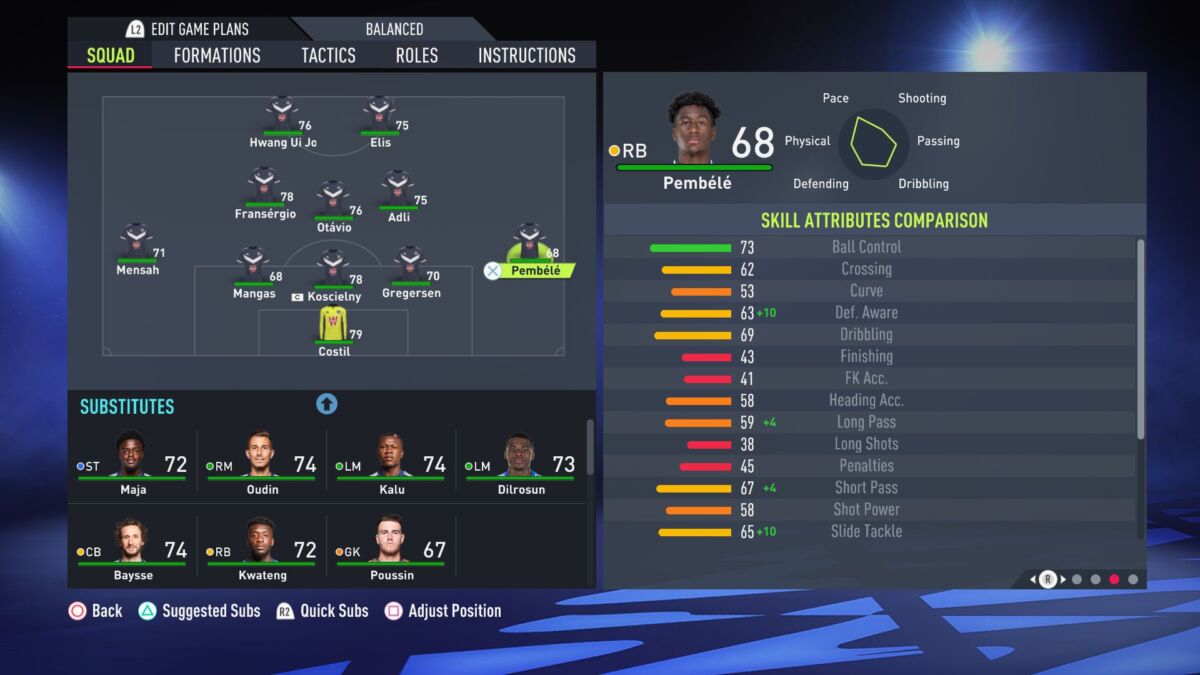 Age: 19
Rating: 68
Potential: 81
Nationality: French
Current Club: Girondins de Bordeaux
Value: €2,700,000
A French talent who's already making headlines in his country, Timothée Pembélé is pretty much the modern full-back/wing-back summed up in one player: exceptionally fast, but perhaps lacking on the actual defensive side of his game.
Still, at just 19, you have plenty of time to work on his positioning, tackling, and general mental skills with the right training plan. The best way to cultivate his potential, though, is to play him, so if you have space for a second choice RB, he could do well with some cup experience.
Álex Balde (LB)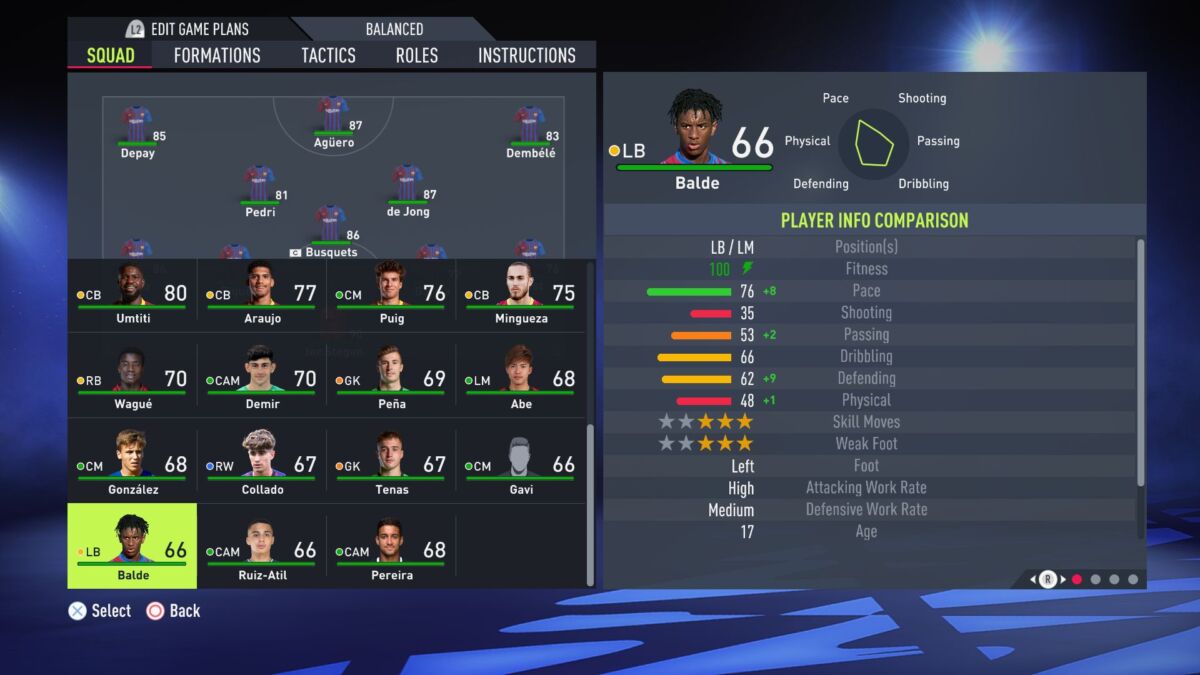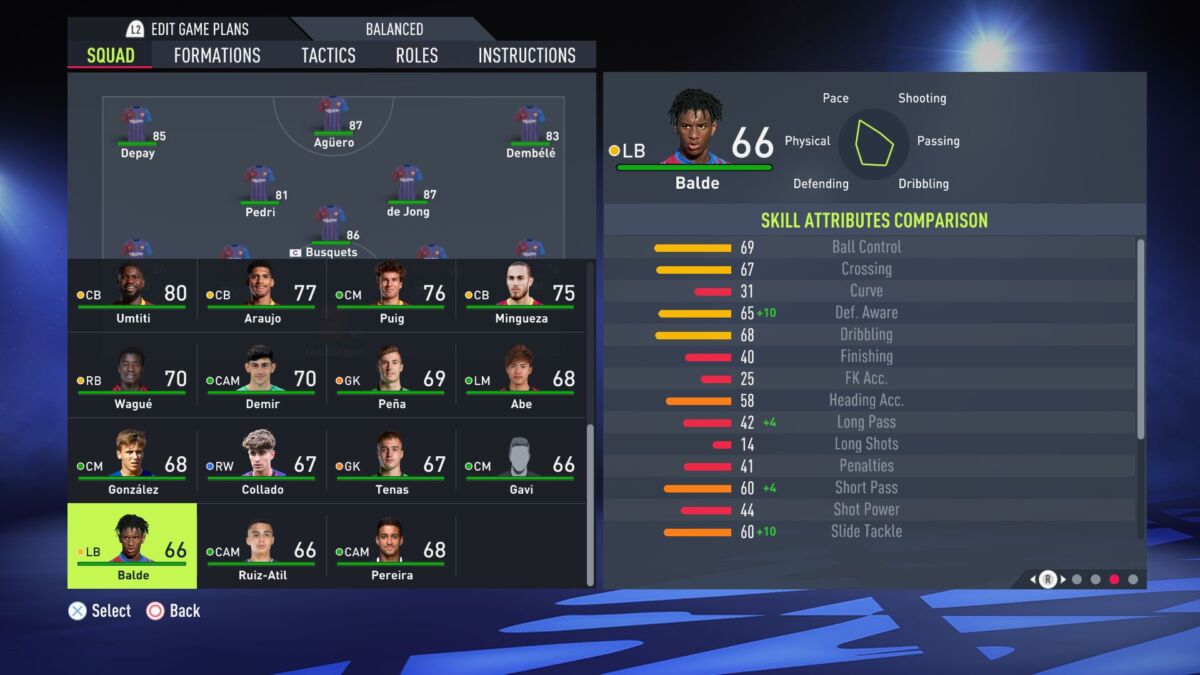 Age: 17
Rating: 66
Potential: 82
Nationality: Spanish
Current Club: Barcelona
Value: €2,000,000
A young left-back who can also handily fill in at left midfield if required, Álex Balde is highly thought of at Barcelona, even if his potential rating in FIFA 22 doesn't pick him out as someone who will be a global superstar. Still, 82 potential is nothing to sniff at.
Plying his trade in Barcelona reserves, Álex Balde is more or less wasted and will only really flourish when playing constantly. Either on a loan at a lower league club or as a club with an eye on the future, Balde is one left-back in FIFA 22 that will at least provide solid cover for all kinds of clubs.
Romeo Lavia (CDM)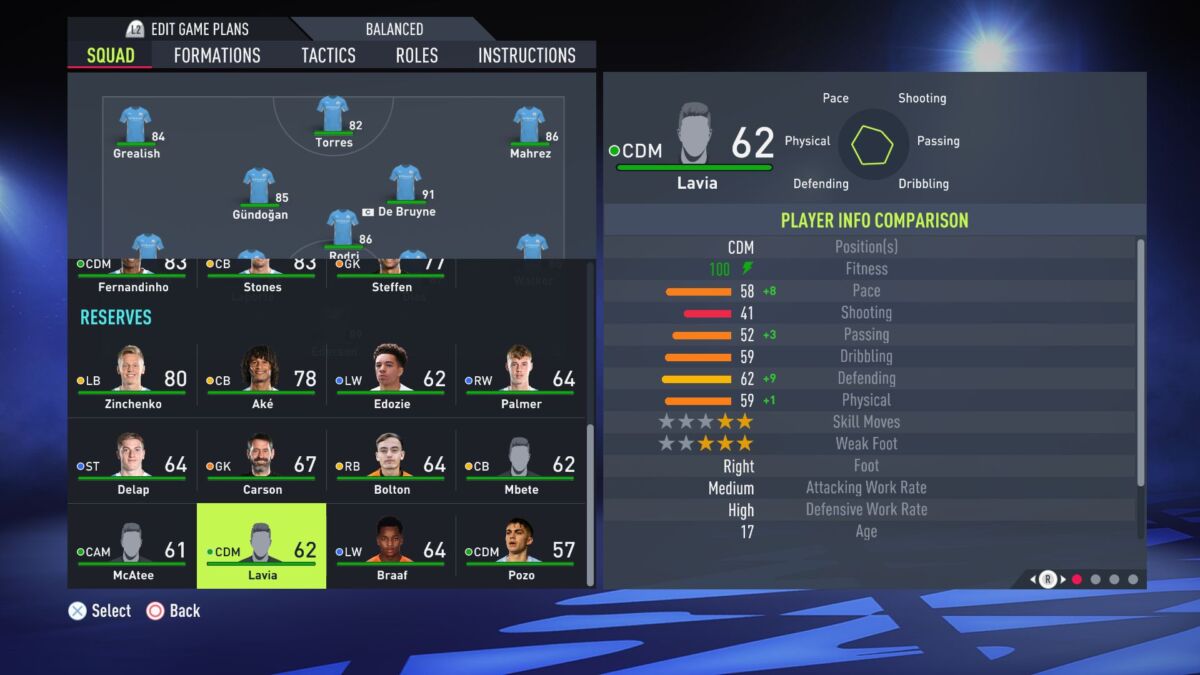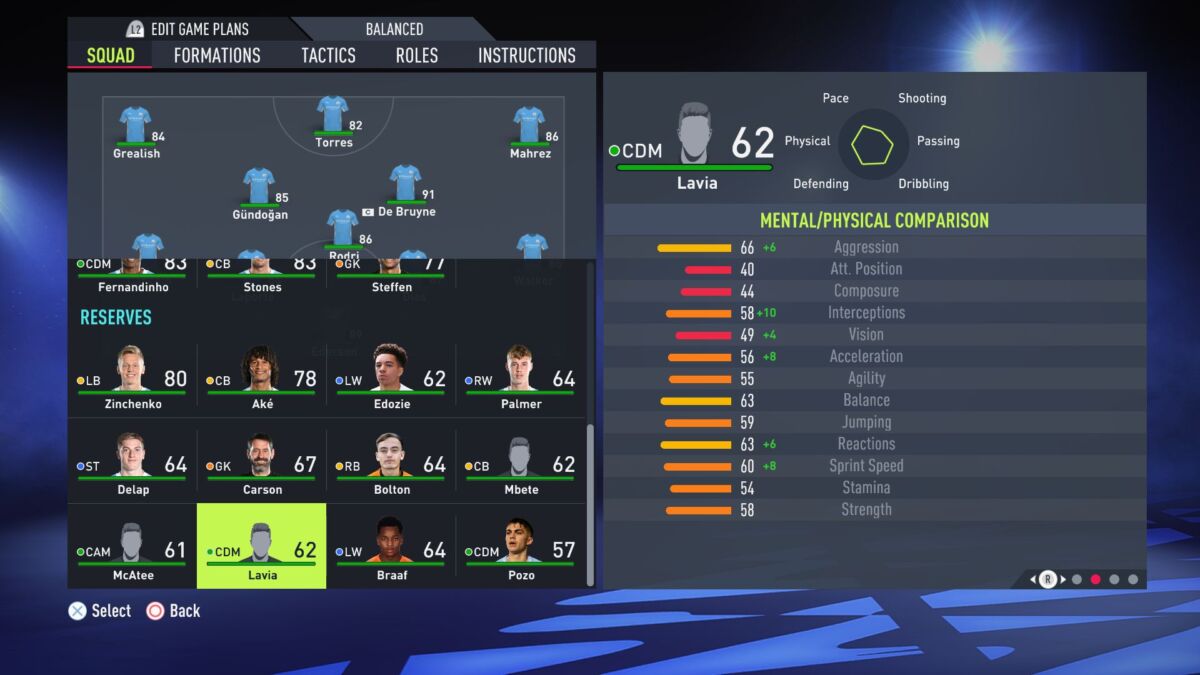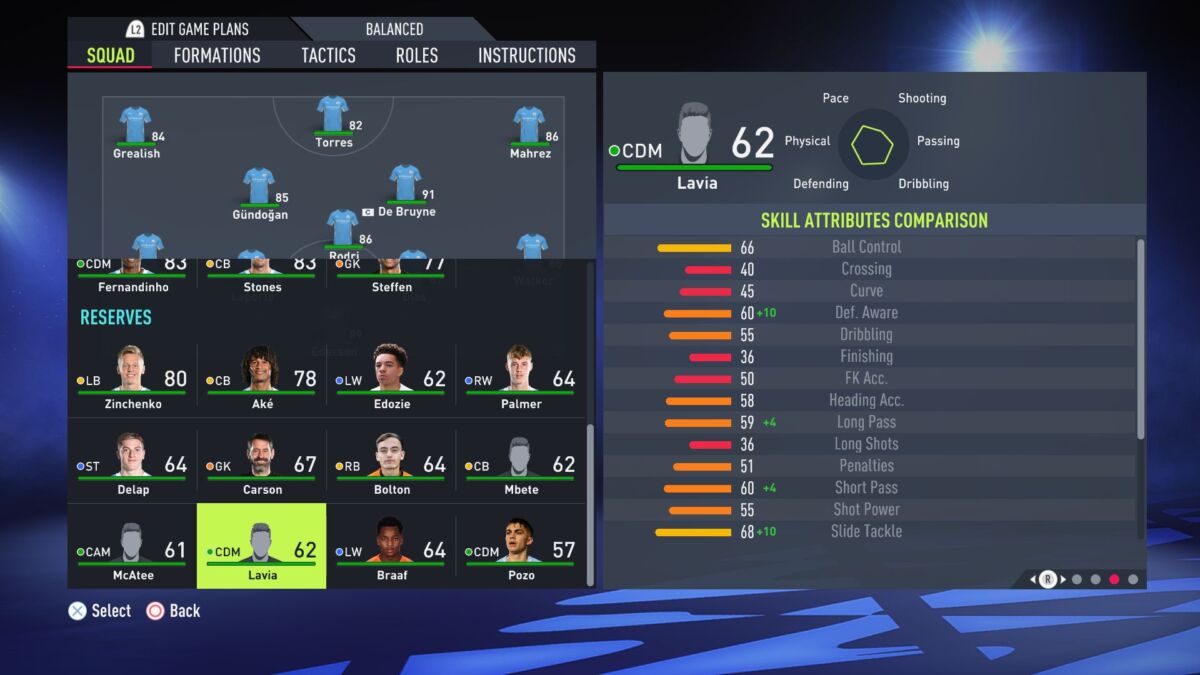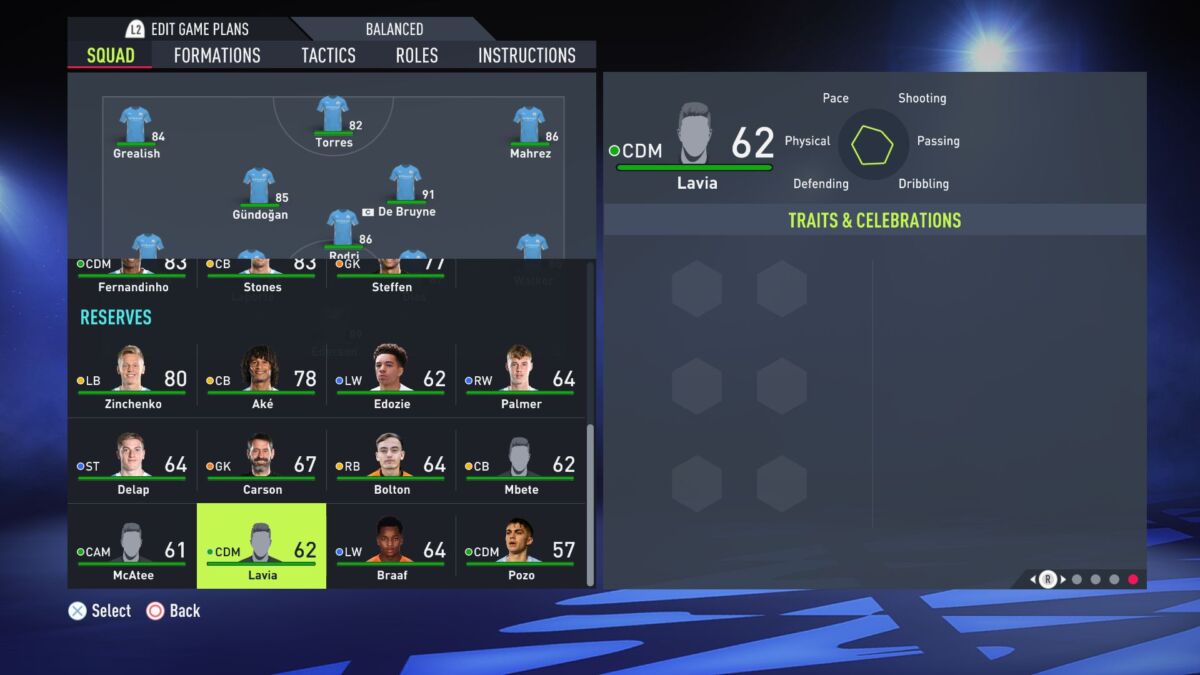 Age: 17
Rating: 62
Potential: 85
Nationality: Belgian
Current Club: Manchester City
Value: €1,200,000
One of many Belgian FIFA 22 wonderkids who will net you many years of service, Romeo Lavia has the potential to be a real enforcer in the middle of the park, or maybe even the successor to Fernandinho if you use him right at City.
Lavia has some of the highest growth potential in all of FIFA 22, but even at his starting ratings you can see the clear desire to win the balls and recycle it. The physical attributes still have a ways to go, especially for a CDM, but with the right training plan and experience, Lavia is simply going to soar.
Pablo Gavi (CM)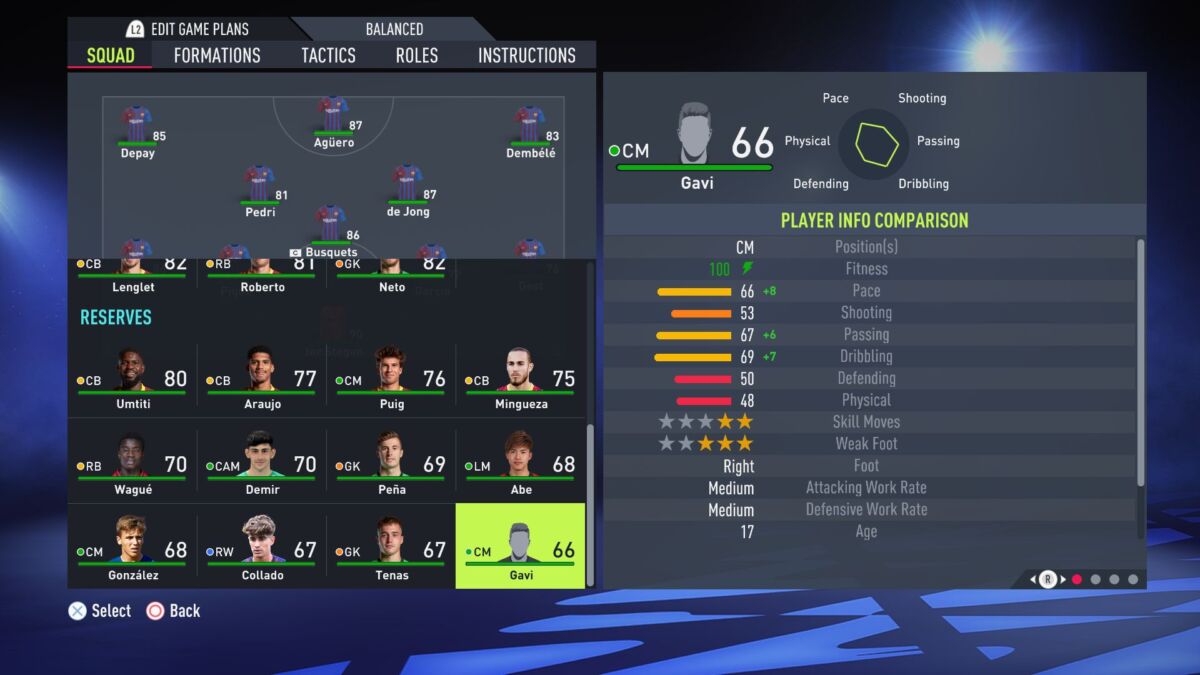 Age: 16
Rating: 85
Nationality: Spanish
Current Club: Barcelona
Value: €2,100,000
Pablo Gavi is pretty much the breakout star in world football, at least as far as football games go. Gavi is blessed with everything he needs to be the next midfield megastar and could even benefit from being placed straight into your team — he will become that good.
Blessed with great passing and mentals for his age, Gavi's main downfalls are stamina and strength, though this is really just par for the course when it comes to young players in FIFA 22. Snap him up as soon as you can and watch him blossom.
Aster Vranckx (CM)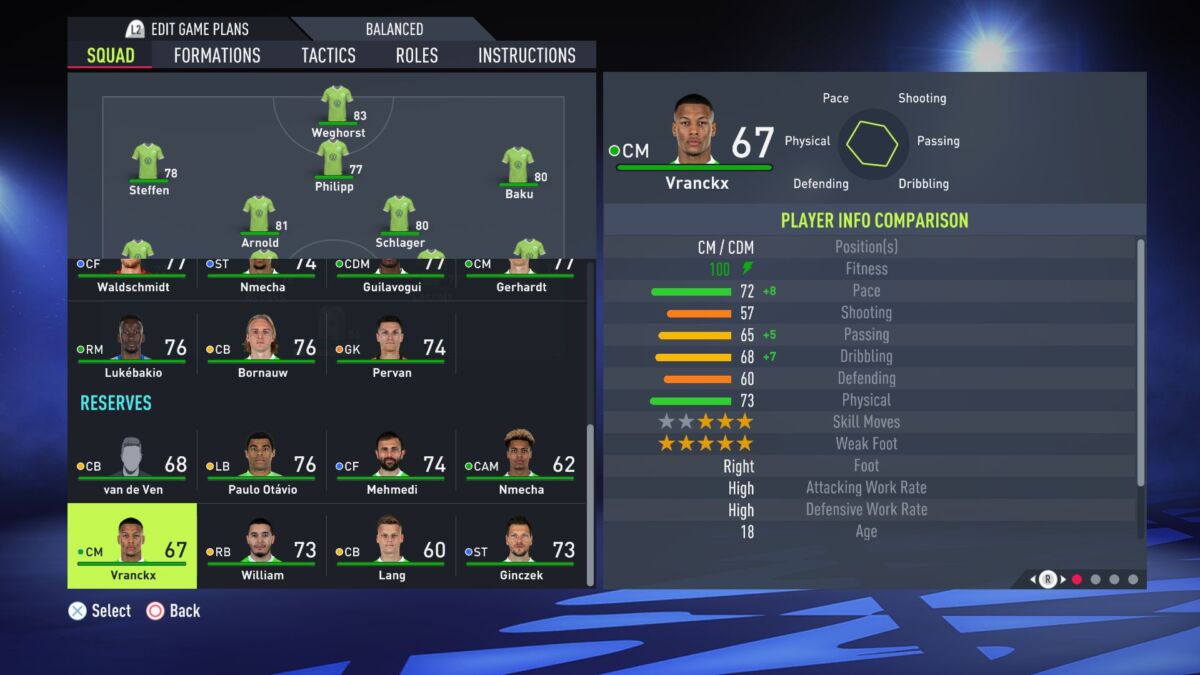 Age: 18
Rating: 67
Potential: 85
Nationality: Belgian
Current Club: VfL Wolfsburg
Value: €2,600,000
Belgium have supposedly just had their golden generation, but you wouldn't know it based on just how many wonderkids they have in FIFA 22. Aster Vranckx is another one who's returning from similar lists in FIFA 21, and he also had a big move to Germany after the end of last season.
While that may mean he's hard to buy straight away, Vranckx is a wonderkid who's worth waiting for. He doesn't especially excel at anything on paper, but at 18 years old, his physicals are worth nurturing. He could play anywhere in midfield and his attributes are so solid across the board that you can stick him on basically any plan.
Nicolò Rovella (CM)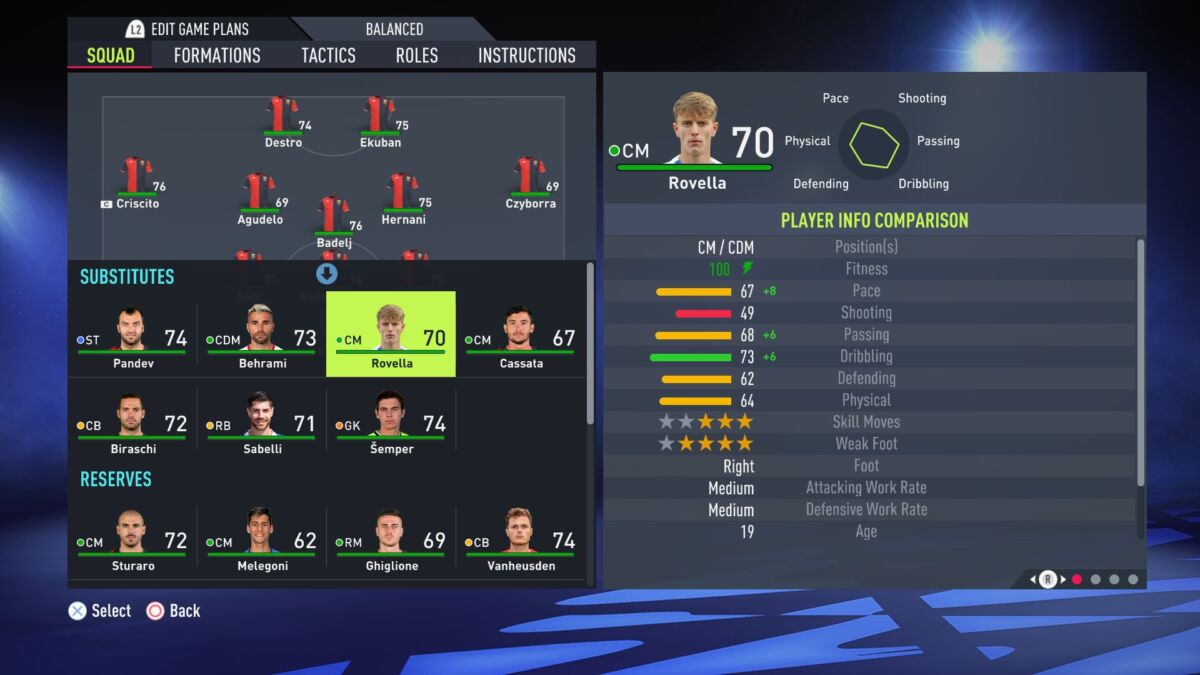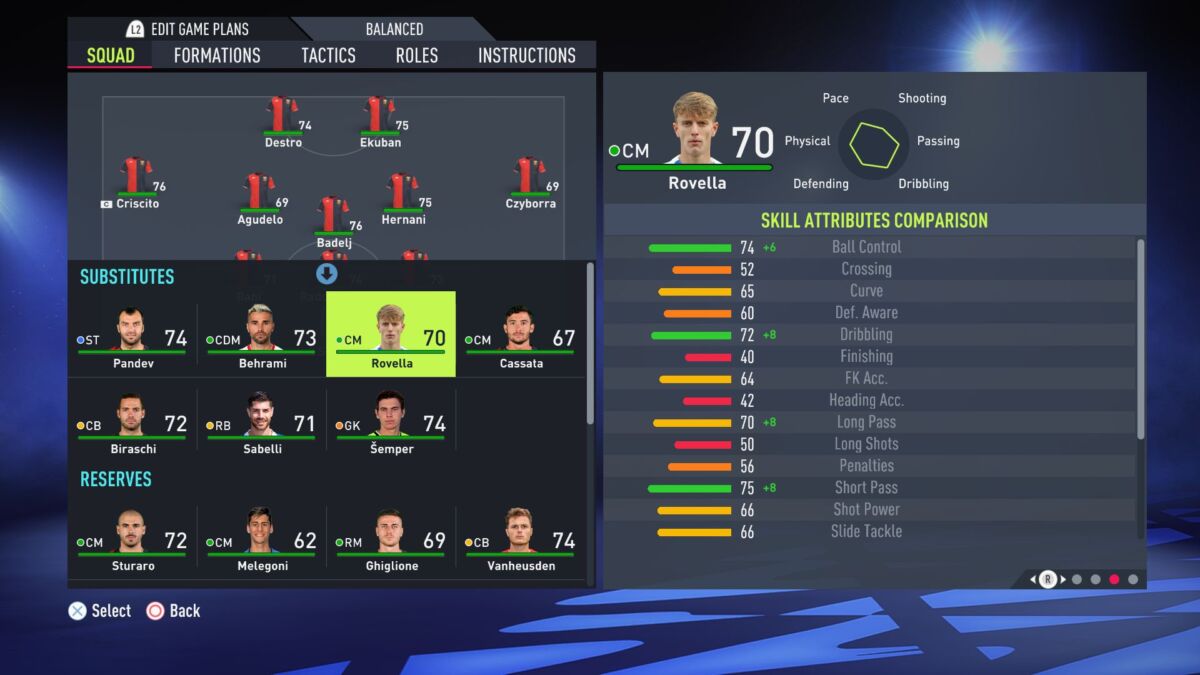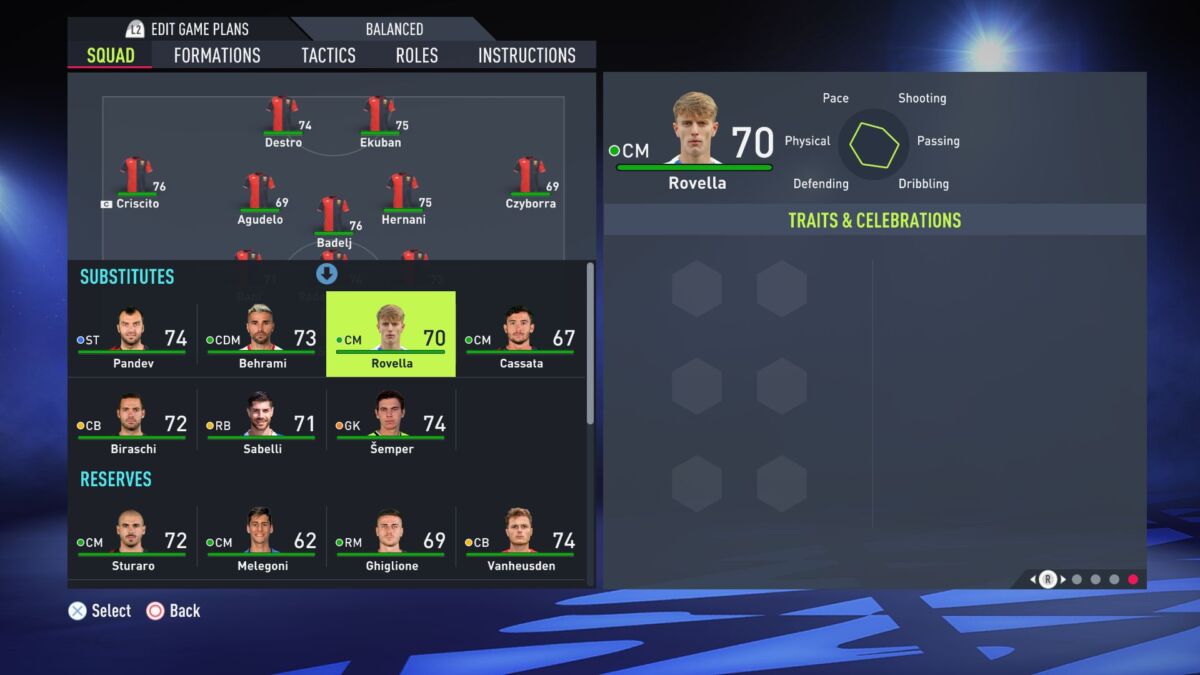 Age: 19
Rating: 70
Potential: 87
Nationality: Italian
Current Club: Genoa (on loan from Juventus)
Value: €4,100,000
Nicolò Rovella will be one of the best players in FIFA 22, given time. He has some of the highest potential for growth across the whole game, with the 87 potential marking him potentially among the world's elite midfielders. He can also be yours for very little indeed.
Rovella starts off on loan, so you may need to wait a season before you can sign him, at which point his value will have increased and he may be harder to sign. However, compared to what you might eventually pay for the absolute midfield motor he will become, it'll still be a bargain no matter what.
Robert Navarro (CAM/LW)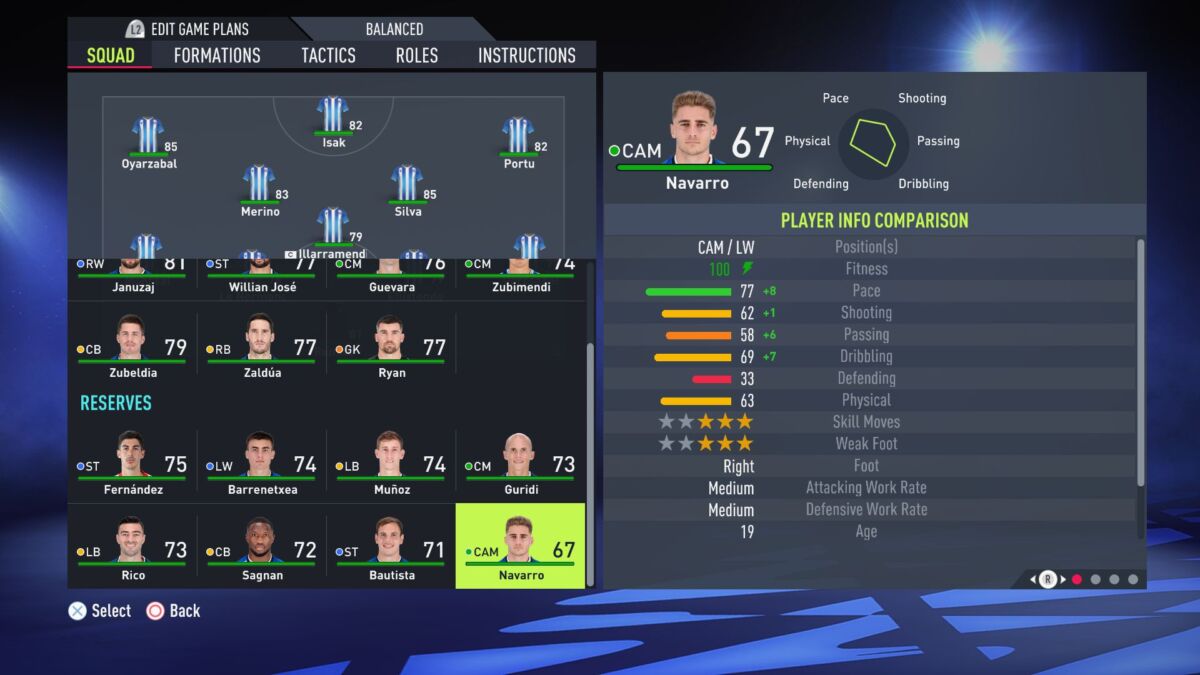 Age: 19
Rating: 67
Potential: 83
Nationality: Spanish
Current Club: Real Sociedad
Value: €2,600,000
Robert Navarro is highly thought of in his native Spain, and it's easy to see why. Packed with loads of traits despite his age and somewhat low overall rating, it's clear that FIFA 22 also rates him very highly indeed.
While not blessed with pace, Robert Navarro starts off with some great ball skills and a solid passing range, though he does need to work on his shooting and finishing quite a lot. Despite any reservations you may have, Navarro will go on to become a seriously solid back-up option for elite clubs around the world at the very least.
Kacper Kozłowski (CAM)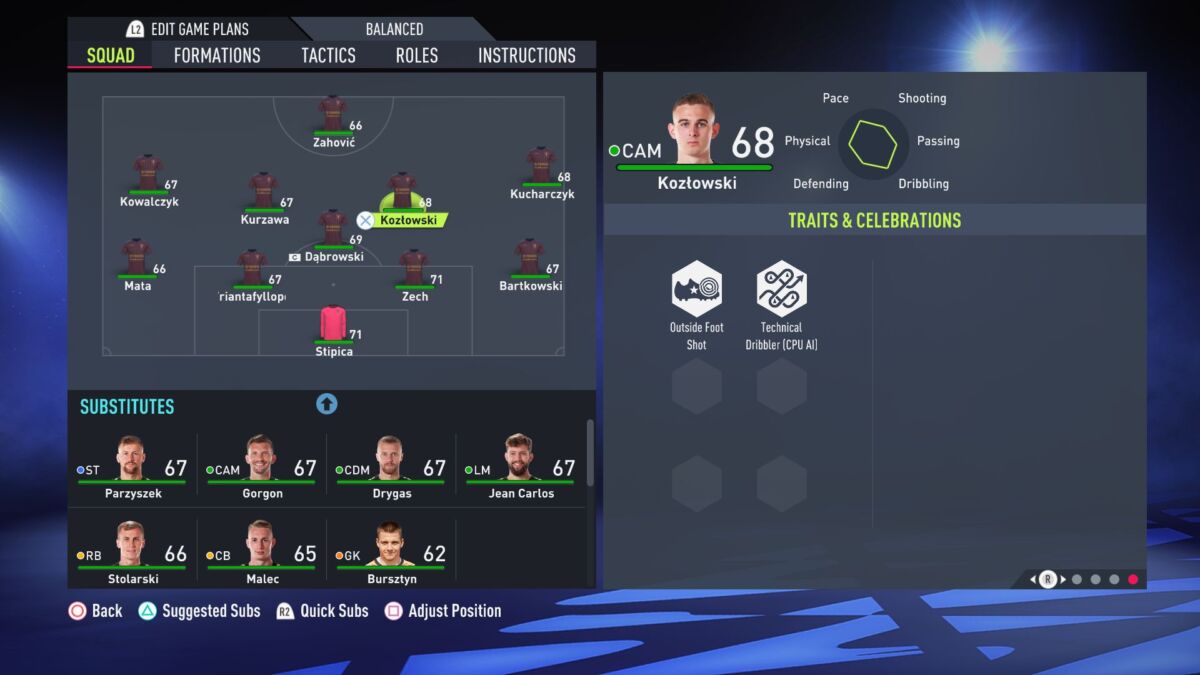 Age: 17
Rating: 68
Potential: 85
Nationality: Polish
Current Club: Pogoń Szczecin
Value: €3,000,000
A returning FIFA 21 wonderkid who's actually had a bit of an upgrade in potential, Kacper Kozłowski is a Polish midfielder who prefers to play just behind the striker so that he can speed in behind the last man. He will manage that a lot, even if he isn't the quickest.
At just 17, Kacper Kozłowski has some rather impressive physical attributes, include 85 Balance and 85 Agility, but his shooting is where he is quite disappointing. With the right training plan, Kozłowski could become the perfect bargain number 10 for you over the course of FIFA 22.
Takuhiro Nakai (CAM)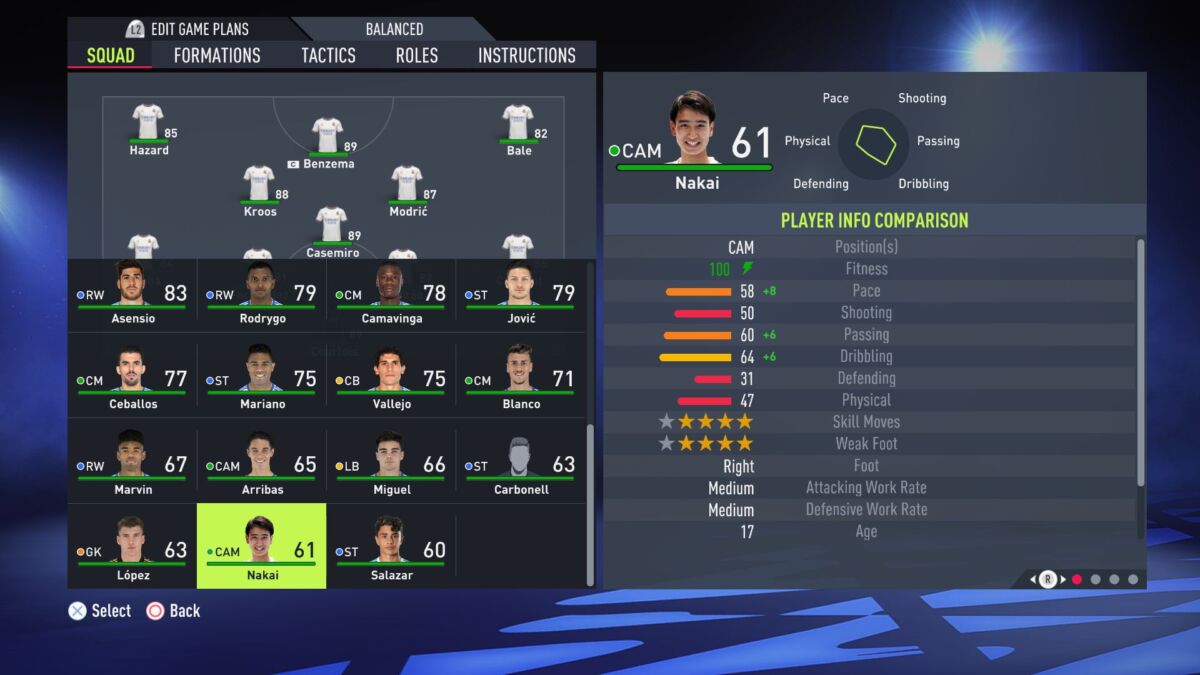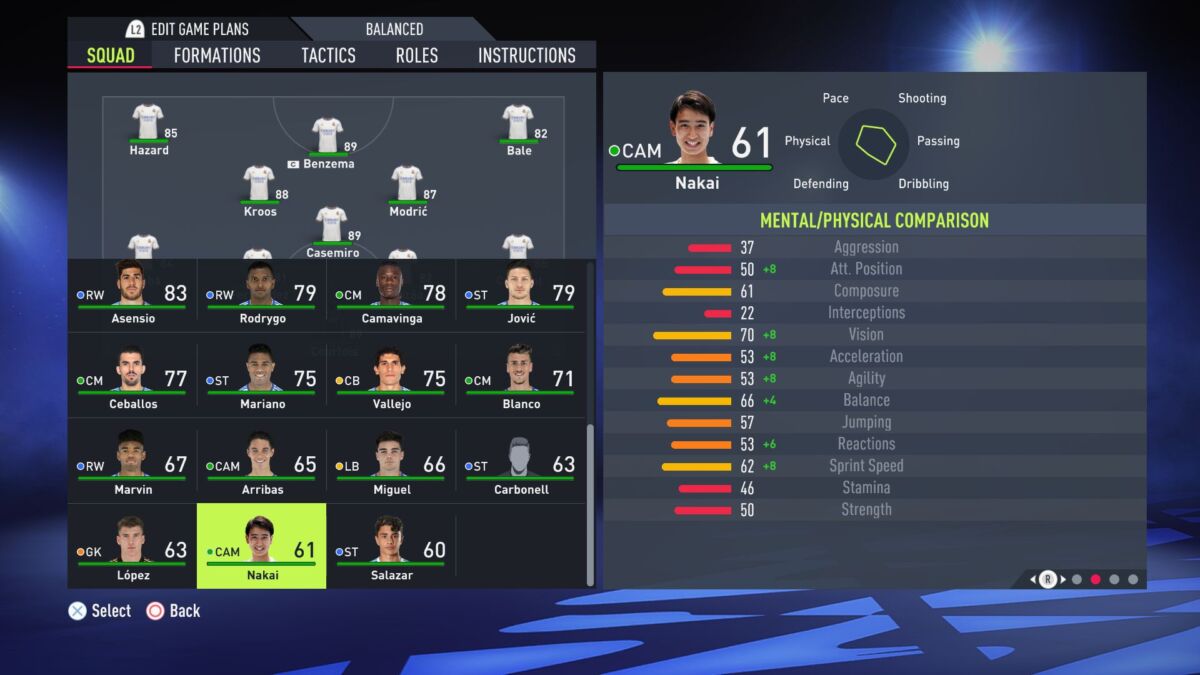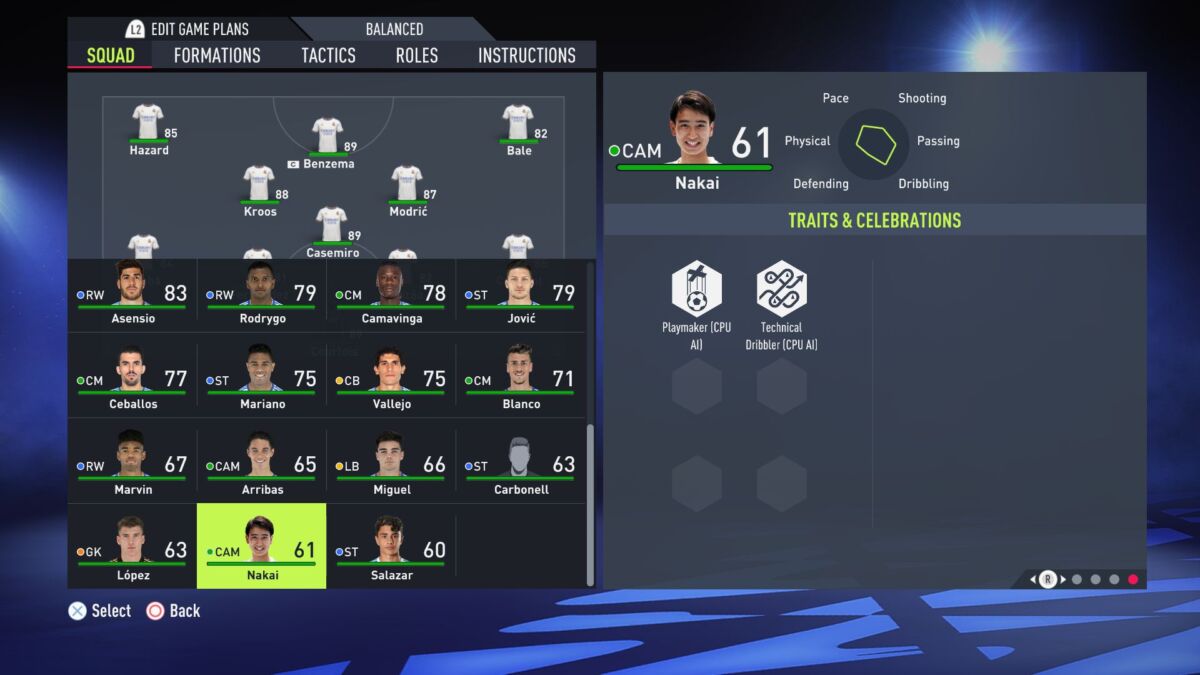 Age: 18
Rating: 61
Potential: 83
Nationality: Japanese
Current Club: Real Madrid
Value: €1,000,000
A player not blessed with pace or really much of an eye for a goal at the start of a save, Takuhiro Nakai is instead a playmaker that will make things happen for other players. He's the orchestrator that could make your team really click.
Physically, Nakai is certainly lacking and may really struggle to make much of an impact at a high level in his first season. However, with the right development plan that beefs him up while honing in on the qualities he does have (good vision and passing), he could be a really wonderkid baller for you in FIFA 22.
Franco Orozco (LW/RW)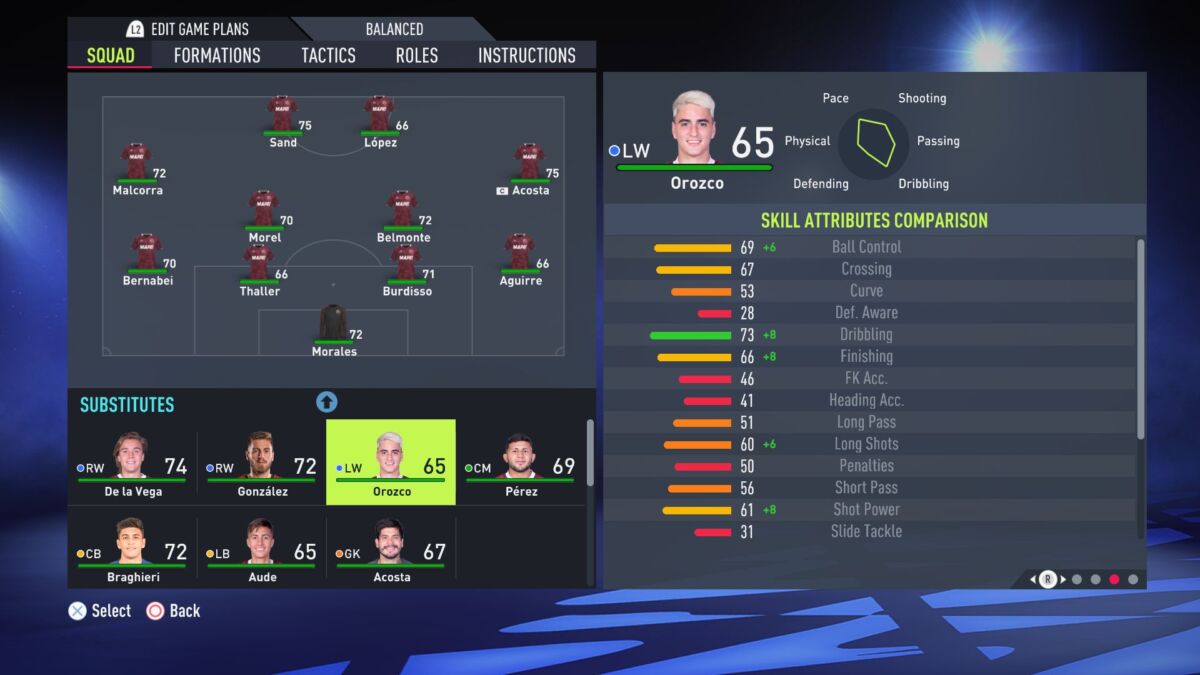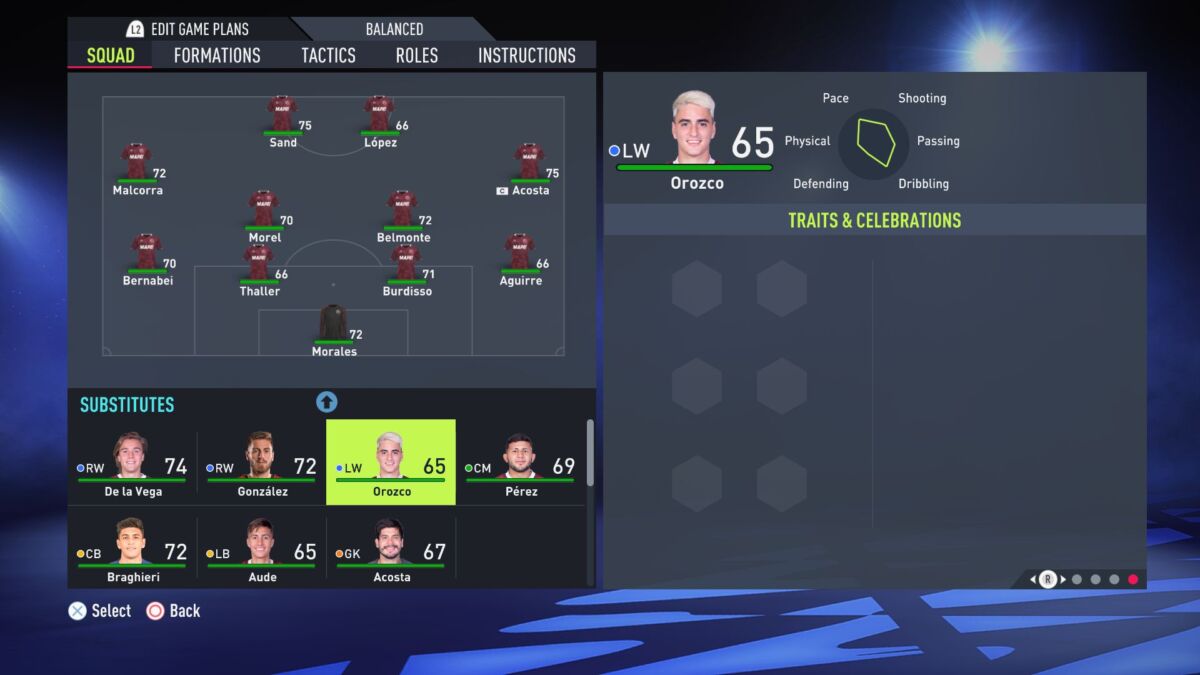 Age: 19
Rating: 65
Potential: 84
Nationality: Argentinian
Current Club: Lanús
Value: €1,800,000
You might look at the attributes of Franco Orozco in FIFA 22 and wonder what the fuss is. While he does have pace, he doesn't exactly stand out. However, that's the joy of high potential — his status as a hidden gem will become obvious over time.
Orozco has four-star skill moves from the off and will also find the ball glued to his feet thanks to his solid ball skils and good physical attributes. He's mentally very poor and his shooting isn't great, but these are things that come from training, experience, and a little bit of patience.
Morgan Rogers (LW/RW)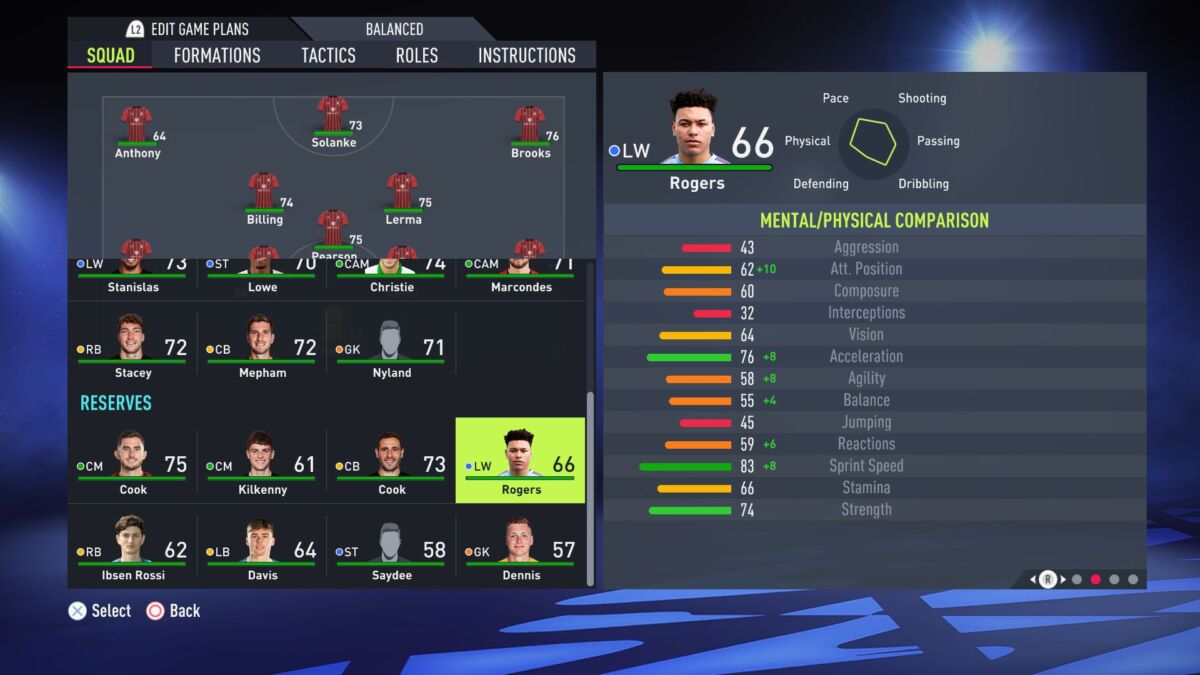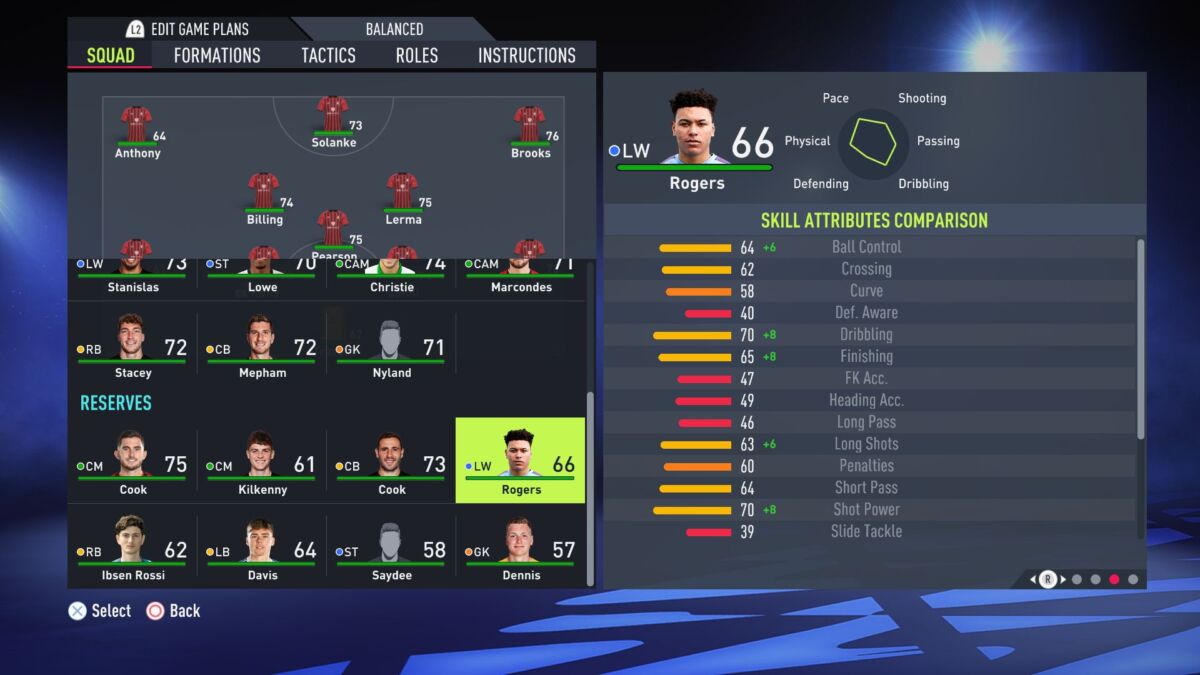 Age: 19
Rating: 66
Potential: 84
Nationality: English
Current Club: AFC Bournemouth (on loan from Manchester City)
Value: €2,200,000
Morgan Rogers is yet another returning wonderkid from FIFA 21 who still has very high potential in FIFA 22, though the fact that he's out on loan at Bournemouth at the start of your save means you may have to bide your time before signing him.
This cheap young player is also one of the fastest prospects in the game, starting off with solid sprint speeds above all else. That will make him a menace in the lower leagues, but with a potential rating of 84, he's worth blooding early at a top club as well.
Tamás Kiss (LW/RW)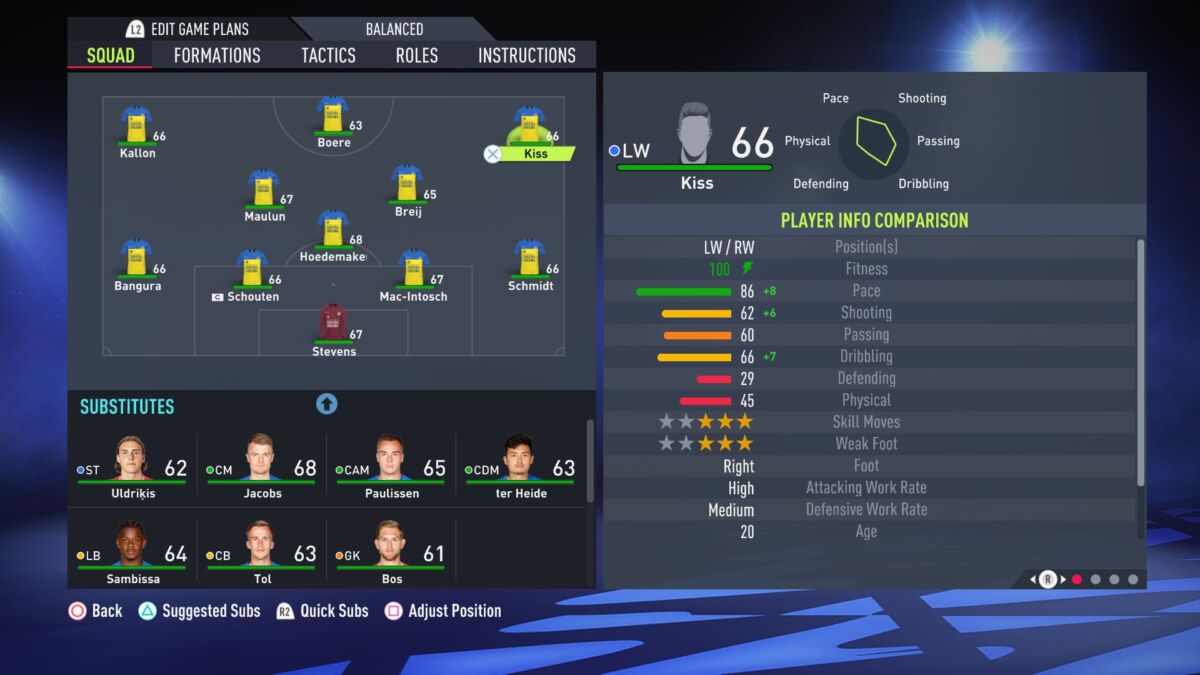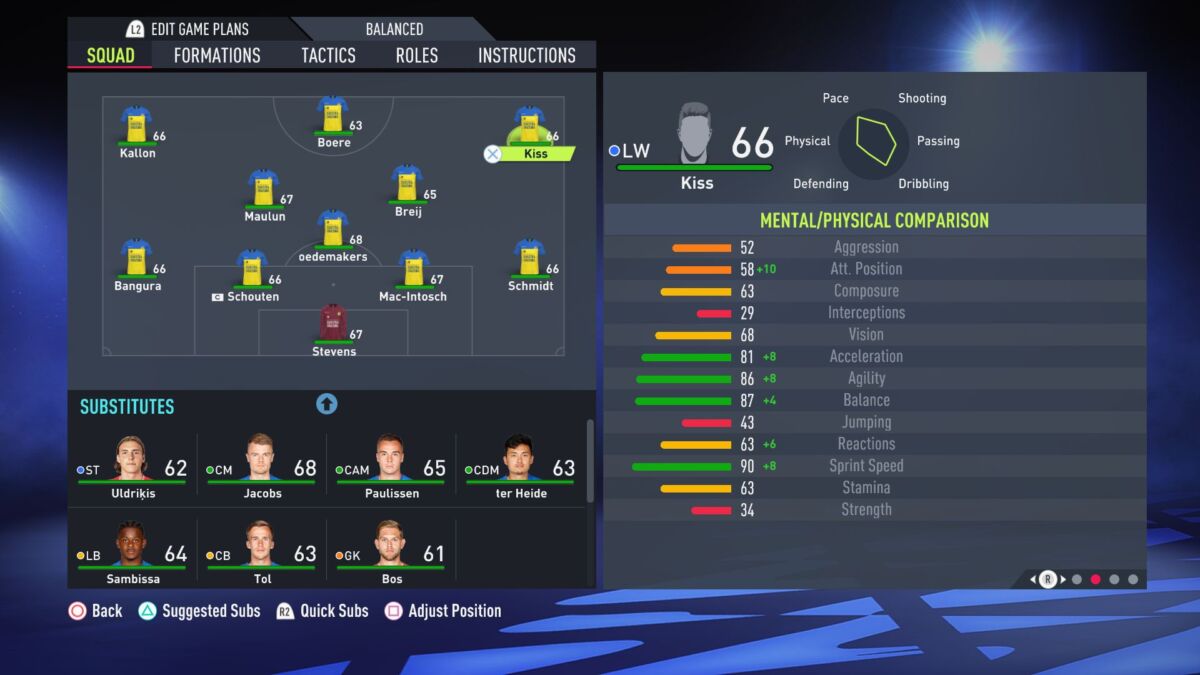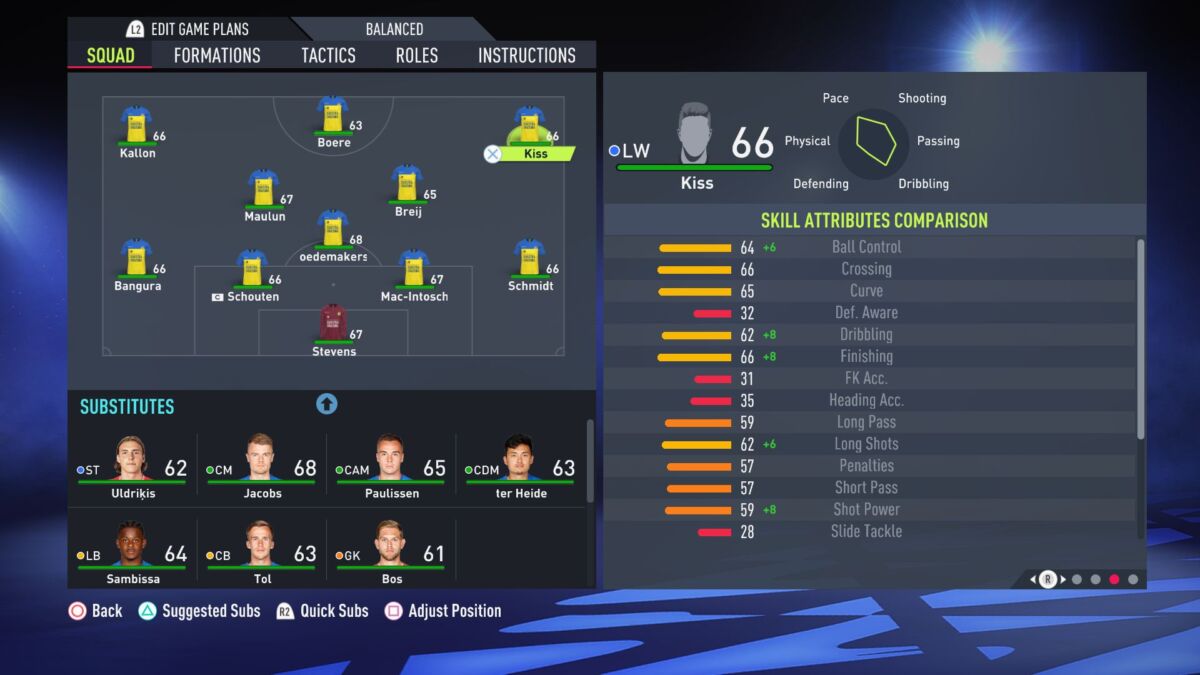 Age: 20
Rating: 66
Potential: 82
Nationality: Hungarian
Current Club: SC Cambuur (on loan from Puskás Akadémia FC)
Value: €2,200,000
Tamás Kiss is the kind of FIFA 22 wonderkid that people will be making videos on as a hidden gem throughout the entire of the game's life. The reason is pretty simple: the absolutely terrifying pace on him with a sprint speed of 90, putting him near the likes of Mbappe.
The rest of his attributes, however, are a bit of a mixed bag, as he's quite weak on the ball and doesn't seem to have his shooting boots on either. If you're looking for the Hungarian Daniel James who you can mould into a better all-rounder, here's your guy.
Jayden Braaf (LW/RW)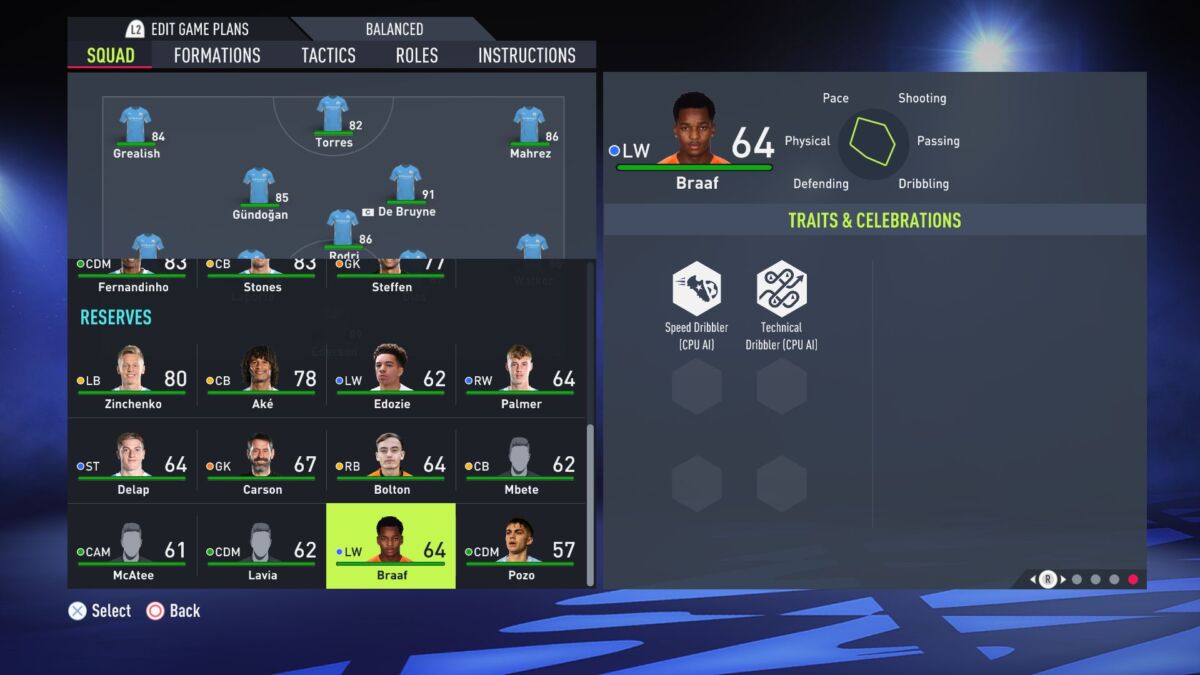 Age: 19
Rating: 64
Potential: 84
Nationality: Dutch
Current Club: Manchester City
Value: €1,600,000
Jayden Braaf is a FIFA 22 wonderkid who stands out just like Kiss for his crazy speed, but he also looks like he might turn out to be a better overall player than the Hungarian. He's also a year younger, though him being at City may mean that he's harder to buy.
While his ball skills aren't amazing and his passing is just not great for a winger, a suitable training plan should see these improve quite a bit. Don't worry about building up his physicals though, as Braaf is already a beat of a beast at just 19.
Francisco Conceição (RM/RW)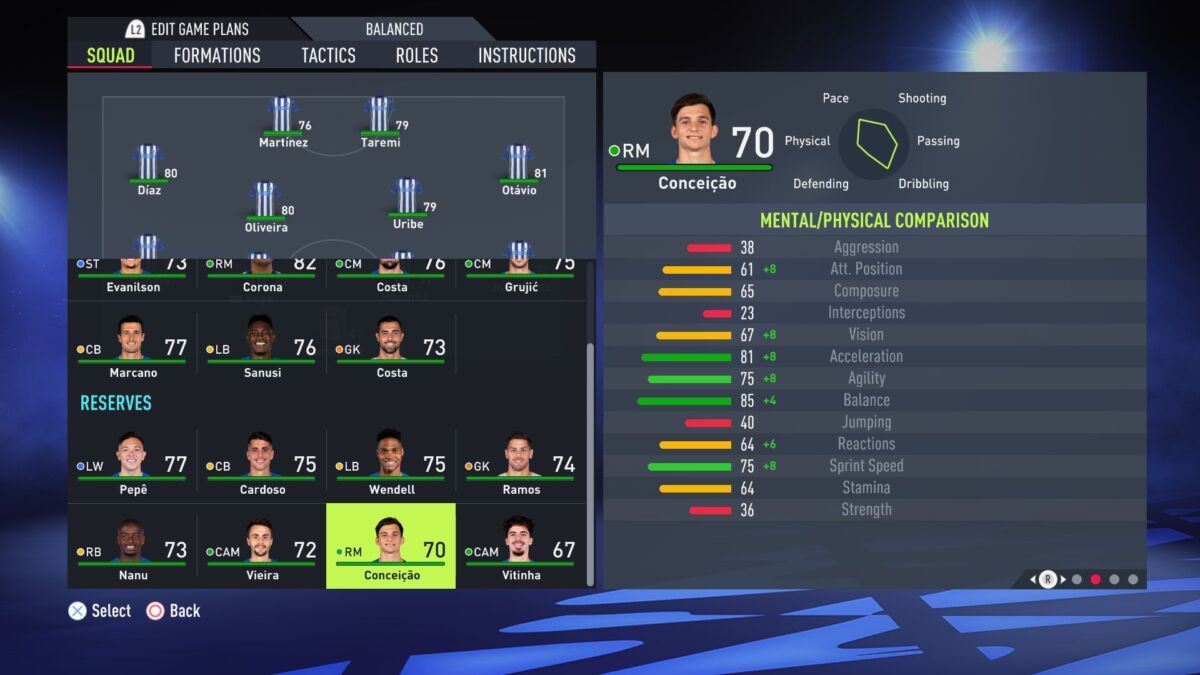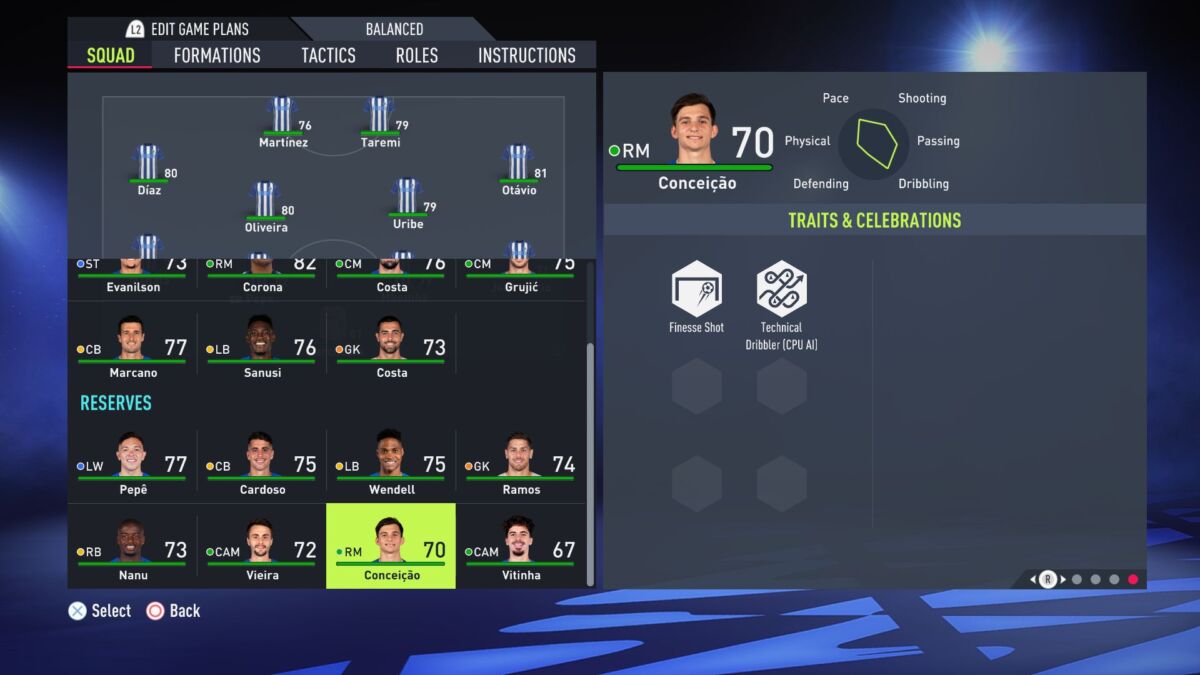 Age: 18
Rating: 70
Potential: 86
Nationality: Portugese
Current Club: FC Porto
Value: €4,000,000
One of the better (and more expensive) wonderkids in FIFA 22 from the moment you start your save, the Portugese Francisco Conceição should be able to do a job for most clubs right from the off, at least as a super sub.
Coming with great speed and ball control at just 18 years old, it's going to be hard to get the ball off Francisco Conceição once he has it. With a potential rating of nearly 90 and all the room in the world to pick up some traits, the only thing really letting him down is a poor weak foot and soft shooting.
Dane Scarlett (ST)
Age: 17
Rating: 63
Potential: 84
Nationality: English
Current Club: Tottenham Hotspur
One of many great Tottenham youngsters in FIFA 22, Dane Scarlett has a super high growth ceiling, with his potential rating of 86 meaning that he might become one of the game's best players overall, given time.
His starting rating of 63 might make him difficult to chuck in your team at an elite level, but anyone playing Career Mode below the top tiers should find a fast, powerful forward who is only going to get better. Stick the young striker on a development plan, potentially as a poacher, and watch the goals pour in.
Antwoine Hackford (ST)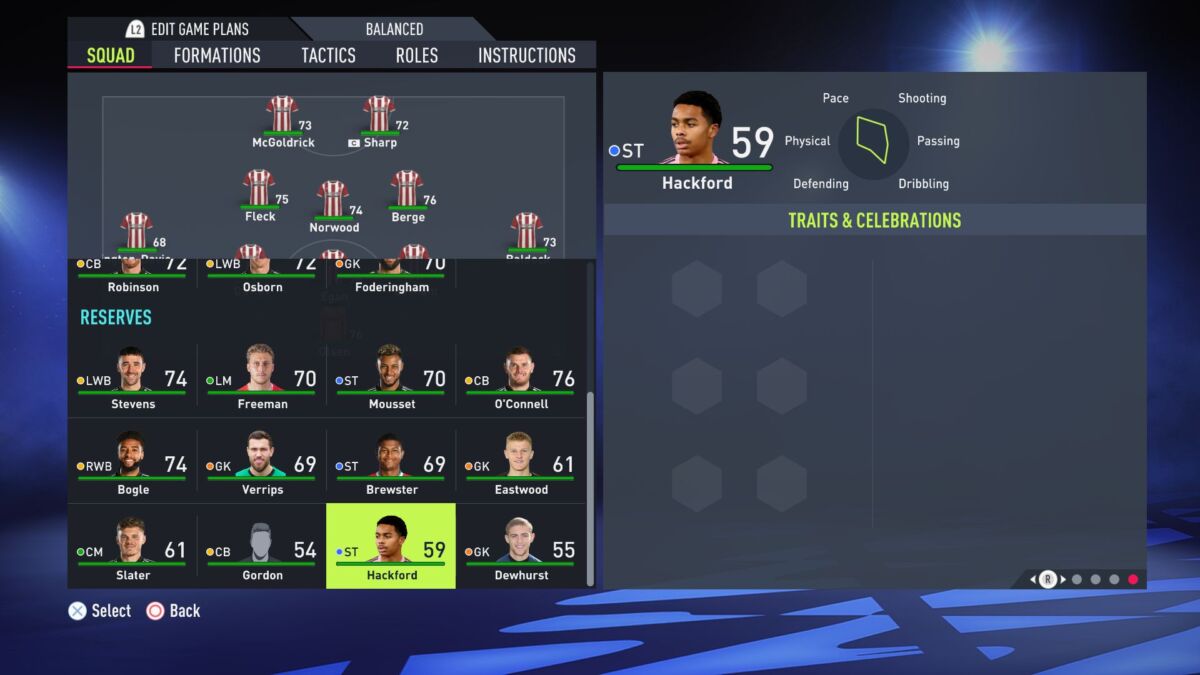 Age: 17
Rating: 59
Potential: 84
Nationality: English
Current Club: Tottenham Hotspur
Value: €700,000
Is Antwoine Hackford the best bargain wonderkid in FIFA 22? You can make a case for the young English striker, as he has so much room for growth at such a young age but has a low value, meaning that most clubs should be able to buy him.
While young Hackford has a lot of work to do on his all-round game, the starting physical attributes, including acceleration and sprint speed, really cannot be overlooked. Despite having only two-star skill moves and arguably being a little on the short side, Hackford has all the potential in the world, available at an even better price.
Matthew Hoppe (ST)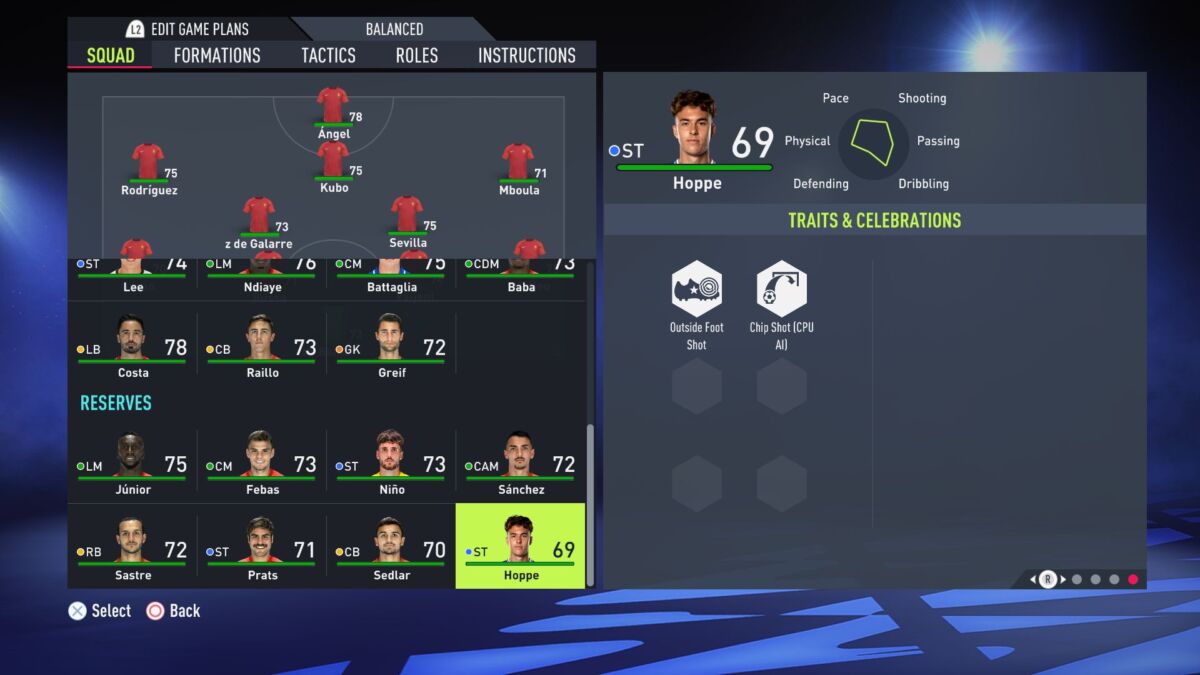 Age: 20
Rating: 69
Potential: 81
Nationality: American
Current Club: RCD Mallorca
Value: €3,400,000
Mathew Hoppe is seen as one of the best young American players in the world, though that's not quite been reflected in FIFA 22, at least not yet. Though he has high-ish potential, this wonderkid isn't exactly at Haaland levels.
Still, if you're playing at a lower league level or are simply looking for a good backup who knows where the goal is, Hoppe isn't a bad pick. He has just signed for Mallorca, though, so you may have to wait for a minute before you can sign him.
Djibril Fandje Touré (ST)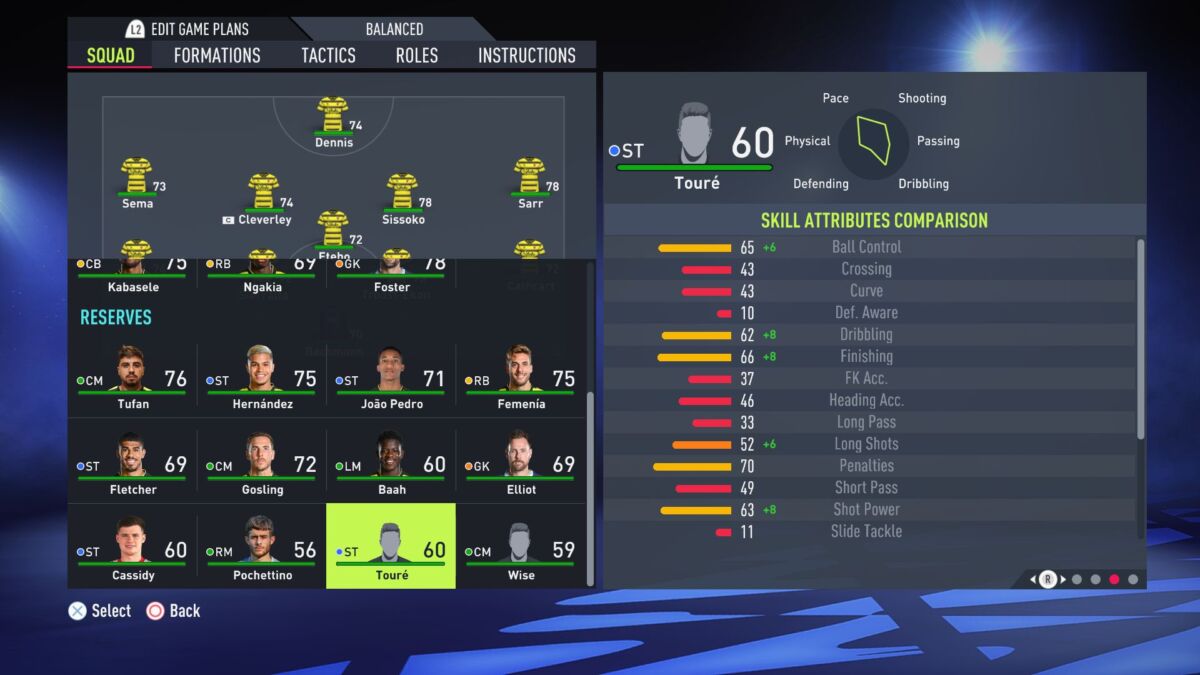 Age: 18
Rating: 60
Potential: 83
Nationality: Guinea
Current Club: Watford
Value: €775,000
An absolutely rapid striker blessed with seriously strong speed attributes, Djibril Fandje Touré starts off not really knowing where the goal is, but he can probably run to its general vicinity faster than most defenders. That 89 acceleration means he can reach top speed in no time at all.
While he has some sloppy finishing attributes for a striker (despite having the Finesse Shot trait), that's nothing a development plan and maturity can't fix. Available for around a million euros, give or take, Djibril Fandje Touré is a true hidden gem in FIFA 22 and an absolute bargain wonderkid at that.
Willem Geubbels (ST)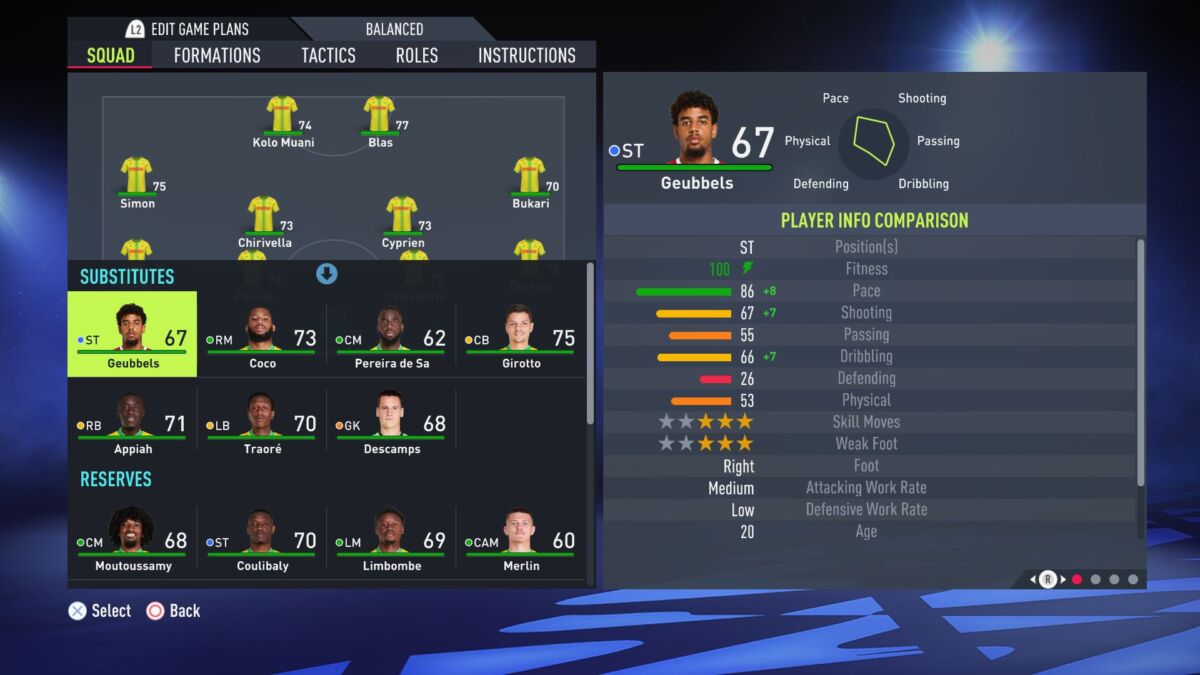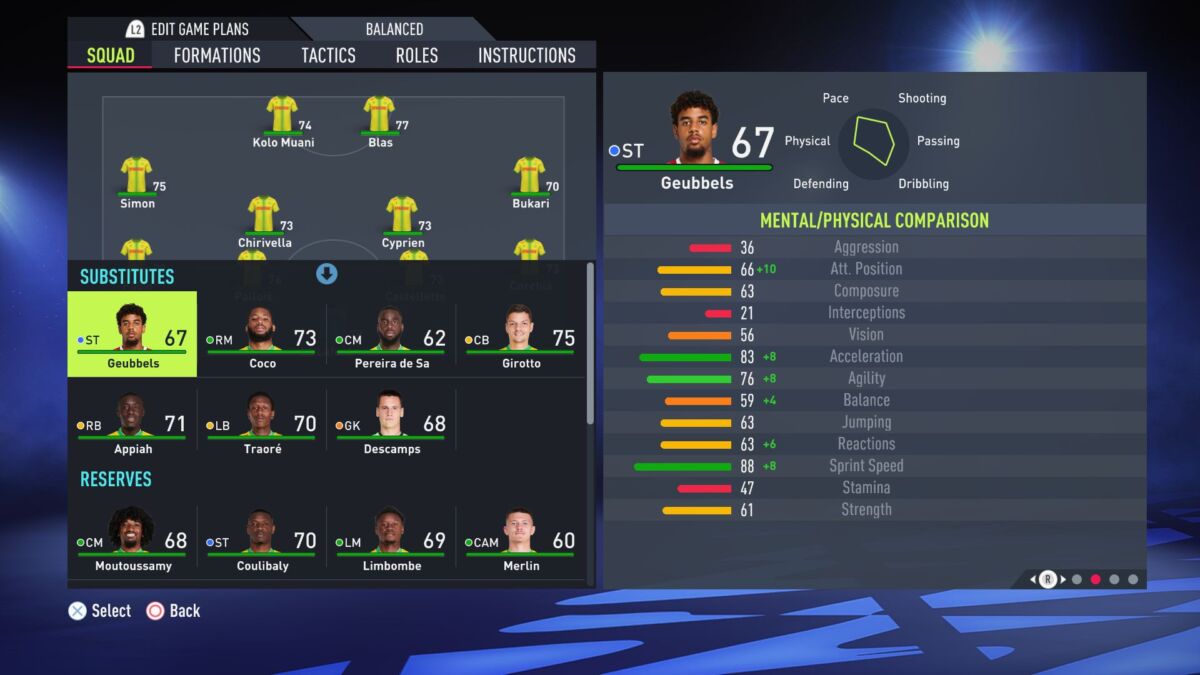 Age: 20
Rating: 67
Potential: 77
Nationality: French
Current Club: Nantes (on loan from Monaco)
Value: €2,200,000
A FIFA cult icon at this point, Willem Geubbels is once again a cheap wonderkid worth looking into in FIFA 22, even if he is on loan at Nantes, meaning that you will have to wait until his loan is over before you can buy him.
A pacey striker who can find the back of the net, time is somewhat running out for Willem Geubbels to reach the potential that so many football games think he is capable of, but considering how cheap he is, he could be the perfect transfer for a lower league team, even if he never reaches his 80+ potential of previous games.
FIFA 22 is available on PC, PS4, PS5, Xbox One, and Xbox Series X | S.
READ NEXT: FIFA 22: All Players With 5 Star Skill Moves
Some of the coverage you find on Cultured Vultures contains affiliate links, which provide us with small commissions based on purchases made from visiting our site. We cover gaming news, movie reviews, wrestling and much more.