The best defenders in FIFA 21 can make all the difference, but they don't come cheap. While playing at the likes of Liverpool means you will have the hulking Virgil Van Dijk shoring everything up, playing at a level other than the very top means that you may have to turn to the wonderkid defenders instead.
Truthfully, though, there's a much greater sense of reward from developing a young player into a top talent in FIFA 21, rather than just buying Koulibaly and calling it a day. With the right development plan and plenty of game time, these young defenders can truly become some of the game's best. Neither of them are expensive either, all of them costing you less than €5M to buy outright or by activating their release clauses.
Here are the best and cheapest wonderkid defenders in FIFA 21, which includes the CB, RB, and LB positions.
MORE WONDERKIDS: FIFA 21's Best Value Young Players
FIFA 21: Best Wonderkid Defenders
Josha Vagnoman (RB)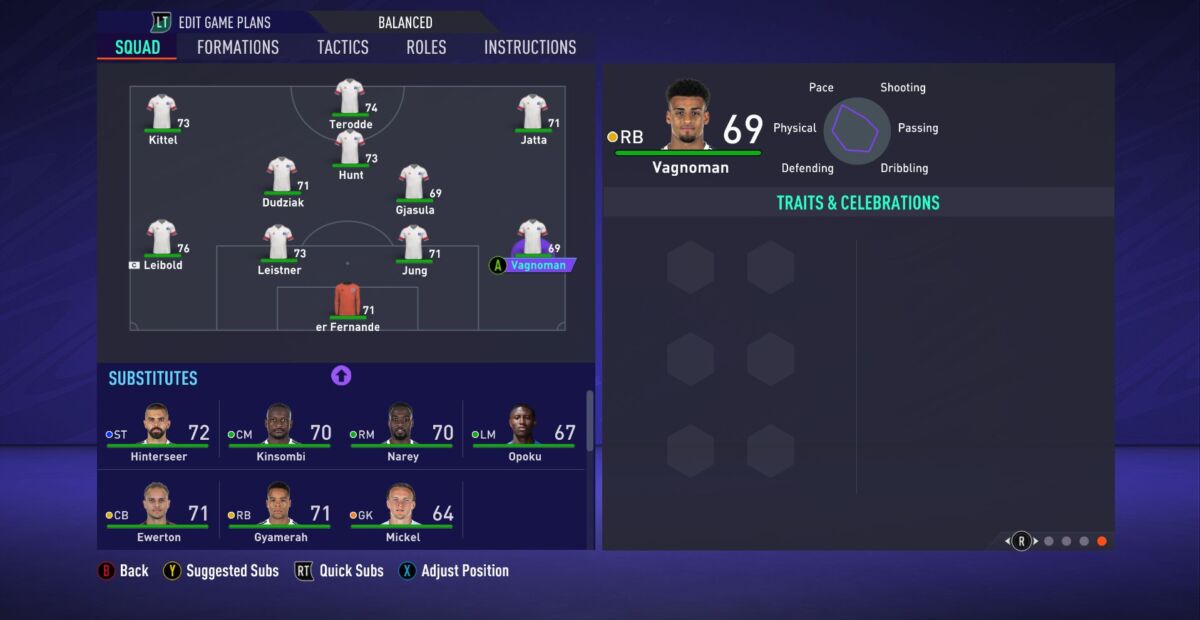 Age: 19
Rating: 69
Potential: 85
Nationality: German
Current Club: Hamburger SV
Value: €2.1M
Everything a modern full-back is supposed to be, Josha Vagnoman is absolutely rapid as he bombs up and down the right side as more of a wing-back who slightly lacks on the defensive side of his game. However, as with all wonderkids, that's just something to work on.
Boasting 90 sprint speed and decent if not great ball skills, Vagnoman could possibly even be trained as a winger if you need some cover on the wings. However, stick with him at right-back, put him on a development plan to improve his defensive attributes and you will soon see him become one of the best right-backs in the whole game.
Armel Bella-Kotchap (CB)
Age: 18
Rating: 62
Potential: 82
Nationality: German
Current Club: Vfl Bochum
Value:€575K
Constantly linked with a move away from Hamburg in the 2020/21 summer transfer window, Bella-Kotchap is a defender whose name is on the rise. He should also be rising to the top of your list of targets as soon as you start a new Career save — this man will become a brick wall.
Quick with a very good leap for a CB, Bella-Kotchap's actually not great at his job (defending) when it comes to his attributes. However, at just 18, these are all things that can be worked on through game time and some patience. Consider signing him to start in your lower league team and reap the benefits as he quickly improves and excels.
Joško Gvardiol (CB)
Age: 18
Rating: 69
Potential: 86
Nationality: Croatian
Current Club: Dinamo Zagreb
Value: €2M
Joško Gvardiol has the potential to become one of the sturdiest CBs in world football and he's yours for next to nothing in FIFA 21. Just from looking at his attributes you can already tell that the Russian has something special — he could probably do a job as a fourth-choice center-back for one of the top teams.
But with the possibility of reaching an 86 rating as long as he gets sufficient game time, Gvardiol is worth every penny if you're a lower league team looking for a bargain. He could become a club talisman based off his very impressive strength and speed, despite being barely old enough to drink. He's already signed a pre-contract agreement with RB Leipzig for next season.
Bright Arrey-Mbi (CB/LB)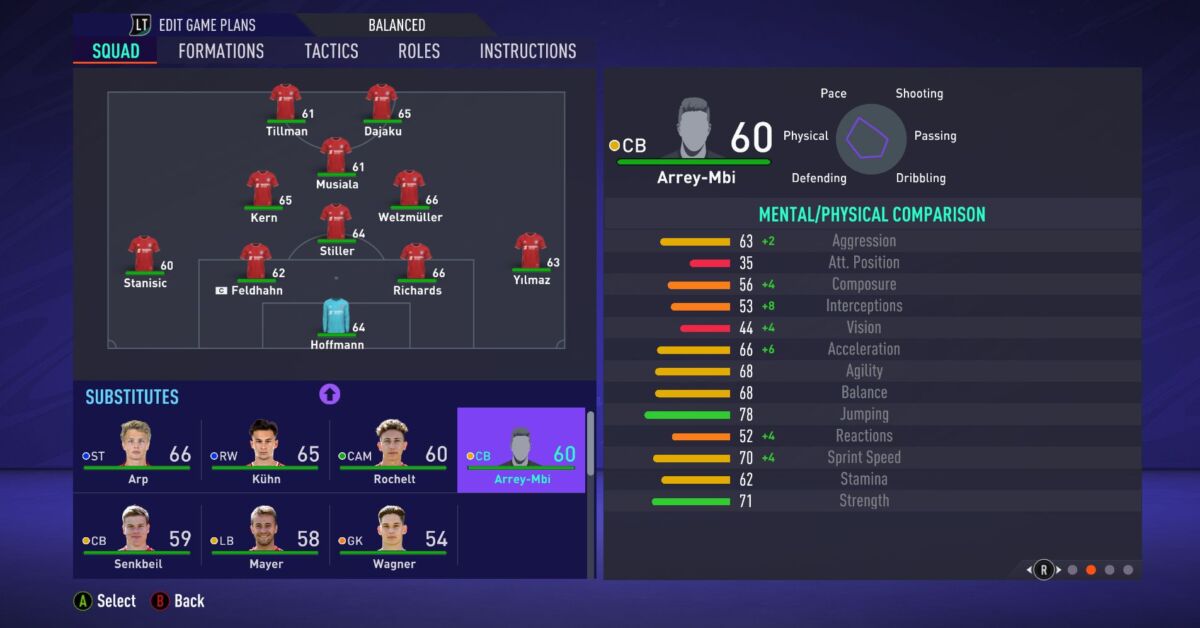 Age: 17
Rating: 60
Potential: 86
Nationality: German
Current Club: FC Bayern II
Value: €425K
The conveyor belt of talent at Bayern Munich means that they just keep churning out top talent, but not everyone can make it into the first-team. That's probably why you can pick up Bright Arrey-Mbi for as little as a million Euros when you first start playing in FIFA 21.
Though not blessed with electric pace (and therefore probably not the best pick at left-back), Arrey-Mbi is already shaping up to be a bit of a brick wall in defence. Already boasting 71 strength and 78 jumping at under 18 years of age, utilise a development plan to turn Arrey-Mbi into one of the best no-nonsense center-backs in the game in just a few years.
Leonidas Stergiou (CB)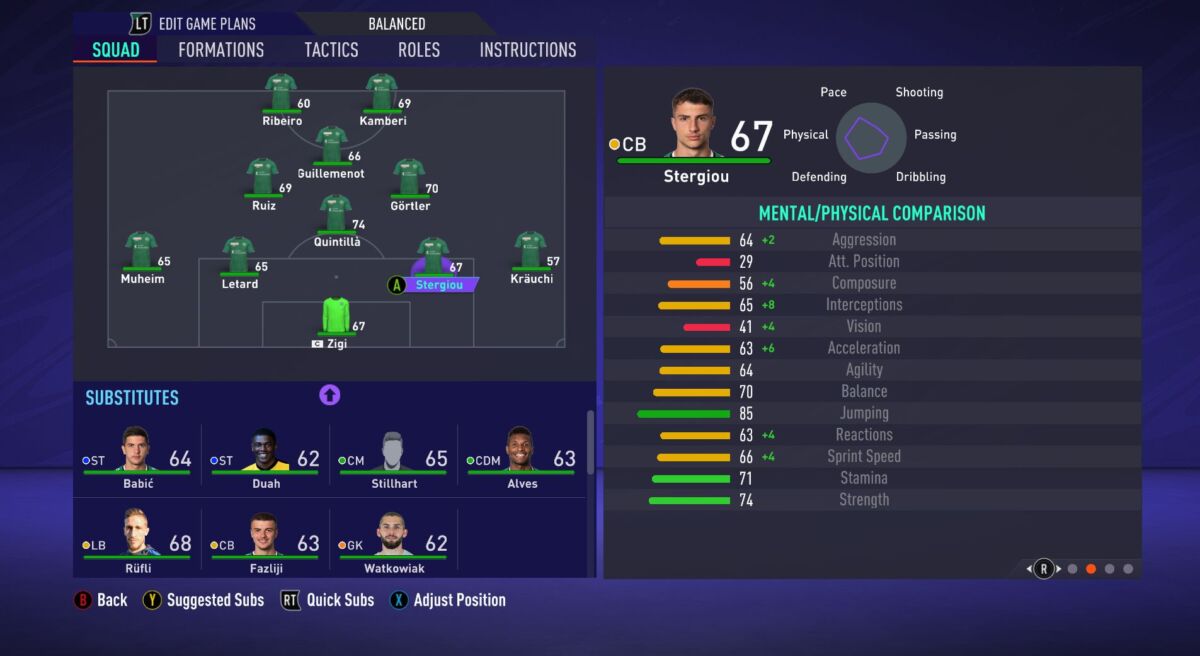 Age: 18
Rating: 67
Potential: 86
Nationality: Swiss
Current Club: FC St. Gallen
Value: €1.5M
Either FIFA 21 has got it wrong, or someone's scouts at a top club just aren't paying close enough attention to Leonidas Stergiou. At just 18, the Swiss center-back has all he needs to become one of the world's greatest defenders — and he can be yours for as little as €3.1M in FIFA 21.
The most immediate thing that jumps out about his attributes is, funnily enough, his jumping. Despite "only" being 5'11", Stergiou has 85 jumping to make up for it, which isn't even mentioning his 74 strength and solid defending attributes all-round. A future star.
Luca Netz (LB)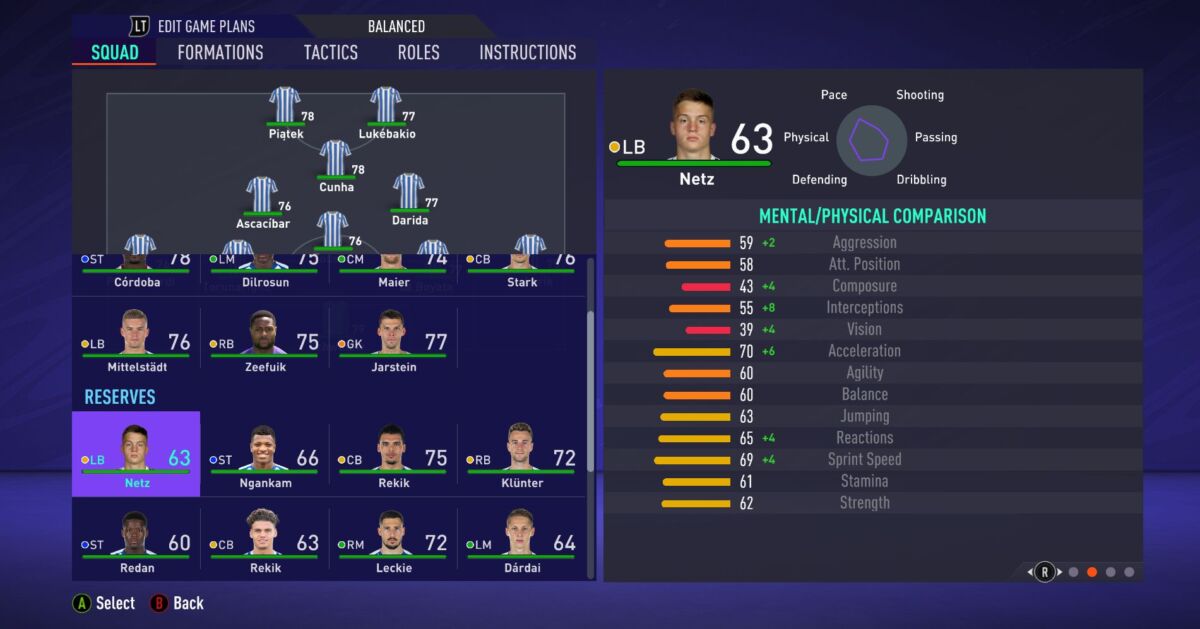 Age: 17
Rating: 63
Potential: 86
Nationality: German
Current Club: Hertha Berlin
Value: €750K
Just in case you needed any more proof that the future of German football is impossibly bright, along comes Hertha's Luca Netz. While not a standout in any department at just 17, he already has good tackling and dribbling and is only going to get better.
That said, his speed might be a slight concern, especially in the era of overlapping full-backs as he's 6'2″ — a bit tall compared to his peers. Put him on an attacking wide back development plan, though, and watch him grow into one of the best young full-backs in FIFA 21 within a few short years. He can also play fairly comfortably on the wing if needed.
O. Rekik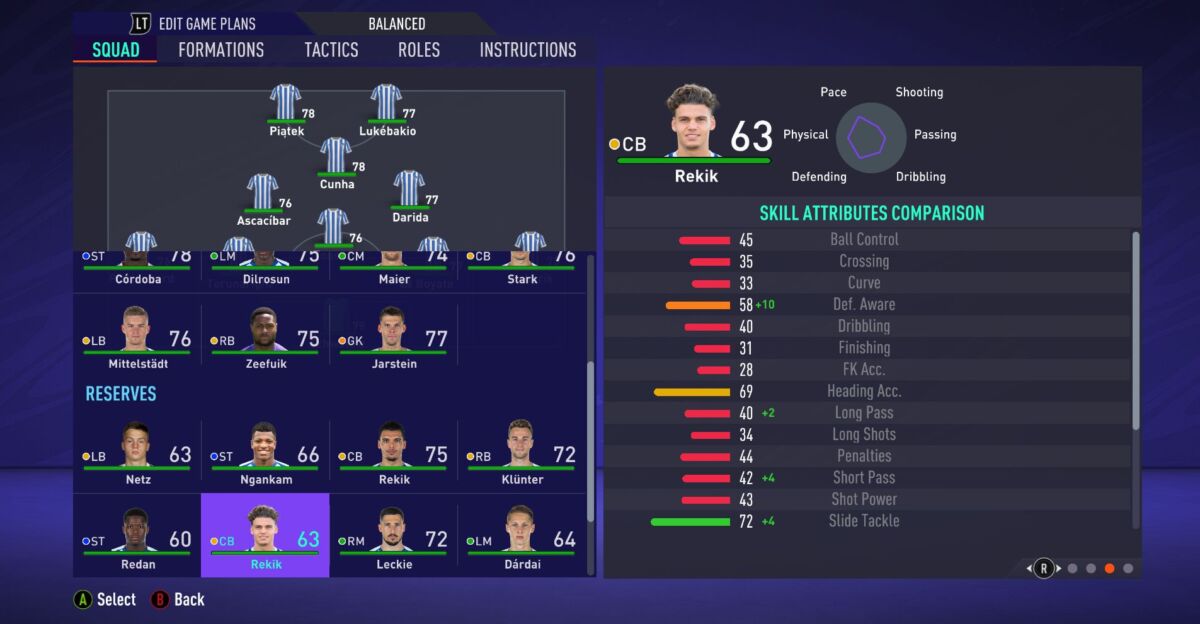 Age: 17
Rating: 63
Potential: 85
Nationality: Dutch
Current Club: Hertha Berlin
Value: €775K
It isn't just Bayern who have a strong future in defense in the Bundesliga. The aforementioned Luca Netz and also Omar Rekik could go on to become quite the stalwarts in the Hertha defence over the years — unless you buy Rekik for as little as €2.1M, of course.
At 6'1″ and boasting quite the impressive tackling stats, the young Dutchman is going to be a brilliant CB in a few years based off his attributes in FIFA 21. Though strong and quick, he is certainly lacking quality on the ball, though nothing that putting him on a ball-playing defender development plan for a few years can't fix. Not to be confused with his brother Karim, who also plays for Hertha at CB.
FIFA 21 is available now for PC, PS4, and Xbox One. A Legacy Edition is also available for Switch.
Some of the coverage you find on Cultured Vultures contains affiliate links, which provide us with small commissions based on purchases made from visiting our site. We cover gaming news, movie reviews, wrestling and much more.