"It's for your Disney pins," my friend said to me just before Christmas, handing me a small black backpack with a heart shaped see-through window on its front, "it's a Japanese thing, you can pin things onto the flap inside and they'll show through." Little did she know that she'd unleashed a merchandise-collecting monster that dwelled deep within my nerdy soul.
"Ita" bags (literally: "painful" bags) have been a trend in Japan for the past few years, but have only recently started gaining widespread recognition in the West. They're not a specific brand or type of bag (though most come equipped with a transparent plastic window that both protects merchandise and allows others to see it), they're simply the name given to a bag used to express devotion to a particular character, series or theme by being covered in merchandise. They're known as "painful" bags for several reasons: they inflict pain upon your wallet (a lot of anime/manga merch can be very expensive, and buying "doubles" of merchandise is common with ita bags), they inflict pain upon your eyes (they're incredibly busy to look at!) and some can even be physically painful to hold/carry, weighed down with dozens of metal pins and badges. Some people even claim that the "pain" part is due to the emotional suffering caused by an ita-bagger's love of a particular character.
Ita bags are essentially a way to show off your collection of stuff whilst on the move: the window-style bags also help to keep your merchandise protected from things like rain and crowds. I like to think of them as portable moodboards, where you gather a selection of things you like themed around characters, franchises, colours etc., and show them off to the world. There's no real "right" or "wrong" way to make your own ita bag, and they can range from being very subtle with just a few pieces of merch to being elaborate affairs spanning hundreds of pins, badges, plushies etc. People will also decorate their ita bags with things like ribbons, rhinestones, patches, fairy lights, decals and more. No two bags are the same, even if they are themed around the same character or series.
Lindeberry7, one of the moderators of Instagram account @itabagcentral, an account dedicated to sharing photos of fans' ita bags, spoke to us about their love of ita bags, and how the phenomenon is growing outside of Japan: "I've been into ita bags for about 2 years now," they explained, when I asked how they first found out about the unique bags, "I was watching some figure haul videos on YouTube and someone mentioned they were starting one soon; I was curious and started looking into them from there. Being an avid collector it was the perfect way for me to make use of all the merchandise I collected and show my love for favorite characters/series."
The bags themselves can often become a collection, with many fans dedicating multiple bags to characters or series that they adore: "I currently own 19 itabags…", Lindeberry7 confesses, impressing us, "I have a few favorites, in no particular order: my most recent is dedicated to Uzumaki Naruto from Naruto, then one of my earlier bags [that] still remains a favorite: Azumane Asahi from Haikyuu!!, last but certainly not least is actually a whole ita co-ordinate that I wore this October dedicated to one of my favorites, Christophe Giacometti from Yuri!!! on Ice. I carried five bags in total for this (one backpack, two handbags, and two on a cart) and it was such a blast to debut! Some people may think 19 is a lot but I have so many characters I love and would love to make a bag for them all. In addition to making new bags, I would like to go back and update/improve some of my earlier bags."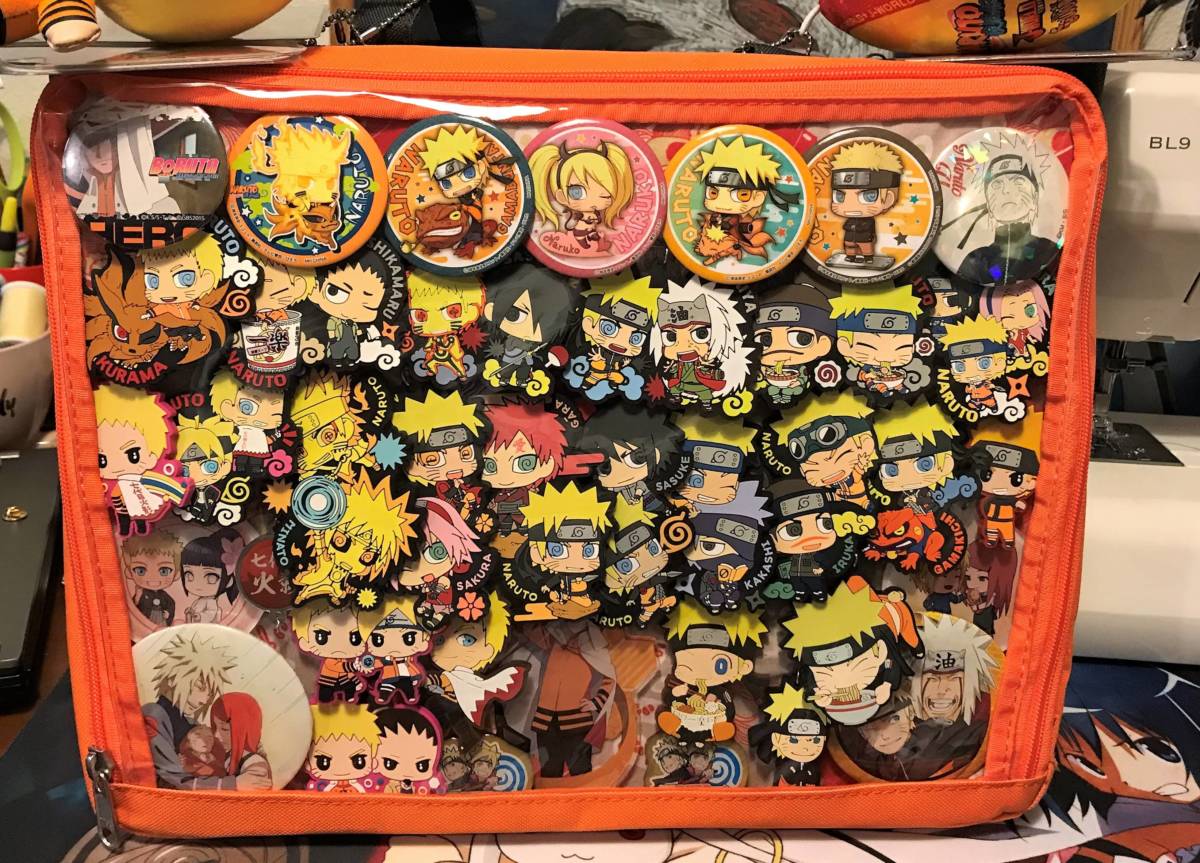 Ita bags are most often displayed at conventions, where people feel most comfortable showing off their collections of merchandise among fellow fans. This has led to the creation of ita bag "meetups", informal gatherings dedicated to ita bag creators who want to meet other collectors to show off collections, share DIY tips and make new friends. Lindeberry7 told us how the meetups generally work: "I have both been to and hosted meetups. The first one I went to everyone was kinda quiet at first but people slowly started mingling and talking to each other about their bags. When I host my own I try to have everyone introduce themselves [and] talk about the bag(s) they brought, what got them into ita bags, and future goals/projects…from there people can break off and talk to those who they have common interests with. Then at the end, everyone puts all their bags together to take a group photo. Meetups are a great way to get to know other ita-baggers in your community. "
It seems as if ita bag creation will continue to be a phenomenon that grows throughout 2018, as more fans discover the trend as a way to show off their love of a character, anime, manga, film or more. Let's just hope it's not too painful for anyone involved…
You can follow @itabagcentral on Instagram by clicking here–thanks to their moderation team for taking the time to talk to us about ita bags!
Do you have an ita bag? What character or series would you theme a bag around? Let us know in the comments below!
Some of the coverage you find on Cultured Vultures contains affiliate links, which provide us with small commissions based on purchases made from visiting our site. We cover gaming news, movie reviews, wrestling and much more.