While it's hardly as realistic as something like Football Manager when it comes to number crunching, EA FC can be as hard or as easy as you make it when selecting your team for Career mode. If you're picking a smaller club, or someone just outside of the Premier League, you're likely not going to have tonnes of budget for signing new players. If you're allocating a lot of your budget to wonderkids, you're probably going to want to scour the free agent market.
In truth, the free agent offerings in EA FC 24 are a little thin on the ground, owing to how many actual free agents got snapped up early on in the real life window. The bulk of the best free players are also only available because the game doesn't have the Liga MX license, so there's just a bunch of decent players without a club who will still however be available at a national level. Make no mistake, there are no absolute world beaters on the free agent market, but if you're looking for a little bit of added squad depth for your top level club, or are trying to work your way up to that level, you can do a lot worse than these players.
Bear in mind that you're going to have to snap these players up almost immediately at the start of your save, as other clubs will look to hoover up free talent from the get go.
The Best Free Agents in EA FC 24
Jesús Corona (RW/LW)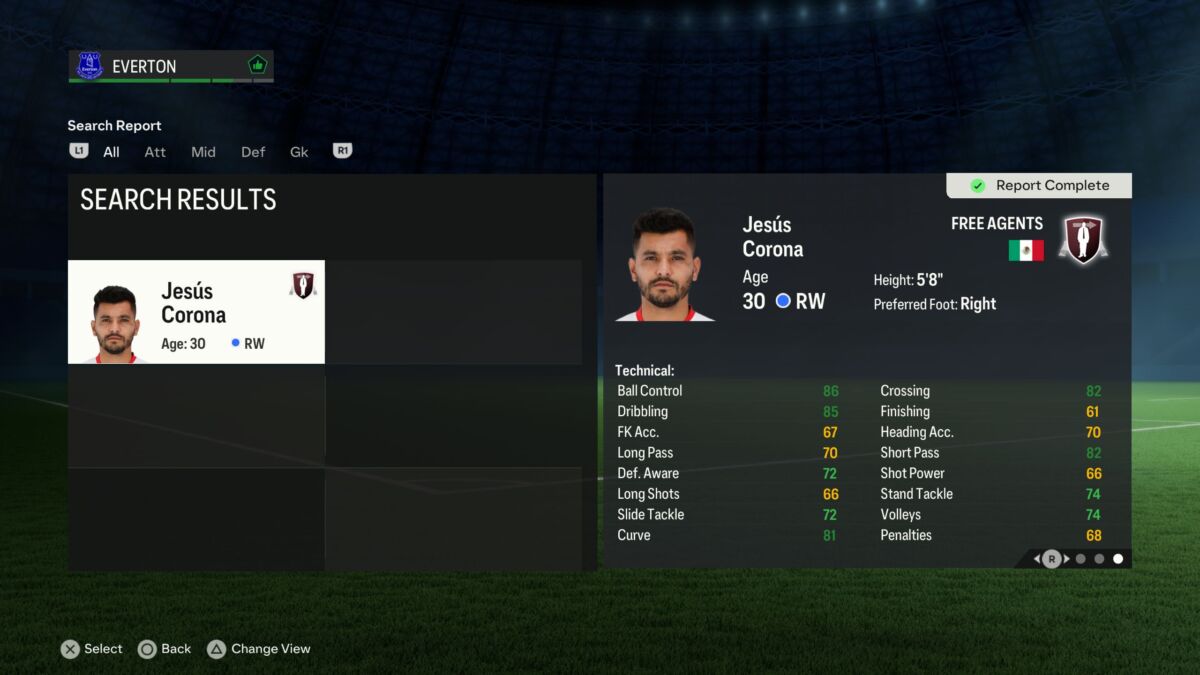 Rating: 80
Potential: 80
Nationality: Mexican
Age: 30
Probably the best freebie you can get in EA FC 24, Jesús Corona is just an all round solid winger with decent stats pretty much across the board. Really, he could slot into just about any top side as an option off the bench, or be a star man for those not quite at the top of the pyramid.
A very skillful player with a bit of a weak shot, Jesús Corona's excellent attacking attributes in terms of notching up assists will make him a very good asset for you for at least a couple of seasons before the decline starts.
Alexis Vega (LW/ST)
Rating: 79
Potential: 82
Nationality: Mexican
Age: 25
A lot of what was previously mentioned about Corona can probably said of Alexis Vega as well, except that Vega has age on his side and has a slightly higher ceiling. He's also one of the best dribblers in the game and has very strong pace to match.
Where Vega has Corona beat is in front of goal, as his finishing and general shot attributes are much higher. He also has 85+ vision from the start, but his seriously poor tackling is what undoes his overall rating. However, considering how much you could sell him for after a couple of seasons, "free" is a sensational deal for this guy.
Luis Chávez (CM/CDM)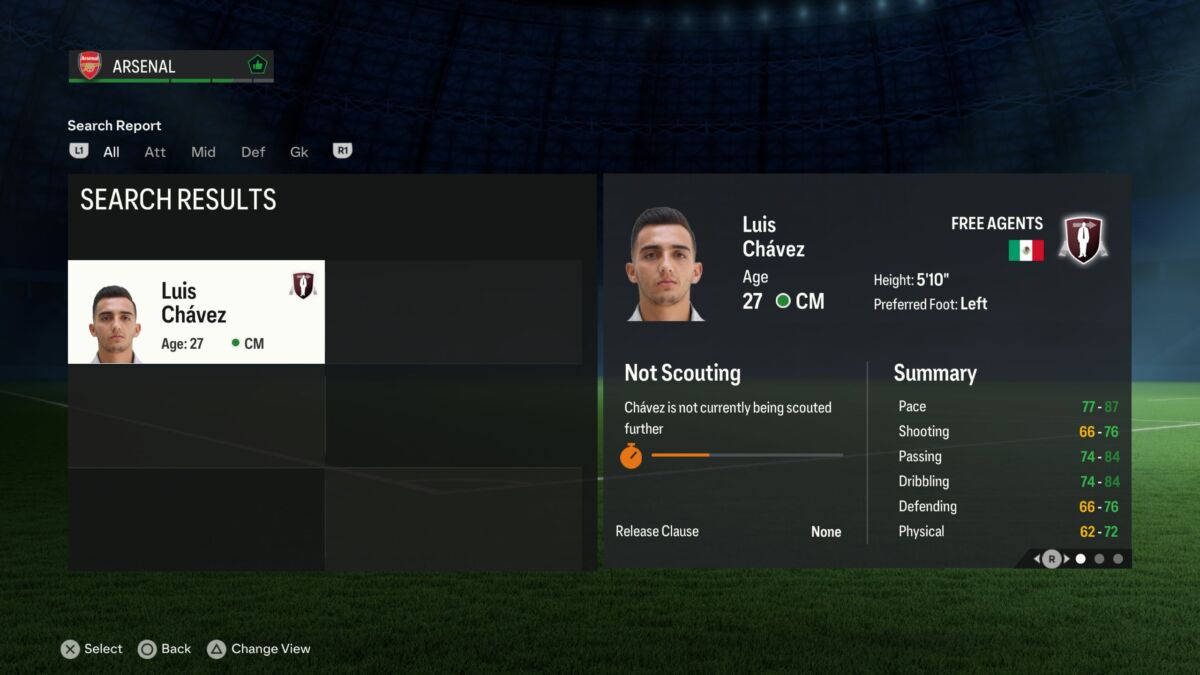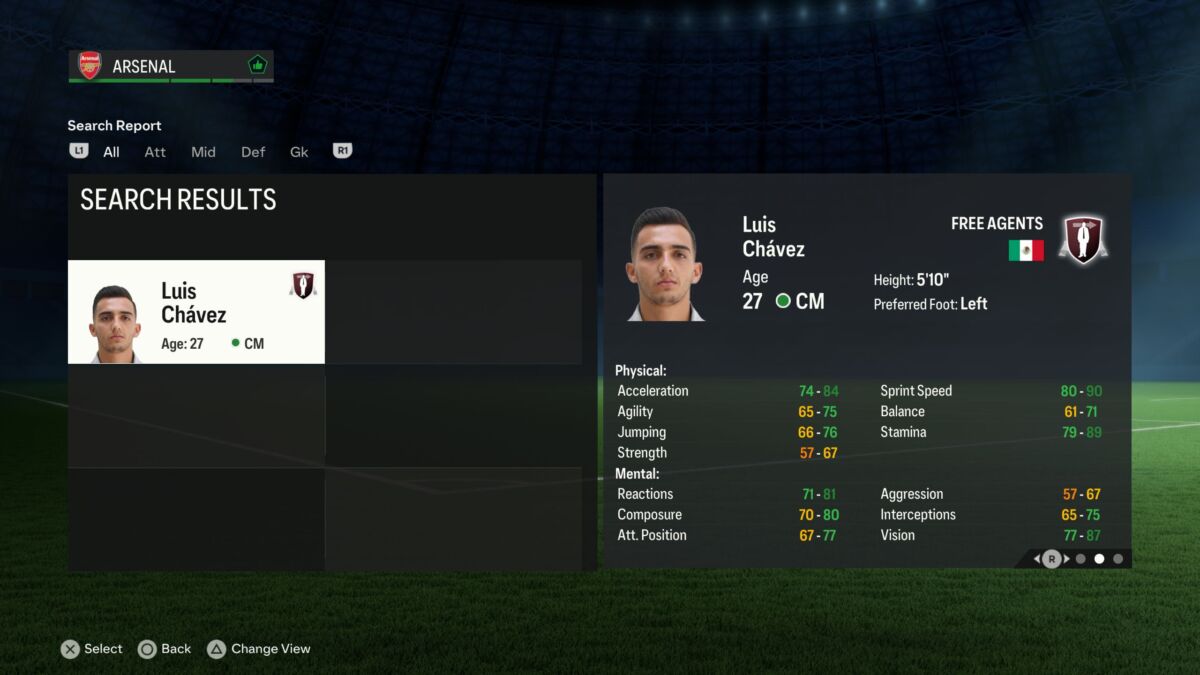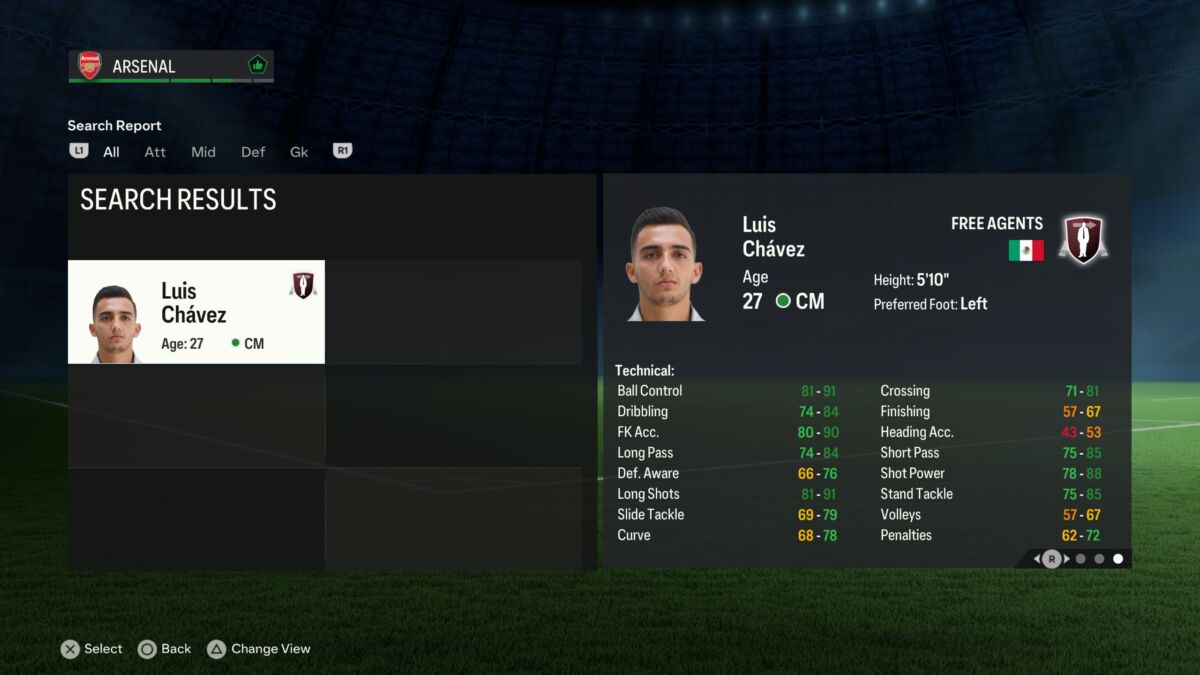 Rating: 79
Potential: 80
Nationality: Mexican
Age: 27
Okay, we promise we will stop playing it safe with the Mexican national team outcasts after this one, but you really cannot go wrong with a player like Luis Chávez to anchor the middle of your XI. Just take a look at his tackling attributes and tell us you wouldn't want him in your team.
He's also just a really skillful player on the ball, as well as surprisingly fast for a CDM. What lets him down in the middle is that he's a bit on the lightweight side and could be better at interceptions. However, if you're looking for an all-round solid midfielder who can also make things happen, look no further.
Nediljko Labrović (GK)
Rating: 72
Potential: 79
Nationality: Croatian
Age: 23
Labrović isn't the best free goalkeeper in EA FC 24 in the raw numbers sense, but you are "buying" raw talent if you snag him on a free early on. He will be a pretty dependable #2 for a top side on the very rare occasions that you need to rotate, or can absolutely be #1 for any teams outside of the top 5 leagues.
But what you should really be looking at Labrović for is young age, as he has plenty of room to grow. His kicking could do with some work and he's never gonna be an icon of the game, but you should never turn your nose up at a 6'5″ goalkeeping unit who you can sell on for easy money in a few seasons.
Marko Stamenic (CM/CDM)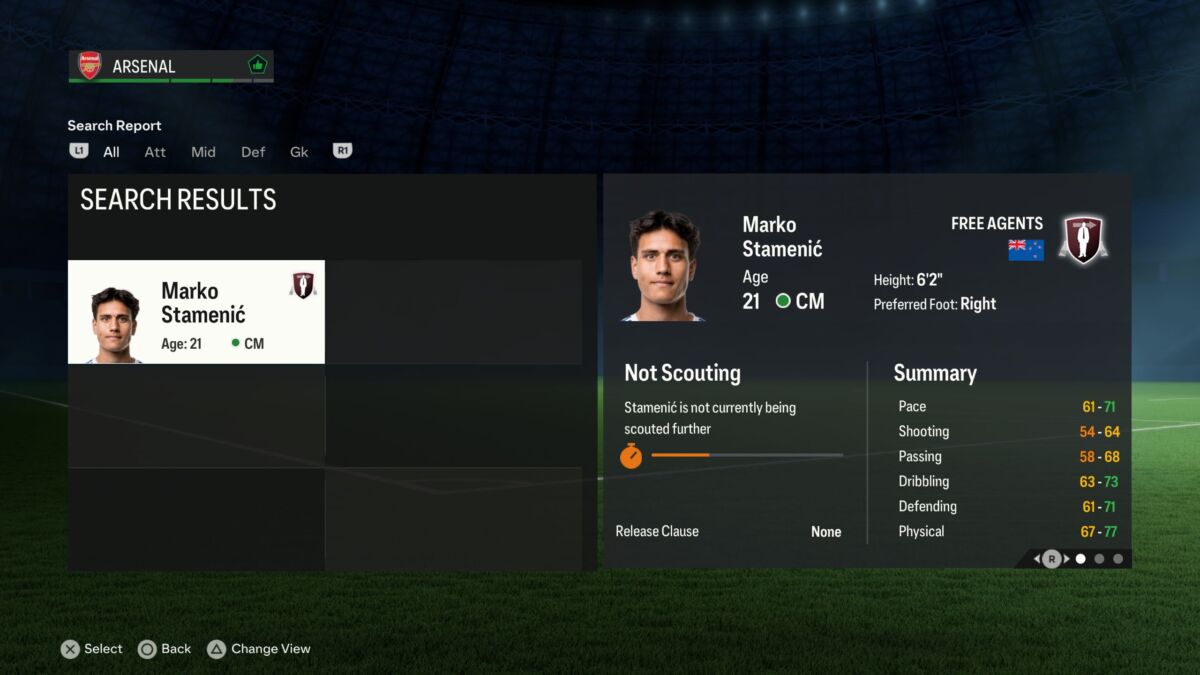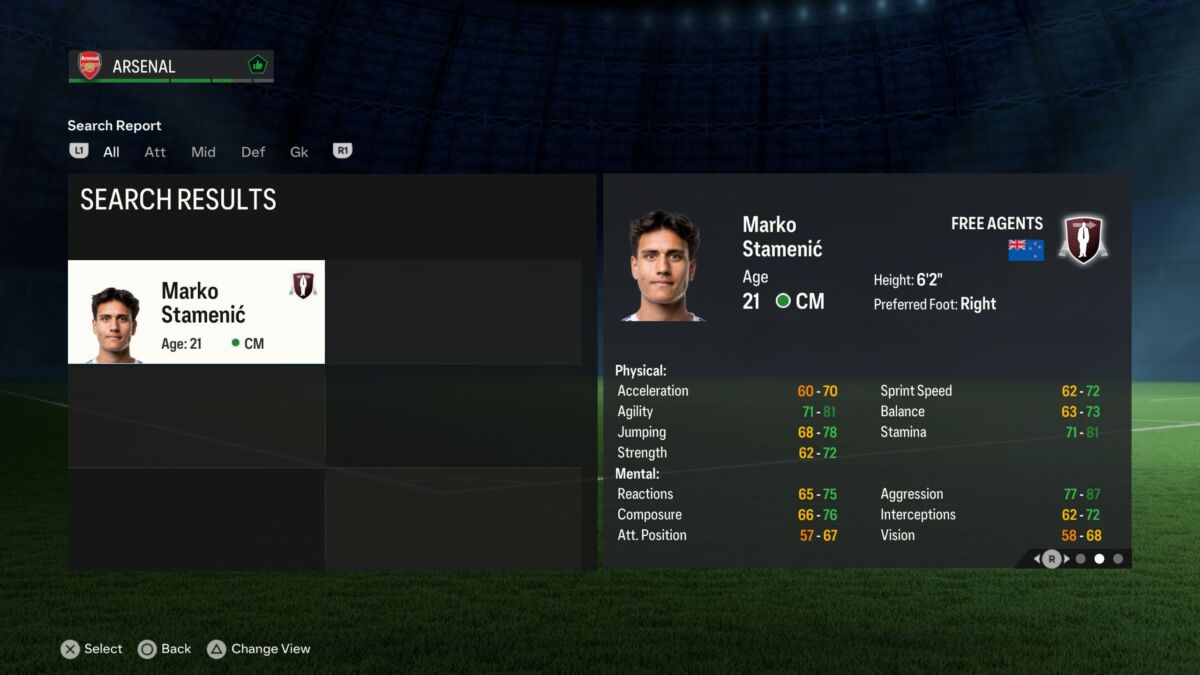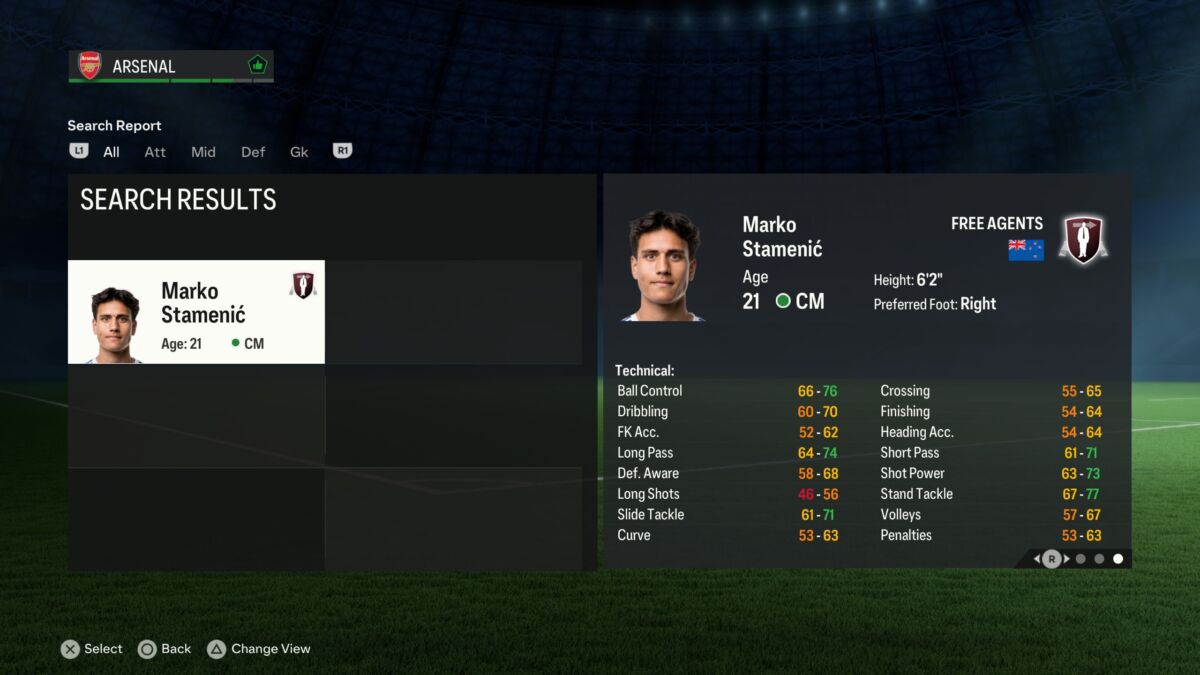 Rating: 68
Potential: 80
Nationality: New Zealand
Age: 21
Probably pound-for-pound the best free transfer available in EA FC 24, Marko Stamenic is a young kiwi who finds himself without a club in-game since a real world transfer to an excluded club, which means you're able to get a lot of potential for absolutely nothing.
A somewhat slow central midfielder, Stamenic's aggression and stamina still make him a bit of a unit, which is also backed up by his very aggressive and combative mentals. You're probably a little distracted by his low overall rating at the start of a save, but with 10+ potential growth, you're basically just printing free money if you sell him on in a couple of windows.
Zsolt Kalmár (CAM/LM)
Rating: 74
Potential: 74
Nationality: Hungarian
Age: 28
A player at the peak of his abilities, the Hungarian Kalmár is a solid technical player who can definitely do a job at most clubs across Europe's top leagues. While he might struggle when it comes to the absolute elite level, he will be a standout in a promoted side, or be one of the best players anywhere below the top division.
Possessing a brilliant passing range, Kalmár is very adept with the ball of him feet and also knows how to find the back of the net from distance. His physicals are what let him down, though, and those aren't going to improve at 28. For free, though, you're getting a very budget de Bruyne who might take you by surprise.
Ola Solbakken (RM/RW/LW)
Rating: 73
Potential: 76
Nationality: Norwegian
Age: 24
This might not make sense to a lot of people, but there's something about Ola Solbakken that screams 5 goals a season at Bournemouth. While he doesn't quite fit in with the modern vision of a winger (read: extremely fast), Solbakken's versatility means he still has enough about him to be a pretty easy pick-up for free.
A solid technical dribbler who still has a bit of pace about him (especially when it comes to how quickly he reaches those top speeds), Solbakken needs a bit of work on the the supportive side of his game, as he isn't much of a creator on paper. Still, he is a good finisher and has a little bit of room to grow. Expect to make a few million on him at the very least.
EA Sports FC 24 is available on PC, PS4, PS5, Xbox One, Xbox Series X & S, and Switch.
READ NEXT: EA Sports FC 24: 5 Best Formations for FUT
Some of the coverage you find on Cultured Vultures contains affiliate links, which provide us with small commissions based on purchases made from visiting our site. We cover gaming news, movie reviews, wrestling and much more.