DOOM Eternal is a pretty hefty game, one that will take you over 20 hours of playtime if you want to find all of its secrets, one of which is all of its toys based on the demons in the game.
The toys appear in almost every level in the game and usually require you to go off the beaten path and beat down some walls and make leaps of faith. While you can get suit upgrades to make finding in-game secrets easier, it's still not the easiest job in the world.
To help you out, we've compiled a complete guide on all of the toy locations in DOOM Eternal, which you can check out below or in the video at the top of the article. Browse the index for all the toy locations per level below.
– Hell on Earth toys
– Exultia toys
– Cultist Base toys
– DOOM Hunter's Base toys
– Super Gore Nest Toys
– Arc Complex Toys
– Mars Core toys
– Nekravol toys
– Taras Nabad toys
– Urdak toys
Hell On Earth Toys
Zombie (Earth)
Almost as soon as you start a new game, you will find enter into a room that looks like a demented wine cellar. Find a crack in the wall on the left and then venture on down the corridor before jumping up to claim the Zombie (Earth) toy.
Imp
Once you get into the city a little bit, jump on top of a bus and then up onto a ledge. From there, simply follow the room along for a few steps until you see a crack in a wall. Smash through it and then drop down to get the Imp toy.
Doom Slayer
To get the man himself, get yourself to a dilapidated building we highlighted above, climb on to a small ledge through a hole, and then make your way to the left and find the DOOM Slayer toy in a little nook.
Exultia Toys
Arachnotron
Just as you exit the cylindrical electricity section, jump down one level and to your left, smashing through the wall that is shrouded in darkness. Move along past the candles and snaffle up your Arachnotron toy.
Cacodemon
Shortly after meeting The Betrayer, a launch pad will appear in the previous area that you can use to jump over lava. Find the Cacodemon toy lurking behind a stone wall.
Cultist Base Toys
Gargoyle
Early on, you will find an ice wall you can punch through. Take a step back and then hang a left until you come up to another snow wall that you can break through. Leap onto the suspended skull and then take your Gargoyle toy.
Soldier (Blaster)
In the corridor with a load of descending axes, hug the right side of the room until you find a grate. Smash it, jump in and then pick up your Soldier (Blaster) toy. A door will open on the opposite side of the corridor and some soldiers will come out.
Doom Hunter Base Toys
Lost Soul
This one should be a little hard to miss. In the lava section, you need to jump on a moving platform. Halfway through the journey, simply jump up into a chute and take the Lost Soul toy you find there.
Hell Knight
Now this one is very easy to miss. Just before the battle with DOOM Hunter, track back a little and enter a machine room. Fire up at the green button on the ceiling and a secret area will open, allowing you to claim your Hell Knight toy.
Super Gore Nest Toys
Mecha Zombie
After you claim the blue keycard, you can them backtrack to the start of the Super Gore Nest level. Find the huge column with a keycard lock, enter it, and then use the launch pad to land on the Mecha Zombie toy in a destroyed room.
Revenant
During one of the toxic exploration areas, find a waterfall and then go left. You will find your Revenant toy relaxing down a long corridor; use the teleporter at the end to get back to safety.
Soldier (Shield)
At one point, you will need to jump up a moving monkey bar swing and then move forward to keep progressing in the level. Once you reach the top level, turn back instead and jump into the little cubby-hole of flesh and snag the Soldier (Shield) toy.
Arc Complex Toys
Mancubus
Right at the start of the level, go straight ahead and enter what looks like a little shop. Find the Mancubus toy chilling behind the pillar.
Whiplash
As you make your way up some stairs with purple lighting, hang a left as you reach the top of the stairs and then walk through the wreckage you find. The Whiplash toy is on your left.
Cueball
Right near the Slayer Gate for the level, turn back and then jump over the collapsed bridge and discover the Cueball cutie just sat there waiting for you on your right.
Mars Core Toys
Carcass
The Carcass toy is very easy to miss. After you fall down onto the outside after the first section after being shot out of a cannon, hang a left and then smash through a grate, taking a teleporter. Go left and then use the launch pad to reach a higher level, moving forward until the bigger area of the new room; Carcass is behind a pillar.
Pinky
Another one that is very easy to miss. You have to drop down a chute at one point to progress in the mission, but instead of going straight ahead, look left and smash through the grate. Take the launch pad and then take Pinky in the enclosed room.
Prowler
After you recalibrate the BFG, instead of going through the newly opened door on the left side of the door, go straight ahead and then find the Prowler toy that you could see earlier in the level.
Taras Nabad Toys
Cyber Mancubus
This is probably the most complex toy to get. Just as you are about to walk up some rather opulent stairs, instead find a statue with a crack in it. Punch it open and then press the green button, which will then open a button to stand on on the stairs. Do that and that make your way backwards and walk through the newly opened grate to claim Cyber Mancubus.
Marauder
When you go to get your Crucible hilt from the dead Titan, go left past his legs and then keep going until you find a crack in the wall. Smash through it and then tick the Marauder toy off your list.
Pain Elemental
This is the single most annoying toy to get in DOOM Eternal. After moving through the Throne Room, you will come across a deep shaft that you should drop down into. However, the Pain Elemental toy is located in a secret room that you have to smash through to get to. We strongly recommend that you use a rune that allows you to slow down time while jumping or to use your weapon wheel while falling to make it much, much easier to access this room.
Nekravol
Baron of Hell
Again, very easy to miss. Right at the start of the level, use the monkey bars to swing up near to a locked-off area and then quickly press E to climb up a sneakily disguised wall. Jump to the left and into the opening and then drop down to gobble up the Baron of Hell toy.
Gladiator
At one point, you are asked to jump across a chasm and underneath some grating. Instead, drop directly down and then enter a secret passageway. Make your way through this, jump up a platform and then add Gladiator to your toy collection.
DOOM Hunter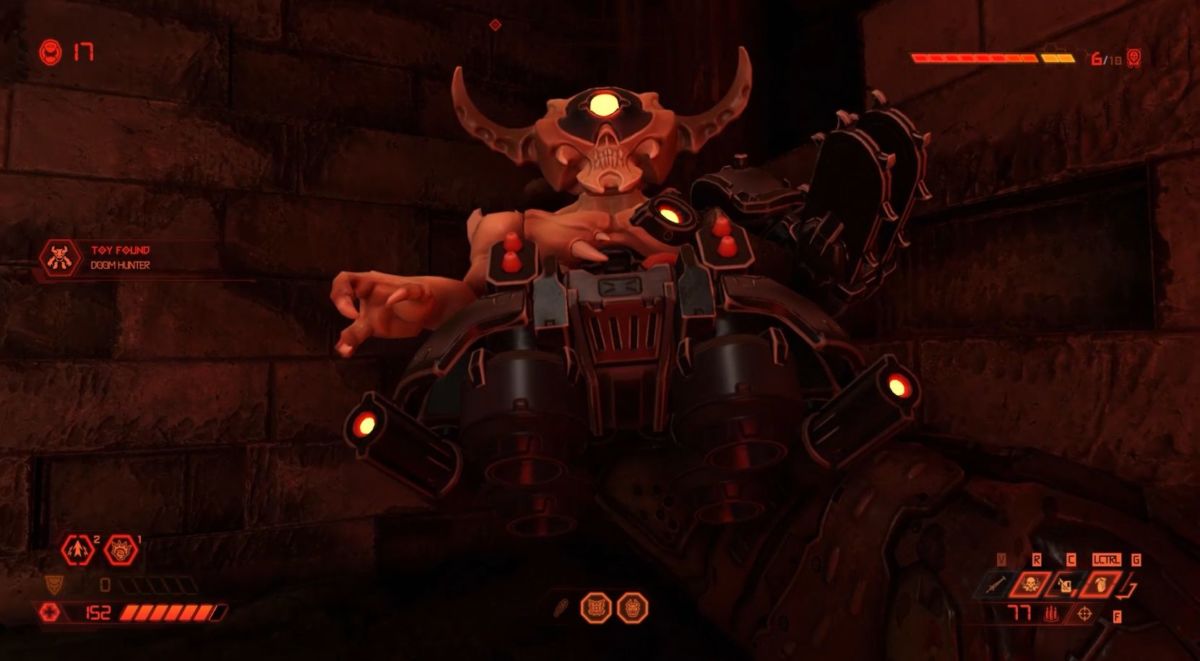 These toys just keep getting sneakier. Before you make your way through one of the crushers in the level, look right and then smash through a wall to get your DOOM Hunter toy and also a Master Token, giving you Mastery for a weapon immediately.
Archvile
As you are ascending the spire and using the huge launch pad right near the end of the level, you can punch your way through a wall around halfway to get yourself the Archvile toy. Quite easily missed.
Tyrant
Instead of leaping onto the moving platforms filled with fire, drop immediately down and then double dash your way into a tiny gap where the Tyrant toy awaits.
Dread Knight
Just after you take on a Marauder in a soul room of sorts, make your way down what looks like a cobwebbed area before you smash through a wall on the right side to tick the Dread Knight off your collection list.
Urdak Toys
Khan Maykr
Just before you use one ofthe giant celestial launch pads for the first time, hang slightly to the right, drop off the ledge and then double dash into a secret room to get the Khan Maykr toy.
Maykr Drone
This is the easiest DOOM Eternal toy to find out of all of them. Simply jump on a ledge near the main celestial launch pads and then swipe yourself a Maykr Drone toy.
Spectre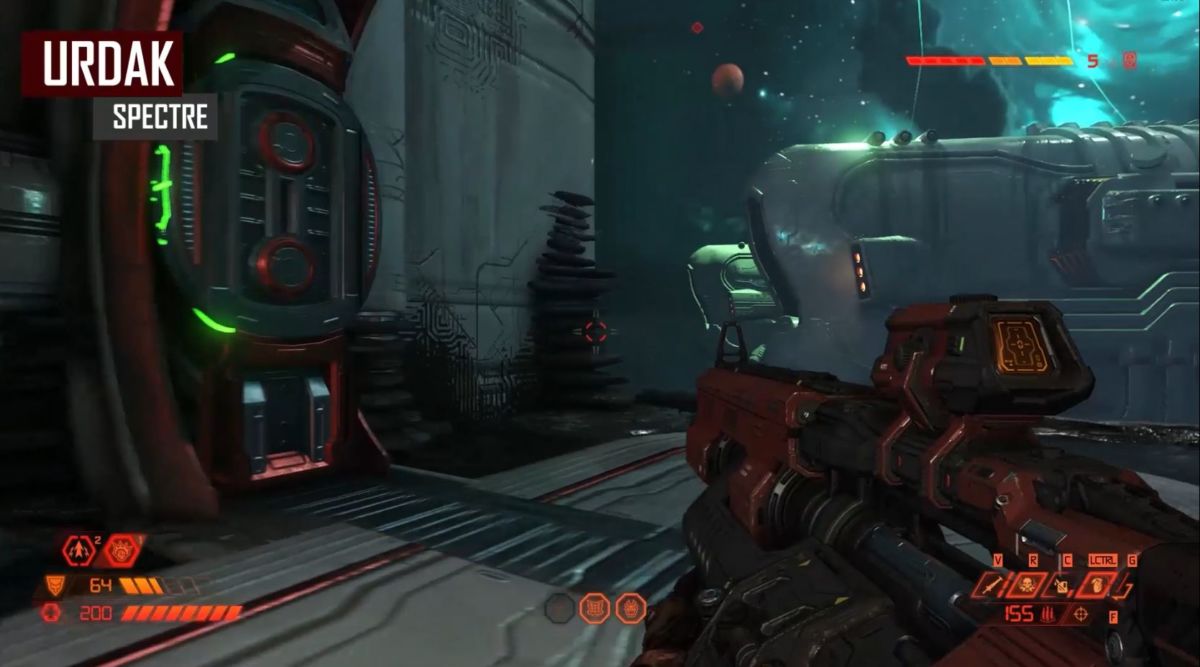 The final toy is suitable sneaky for what he is as a demon. After you activate a celestial ring, go to exit but the hang a left, jumping a dashing your way to little tree with the Spectre toy at the foot of it.
What Is Your Reward For Collecting All Toys In DOOM Eternal?
For collecting all toys in DOOM Eternal, your reward is the Icon of Sin toy which takes pride of place in your room in the Fortress of Doom, as well as a nice trophy/achievement.
DOOM Eternal is available now on PC, PlayStation 4 and Xbox One. Also Stadia. From our DOOM Eternal review:
"DOOM Eternal is a bloody masterpiece of glorious violence that may well be the best the series has ever been."
Some of the coverage you find on Cultured Vultures contains affiliate links, which provide us with small commissions based on purchases made from visiting our site. We cover gaming news, movie reviews, wrestling and much more.