Taking inspiration from the likes of The Lives of Others and Papers, Please (two fantastic things to be inspired by), Do Not Feed The Monkeys is an innovative surveillance simulator in which you peep into the daily lives of people. Whether it's a stand-in for Hitler or a plant that barfs out clones, the barmy characters of Do Not Feed The Monkeys are its most captivating attraction.
Often irreverent, Do Not Feed The Monkeys is one of the most darkly hilarious games I've played in quite some time. Everything is slightly off-kilter, whether that's the cultists who come to your door and ask you to look after their flowers, or the daily newspaper that seems to revel in the muck of modern life. It's wonderful fun, despite the very true message on the dangers of mass surveillance.
You play as someone on their first day on the job inside a shady society that watches other people through surveillance cameras. With your subjects referred to as "monkeys", your job is to unlock more "cages" (cameras), and then work your way up the ladder in The Primate Observation Club. There's much more to it than that, though: Do Not Feed The Monkeys is a surprisingly deep, twisty game with lots of things to juggle.
The more you play, the more cameras you unlock and the more you have to switch between each. Every scenario has a set schedule of actions each day, which means that you may have to flit between different scenes with a multiple screen set-up to keep in the loop on both. Some scenes even have multiple cameras for different angles, and you can even unlock night vision to get a different, sometimes unsettling perspective when the sun goes down.
As well as finding out all the information you can on your subjects, you must also balance your regular life, which includes going out and completing odd jobs to keep your landlady off your back, which is on top of staying stocked up on food and getting enough sleep. Do Not Feed The Monkeys offers constant quandaries, asking you to choose between living stably and fully diving into its mad world as often as you can.
It's a balancing act that is as difficult as it sounds. Your landlady turns up every few days and demands rent and your food meter depletes fairly quickly, but money in Do Not Feed The Monkeys can be hard to come across — unless you raise funds via "unconventional" means, of course.
The Primate Observation Club will often send you small challenges based on one of the subjects that asks you to find out their name, where they live, and so on. To do so, you have to watch them during their active times of the day, and then jot down select keywords to refer to in your notebook. You can then put the pieces together and build a complete picture of the person/thing in front of the lens, which you can use to answer a question and receive some money in return.
Or, if that's too vanilla for you, you can always record them doing something illicit and then send that into a gutter trash TV show to receive a payout. Your actions have consequences, meaning that an anti-government protester may end up getting dragged away violently in the night, or the aforementioned Hitler stand-in will try to start the old war machine up again.
You can even try to do the "right" thing on a few occasions, one particular sequence of note featuring a man trapped in an elevator. By piecing together all the clues, you can phone his wife and let her know where he is. There's an eclectic set of characters and scenarios here, so many so that I barely bumped into the same ones in different saves.
Do Not Feed The Monkeys is certainly a testing game, one that requires you to micro-manage every minute of the day to make it to the end. I failed quite a few times because my money ran out, I had no food, or I simply couldn't keep all my different obligations in-line. Luckily, if you want less focus on life management mechanics, Peeper Mode allows you to get to the core of the experience: spying on other people and discovering the madness they get up to.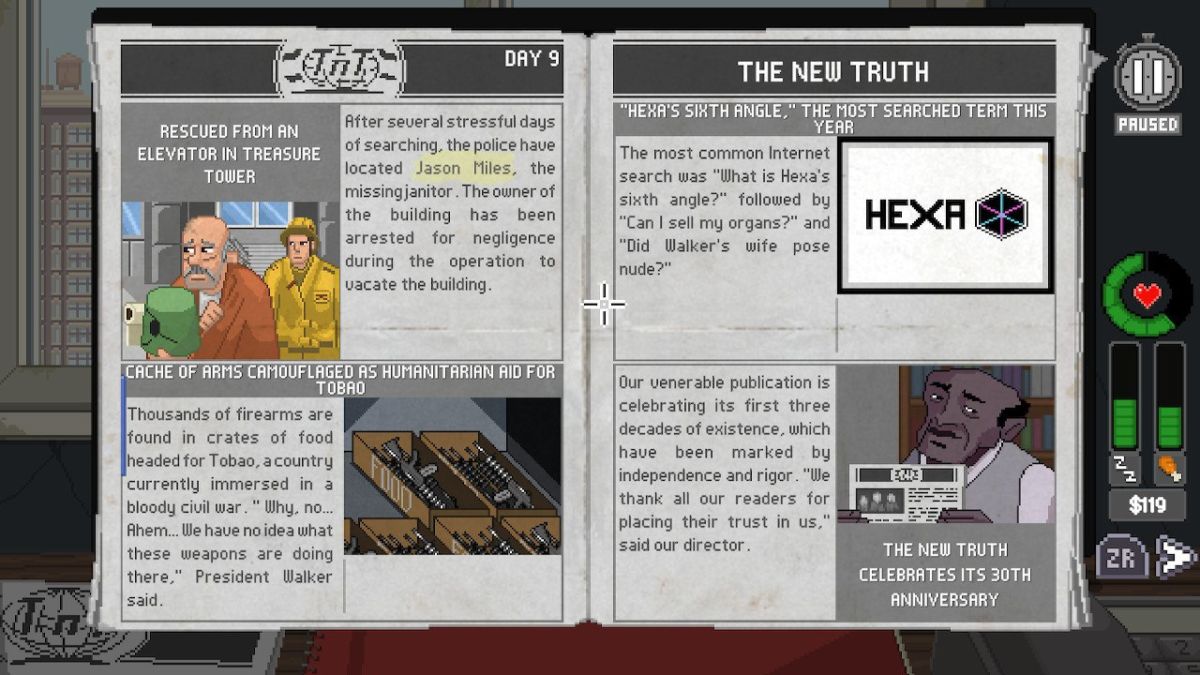 The game's Switch port is actually one of the most well-considered conversions I've even seen on the platform, it providing plenty of different ways of playing. While playing docked is certainly viable, handheld seems like the way to go. Featuring touch-screen support — vital for selecting things when you're against the clock – and easy navigation through its many menus and subjects, the game is perfect for ethical dilemmas on the go, even if the things to tap are sometimes too small.
Do Not Feed The Monkeys surprised me. Whether it's down to the unexpected depth, variety, or killer tone, I found myself engrossed through my descent into its dingy underworld. If you want a razor-sharp simulation that poses plenty of questions on morality, Do Not Feed The Monkeys will not monkey around with your time.
A Switch key was provided by PR for the purposes of this review.
Some of the coverage you find on Cultured Vultures contains affiliate links, which provide us with small commissions based on purchases made from visiting our site. We cover gaming news, movie reviews, wrestling and much more.

Verdict
Do Not Feed The Monkeys is an offbeat slice of dystopia that feels right at home on the Switch.