Cthulhu and Christmas probably aren't two words you would have immediately put in the same sentence together, never mind in the title of a game, but Zeboyd Games went ahead and said "why not?" Here's Cthulhu Saves Christmas, a turn based, JRPG-inspired adventure that offers some well needed early Christmas cheer this year. With a story that provides laughs at every conversation and an easy to access but hard to master battle system, this is a Christmas tale that everyone should play while sitting around the tree.
Cthulhu Saves Christmas is full of holiday cliches, and starts as it means to go on, beginning with the narrator rhyming "T'was the night before Christmas…" until they are cut off by Cthulhu, who declares there will be no more rhyming in his game. Cthulhu's Christmas cheer goes from bad to worse when he opens a surprise gift, only to find all his powers are gone. This is where your story begins, as you take control of Cthulhu on his quest to defeat the League of Christmas Evil and regain his powers in order to destroy the world — and save Santa if he's got time.
Cthulhu is hilarious as the main character in a Christmas themed story, and he definitely carries the game on his sarcastic shoulders. The game's main supporting characters – Crystal Claus (Santa's Granddaughter), Baba Yaga (the young old girl with the chicken on her head) and Belsnickel (a German gift giver that that game acknowledges most people only know from a pop culture reference) all have a role to play, but mainly serve to make Cthulhu seem more funny. His interactions with the other characters and the world around him are gold, and almost feel more important to the game than the actual gameplay itself.
The game's JRPG inspiration means turn based attacking is 90% of the gameplay, while the other 10% is walking around exploring limited areas and opening treasure chests. The areas that you explore are fairly small and largely uninteresting and repetitive, but the fact that this comes third behind the conversations and the battling means it can be forgiven. The ability to explore freely after a set number of random encounters is a nice addition though, and means you can find the few scattered treasure chests at your own leisure without fear of being attacked.
Your abilities are easy enough to understand — for the most part. A square grid display for each character you battle with explains, in short, what each ability will do to the enemy, or yourself, should you choose to use it. Special combination attacks are also available as one-offs in each battle, and will gain power the longer you wait before using them. Combining these abilities with items, defending and recharging at the right times, as well as paying attention to what enemy's weaknesses are, will be the key to winning battles. The difficulty of the battles increases, as expected, the further through the game you get, but never feel so difficult that you want to put the game down, and if you are ever struggling, you can change the difficulty level at any point.
While some abilities are obvious in what type of damage they do, due to the picture or the animation, others are less so. Enemy weaknesses appear next to them as you are targeting your attack, and while a flame or green bubbles would clearly indicate fire or poison damage, some are not quite as clear, and this can lead to some longer more tedious fights if you aren't sure what type of attacks you should be using. Fortunately, any full party deaths you might succumb to because of this, or a lack of paying attention to your health bar, will simply take you back to the start of the fight.
When you aren't fighting your way through the League of Christmas Evil, Cthulhu must spend the never-ending Christmas Eve interacting with other people, much to his dismay. These Free Days offer the player a choice of what they want to do, and they are rewarded with different items depending on what they do and who they choose to spend their time with. There's an abundance of choice, each with its own hilarious mini story, whether that is choosing to take Cthulhu to work at the Mall as a Santa, to the movie theater that only shows Christmas films, or to the ice rink, where he would rather force people into a violent hockey game than a pleasant skate. There's no wrong decision here, as every option rewards you, both in an item and a story, usually at Cthulhu's expense.
In addition to the great dialogue that the game thrives on, there's a fantastic Christmas based soundtrack which, while obviously fitting the theme, is also highly listenable and a little addictive. A rock version of Carol of the Bells is a personal highlight, and is a joy to listen to while you run around as a little 8-bit Cthulhu with a three person crew following behind. This exploration is a smooth experience, as is every battle that you engage with and conversation that you partake in. Cthulhu Saves Christmas is hard to put down, and though the story will only take you a few hours to complete, the addition of New Game Plus increases your potential play time.
By never taking itself too seriously and constantly poking fun of itself, Cthulhu Saves Christmas is a ho-ho-holiday joy. You may find minor difficulties with the battling system, but aside from this it's hard not to recommend the game. Get it in someone's stocking or under the tree, and they will not be disappointed.
A Switch key was provided by PR for the purposes of this review. 
Some of the coverage you find on Cultured Vultures contains affiliate links, which provide us with small commissions based on purchases made from visiting our site. We cover gaming news, movie reviews, wrestling and much more.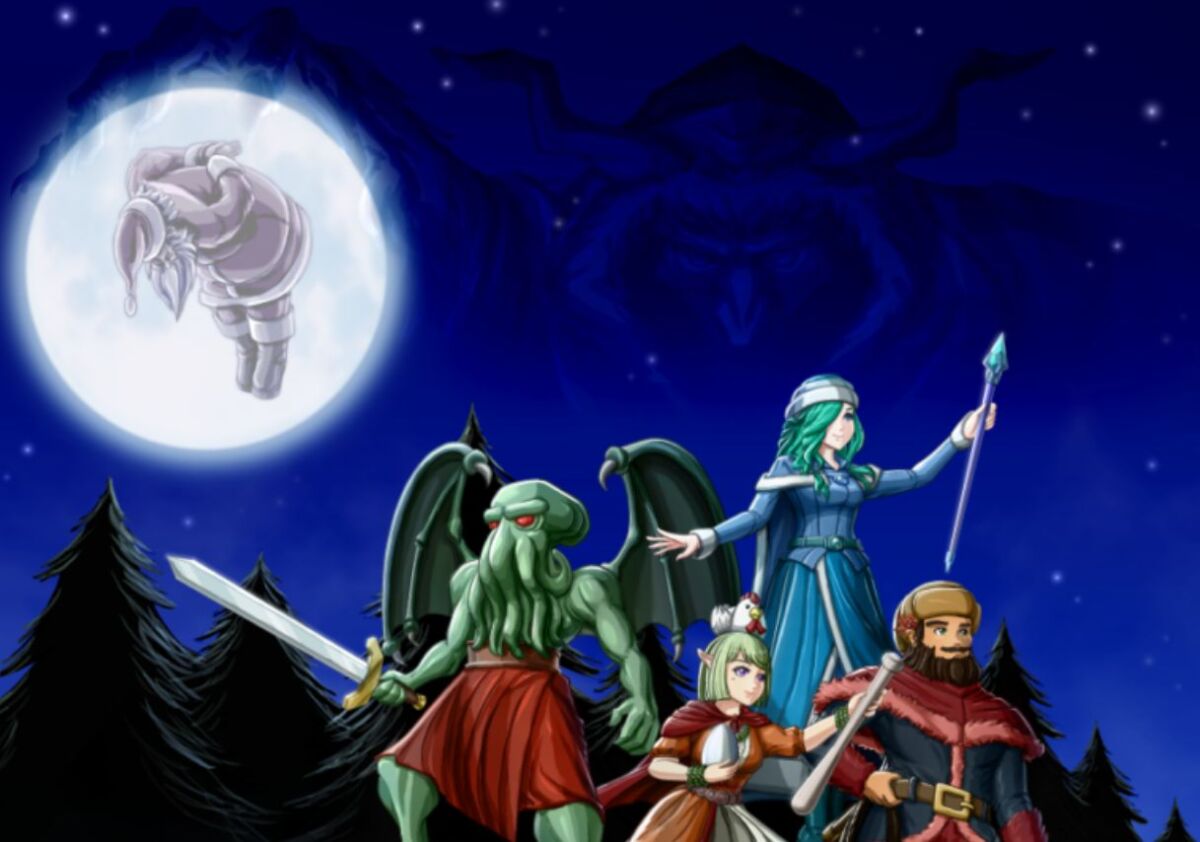 Verdict
Who knew the holidays with Cthulhu could be so much fun? If you put one game on your Christmas list this year, make it this one.