I really wanted to like Biomutant. When it was first announced, I was immediately attracted to the colourful world and cute furball characters. Well, as cute as furball characters can be when they're packing more heat than a US Army battalion in the middle of a post-apocalypse. Unfortunately, the end result is an ambitious game with plenty of bright spots that strains under its own weight.
With a story best described as Wall-E with furries, you control a lone wanderer in a world that's been decimated by humanity's blatant disregard for the environment. The Tree of Life is dying because 4 big monsters known as Worldeaters are gnawing at the roots, your parent's killer is terrorising the landscape and the six clans that own various parts of the world's land are too busy bickering between themselves to do anything about it.
From the outset, Biomutant is your typical open world RPG. You explore, complete quests, level up and find loot, which you can also customise and upgrade. From a character and class perspective, Biomutant is incredibly enjoyable. The combat is certainly a lot of fun, feeling like a mini-character action game rather than a clunky RPG. Dodging and parrying enemy attacks creates thrilling moments in each fight, and there's enough weapons and abilities to allow players to create a fighting style that's right for them.
The character creator is kind of a masterstroke too, allowing players to create a build that focuses on what they want to specialise in. At the start of the game, you pick from a selection of breeds, which each have their own specialisations, but afterwards you're allowed to really tinker with your stats to create that one-sided build that's right for you. Yes, I did dump everything into a two-handed strength build early on. Players can also spend their points however they like after level ups, meaning you're not really locked into following one specific archetype. If muscle isn't working, you can try your luck with magic instead.
The weapon crafting system is also pretty fun, as its open-ended approach allows you to make powerful weapons from whatever scrap you find lying around. Being able to swap out individual aspects of a weapon—like the handle or the stabby/smacky/slicey part of a melee weapon—means you can find new ways to reiterate on a build you're comfortable with. You can even use add-ons for your weapons and armour to improve their stats significantly, allowing you to become an even more deadly bundle of fluff.
Despite only being focused on PS4 and Xbox One, with no native next-gen version, playing Biomutant on the Xbox Series X looks absolutely stunning. Up close, some of the textures might not hold up to scrutiny, but the environment in Biomutant is gorgeous to look at. I often found myself stopping to take screenshots or making use of the game's photo mode to capture some of the game's beautiful vistas.
When focused on purely the player character and the combat, Biomutant is pretty enjoyable. If the game wasn't an open-world RPG and instead a series of levels where you smacked goons and levelled up, Biomutant might have been a better product overall. Instead, the weight of Biomutant's world and the unfortunate constraints of Experiment 101's smaller team and budget means that the game falls short.
The game presents like there's an open-ended approach to how you tackle two of the main objectives. You need to decide the fate of the Worldeaters and the clans, and to an extent there's truth to that. There's two major endings based on your choice regarding the Worldeaters, and with the six clans, there's consequences to be made based on who you're allied with. If they're billed as light or dark, certain clans will either want you to unite with your rivals or subjugate them.
Unfortunately, the process of taking over clans isn't quite the open experience it really could have been—it feels off. Despite the six clans holding either one of two viewpoints (save/kill the Tree of Life, unite/conquer the clans and kill/spare the Worldeaters), you can't just approach those clans that are like-minded and offer alliances. You have to take over the other outposts and then choose to spare them. Despite charisma, diplomacy and dialogue trees being a part of the game, they feel like afterthoughts that aren't very well realised.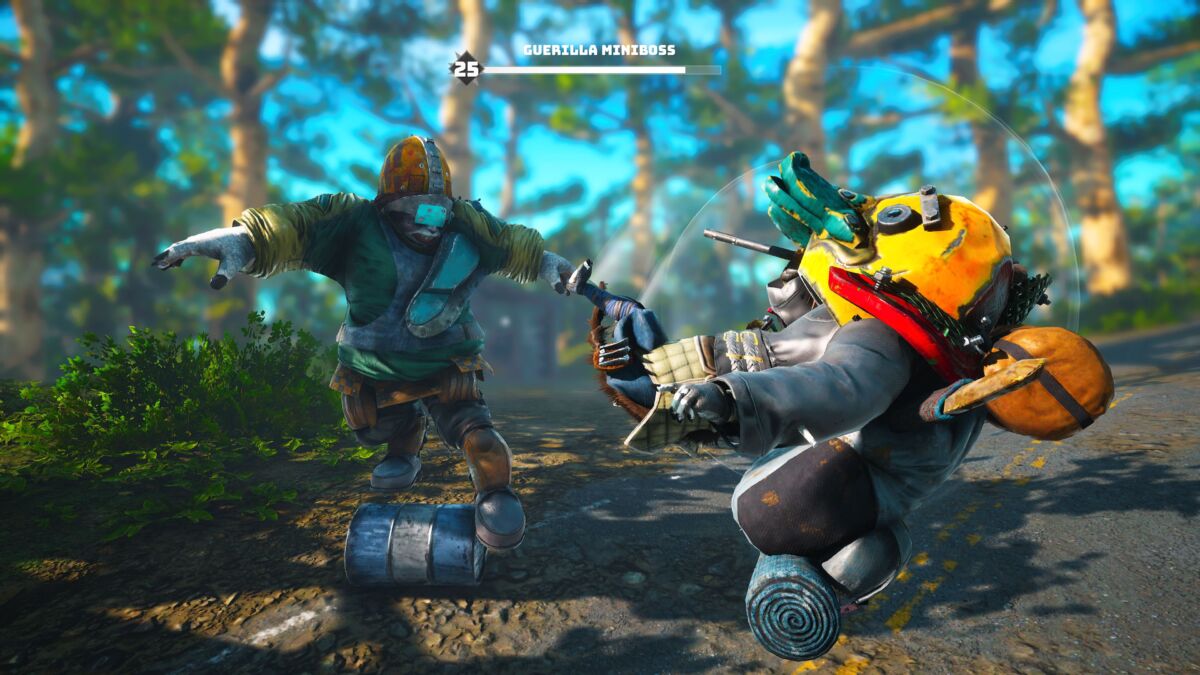 The fact that each clan has three outposts is one thing, but the way you have to take over each clan feels the same each time. One outpost will usually require a full blown siege, then another sees you flush the enemy out through subterfuge and the third will allow you to negotiate with the outpost leader so you can take over peacefully. Then there's the full blown assault on the headquarters led by your clan's Sifu, who'll tell you to go on a hike first to get a piece of equipment you need. Once inside, you can then try to reason with the rival clan's Sifu, who will be more easily convinced if your views are aligned. Rinse and repeat until you're done.
Repetition is the name of the main quest too, as dealing with the four Worldeaters often follows the same formula. You'll encounter someone who's working on a tool to help fight the Worldeater, but they need your help to find or fix it. Then you need to complete at least one more quest to find some kind of ammo for it, then you're off to fight the Worldeater. It's the same process each time, and it becomes more tiresome as a result.
For a game that features charisma and dialogue as part of its core gameplay, you would think that being able to use diplomacy as the first strategy in the clan war instead of being told "this clan is your rival now, go beat them up" before you've even discovered them would be the more ideal option, but it's not nearly utilised enough. This is especially true when playing a light playthrough. Dark playthroughs make sense to be more combat focused, but why is it the case for a light aura individual?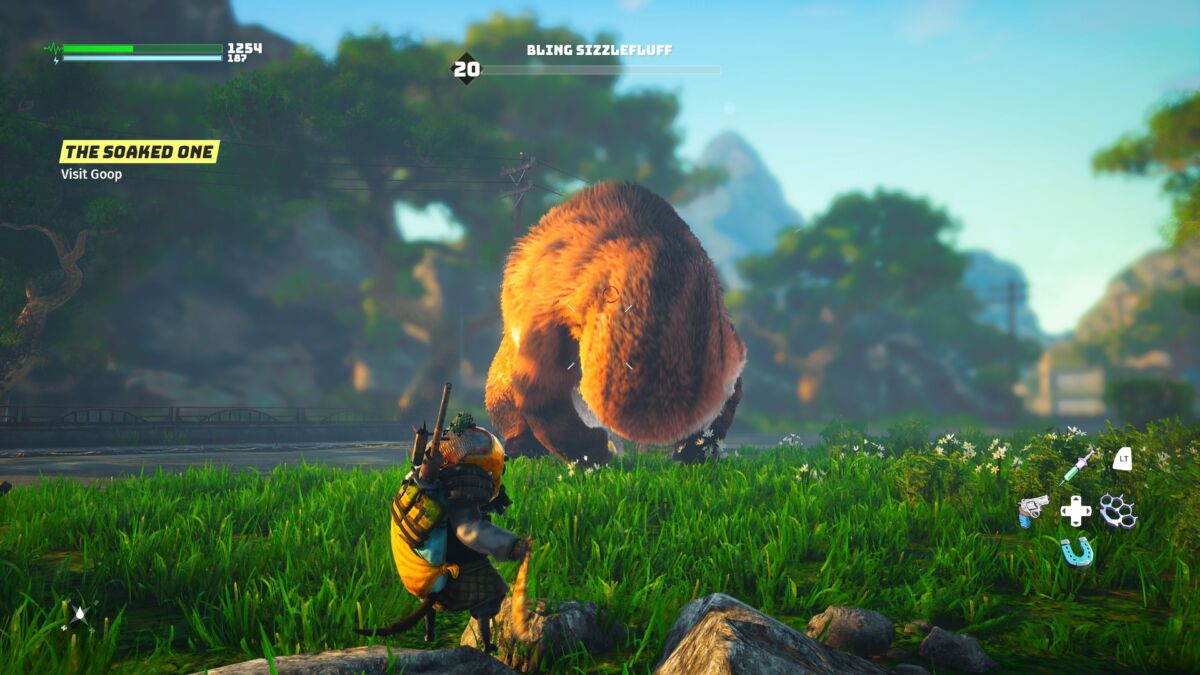 Weirder still is that after dealing with two clans, the game gave me the option to automatically resolve the clan war and unite them all to defend the Tree of Life, with no real explanation as to why. Everyone is friends now, get over it. This whole aspect of the game felt off, and implemented strangely, to the point of being unsatisfying.
Perhaps the repetition wouldn't feel as bad if everyone had unique personalities, but that's not the case either. Visually, there are differences, but everyone is spoken for by a narrator who is a bit of a pain in the ass. He acts like a translator for the characters who speak a weird alien language, but can often be found repeating voice lines for different characters. While one character might be a small, mole-like scientist while another has a weird pompadour hairstyle and Elvis sideburns, using the narrator to voice them both means their individual quirks are lost in translation.
Clearly, the decision to have one consistent narrator was a decision that allowed Experiment 101 to save some money and development time, considering they're a fairly small team. However, the world of Biomutant is supposed to be diverse and vibrant, and while visually a lot of the characters and clans are distinguishable from each other, using the same narrator as their spokesperson robs them of their personality. It becomes harder to get invested in the characters and world when multiple characters ask you questions that lead to the narrator repeating themselves. The only real character who stands out is one that seems to speak purely in train metaphors.
This repetitive nature also makes the side quests less engaging. Random NPCs you encounter will often draw from a generic pool of narrator voice lines, again leaving them identity-less, while the majority of the side quests feel like collectible hunts, typically for some old world artifacts. There's a lot to discover in Biomutant's world, so completionists will be here for a while, but the majority of it feels like filler.
The light and dark morality system does encourage multiple playthroughs, and there is a New Game+ that skips the initial prologue and tutorial and resets your morality, meaning you can get stuck into the opposite playthrough immediately. However, the game's issues with repetition and filler content might put you off from taking on that second run. I went to try it, only for my mount to glitch and not let me ride him, leaving me stuck in the middle of nowhere with no objectives within 2km. At that point, I turned it off and played Apex Legends instead.
There's an audience that will absolutely adore Biomutant. Hell, people loved Alpha Protocol for some reason. I personally don't know why, but those same people will likely love Biomutant's special kind of ambitious jank. Truth be told, I do admire Biomutant and specifically Experiment 101 for tackling a project of this scale, and doing so with a commitment to stay as a small team without crunching developers. Fair play to you, but unfortunately, Biomutant still feels like it's been spread thin.
A code for Biomutant was provided by PR for the purposes of this review. 
Some of the coverage you find on Cultured Vultures contains affiliate links, which provide us with small commissions based on purchases made from visiting our site. We cover gaming news, movie reviews, wrestling and much more.

Verdict
Biomutant has a lot of issues that more lenient players might be willing to look past for its fantastic strengths, but the overall package is a tough sell.