Already, this year is set to go down as an all-timer in the gaming industry, with 2023 featuring a large host of big name releases. You're probably still trying to make your way through titles like Baldur's Gate 3, Lies of P, The Legend of Zelda: Tears of the Kingdom, Dead Space, Resident Evil 4 (and its Separate Ways DLC), Starfield and Final Fantasy XVI, or perhaps you're even revisiting updated titles like Cyberpunk 2077.
Unfortunately for you, you won't have time for a lot of that, as October 2023 is shaping up to arguably be the biggest October for game releases ever. Honestly, this month has so many huge games launching that we've increased the size of this article just to fit everything in. With that in mind, here's the biggest and best new games of October 2023 across PC, PS4, PS5, Xbox One, Xbox Series X & S, and Switch that you should know about.
New Games of October 2023
The Lamplighters League | October 3rd, 2023
Developer: Harebrained Schemes
Publisher: Paradox Interactive
Platform(s): PC, Xbox One, Xbox Series X & S
It's no secret that XCOM: Enemy Unknown and XCOM 2 inspired a new wave of turn-based tactical strategy games over the past decade, but there's few games, if any, that are trying to blend genres like The Lamplighters League. There's turn-based combat for anyone who fancies their hand at strategy, but with real-time infiltration mechanics, a world map and global threat to manage and character-driven stories, The Lamplighters League oozes potential.
Set in an alternate history version of the 1930s, you're in charge of The Lamplighters League, a secret society that's existed for millenia to protect the world from a cult known as The Banished Court. Typically, The League has bested the Court, but for whatever reason, the best of the best are now gone, and its up to the best of the worst to try and succeed in their place. Recruit outlaws and misfits, become acquainted with their skills, and take the fight to the Court.
Hellboy: Web of Wyrd | October 4th, 2023
Developer: Upstream Arcade
Publisher: Good Shepherd Entertainment
Platform(s): PC, PS4, PS5, Xbox One, Xbox Series X & S, Nintendo Switch
For as popular as the Hellboy character is, there's never really been a good Hellboy video game, with the closest probably being NetherRealm Studio's Injustice 2. Even then, it's not a Hellboy game, it's a DC fighting game that Hellboy happens to be a guest DLC character in. That's why Hellboy: Web of Wyrd looks to be the best Hellboy game yet, and with Lance Reddick voicing Big Red in one of his last roles before his untimely passing, Hellboy being great would be a perfect way to honour his legacy.
Developed in partnership with Hellboy's own creator Mike Mignola, Web of Wyrd is an action brawler roguelike that sees Hellboy travelling to The Butterfly House, which acts as a gateway to a fascinating dimension known as The Wyrd. As you explore The Wyrd and its various terrifying realms, you'll face off with fearsome creatures that'll test your skills and ability to punch things in the face with your massive fist.
Assassin's Creed Mirage | October 5th, 2023
Developer: Ubisoft Bordeaux
Publisher: Ubisoft
Platform(s): PC, PS4, PS5, Xbox One, Xbox Series X & S
Say what you want about the more RPG focused Assassin's Creed games that have launched since AC Origins, but there's been a growing contingent of the player base who, along with lapsed players, have been yearning for a return for the smaller scale, stealth focused titles to make a return. Assassin's Creed Mirage is Ubisoft's attempt to appeal to that crowd, and while it's tied into the plot of Assassin's Creed Valhalla, players old and new can enjoy this adventure.
Assassin's Creed Mirage follows Basim, a street thief living in 9th century Baghdad, decades before the events of Assassin's Creed Valhalla. While trying to fend for himself, he'll be taught in the ways of the Assassin Brotherhood, ultimately bringing the fight against the Templars themselves. With a renewed focus on social stealth, parkour and "Black Box" mission design, Mirage could be a real return to form for the series.
Detective Pikachu Returns | October 6th, 2023
Developer: Game Freak
Publisher: The Pokemon Company, Nintendo
Platform(s): Nintendo Switch
The Pokémon series certainly is no stranger to spin-offs, tie-ins and experiments over the years, but perhaps none are as notorious as Detective Pikachu for 3DS, which launched in Japan in 2016 then received a worldwide release in 2018. There was also that film in 2019 with Deadpool actor and Wrexham FC co-owner Ryan Reynolds in it, but now, four years later, the 3DS game is finally receiving a sequel.
The aptly named Detective Pikachu Returns will once again see the titular yellow rodent and deerstalker hat wearer team up with human Tim Goodman to solve mysteries, but along the way, you'll also uncover secrets regarding the origins of Detective Pikachu himself. The two will explore Ryme City, speaking to Pokémon and people alike in order to solve cases and unravel some of the biggest mysteries the world of Pokémon has to offer.
Forza Motorsport | October 10th, 2023
Developer: Turn 10 Studios
Publisher: Xbox Game Studios
Platform(s): PC, Xbox Series X & S
Casual racing game fans have been feasting for a few years now, as Forza Horizon 4 and 5 have dominated the open world racing genre, but the time is nigh for petrolheads and automotive enthusiasts to have their time in the sun, as Forza Motorsport looking to become the best racing sim ever made. Given how good previous Forza Motorsport games have been in the past, they might just accomplish that goal.
To the untrained eye, Forza Motorsport might just look like the other games in the series, albeit with a shinier coat of paint, but there's been a number of upgrades under the hood too, with improved AI, physics, damage to your car and even dynamic weather/time of day for all 20 locations. With a revamped single-player career, The Builder's Cup, and the ability to experience full race days with your friends, Forza Motorsport could be a real treat.
Total War: Pharoah | October 11th, 2023
Developer: Creative Assembly
Publisher: SEGA
Platform(s): PC
The Total War series has allowed players to become a bloodthirsty tyrant/overwhelmed diplomat in cultures and regions like Japan, Rome and Greece, so it was only a matter of time before Creative Assembly tackled Ancient Egypt in earnest. Total War: Pharoah is the culmination of that effort, and if you've ever been a fan of turn-based strategy games with real time tactics, or you just love anything to do with Ancient Egypt, keep your eyes out for this game.
Like all Total War games, Pharoah will see players controlling a leader from one of a few factions, all of which are vying for control of the land, with Total War: Pharoah in particular leaning into the harsh climate of Egypt when creating the gameplay. Natural disasters will have a huge effect on the playing field, while you do your best to fight against the other factions and fend off the Late Bronze Age Collapse.
Lords Of The Fallen | October 13th, 2023
Developer: HexWorks
Publisher: CI Games
Platform(s): PC, PS5, Xbox Series X & S
Any Soulslike launching in 2023 is going to have a tough job competing against the sheer juggernaut that was last year's Elden Ring, but that doesn't mean you should discount Lords of the Fallen before it's even launched. Heck, even if you've played the less than stellar original Lords of the Fallen back in 2014, you should still be keeping an eye on this reboot/sequel that's been a decade in the making, as HexWorks look to be onto a real winner.
Lords of the Fallen includes all the regular trappings you'd expect from a Soulslike game in 2014, including massive bosses, punishing difficulty and the ability to create your own character that can be upgraded as you wish, no matter what starting class you pick. However, the real gimmick that sets Lords of the Fallen apart is the ability to explore two worlds simultaneously, as you transition from the worlds of the living and the dead to solve puzzles, find loot and even gain the upper hand on enemies.
Sonic Superstars | October 17th, 2023
Developer: Sonic Team, Arzest
Publisher: SEGA
Platform(s): PC, PS4, PS5, Xbox One, Xbox Series X & S, Nintendo Switch
Being a Sonic The Hedgehog fan in this day and age can be quite the emotionally draining experience, as you don't know if the next Sonic game that launches is going to have the sauce, or sour any sauce that the previous game might have had. First impressions of Sonic Superstars seem to imply that it might just have that special sauce, though how SEGA is going to pull off multiplayer in a Sonic game is anyone's guess.
Taking the action back to the realm of 2.5D, Sonic Superstars sees the Blue Blur and his mates joining together for a new adventure, racing through levels in an attempt to thwart Dr Eggman's plans once again. New to this version of Sonic however are abilities that can be unlocked by collecting the seven Chaos Emeralds, while each level also features its own gameplay quirks and gimmicks, which should help keep the action fresh.
Marvel's Spider-Man 2 | October 20th, 2023
Developer: Insomniac Games
Publisher: Sony Interactive Entertainment
Platform(s): PS5
The webhead's second full outing with Insomniac (third if we count Miles Morales) could just be the biggest game of the entire year, which is a bold game considering how stacked this whole year has been, but it's hard to find someone who isn't excited to get their hands on Marvel's Spider-Man 2. Compared to the first game, this entry looks to be bigger, bolder and darker than before, while retaining everything that made the original formula so much fun.
With both Peter Parker and Miles Morales settling into their dual role as New York City's Spider-Men, the City That Never Sleeps suddenly finds itself dealing with an invasion from Kraven and his hunters, as they seek to test their mettle against the vigilantes and villains that call New York home. Meanwhile, a sinister, alien force is making its presence in New York known also, as Peter and Miles contend with the emergence of Venom.
Super Mario Bros. Wonder | October 20th, 2023
Developer: Nintendo
Publisher: Nintendo
Platform(s): Nintendo Switch
Did you ever Wonder if Nintendo would be able to stop making Super Mario Bros. games? Wonder no more, as Super Mario Bros. Wonder aims to inject some modern gameplay designs and ideas into the classic 2D platforming we all know and love. With a completely new world to explore in the form of the Flower Kingdom, new powers to unlock and a host of interesting gameplay changes, SMBW is another surefire hit for Nintendo.
After a holiday to the Flower Kingdom goes awry thanks to Bowser (because of course), Mario and his pals set out to save the whole Kingdom, which means bouncing from level to level, collecting coins, flowers and other goodies along the way. The real change in Wonder comes from the titular Wonder Flowers, which fundamentally alter the mechanics of a level for a limited time, adding even more challenges and silliness to an already whimsical experience.
Cities: Skylines 2 | October 24th, 2023
Developer: Colossal Order
Publisher: Paradox Interactive
Platform(s): PC (console release delayed)
For the longest time, if you wanted the byword in city management games, you'd look towards SimCity, but in recent times, Cities: Skylines has proved to be the new gold standard in creating a new city called "FartTown, USA". It's the immature names you can give districts and buildings for me. Anyway, after the runaway success of the original Cities: Skylines, it's finally time for a sequel, which hopes to build on the mechanics and potential of the first game.
Cities: Skylines 2 is a bigger version of the first game, mostly in the literal sense as players will be able to create their cities in a bigger play area than ever before, while the citizen limit of these cities will be capped at "whatever your PC or console can handle". On top of that, improvements to the management of city services, traffic AI and even the ability to create zones with multiple designations should make Cities: Skylines 2 a vastly improved experience.
Metal Gear Solid Master Collection Vol. 1 | October 24th, 2023
Developer: Konami
Publisher: Konami
Platform(s): PC, PS5, Xbox Series X & S, Nintendo Switch
The most iconic stealth series in gaming history is back again, as Konami are hoping to wash away the five year old sour taste of Metal Gear Survive by focusing on the games people actually love. To that end, Metal Gear Solid Master Collection Vol. 1 seems like the perfect nostalgia purchase this October, if you can find the time to play it in the midst of all these other games anyway.
Jesus Christ, we're drowning in games here.
Metal Gear Solid Master Collection Vol. 1 contains five Metal Gear games, with the first two Metal Gear games from the 8-bit era, along with Metal Gear Solid 1-3, which many would consider to be the main event of the collection. With a remake of MGS 3: Snake Eater looming, the Master Collection feels like the best time to get up to speed on all things Metal Gear Solid. And hey, fingers crossed that Volume 2 includes Metal Gear Solid 4, so it can finally be rescued from a dead console.
Ghostrunner 2 | October 26th, 2023
Developer: One More Level
Publisher: 505 Games
Platform(s): PC, PS5, Xbox Series X & S
Ghostrunner could be considered one of the surprise hits of the past few years, with the one-hit kill cyberpunk fusion of katanas and parkour dazzling many with its fast-paced, addictive yet incredibly difficult gameplay. Ghostrunner wasn't for the faint of heart but those that gelled with it found something utterly brilliant, so it'll be great for those people to know that the sequel, Ghostrunner 2, is set to offer even more of the same as before, only with everything turned up to 11.
Set one year after the events of the original Ghostrunner, players will once again play as "Jack", as they now seek to protect Dharma Tower from an invading cult that seeks to harm the residents of the Tower. Naturally, you'll do that by grabbing the nearest katana and carving your way through enemies until there's nothing left, though Ghostrunner 2 adds outside sections and a motorbike to the gameplay loop, which should keep things interesting.
Alan Wake 2 | October 27th, 2023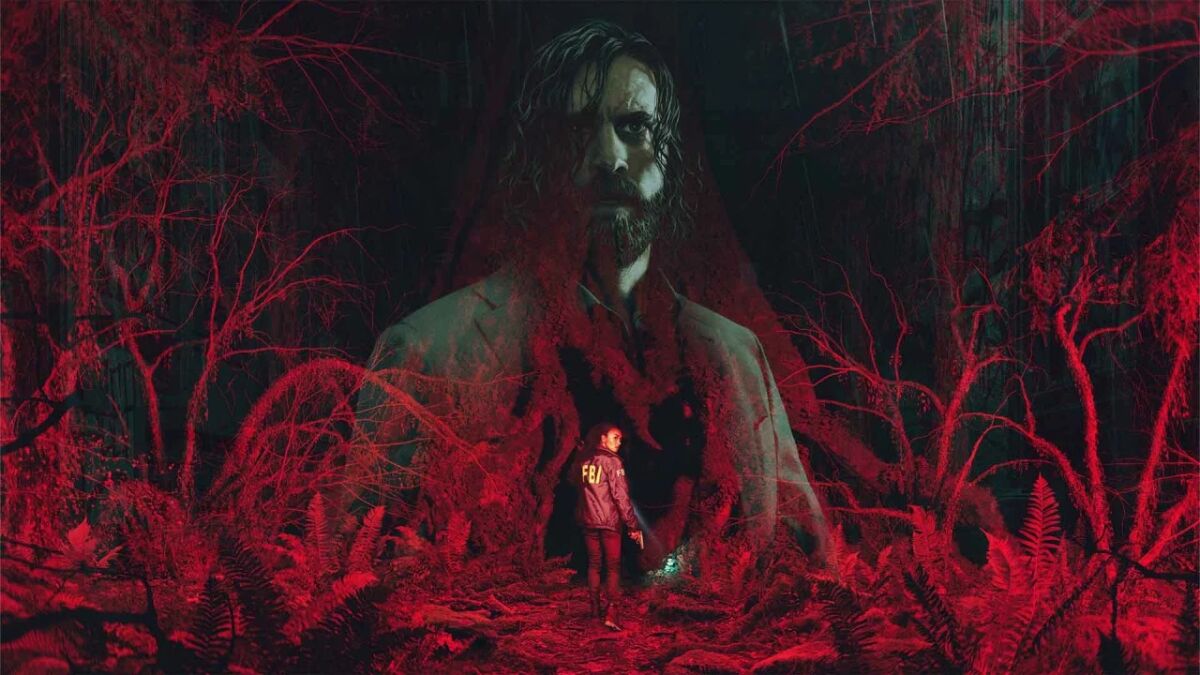 Developer: Remedy Entertainment
Publisher: Epic Games Publishing
Platform(s): PC, PS5, Xbox Series X & S
2023 has been a wonderful year for horror game fans, with titles like Resident Evil 4, Dead Space, Dredge and Amnesia: The Bunker giving players varying degrees of frights and thrills, but for many, the best may still be to come. It's a tall order, but Remedy's Alan Wake 2 looks to deliver on a sequel that's been promised, teased and desired for well over a decade at this point, and all signs point to this being utterly incredible.
Following on from the ending of the previous game, Alan Wake 2 sees the synonymous writer and protagonist trapped in the Dark Place, a violent and scary dimension influenced by his own words. Meanwhile, in the town of Bright Falls, newcomer Saga Anderson is sent by the FBI to investigate a string of cult-like murders, but on the way, she encounters pages of a horror story which start becoming true. Sound familiar?
EA Sports UFC 5 | October 27th, 2023
Developer: EA Vancouver
Publisher: EA Sports
Platform(s): PS5, Xbox Series X & S
Just like how 2023 has been a great year for horror games, fighting game fans have also had their fill, thanks to the releases of Street Fighter 6 and Mortal Kombat 1. EA Sports UFC 5 might seem like an outlier next to those two traditional fighting games, but EA's simulation of mixed martial arts still shares plenty of DNA with fighting games, and the fifth entry in this series could be the best one yet.
EA Sports UFC 5 includes the standard gamut of improvements to the gameplay engine, including graphical enhancements and a more authentic UI overhaul designed to look like a proper UFC broadcast. Meanwhile, the submission system has been swapped in order to make the ground game feel more intuitive, and the introduction of doctor stoppages means players have to switch up their strategies if a certain part of their body gets hurt during the fight.
READ NEXT: 20 Best Game Boy Color Games of All Time
Some of the coverage you find on Cultured Vultures contains affiliate links, which provide us with small commissions based on purchases made from visiting our site. We cover gaming news, movie reviews, wrestling and much more.