It's only appropriate that there's a lot of fantastic racing games available to play that are optimised for the Xbox Series X & S, as the horsepower that both consoles offer has to be equivalent to a Ferrari. Or a small tank. Either way, they've got a lot excess power that make racing games on the Xbox Series X & S look better than ever.
But how do we know which racing games are the best? Well, that's what we're here for, as we're lining up all the Xbox Series X & S racing games on the starting grid to let you know which of them takes pole position. From traditional racers, destruction derbies and rocket powered cars hoofing a football around a pitch, these racing games offer a great variety of vehicular fun. Here's the best Xbox Series X & S racing games that are available right now.
The Best Xbox Series X & S Racing Games
10. Concept Destruction
Developer: Thinice Games
Publisher: Ratalaika Games
Concept Destruction is pretty much what you'd think it is when looking at the name, with cardboard cut-out cars doing battle on miniature arenas that look like blueprints. It's car concepts in destruction derbies. See? It's clever.
Alright, Concept Destruction is perhaps the most basic entry on this list, with just a handful of modes and cars, but if nothing else, it offers cheap and cheerful thrills while being optimised for the Xbox Series X & S. If you want a real selling point though, the game is published by Ratalaika Games, who are notorious for loading up their games with easy gamerscore lists. Buy it for the easy 1000G if nothing else.
9. Monster Energy Supercross 4
Developer: Milestone
Publisher: Milestone
Arguably, dirt bike games peaked after Motocross Madness, though that might have been because it appealed to the sadist in me. Reaching the edge of the map only to see your rider launched back into the world was always funny to child-me. Either way, there's been a long lineage of dirt bike and motocross/supercross games since, but Monster Energy Supercross 4 could be one of the better ones.
Licensed by the official Monster Energy AMA Supercross Championship, the fourth game in the series emulates the 2020 season with 11 stadiums, 17 tracks and over 100 riders to choose from. The fun gameplay and lengthy career mode is one thing, but Supercross 4's real replay value comes with the editor, allowing players to create and share their own tracks.
8. Monster Truck Championship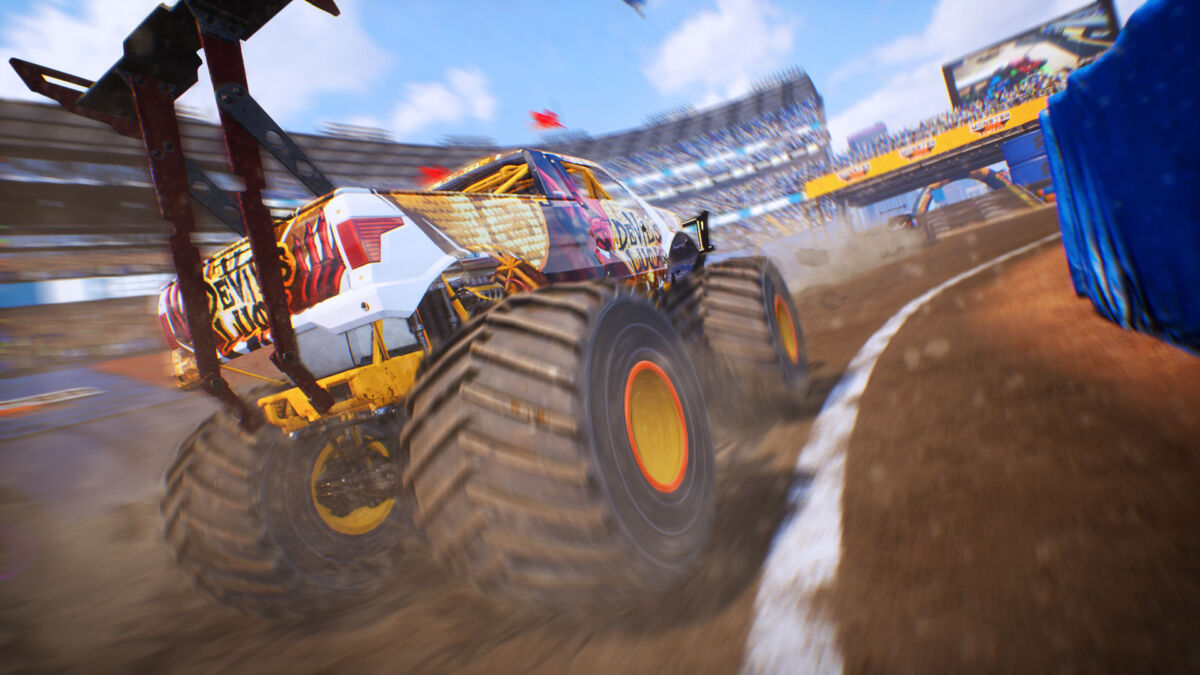 Developer: Teyon
Publisher: Nacon, Bigben
When coming up for ideas on the next great racing game, a monster truck simulation game probably isn't the most highly sought after pitch, but the development team over at Teyon have managed to create an intriguing and ultimately rewarding racing game experience with Monster Truck Championship. Better still, it's now been enhanced for Xbox Series X & S.
Taking inspiration from the actual careers of Monster Truck drivers, players compete in championships across the US, going from stadium to stadium and taking part in various race and freestyle events. While the racing can often be a bit fiddly, the racing itself offers some tense, white-knuckle thrills as you battle wheel-to-wheel for first place.
7. Ride 4
Developer: Milestone
Publisher: Milestone
For those who like their motorbikes with a little less dirt on them, there's Ride 4, which is also developed and published by Milestone. If it's got two wheels and an engine, Milestone is there, it seems. Ride 4 might lack certain sponsorships when compared to developer stablemate Supercross 4 or the licensed MotoGP games, but it's certainly worth checking out.
While it might not bear the brand of an official championship, Ride 4 does include dozens of licensed bikes and tracks, making it an ideal racing game for bike enthusiasts. The extensive career mode also puts a lot of choice in the player's hands regarding how they want to progress from local races to the big leagues.
6. WRC 10
Developer: Kylotonn
Publisher: Nacon, Bigben Interactive
You know a series has been really successful once it's reached its tenth installment, and by the looks of things, WRC 10 might just be one of the best iterations of the rally genre going. This isn't some kind of Police Academy situation here, just a series going from strength to strength.
Not only is the tenth instalment a landmark milestone for the WRC series, it also celebrates a huge achievement for the WRC itself, as it celebrates the 50 year history of the championship. The game includes a full history mode, with 19 historical events based on various real life moments. WRC 10 also includes 52 official teams, four new rallies added for the 2021 season and lots of other content. For rally fans, WRC 10 is the ultimate package, until WRC 11 comes along anyway.
5. Art of Rally
Developer: Funselektor Labs
Publisher: Funselektor Labs

While WRC 10 is a straight-laced simulation of rally, Art of Rally has a little bit more fun with it. Sure, the handling is about as rally as it gets, as you slide from corner to corner barely holding on to what little traction the tires can maintain, but the presentation and art style is to die for.
Instead of focusing completely on the competition aspect of rallying, Art of Rally is more content with pitting you against the track. Sure, you're racing for the best time against other drivers, but Art of Rally is only concerned with how you fare when tackling its perilous turns. It's an isolating, yet wholly engaging experience.
4. Wreckfest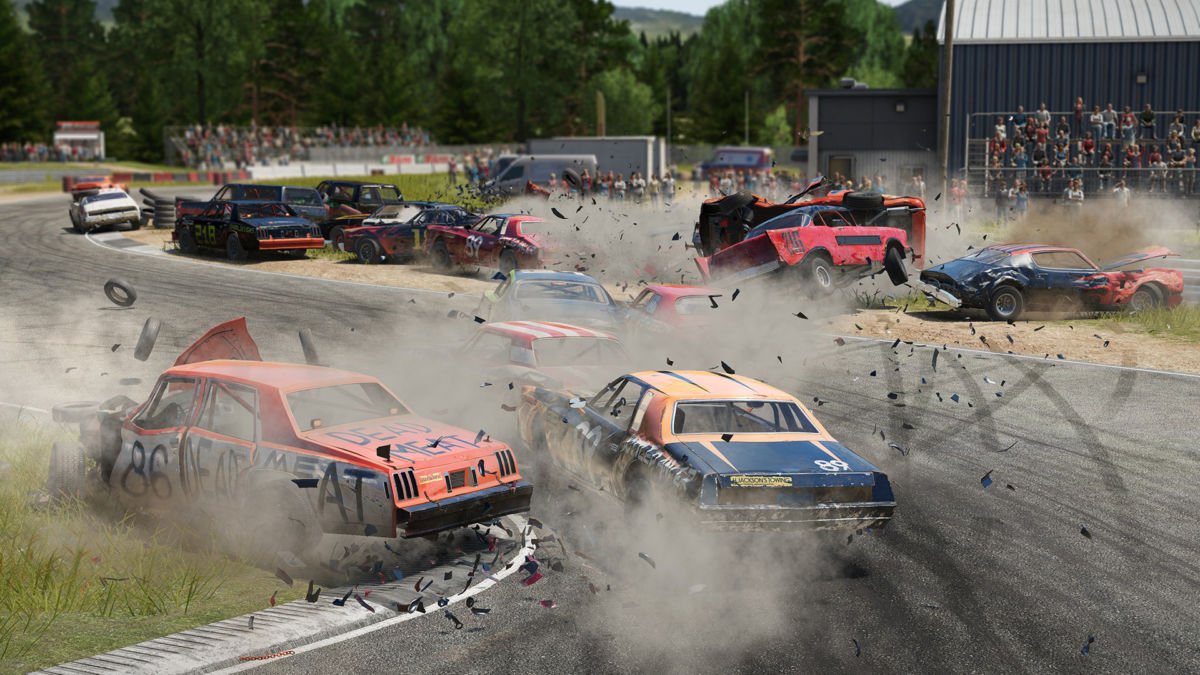 Developer: Bugbear
Publisher: Bugbear, THQ Nordic
We started this list of the best Xbox Series X & S racing games with a destruction derby game, but if you really want to experience the thrill of smashing metal vehicles into each other at high speed and not some flimsy cardboard knock-offs, you'll want to check out Wreckfest. Considering it's developed by the team who created the FlatOut series, vehicular carnage just comes with the territory.
One of Wreckfest's most interesting features is the usage of a soft-body damage model system, which allows vehicles to truly crumple under the weight of some bruising impacts. While there's plenty of standard races and destruction derbies to compete in, there's also plenty of more unique events to boot, such as 11 lawnmowers vs the one combine harvester and other silly moments. It's a serious racing game, but it's also incredibly fun.
3. Dirt 5
Developer: Codemasters
Publisher: Codemasters
The Dirt series, in its various forms at least, has been around for over two decades, originally being tied to the legendary driver Colin McRae before his untimely death. Starting out simply as Colin McRae Rally back in 1998, the series morphed to take on the Dirt moniker, with Colin McRae: Dirt being the last release before he died. Since then, the series has split into two, with Dirt being the accessible off-road racing experience, while Dirt Rally offering a more sophisticated, realistic experience.
Dirt 5 is the continuation of the more accessible series, offering plenty of loud and exciting racing as players compete across the world in a variety of disciplines. Weirdly, Dirt 5 also comes with a full career mode that features voice acting from Troy Baker and Nolan North, because clearly they were struggling to find work. Bundle that together with a robust event creator, and you've got a real winner on your hands.
2. Rocket League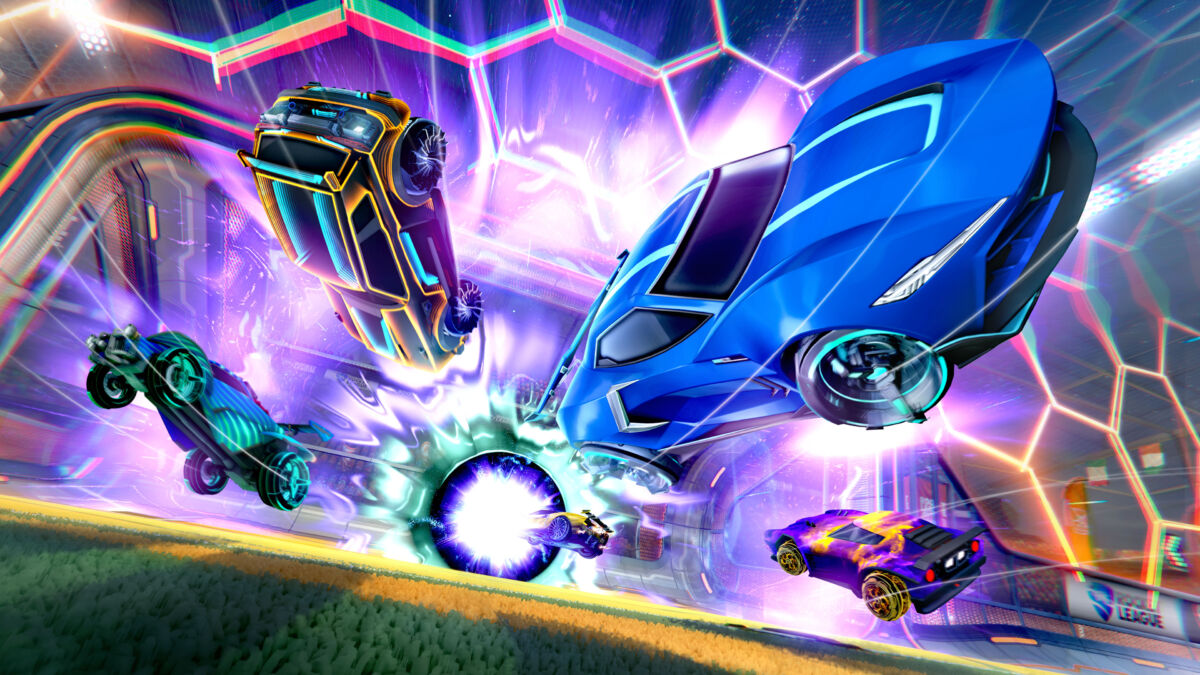 Developer: Psyonix
Publisher: Epic Games
We'd put some kind of disclaimer in here about Rocket League not being a traditional "racing" game considering there's no actual racing in the game, but Concept Destruction is purely a destruction derby game so Psyonix's car football extravaganza absolutely deserves to be recognised as well. Rocket League is a game with cars, and that's good enough for us, but the way that Rocket League uses its cars that's allowed the game to be enduringly popular for years.
It turns out that using rocket-powered cars to play football is actually really fun, making Rocket League one of the best multiplayer games on the market. If nothing else, it's a nice break from the variety of other games that just focus on shooting each other — it's good to have something a bit different. With Rocket League now free-to-play, and with cross-play to boot, there's never been a better time to get started.
1. Forza Horizon 5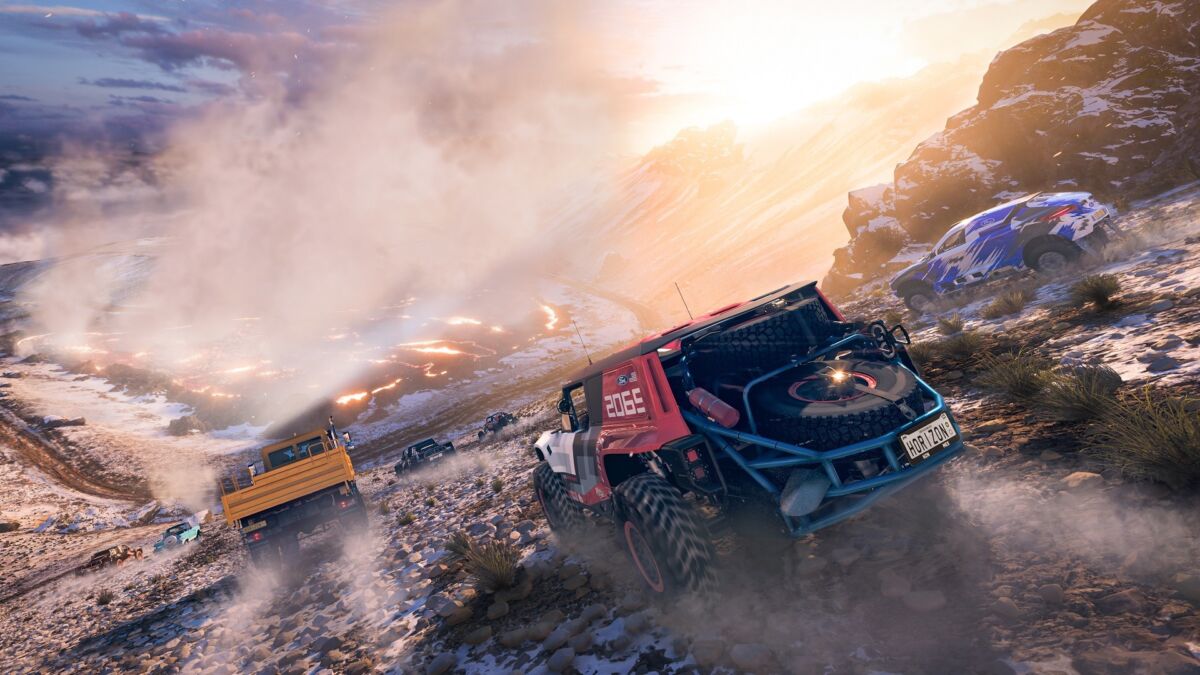 Developer: Playground Games
Publisher: Xbox Game Studios
It couldn't be any other Xbox Series X | S racing game than Forza Horizon 5, the absolute pinnacle of the genre, at least as far as the Xbox is concerned anyway. This isn't the time for a Forza vs. Gran Turismo debate. Like Dirt, Forza has split itself in two to offer two different experiences. Motorsport is geared towards racing purists and those who love tuning cars, while Horizon is for those who like making fast cars do big jumps in the countryside.
Forza Motorsport 5 takes the series to Mexico, with players experiencing the diverse atmosphere and biomes of Latin America. With a number of racing disciplines, events and other content to engage, players can make progress through the game however they like. All actions are rewarded, meaning you can enjoy the pleasures of Forza Horizon 5 at your own pace. The seasonal changes every week, along with the ability to create your own events, also ensures there's regular helpings of new content, meaning FH4 will also be a game you'll find yourself coming back to.
READ NEXT: 10 Best Xbox Series X | S Games For Kids
Some of the coverage you find on Cultured Vultures contains affiliate links, which provide us with small commissions based on purchases made from visiting our site. We cover gaming news, movie reviews, wrestling and much more.