There is an overwhelming interest in films about Vikings. Any search for a Viking movies ranking will show you that this genre has really picked up the pace in recent years. Viking movies feature Norse warriors, worshiping a variety of fun and often terrifying gods, and looking for new places to pillage and conquer. All of this sounds like it could be a good time for those who enjoy epic battles with a vague atmosphere of the supernatural.
Unfortunately, while there are plenty of good Viking movies to choose from, there are also quite a few schlocky efforts that can't quite overcome obstacles such as a painfully low budget or a mediocre script. The best examples of this genre, like anything you would find by going through gangster movies or perhaps westerns, generally combine the visceral thrill of watching dirty, sweaty people killing other people on the sprawling field of blood and conquest with compelling characters and plot. The Northman stands as a good example of this.
To be sure, that's on this list of the best Viking movies. However, there are quite a few other worthwhile films to check out.
The Best Viking Movies
12. Alfred the Great (1969)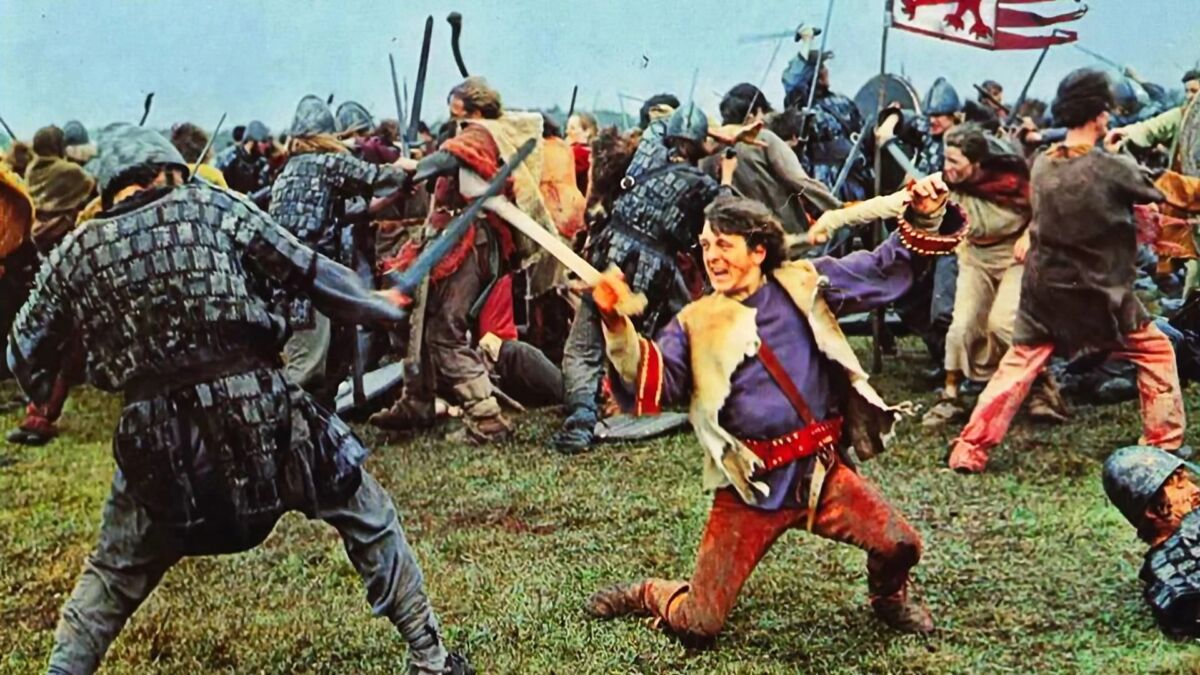 Director: Clive Donner
If you don't care whether or not the Vikings are protagonists or antagonists, Alfred the Great should be a better-than-not experience. That doesn't sound very inspiring, but this 1969 epic can be a little clunky at times. You may also find this story of an English nobleman (the great David Hemmings) defending his homeland against Viking invaders to be a little on the dry side. While not a perfect film, Alfred the Great has largely disappeared into obscurity, and that doesn't seem terribly fair.
The movie's more action-packed moments are enjoyable, and the film certainly benefits from a tremendously talented and varied cast. Hemmings is a solid lead, although perhaps underwhelming as essentially an action hero. The film also features strong performances by Michael York (Austin Powers and Cabaret), Julian Glover, Peter Vaughan, and a 30-year-old Ian McKellen.
Alfred the Great is a satisfying story of Viking warfare that you will almost certainly enjoy.
11. The Last King (2016)
Director: Nils Gaup
Based on actual events during a particularly nasty civil war in Norway, The Last King is a fascinating historical drama from its native country. Regardless of just how deep into the truth of the matter this film gets, what we're ultimately left with is a movie that features striking performances, a very large cast, and exceptional production values. This looks and feels like a true example of epic cinematic storytelling, which is a mode that seems to work well for many of the best Viking movies.
Do you need to know the history to appreciate this story concerning Inge Jarl and Haakon III of Norway? No, but it's a fun and fascinating rabbit hole at any rate. The movie does a good job of giving us the foundation we need to get into this plot and care about these characters.
The Last King is also beautifully and flawlessly paced, although you could make the argument that a 93-minute running time is cutting things a little short.
10. Erik the Viking (1989)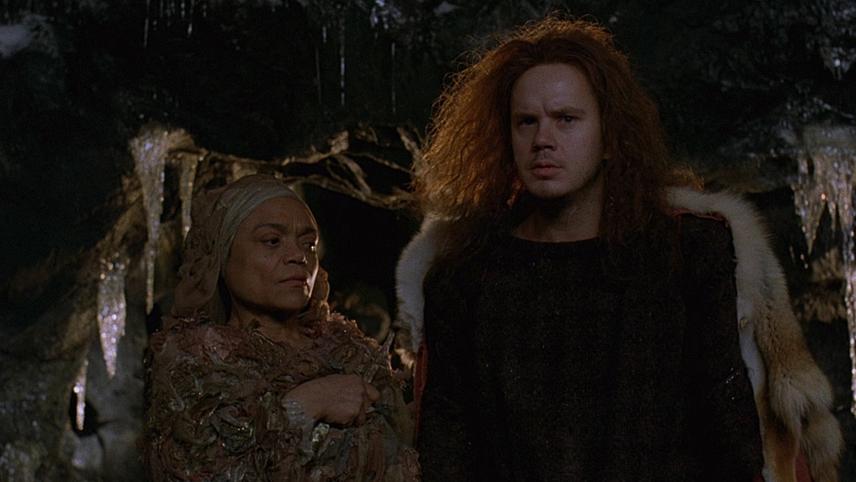 Director: Terry Jones
Directed by Monty Python alumni Terry Jones, and based on his own children's book, Erik the Viking was not particularly successful upon its release.
Monty Python as a group was essentially dead by this point, and the film is a project which seems to exist in the aftermath. Indeed, this comedy about a Viking (an affable Tim Robbins) who sets out on a quest, often feels like a longer Python sketch. That's not a knock against the movie, which more often than not is hilarious, but a full-length endeavor with such a ridiculous atmosphere can be a little tiring at times.
Still, this is one of the few comedies in existence to actually utilize Vikings. For the most part, Jones' manic, creative direction from his own material, combined with a huge cast of talented comic actors and performances, including John Cleese.
Erik the Viking is a good Python side quest for those who understand implicitly what they're getting themselves into.
9. Beowulf (2007)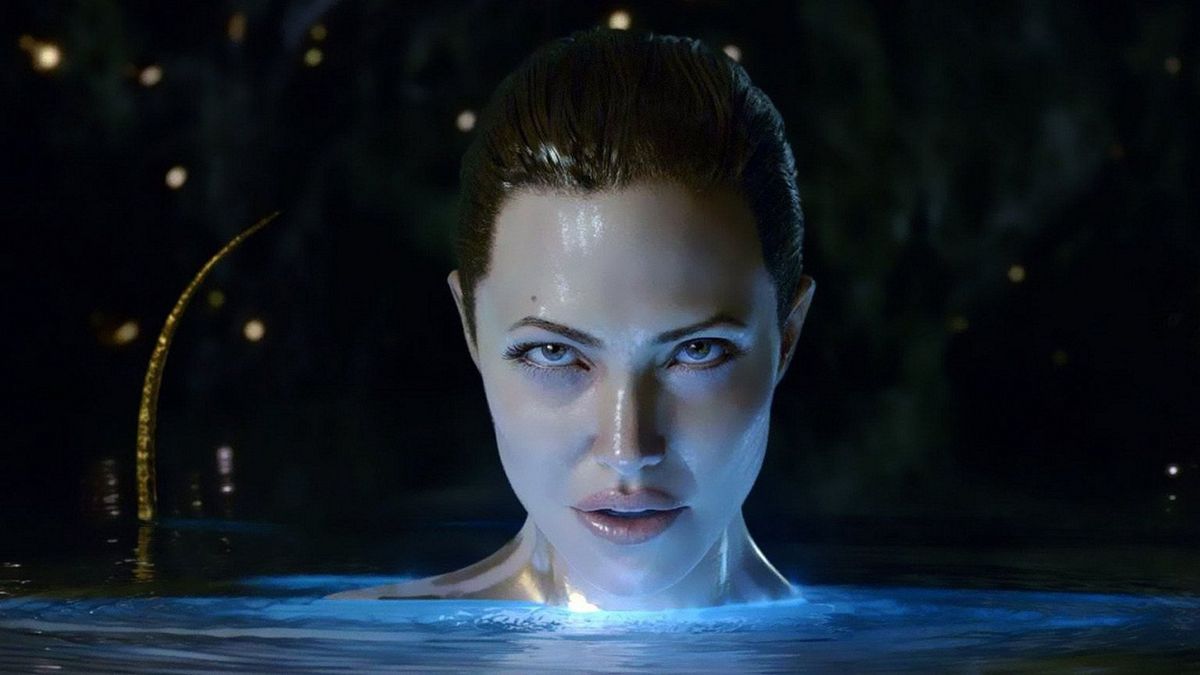 Director: Robert Zemeckis
You can't get much deeper in the realm of Viking storytelling than an epic poem featuring a man very much based on Viking traditions. Beowulf strives to fully realize the story with 3D animated storytelling the likes of which we had never seen prior to 2007. A warrior named Beowulf (Ray Winstone, bringing suitable intensity) offers to help a king rid his kingdom of a demon known as Grendel. The ensuing battle and its consequences cover a lifetime that makes for a remarkable story.
As a movie, Beowulf can feel rather disconnected at times. Between the performances by the likes of Winston, Angelina Jolie, Crispin Glover, and Anthony Hopkins, the overwhelmingly distinctive visual style, and the movie's at-times-sluggish pacing, the movie is sometimes just a mess of ideas and scenes.
If you can hang on for the movie's slower moments, there are some tremendous battle scenes and performances to enjoy.
8. Valhalla (1986)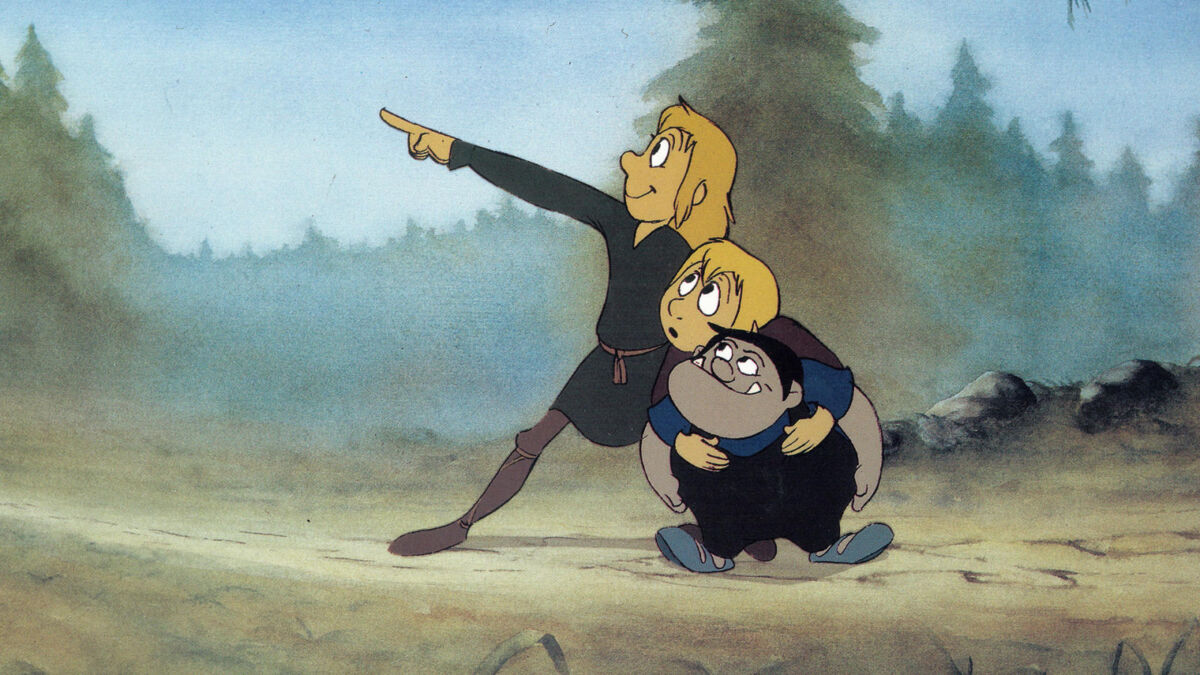 Directors: Peter Madsen and Jeffrey J. Varab
Far and away the most obscure film on this ranking, Valhalla is a Danish animated film that deserves a little more appreciation. Even if you find the animation to be a little dated, Valhalla is a fascinating endeavor.
A brother and sister's surprise encounter with Thor and his brother Loki (more on them later) leads to a magical adventure for the kids, but this is not something you'd mistake for Disney. Valhalla is very much a product of its culture, which can make for a very unique viewing experience for the uninitiated. That's half the fun, with the other half being the film's impressively complex story and appreciation for its source material.
Based on a very good comic book, Valhalla quite frankly still looks pretty amazing in the animation department. The action moments are fluid, the character designs are fun and memorable, and there are some stunning backgrounds. The movie balances humor and darker elements in a very faithful depiction of Norse mythology.
7. How to Train Your Dragon (2010)
Directors: Chris Sanders and Dean DeBlois
It's probable that you've at least heard of How to Train Your Dragon. A franchise that has spawned multiple films, cartoons, and other pieces of media, the series is one of the jewels in the Dreamworks crown.
If you've never seen the films, regardless of the reason, this story of a young Viking named Hiccup befriending a young dragon and the destiny they achieve together might be worth a watch. Even if you don't like children's movies, How to Train Your Dragon can still be appealing for its humor and larger themes of friendship, and of finding courage from within against difficult odds. The characters are also almost too charming at times.
How to Train Your Dragon is still the best entry in the series, although the sequels are all pretty good, deepening the story and aging the characters gracefully. The movie might be ostensibly for children, but it's not childish.
6. Thor: Ragnarok (2017)
Director: Taika Waititi
Thor: Ragnarok leans more into the Marvel Cinematic Universe, borrowing from that mythology and others, more than it does anything that actually involves Viking mythology or storytelling. Nonetheless, this is still a phenomenally entertaining blend of comedy and action, with characters and concepts from Norse and other sources brought to an extravagant live action comic book life.
You don't particularly need to see the other films in the series, or even in the Thor series specifically. This is also because Ragnarok is very different in tone and performance style than the last two films featuring Chris Hemsworth as everyone's favorite hammer-swinging beefy guy. That may not please those who like to see their Norse characters treated more faithfully, but you can't deny fun turns from Tessa Thompson, Cate Blanchett, or Tom Hiddleston as Thor's wacky brother Loki.
Thor: Ragnarok runs your favorite characters through a blender, creating something akin to a very long, exceedingly bombastic music video. On this occasion, it works quite well.
5. The 13th Warrior (1999)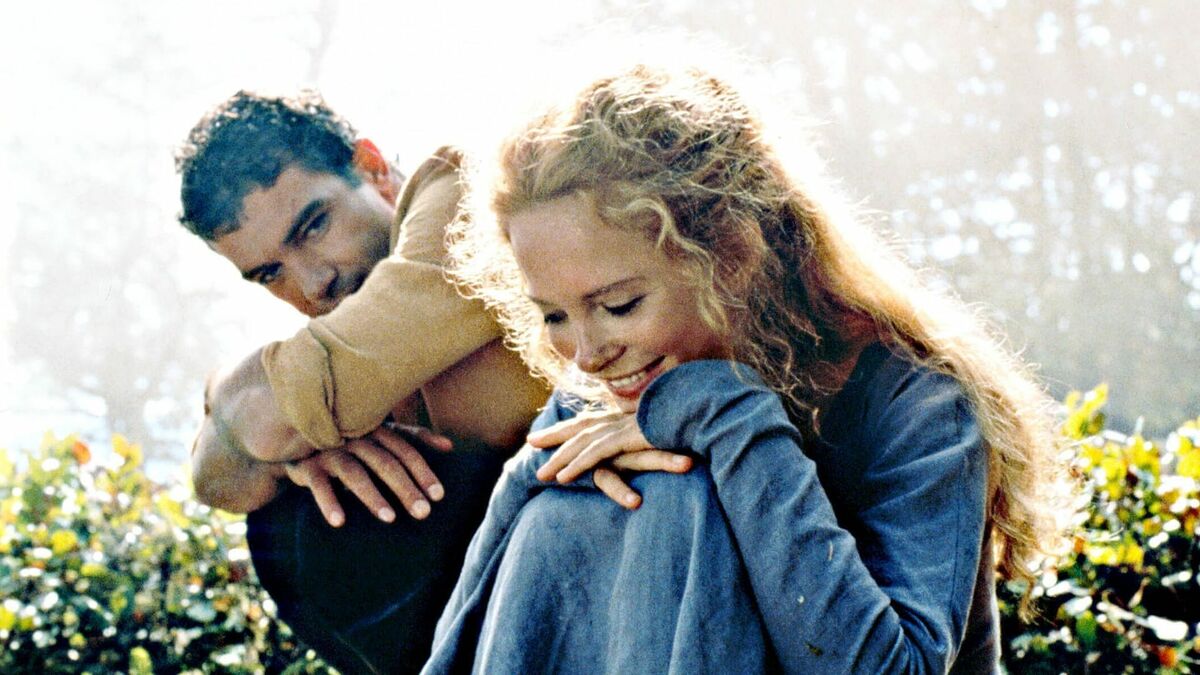 Director: John McTiernan
The ridiculousness mixed with snarling ferocity and imagination is what makes The 13th Warrior the kind of movie they don't really make anymore.
Antonio Banderas is a Muslim ambassador (alright), who is sent essentially into exile for getting into trouble with a nobleman and his wife. It's there he comes face to face with the incredible culture shock of being among a people as distinctively different from what he knows as the Vikings. He eventually takes up a cause to help them defend their land, and this is where the movie gets into some of its best action movie moments.
The 13th Warrior can be very silly at times, but it's one of the best examples of pure entertainment among the movies covered here. The underdog component is well-told, and Banderas is, as always, a commanding and impressive leading man. These qualities and the fight scenes alone are enough to make this later entry from action legend John McTiernan a good time.
4. Thor (2011)
Director: Kenneth Branagh
While audiences and critics tend to prefer Ragnarok to this first entry in Chris Hemsworth's journey as the Norse god Thor, this one gets to place just a little higher when it comes to ranking the best Viking movies.
Why? Because if you're really in the mood for a Viking story specifically, the 2011 Thor is going to be your best bet. Serving as an MCU origin story, detailing Thor's fall from grace and eventual redemption through the assistance of his new human friends, the film has a grandiose, dramatic approach to its characters and story that serves the characters in a more faithful fashion than most other depictions of Thor we've received from Marvel and Disney so far.
Thor itself can be a little dull at times, but performances by Anthony Hopkins as Odin, Tom Hiddleston as Loki, and Natalie Portman as the human scientist Jane Foster give weight to a very striking and sometimes quite dramatic retelling of mythology.
3. The Vikings (1958)
Director: Richard Fleischer
Until movies like The Northman and Thor came along, the 1958 classic movie epic The Vikings was considered to be the definitive cinematic word on the subject. Many still feel that way about it, pointing to a sprawling story told well, with strong performances by such legends as Kirk Douglas as the Viking prince Einar, Tony Curtis, Janet Leigh, and narration by Orson Welles. Ernest Borgnine is also there as the scenery-chewing (and often stealing) Ragnar Lothbrok, upon whom the movie draws its material from.
Don't let its age stop you from appreciating The Vikings as a noteworthy and still entertaining example of what Hollywood could achieve on its best terms in the late 1950s. The sheer spectacle of the fight scenes is enough to appreciate. While the casting may sound a little ridiculous today, it's easy to get lost in the large-scale imagination of everything.
This is a big movie in every possible way, and it's still a benchmark for a (more or less) historical epic.
2. Valhalla Rising (2009)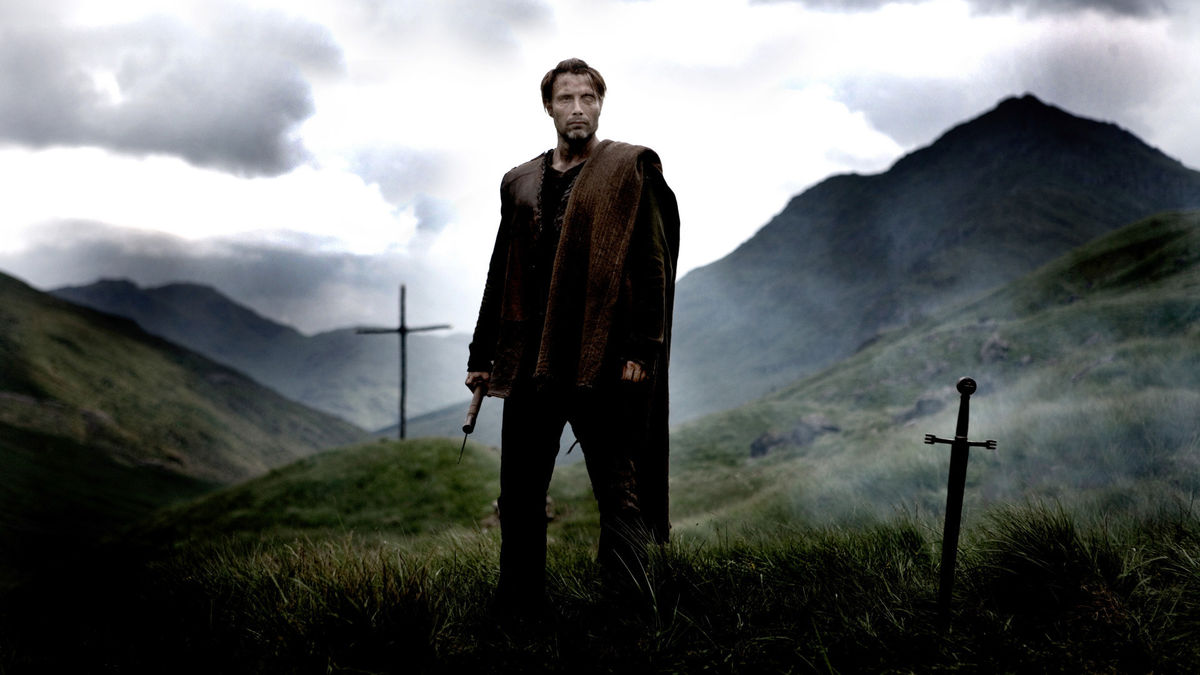 Director: Nicolas Winding Refn
Mads Mikkelsen seems like a guy who can embody the concept of deep-seeded vengeance. Valhalla Rising, the story of a brutal journey to a conflict that will make that journey seem like a gentle afternoon in the English countryside, proves Mikkelsen can carry just about any story.
Set in 11th century Scandinavia, the movie is appropriately grimy. So much so that it becomes an atmosphere that in of itself becomes a character in the film. Its bleakness and brutality match up nicely to this thought, as well.
None of this means Valhalla Rising is a bad or even noticeably flawed film. Quite the contrary, anchored by Mikkelsen's unflinching, powerful performance, this is an underrated hit from the end of the 2000s that could do with a revival of interest. It's a depiction of the lengths that someone will go to in order to get justice that you aren't going to be able to shake off when the film is over. In a film like this, the violence, the obstacles, and the human beings who seemingly endure them are qualities to be deeply admired.
1. The Northman (2022)
Director: Robert Eggers
Of course, time will ultimately tell the real story of The Northman's place in the world. Despite underperforming at the box office, Robert Eggers' bloody, savage story of a Viking prince (Alexander Skarsgård) is a masterpiece.
It's an impressive reminder of how inventive visually and narratively, and certainly from an acting standpoint, a big budget movie can still prove to be. The Northman is a steady march of brutal circumstances and ancient magic. For every moment this film shows us in its depiction of a man who will go to the most stunning lengths to address the rage that forces him forward, there is a moment in which we are aware of a larger and stranger world.
Even as these characters are massive entities of personality and personal history, there is something about the cosmic undertones to The Northman that makes them feel very small. We are watching something that feels ancient and historical. This is something told with the vitality befitting one of the best movies released in 2022.
READ NEXT: The Best Viking Games of All Time
Some of the coverage you find on Cultured Vultures contains affiliate links, which provide us with small commissions based on purchases made from visiting our site. We cover gaming news, movie reviews, wrestling and much more.