Star Wars is a franchise that has captured the hearts of millions of people across the world. Each year we are met with new and incredible products from the franchise, and this year is no different. We have compiled a list of some of the best Star Wars gifts you can buy for the 2020 holiday season.
BEST STAR WARS GIFTS: From a Certain Point of View | Star Wars Jedi: Fallen Order | Stormtooper "Cable Guy" | LEGO Death Star | R2-Q5 | Lightsaber Salt and Pepper Shakers | Inflatable Jabba the Hutt Lawn Ornament | Luke Skywalker Battle Simulation Helmet | Darth Vader Toaster | Hallmark Star Wars Tape Dispenser | Ewok Dog Costume | Arcade1Up Star Wars Arcade w/ Riser | Misc Star Wars Gift Ideas
12. From a Certain Point of View (Star Wars Book)
If you're looking for the quintessential Star Wars gift for the fan who lives, eats and breathes a galaxy far, far away, this comprehensive book could very well be the one.
Featuring new information on the production of the most successful franchise of all-time, it's an in-depth look at what it was like on set back before Star Wars hit the big time and everything that came after. From a Certain Point of View has already been a New York Times bestseller and it's only likely to sell more this Christmas.
11. Star Wars Jedi: Fallen Order
Fallen Order, often referred to as one of the best Star Wars games ever made, could be the perfect stocking filler for a loved one. Critically praised, it's come down in price since launch and is now a great choice for anyone who wants a challenging Star Wars adventure.
You play as Cal Kestis, a young Jedi apprentice who finds himself on the run following the events of Episode III. A planet-hopping journey that sees you taking on giant frogs, strange foes, and even Sith, Fallen Order will take you all across the galaxy as you gradually become stronger and stronger and yes, eventually wield a double-sided lightsaber. That should be all the convincing you need.
10. Stormtrooper "Cable Guy"
This is a very simple and inexpensive gift idea that has racked up hundreds of 5-star reviews on Amazon. This may look like an ordinary Stormtrooper statue, but it was designed to hold your smartphone or gaming controller, giving your gaming setup or charging station a bit of extra flair.
Made of solid plastic material, this is one of the most durable items on the list and is perfect for fans of all ages. It is officially licensed and is designed to hold both PlayStation and Xbox controllers, as well as most average smartphones. It measures about 9-inches tall and is officially licensed. You can buy them right now from Amazon and other major retailers.
9. LEGO Death Star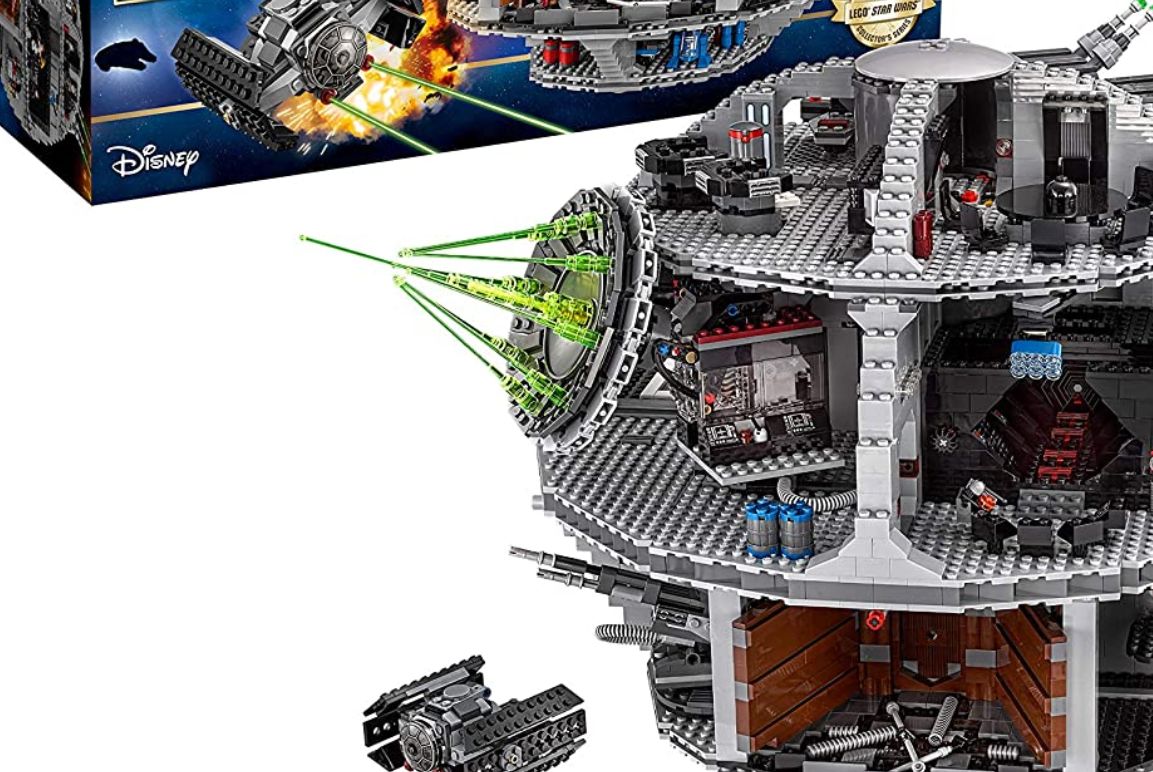 Who doesn't love to sculpt or create something incredible in their free time? This LEGO Death Star set comes with everything you need to create your miniature Death Star. Complete with 4,016 pieces, this set isn't for the faint of heart. The result will be a Death Star that measures about 16 inches tall and wide, making it perfect for any desk, bedroom, or home office.
The set includes various iconic rooms and characters from the movie, giving you the perfect all-in-one Star Wars setup. There are a total of 25 figures included so you'll have a wide variety of scenes to craft with this set. Putting this piece together is known to be quite a challenge, but step by step instructions are included.
8. R2-Q5
This is the droid you're looking for. This handsome R2-Q5 droid is app-enabled and can be remotely controlled around your home. The smartphone app allows you to control the droid, taking him anywhere you'd like, making iconic sounds from the movie along the way. This would be perfect for a young child or an adult collector.
The best part is that the app includes an autonomous mode, allowing R2 to make its way through your home on his own, using a series of sensors to detect walls and doorways. This is one of the most interesting products to be released recently and is sure to please any dedicated Star Wars fan.
They may be difficult to find at most major retailers, though they are available in limited quantities on Amazon.
7. Lightsaber Salt and Pepper Shakers
If you're looking to share a bit of Star Wars lore but don't want to break the bank, this gift idea is perfect. These salt and pepper shakers are designed to look like lightsabers from the movies. With the simple push of a button, you can easily and accurately season your meals while expressing your love for the Star Wars franchise.
These shakers are electronically controlled, allowing one-handed operation. They are made of stainless steel that has been coated with a BPA-free acrylic tube, meaning they are built to last a lifetime. They are also resistant to rust and corrosion, so you'll never have to worry about harmful contaminants.
6. Inflatable Jabba the Hutt Lawn Ornament
This gift may seem ridiculous to some, but it is the perfect gag gift for a Star Wars lover. No Halloween or Christmas lawn setup is complete without a large scale Jabba the Hutt inflatable lawn ornament. This inflatable stands 6-feet tall and 8-feet wide. It is officially licensed and can plug into any standard wall outlet.
This guy is highly detailed and includes an internal LED so that it can easily be seen during the day or night. It self-inflates, meaning you'll never have to worry about difficult maintenance, just plug him in and watch him grow. Dozens of five-star reviewers on Amazon insist that this is one of the greatest Star Wars gift ideas for the 2020 holiday season.
5. Luke Skywalker Battle Simulation Helmet
This is one of the most interesting products on the list, as it is a life-sized helmet that is a picture-perfect replica of the helmet that was used in the series. Though, it is much more than that. The helmet is electronic, allowing you to plug it in to display various LEDs and sound effects from the series.
That said, it can also be worn as a cosplay item or placed on a mannequin for display purposes. This is a replica of Luke Skywalker's helmet and would be the perfect addition to any Star Wars fan's collection.
4. Darth Vader Toaster
These toasters have been around for many years, but they are just as amazing today as they were a decade ago. If you know a Star Wars fan who doesn't own one of these toasters – they are missing out.
This is a very simple toaster that, quite simply, will toast an image of Darth Vader onto anything you put inside of it. It is a standard 2-slice model with a single switch and lever, making it incredibly easy to operate. Decals on the side mimic the buttons and switches that can be seen on Darth Vader's suit in the film series, bringing a bit of added flair to your kitchen countertop.
3. Hallmark Star Wars Tape Dispenser
This tape dispenser fits perfectly on any office desk and was designed to look like a fallen AT-AT. The dispenser was designed by Hallmark and is available in incredibly limited quantities, so grab yours quickly before they are gone.
It holds a standard-sized roll of tape and is made of resin, making it quite heavy, yet easy to use. The silver-colored coating gives it a very unique look, allowing it to easily blend into your desktop environment.
2. Ewok Dog Costume
This gift is a must-have for any animal lover. This costume was designed to fit any size of dog or cat, instantly transforming your furry friend into the spitting image of an Ewok. Designed by Rubies, this high-quality costume will last for many years and would be the perfect Holiday-morning outfit for your pet, keeping them both warm and stylish.
This costume is machine washable and should fit most breeds of dog without modification. They are available from Amazon and many other major retailers.
1. Arcade1Up Star Wars Arcade w/ Riser
We saved the best for last – this Star Wars arcade cabinet is sure to impress that special someone on your list and will leave a lasting impression for many years to come. This arcade cabinet is packed with three Star Wars games, alongside a unique controller setup that puts you in the cockpit of various Star Wars space crafts.
This is a miniature-sized arcade cabinet, though it comes with a riser so that adults can comfortably play the system as well. The system includes games from the original Star Wars film as well as The Empire Strikes Back and Return of the Jedi. You can relive your childhood arcade days, or introduce the games to a new generation with this incredible arcade setup.
More Star Wars Gift Ideas
Need more gift ideas for the Star Wars fan in your life? Here is some extra inspiration that is a little on the cheaper side of the Force.
Phasma Book
Phasma, as the name suggests, delves deeper into the background of Captain Phasma, who first appeared in The Force Awakens. While it may not bring up any world-bending revelations, it does a good job of explaining the motivations of the villain as well as filling in some blanks. Recommended for any Star Wars fan who wants to flesh out the canon as much as they can.
Star Wars: The Last Jedi Porg 16in Plush
This pretty big plush is the perfect size for anyone who needs to be reminded that sometimes Star Wars isn't all about good vs. evil: it's about how cute some of its creatures are. Saying that, seeing this face in the dark could give you quite the scare.
Star Wars Death Star Waffle Maker
Look, we're not saying that anyone would ever need a waffle maker, or even one in the shape of the iconic Death Star. But if the opportunity presents itself to you to own or give someone a Star Wars Death Star waffle maker, it's something you kind of have to take. It will create conversation at awkward gatherings, if nothing else.
Death Star Room Light
Got a young relative who is scared of the dark? Illuminate their room with the comforting glow of the, erm, Death Star! Fits pretty snugly in their room, so as well as providing a light source, it can be used as an ornamental weapon to scare off the monsters.
Droid Inventor Kit
If you have any budding Anakins in your family, this could be the ideal Star Wars gift – it will allow them to make their own R2-D2. It's packed with simple instructions and step-by-step guides, so you may not even need to help them out. Better yet, with the accompanying app, they can control the droid and even try out special challenges. It's also highly customisable.
Poe Dameron Helmet
This thing is multi-purpose: not only can it potentially save your life in the event of a spaceship crash, but it can also double-up as a fashion statement. Going food shopping? Let everyone know that you aren't keen on The New Order. Visiting the doctor? Tell them that you have a habit of avoiding certain death without saying a word. It really is the gift that just keeps on giving.
Porg Electronic Toy
Listen, this is just the way it is now – Porgs rule all. So, while we appreciate our new cuddly overlords, let them waddle into your life with this electronic toy. Just like the "real" thing, this toy plods along and even waves at you. If it's going to be a dictatorship, at least it will be adorable.
Kylo Ren Voice Changing Mask
Unleash your dark side with this mask that promises to make you sound way cooler than you actually are. Think of it as the same as those classic Darth Vader voice-changing masks, but with Kylo Ren instead. You just know that the family will love singing along to Christmas karaoke while wearing one of these.
READ NEXT: Best Pokémon Gifts 2020