Much like Star Wars, Minecraft is one of those things that will continue to thrive as the decades wane on. And its secret isn't that much different from that of Star Wars. It's all about the community. But while Star Wars fans can't quite mod a movie and play it in theaters, Minecraft fans can create entire worlds and experiences and share them with a massive audience. So, you can imagine that a melding of the two fanbases would result in (inter)stellar content, like these best Minecraft Star Wars mods.
Thanks to the creativity of many brilliant Star Wars fans, we have a merging of two timeless franchises available to play right in the comfort of your home. Keep in mind, many of these mods require the Minecraft Forge mod loader.
10. Star Wars Audio Replacements
Creator: the_soho
Star Wars has one of the most recognizable soundtracks, to a point where people who haven't even seen the movies could likely recognize it. The Star Wars Audio Replacements mod by user the_soho not only adds some of the greatest songs from the series as records, like the upbeat Cantina Band from A New Hope, but it also changes up some of the background music and ambient sounds like a rancor growl to really feel like you're exploring the surface of Tatooine or causing mischief aboard a custom-built star destroyer.
A few physical elements may be needed to make this mod feel complete, but if you just want the sounds of Star Wars flooding your Minecraft experience, it's definitely the way to go if you're after the best Minecraft Star Wars mods.
9. Star Wars Planets
Creator: TathanDev
You can put all the time and effort into building iconic planets from the Star Wars series, or you can cheat a little and download the Star Wars Planets mod. Creator TathanDev went to town building out fun and as-accurate-as-possible versions of Mustafar, Hoth, Endor, Kamino, and Tatooine with the Star Wars Planets mod.
The diverse landscapes are not only fun to explore, but they're also an opportunity to try and recreate some of the series' greatest moments. Can you rig a mechanic to take down the AT-AT on Hoth? Can you spawn a mob of Ewoks on Endor and launch an all-out war? Or will you go toe-to-toe with the elusive Tusken Raiders of Tatooine? You'll need another mod to add character models, of course, but the Planetes mod does come with lightsabers as a bonus.
8. Star Wars – Galaxy's Edge
Creator: HoneyLuck
You know how you can build your own lightsaber at Galaxy's Edge in Disney World? Well, why spend that kind of money when you can just boot up Minecraft and download Honeyluck's Galaxy's Edge mod? While the park is kind and hands over a kyber crystal (for a cost, of course), you'll have to do some digging in Minecraft to find yours.
Once you find your desired color, you'll use the "Lightsaber Construction Table" to combine the crystal, your desired handle, the endcap, and an emitter to create a custom lightsaber. Handle options include Kylor Ren's crossguard and the classic blade.
7. MaggiCraft's Star Wars Mod
Creator: MaggiCraft
Some mods aim to completely change the base game, and MaggiCraft was on their way to that with MaggiCraft's Star Wars Mod. One of the biggest changes included in this mod is the addition of driveable vehicles. We're talking Boba Fett's Slave I, AT-AT walkers, X-Wings, Droid Tanks, AT-OPs, and so many more.
MaggiCraft went a step further and added a ton of crafting recipes for items like Tatooine bedrock, Clone Trooper armor, lightsaber handles, blasters, and Holocrons. And speaking of Holocrons, you can customize yours with a unique design that will immortalize you forever. Well, within the confines of Minecraft, at least.
6. Star Wars: The Skywalker Saga Mod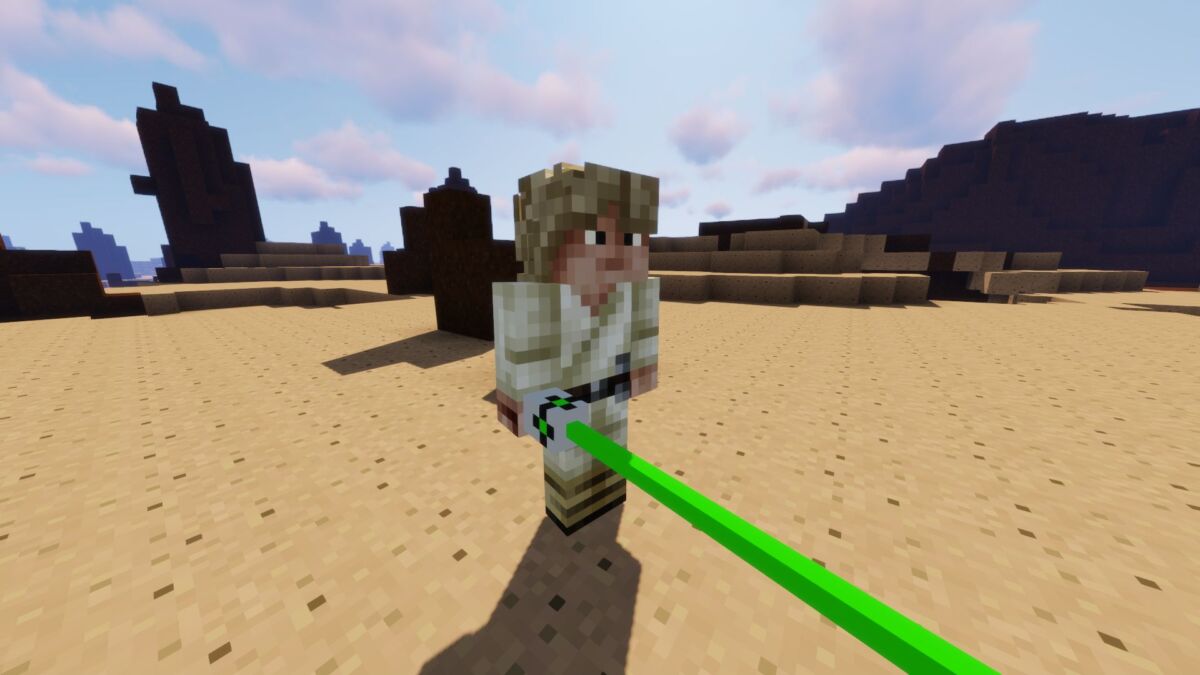 Creator: Rotmax
Want to relive parts of The Skywalker Saga in Minecraft? Creator Rotmax developed Star Wars: The Skywalker Saga Mod to do exactly that. When players start, they have a very important decision—join the Dark Side as a Sith or protect the galaxy as a Jedi. Luke and Darth Vader are the stars of this pack, depicting the two sides of the Skywalker name.
Along with the two Star Wars icons, the mod includes planets like Tatooine and Dagobah and characters from the original trilogy. Boba Fett and Jaba the Hutt are right at home in this fun creation. Players can also man vehicles, wield weapons from the franchise, and recreate some of their favorite scenes from the movies.
5. Star Wars: The Block Wars
Creator: Ironmanivan
One of the best parts of Star Wars: Battlefront II was being able to take the battle to the depths of space. Ironmanivan's Star Wars: The Block Wars kind of follows in those footsteps with a mod built around the concept of going head-to-head with your friends on starships and interceptors.
Prepare your army and gear up for a thrilling fight for supremacy, using lightsabers, blasters, tanks, and more to decimate your opponent. The Block Wars features some of the series' most iconic ships, like X-Wings, TIE Fighters, A-wings, and TIE Bombers. It's not quite a full-blocky Battlefront experience, but it's a step in the right direction.
4. Star Wars ACW Survival
Creator: plaguemaster308
CurseForge user plaguemaster308 had ambitious plans for the Star Wars ACW Survival mod, and through a series of updates, many of them came to fruition. All-new mobs spawn throughout your blocky world, filling your space with aggressive Separatist droids and clone troopers. You'll also spawn in generic Jedi, or you can recreate the battle of the century with Obi-Wan and Anakin or force a rematch between Darth Maul and Obi-Wan.
The ACW Survival mod helps you create your own blocky Star Wars world, with new materials to mine for, a new faction system, and the ability to tame mobs to build your own army. There's definitely a lot to see and experiment with, all pulled from the Clone Wars saga.
3. Galaxies: Parzi's Star Wars Mod
Creator: Parzivail
Some creators go the extra mile to completely transform a game when it comes to making the best Minecraft Star Wars mods, and CurseForge user Parzivail spared no expense developing the Galaxies: Parzi's Star Wars Mod. From the images alone, you get the feeling that this isn't just a mod, but a full Star Wars Minecraft game.
Weekly updates (that were ongoing as of writing this list) promise to adhere to Parzi's roadmap, which is an expansive list of content ranging from hostile mobs, fully realized planets like Tatooine, vehicles, and the ability to travel from ground to space via hyperspace-capable shuttles. It's a lot to take in at first, but once you start playing around with Parzi's creation, you can really appreciate the scope of work.
2. Starkiller's Star Wars Legend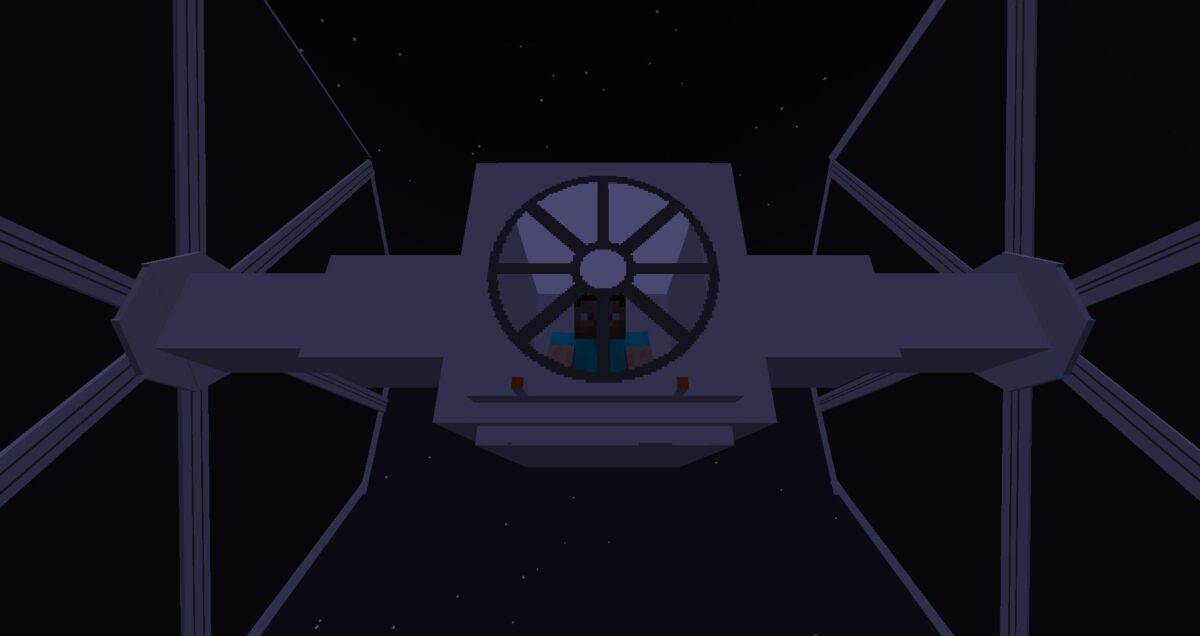 Creator: komimutaw
It's one thing to just add Star Wars content to Minecraft. It's another to give that content purpose. For instance, Starkiller's Star Wars Legend turns lightsabers and blasters into devastating weapons capable of setting mobs on fire. Which, if you think about it, is probably what those things would do to the blocky world of Minecraft. But there's more to Starkiller's mod, like three ships to man, three planets to explore, and the cast of main characters from the original trilogy.
Creator Komimutaw saw an opportunity to build this mod out even further and added audio cues and aggression between the Dark and Light sides of the Force. It's a rather robust Star Wars experience, complete with item crafting, fast traversal, and so much more.
1. Star Wars: The Clone Wars Contents Pack
Creator: EMB4
Building on the MCHeli mod originally created by user Planet Minecraft user EMB4, creator Rainwind went all out in bringing The Clone Wars to Minecraft. Like other mods, Star Wars: The Clone Wars Contents Pack features vehicles from the saga, including more than 20 different starfighters, tanks, and waters. All of which, by the way, are fully driveable.
To elevate the experience above other Star Wars vehicle mods, The Clone Wars Contents Pack features animations for each ship and vehicle, including folding wings and moving turrets. Additionally, every vehicle has a unique ability, whether it's different weapons, variable speeds, or the ability to carry multiple players. It's the kind of mod that really encourages players to roleplay their own clone battles.
READ NEXT: 15 Best Minecraft Gifts
Some of the coverage you find on Cultured Vultures contains affiliate links, which provide us with small commissions based on purchases made from visiting our site. We cover gaming news, movie reviews, wrestling and much more.