The Metal Gear Solid franchise has been around for decades, amassing quite a cult following over time. The first Metal Gear game was released back in 1987 for the MSX2 and has grown since its initial launch.
You might not know where to start when searching for a gift for the Metal Gear fan you know, so we pulled together a list of the best Metal Gear Solid gifts available. We're no hero; never were; never will be, but hopefully this list makes it a bit easier to find the perfect Metal Gear present.
MGS Gift Guide
1. MGS Heat-Changing Mug
Mugs always make great gifts because they're practical and come in endless designs, like this Metal Gear Solid heat-changing mug.
This mug features Snake standing in front of the iconic FOXHOUND logo and a group of enemies. When you fill up your mug with a hot beverage, the FOXHOUND logo fades away, a danger symbol appears next to Snake, and red exclamation points spawn over the enemies' heads.
2. PS2 Keyring
If you're looking for a small MGS gift, these PS2 keyrings are super cute. They'll bring back a ton of nostalgia for any fans who've been with the franchise since its early days.
The keyrings come in many different options, with a Metal Gear Solid 2 and Metal Gear Solid 3 design that are perfect for MGS fans. Each key ring is 3D-printed to order with great attention to detail.
3. Metal Gear Solid: The Legacy Collection
We all have that yearning to revisit the games we played growing up, and Metal Gear Solid: The Legacy Collection allows any Metal Gear fan to do just that. This makes a great gift for any seasoned or brand-new MGS fan.
The Legacy Collection includes Metal Gear, Metal Gear 2, Metal Gear Solid 2, MGS 3, MGS 4, and MGS: Peace Walker. It also contains vouchers for Metal Gear Solid 1 and MGS: VR Missions to create a thorough collection of classic MGS games.
4. MGS Tubbz Collectible Rubber Duck
If you want a Metal Gear Solid-themed gift that will really put a smile on the receiver's face, this collectible rubber duck is the way to go. It's the most Metal Gear duckie anyone has ever seen.
The rubber duck is designed in Snake's likeness, featuring his signature headband and even a tiny gun. He comes nestled in a tub labeled "Metal Gear Solid" for added cuteness. Best of all, there are other Metal Gear-themed rubber ducks, including Revolver Ocelot, Genome Soldier, and Grey Fox.
5. Metal Gear REX Model Kit
This model kit for the Metal Gear REX would make an excellent gift for any Metal Gear collectors out there. The Kotobukiya model is a detailed replica of the nuclear-mounted bipedal tank featured in the MGS series.
The almost 9-inch model comes with tiny character figures to place around it. Its box even features a drawing from Yoji Shinkawa, the creator of the Metal Gear REX.
6. Sniper Wolf Figure
The MGS franchise has several awesome characters beyond Solid Snake, including Sniper Wolf, who is a skilled sniper with a trained eye and a complicated past. This fantastic 3D-printed model kit presents her in exquisite detail.
The kit comes in parts and is perfect for anyone who likes to build and paint models. It'd make a great addition to any Metal Gear collection and is about 6.5 inches tall.
7. Metal Gear Solid V: The Definitive Experience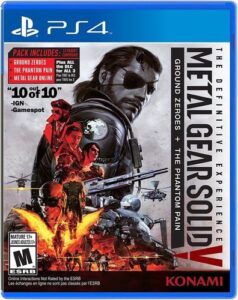 The most recent proper installments in the MGS series consisted of Metal Gear Solid: Ground Zeroes and Metal Gear Solid V: The Phantom Pain. In 2018, The Definitive Experience was released and includes both Metal Gear Solid V games and all of their DLC.
This game is compatible with the newest generation of consoles but is designed for PS4 and Xbox One. Players can utilize their tactical freedom and carry out thrilling open world missions.
8. Metal Gear Solid V: The Complete Official Guide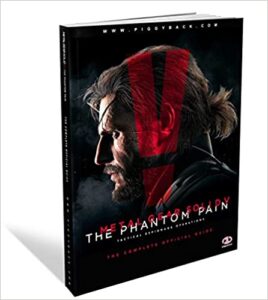 Whether they already have the MGS V games or you're considering getting The Definitive Experience as a gift, this complete official guide to Metal Gear Solid V makes a great gift. There are also other Metal Gear Solid guides, too.
The book covers all missions, side quests, collectibles, achievements, trophies, and secrets that The Phantom Pain holds. This perfect MGS gift even comes with some extras, including a poster.
9. MGS Custom LED Light
Another amazing Metal Gear-themed gift is this custom LED light designed to look like the iconic MGS Codec. It features a pixelated look that embodies the OG Metal Gear Solid game.
You can opt to keep the default text, which is a cheeky phrase about Solid Snake's flirting skills, or you can choose to customize the text. You can also customize the Codec icons if you want to have specific MGS characters featured.
10. Venom Snake Action Figure
If the MGS fan you know was a huge fan of Metal Gear Solid V, this Venom Snake action figure is sure to make their day. Square Enix and Konami teamed up to develop this incredible rendition of The Phantom Pain's main protagonist.
The poseable figure has joint structures at the elbows, knees, ankles, neck, and shoulders. It comes with a display stand and alternate weapon parts, hands, and head.
11. Metal Gear Solid Magnet
For a simple gift that will allow the MGS fan you know to subtly show off their love for the franchise, check out this magnet. The design embodies a classic Metal Gear feel and can be displayed on any magnetic surface or on a shelf.
This red and white magnet features the phrase "Tactical Espionage Action" above "Metal Gear Solid". The 3D-printed retro magnet comes with a connectable stand to easily display it however you want to.
12. Metal Gear Solid Shadow Box
Sometimes the best gift is a stunning piece of art that a fan can proudly display on their wall. This MGS-themed shadow box makes a perfect display piece for any fan.
The shadow box includes retro poster designs from the OG Metal Gear Solid for PlayStation printed on holographic paper and two replica game CDs. You can also opt to get it with RGB lighting for an even cooler look.
13. Metal Gear Solid T-Shirt
A comfy t-shirt is always a safe gift option, especially when you find one featuring a design of your favorite fandom. Any MGS fan would surely love this classic design as a gift.
The shirt displays the iconic MGS logo from the original game, as well as its iconic tag as "tactical espionage action". It comes in various sizes, from small to even 3-XL.
14. Metal Gear Solid Flask Set
If you know a hardcore fan of the series who also enjoys the finer things in life, this stunning flask set is a great option. The set comes in a beautiful wooden box that features a personalized FOXHOUND design.
The flask is offered in various shapes and sizes, including round or square. There's an option to personalize it with the name of your favorite MGS fan to make the gift that much more special.
15. Metal Gear Solid: Hideo Kojima's Magnum Opus
Hideo Kojima is the mastermind behind the entire Metal Gear Solid saga, which has kept fans enthralled for decades. This detailed book is effectively a Metal Gear encyclopedia full of awesome behind-the-scenes details.
Inside, you'll find a complete panorama of the entire MGS universe. This Magnum Opus covers Kojima's personal ambitions, the game industry's effect on the MGS games, and deep dives into the games themselves.
READ NEXT: 15 Best Pokémon Gifts